May 09, 2016 | According to data collected by Minghui.org, the Chinese communist regime continued to persecute Falun Gong in 2015, with at least 19,095 incidents of practitioners being harassed, arrested or detained for their spiritual belief. Many practitioners were targeted more than once during the past year.
Types of Persecution
A total of 27.3% of the incidents (5,213) involve harassment of practitioners at their homes or workplaces, while the rest (13,882) result in arrests of practitioners.
Though many practitioners (in 7,626 cases) were released on the same day of their arrest, the remaining 6,256 incidents are associated with longer-term detention.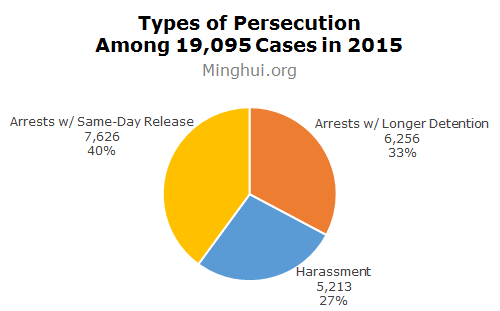 The targeted practitioners hail from 26 provinces and 4 centrally-controlled municipalities. Shandong Province had the most occurrences of practitioners persecuted for their faith (3,048), followed by Liaoning (2,108), Heilongjiang (1,865), Hebei (1,685), Jilin (1,509), and Sichuan (1,070). The other regions had fewer than 1,000 incidents.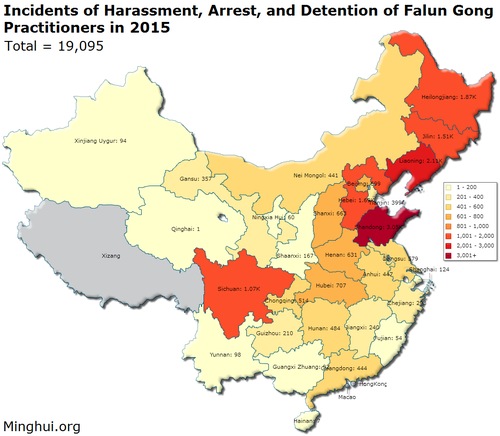 Triggers for Harassment and Arrests
The affected practitioners were usually targeted because of two direct triggers: they filed lawsuits against former Chinese leader Jiang Zemin for launching the persecution of Falun Gong (7,056 incidents), or they were reported to police for talking to people or distributing information about Falun Gong (2,565 incidents).
The rest of the incidents (9,474) involve practitioners who have been on police blacklists and are constantly monitored for their activities. Some practitioners in this category were harassed or arrested around politically sensitive dates (such as National People's Congress meetings, major sporting events, and military parades), while others were taken into custody while reading Falun Gong books at home.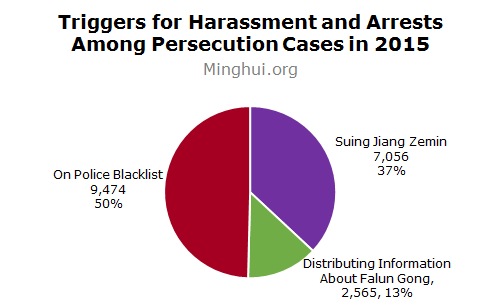 Incidence of Practitioners Targeted for Suing Jiang On the Rise
More than 200,000 Falun Gong practitioners have filed criminal complaints against Jiang Zemin to China's highest court since May 2015, when a new regulation came into effect stipulating that all criminal complaints must be registered with the court once received.
The plaintiffs documented torture, imprisonment, and financial devastation, among many other forms of mistreatment, in their complaints. They demanded to bring Jiang to justice for ordering the violent campaign against Falun Gong 17 years ago.
In response to the tidal wave of lawsuits against Jiang, the police retaliated with increased harassment and arrests. Some police also threatened the practitioners' family members in order to prevent them from suing Jiang.
In Chaoyang City, Liaoning Province alone, more than 300 practitioners were arrested in a single day in November 2015. Although most of them were released shortly afterwards, 54 were made to stand trial since January 2016 and 14 are awaiting trial at home after being released on bail.
Ms. Wu Qiu'e, an 80-year-old woman from Heilongjiang Province, was threatened by police for suing Jiang. She was so terrified that she lost consciousness after the police left. She died a few days later.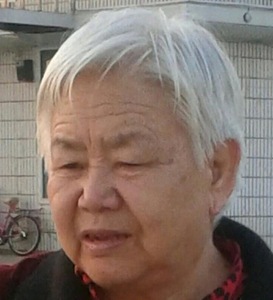 On a Saturday morning in September 2015, Ms. Wu Donghui from Tieling, Liaoning Province, received a phone call from her supervisor at work, asking her to come to her office for an urgent meeting. As soon as Ms. Wu entered her office, she was arrested by police. Officers then shoved her, causing her to fall down stairs.
At the police station, the police interrogated her about her criminal complaint against Jiang. When Ms. Wu insisted that she was following the law in filing the complaint, an officer said to her, "Don't talk about law with me. I'm the one who breaks the law."
Both Ms. Wu's elderly parents were under tremendous stress after her arrest. The police later extorted 15,000 yuan from her father before releasing her.
Threats, Deception, and Extortion
Among the practitioners harassed by the police, some received threatening phone calls, while others, including their family members, were harassed at their homes or workplaces.
The police used every possible means to get into the practitioners' homes. They threatened to shut off the electricity or water, used skeleton keys, hired locksmiths, or even robbed keys from the practitioners on the street.
While ransacking the practitioners' homes, the police often confiscated practitioners' Falun Gong related materials and books, computers and printers, bank cards, cash and other valuable items.
There were also cases where the police extorted money from the practitioners and their families. Some practitioners were forced to leave home after the harassment to avoid being arrested.
Police Brutality
The police not only used force while arresting the practitioners, but they often resorted to violence and torture during interrogation sessions.
Three practitioners from Shanghai were arrested on April 21, 2015 while reading Falun Gong books together. A young police officer attempted to force a practitioner in her 80s to verbally abuse the founder of Falun Gong by pointing a gun at her head.
Ms. Wang Huizhen, from Tianjin, was arrested together with more than 20 practitioners in early March 2015. The police ransacked her home and confiscated her computer, cellphones, and all Falun Gong related materials. The police used force while taking her to the police station, despite her weak physical condition. After being interrogated, Ms. Wang's health quickly deteriorated. She passed away on March 21, 2015, soon after the police released her on medical parole.
Detained Beyond Legally Permissible Terms
With the police and domestic security forces in China given extralegal power to persecute Falun Gong, many practitioners were kept in detention for months or years, despite the legally permissive detention length having long expired.
In addition to the "legal" detention facilities such as detention centers, practitioners are also held in extralegal "black jails," such as brainwashing centers, drug rehabilitation centers, or mental hospitals.
After the "legally permitted" administrative or criminal detention expires, a practitioner may be transferred between different black jails, where they are subjected to constant brainwashing and torture, before they are eventually sentenced for refusing to renounce their faith.
(Clearwisdom)