May 09, 2016 | May 13 marks the 17th annual World Falun Dafa Day and the 65th birthday of the founder of Falun Gong, Master Li Hongzhi. Falun Gong practitioners from all cultural background in the San Francisco Bay area held a series of events to celebrate this joyful holiday and express their appreciation to Master Li.
After doing the Falun Gong exercises together in front of City Hall, practitioners took a group photo and wished Master Li Happy Birthday. At noon, a celebration march stepped off from City Hall, winding through downtown, and ended in Chinatown.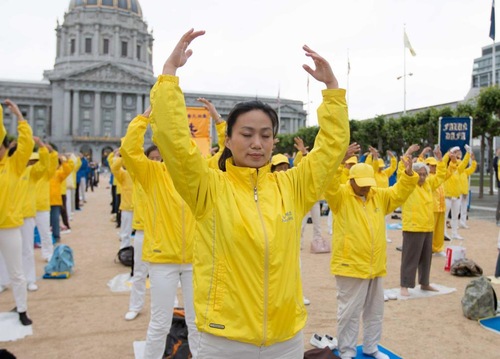 After the parade, practitioners staged a music and arts performance in Chinatown, including singing, instrumental numbers, dance, and poetry readings.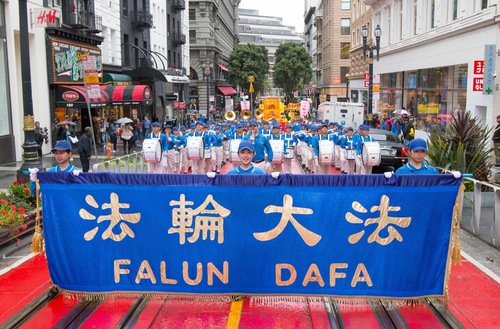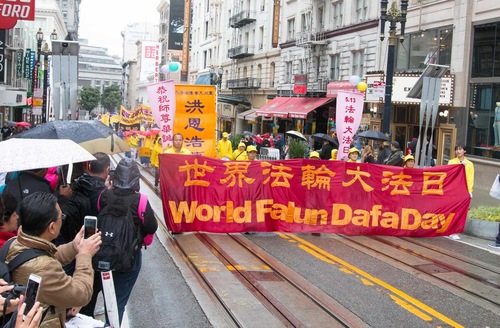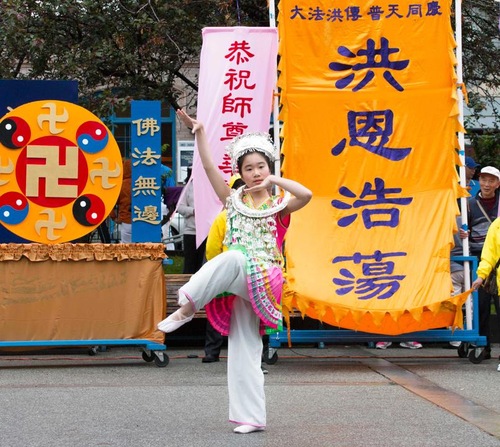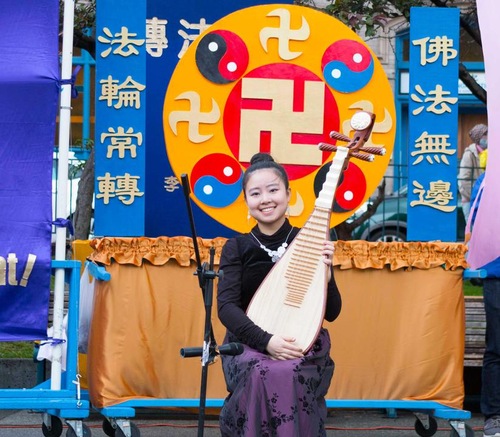 Practitioners Express Gratitude to Master Li
Several practitioners gave speeches during the afternoon event, sharing their experiences of cultivating Falun Gong.
Ms. Yang LI, 69, told a touching and amazing story.
Ms. Yang was known as a very sick person in her workplace back in China. More than ten diseases in multiple organs, including her liver, heart, lung, eyes, nose, shoulders, and spine, bothered her every day, and she couldn't go anywhere without bringing her medications. In 1990, after vomiting blood at work, she was diagnosed with stomach cancer. She had surgery, and the doctors told her that her life expectancy was approximately 3 years.
In 1994, Ms. Yang had severe pain in her elbow, and founds that she'd developed a 3-inch tumor. A year later, her doctor told her that the cancer may have spread to her nose, as a small tumor was found in her nostril.
Ms. Yang and her family were desperate. She had a chronic low grade fever. Her legs were too swollen to walk. She could not climb stairs without help. She bemoaned her fate, for at only 40 years old, she was facing the end of her life.
That same year, a friend gave her a copy of Zhuan Falun (the main book of Falun Gong). She was impressed by the central teaching of Truthfulness-Compassion-Forbearance, and decided to take up the practice.
However, she was too weak to walk to the exercise site, which was just across the street from her home. A practitioner told her to read the book and do the exercises at home. After the winter, she regained some energy and joined the other practitioners at the exercise site in April 1996.
"I tried to follow the teaching of Falun Gong, and to be a good person. My body changed gradually. Without my really noticing, the tumor on my elbow disappeared. What was amazing was one day, during the exercises, the tumor in my nose fell off into my mouth. At that very moment, all the symptoms I had around my nose and throat, including the left side of my face being paralyzed, pain in my ears and nose, watering left eye, bleeding in the left nostril, and low grade fever, were gone all of sudden," Ms. Yang recounted in her speech.
After that, other diseases that had bothered her for more than two decades were also healed gradually, and she never needed to see a doctor after that. Her whole workplace was amazed. More than 20 colleagues of hers also took up Falun Gong cultivation practice after witnessing her miracles.
"I am 69 years old today. Look at me. Can you believe that I used to have more than 10 diseases including cancer? I am energetic and happy now. It is Master Li who renewed my life," Ms. Yang said.
"I am grateful to have this opportunity today to express my appreciation to Master Li on World Falun Dafa Day, and wish him a happy birthday!"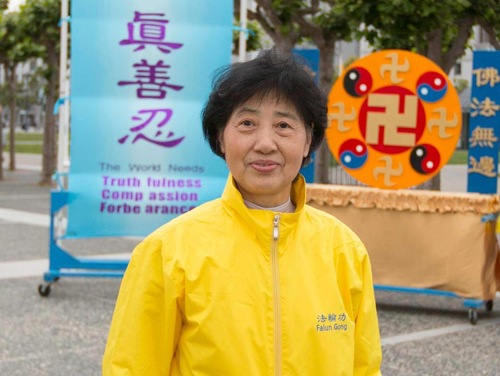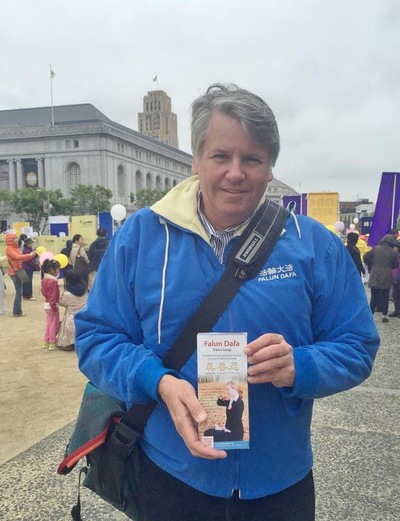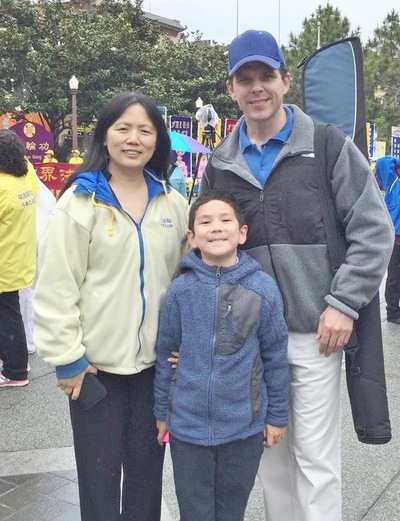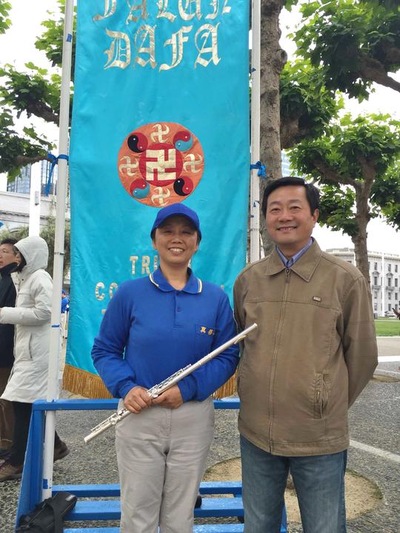 Spectators Show Support for Falun Gong
Sheila Hall, a local teacher, was attracted by the group exercises. She joined in, and learned the exercises.
Afterwards she said, "I feel so comfortable. This is my first time. I like it very much. This is one of my best experiences. I feel relaxed. It is beautiful."
Mr. Hong from mainland China said to practitioners, "Falun Gong teaches people to be good and to treat others nicely. I support Falun Gong. If everybody follows the principle of Truthfulness-Compassion-Forbearance, then the world would be a much better place. I don't believe the Chinese government's propaganda, and I strongly support Falun Gong's lawsuits against the murderers in the persecution."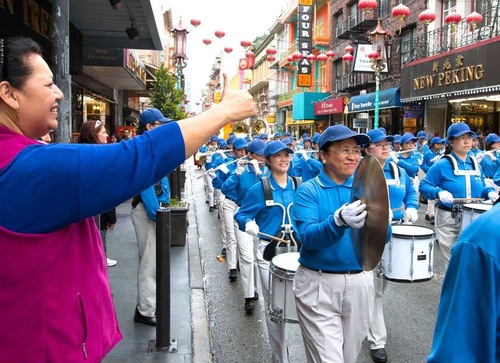 A group of Chinese tourists took video footage of the march. One of them said to practitioners, "We are from mainland China. Can you say a few words to our friends in China?"
The practitioners said, "Falun Dafa is good; Truthfulness-Compassion-Forbearance is good; Quit the communist party for a bright future."
The practitioners were pleased to learn that everybody in the group had already quit the party!
(Clearwisdom)