Falun Gong practitioners held a rally on Queen Elizabeth Square in downtown Auckland, New Zealand on April 2, 2016 in support of 230 million Chinese people who have withdrawn their memberships in the Chinese Communist Party (CCP) and its affiliated organizations.
A crowd was attracted by the huge banners, display boards, a performance by waist drummers, and practitioners demonstrating the Falun Gong exercises.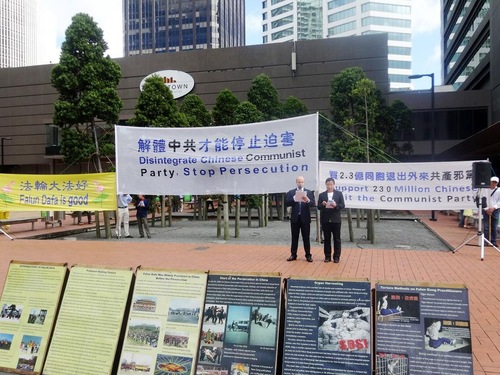 Mr. Barry Wilson, president of the Auckland Council for Civil Liberties, spoke at the rally. He said that the persecution, launched by the former head of the Chinese Communist Party (CCP) against Falun Gong, forced many Chinese people to give up their faith in Falun Gong. He added that the most brutal atrocity is the regime's harvesting of organs from living Falun Gong practitioners for profit.
He encouraged Falun Gong practitioners to keep up their peaceful efforts to raise awareness of the persecution until it ends.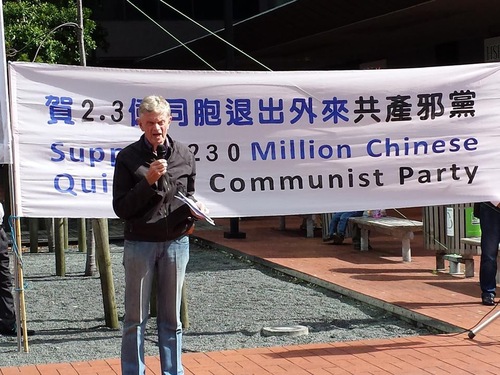 Persecution "Must be Stopped"
Mr. Kerry Gore, a human rights lawyer, said in his speech that the CCP's brutal persecution of Falun Gong practitioners who believe in Truthfulness-Compassion-Forbearance has persisted for 17 years. The regime has illegally arrested, detained, brainwashed, and tortured many Falun Gong practitioners who have raised awareness of the persecution, and have harvested and sold their organs while they were still alive.
"All this should be strongly condemned by the international community," said Mr. Gore. "The persecution must be stopped immediately."
He believed that the movement of quitting the CCP will continue until the regime's persecution of human rights stops.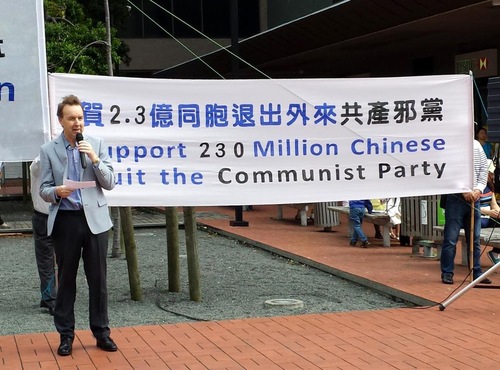 Voices of Support
Ms. Yu, a lecturer in the Politics Department at a university in China's Sichuan Province, passed by the rally and said, "I admire Falun Gong practitioners' courage. They keep speaking out for their persecuted fellow practitioners after so many years. Remarkable!"
She said she was moved by human rights lawyers outside of China speaking out for Chinese people's human rights. She asked a practitioner to help her withdraw from the Youth League and Young Pioneers, two of the CCP's youth organizations.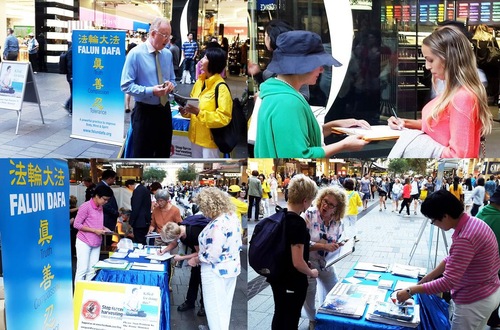 Breaking Through Censorship
Mr. Wang, a software engineer, had just immigrated to New Zealand two months ago. He was amazed at being able to personally participate in the rally. "I never expected to see such a spectacular scene," said Mr. Wang. "Although I also saw such rallies on the Internet after circumventing the censorship a while back in China, they weren't as amazing as what I see in person here."
Mr. Wang said that if people inside China have access to uncensored information, such as quitting the Communist Party, live organ harvesting, and so on, they would immediately understand what the true situation is.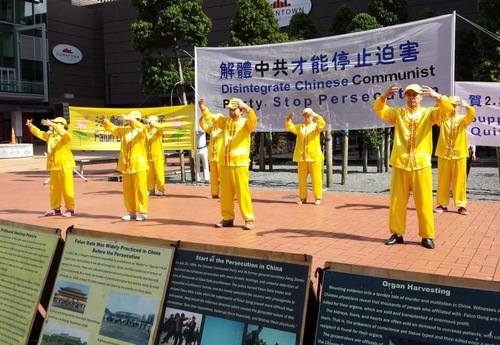 During the three-hour event, 88 Chinese people quit the CCP organizations. In addition, since November 2015, more than 2,700 people in New Zealand have signed a petition reporting the crimes committed by former Chinese leader Jiang Zemin and calling on China's Supreme Procuratorate to prosecute him.
(Clearwisdom)