Shen Yun performed nineteen sold-out shows from March 17 to April 3, 2016, in four cities in Taiwan: Taipei, Kaohsiung, Chiayi, and Tainan. The performances also attracted theatergoers from mainland China, Malaysia, and Singapore.
Attendees felt "touched" and "cleansed" by both the visual and cultural aspects of the production. Some also expressed admiration and appreciation for the artistic director of Shen Yun.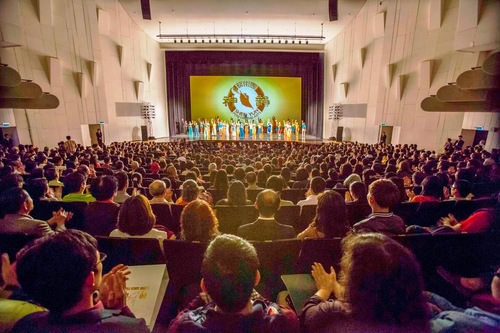 Calligrapher: "Divine" and "Mesmerizing"
"Mesmerizing…Shen Yun is a divine production that's hard to find in the human world," said calligrapher Xie Yongtian, who attended the opening performance in Tainan with his friends.
"How could Shen Yun's artistic director have done something this perfect?" Mr. Xie commented. "From feeling relaxed to being uplifted, I felt I was part of it."
"Watching Shen Yun can enhance our wisdom. It will be very much a regret in life if you do not get to watch it," he said. "I have to watch it at lease twice every year."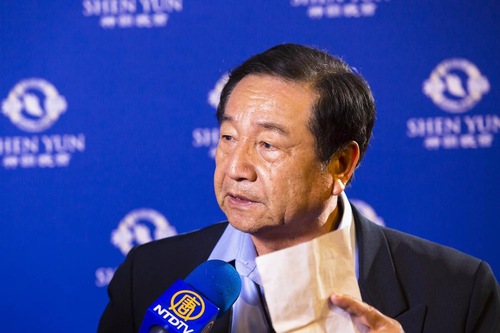 Film Director: "Precious" and "Admirable"
"Shen Yun has preserved the essence of traditional Chinese culture and the profound classical Chinese dance, while promoting it to the world. It is very admirable," said film director Ko I-Chen, who attended the performance in Taipei.
"It is very precious and inspiring that Shen Yun is using this form to exhibit the compassionate and beautiful side of people," he added.
A message that he learned was, "As long as people do well, the gods will take care of them. Because the gods have to see how people are growing."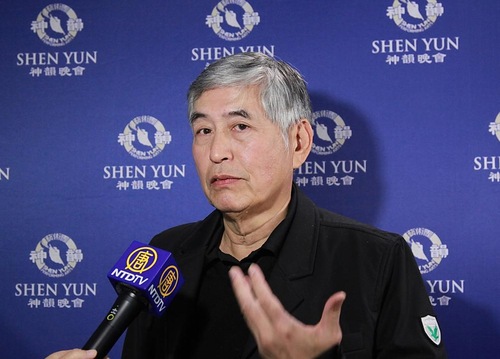 "Bringing Positive Influence to Society"
"I really appreciate the opportunity to see Shen Yun. It has brushed off all the dust in my heart and cleansed both my body and mind, allowing me to start fresh," said Wang Youhua, director of the Chinese Language Center at Kun Shan University.
"Shen Yun touches people's soul and brings hope. The values of 'Truthfulness-Compassion-Tolerance' and the aesthetics in the show brings a positive influence to society," she continued.
Ms. Wang's son Wang Xi is studying dance, and he was also touched by the performance. "My son kept telling me that it's so touching. He even went outside to cry during intermission. I believe that he was very inspired," she said.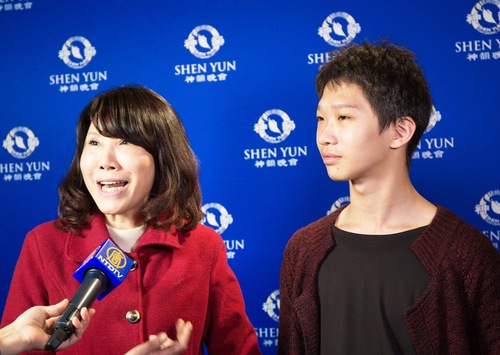 "Most Beautiful and Excellent Artistic Performance"
"No matter from the visual or auditory aspects, it is the most beautiful and excellent artistic performance I have ever seen. It really is the work of the gods and a shining light for the Chinese people!" exclaimed Chen Pinyu, the president of a cultural and educational foundation for Chinese music.
"The combination of Chinese and Western instruments is really the best match," she said of Shen Yun's orchestra. "Shen Yun refined the elements that Chinese music does not have and arranged every sound to play the best role."
Ms. Chen learned from the performance, "Chinese culture is conservative and beautiful. It contains a wide array of emotions. This is a type of art, is an inspiration, and also a part of our lives."
Audience from Mainland China: "Proud" and "Touching"
"Shen Yun displayed the authentic form of our traditional and profound Chinese culture. You cannot see something like this in China. It is so touching!" exclaimed Mr. Chen from mainland China.
"Their dance movements tell you what 'benevolence, honor, etiquette, wisdom, and sincerity' are. They didn't have to use words, but they let you feel the traditional virtues of China," he explained.
"I believe that, one day, Chinese culture will return to mainland China. One day, we will be able to watch Shen Yun in mainland China!" Mr. Chen said.
Mr. Lu works in the entertainment field in China. He said after attending the performance in Taipei, "The artistic director of Shen Yun makes Chinese people proud!"
"After watching Shen Yun today, my heart was cleansed and my selfishness was washed away. I have a better understanding of the true meaning of life and the final direction and choice of man."
He was particularly touched by a piece depicting the persecution of Falun Gong practitioners in China. "The program is just a brief telling. I couldn't help but cry for compassionate [people] being persecuted. The real situation is very cruel."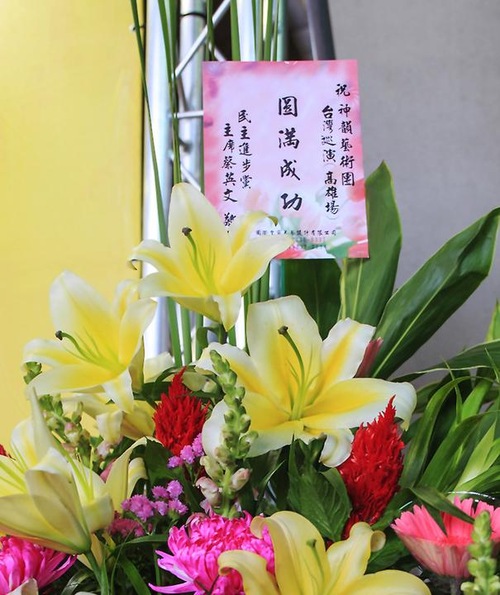 Shen Yun will continue its tour in Taiwan with performances in Taichung, April 6-10; Changhua, April 12; and Taoyuan, April 14-16.
More information on tickets and dates are available at Shen Yun.
(Clearwisdom)