Residents and visitors of the Sydney suburb of Burwood City signed postcards addressed to Prime Minister Malcolm Turnbull, urging him to raise concerns about the persecution of Falun Gong during his upcoming visit to China on April 14 and 15.
These petitioners were outraged by the brutality of the persecution of the spiritual practice, having stopped to learn more about it at a Falun Gong event on March 27.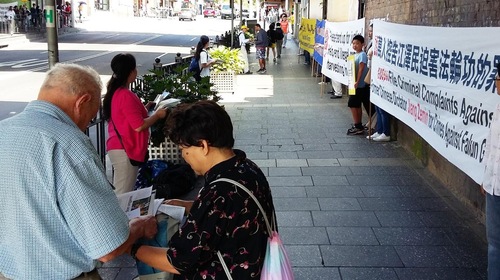 "The Prime Minister Must Sympathise with the Victims"
Ms. Leanne Smythe said that she watched a documentary about the persecution, Human Harvest: China's Organ Trafficking on SBS News. The film exposes how the Chinese regime secretly harvests organs from illegally detained Falun Gong practitioners while they were still alive. She was astonished by the ongoing horror in China.
Ms. Leanne Smythe offered to pay for the postage after she signed the postcard. "The prime minister must sympathize with the victims of the persecution and tell the Chinese regime to improve its human rights condition and stop the persecution," said Smythe.

"It's Important to Speak Out"
This event was the first time Estelle Carter from Canberra had heard about the persecution and the organ harvesting crimes. She offered to cover the postage of five postcards. "It's very important that more people voice their objection to the brutal persecution," she said. She said that she would encourage her friends and family to watch the SBS News documentary on organ harvesting.

The Brutality "Must Be Stopped"
Without talking to anyone, Desiree Leane approached the practitioners and signed a postcard. She said that she felt sad each time she heard about the persecution. "It was a big mistake and must be stopped immediately," she said. She said that Falun Gong isn't just good for the Chinese people, but also for world peace.

(Clearwisdom)
48 total views