It was the 16th time that Falun Dafa practitioners in Melbourne returned to the annual spectacular Bendigo Easter Parade, held this year on March 27.  They were warmly applauded and cheered by local residents and tourists from around the world, who had packed both sides of the streets along the parade route.
The Falun Dafa procession featured two beautifully decorated floats, the Divine Land Marching Band composed of Falun Dafa practitioners, a team of practitioners demonstrating the Falun Dafa exercises, a graceful group of fan dancers, and joyous waist drummers.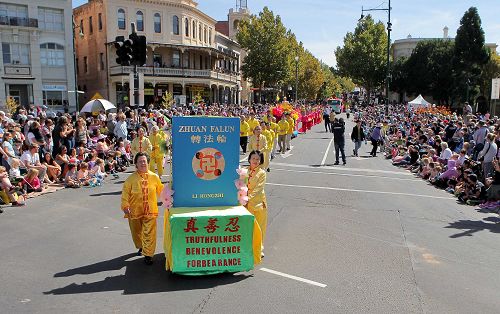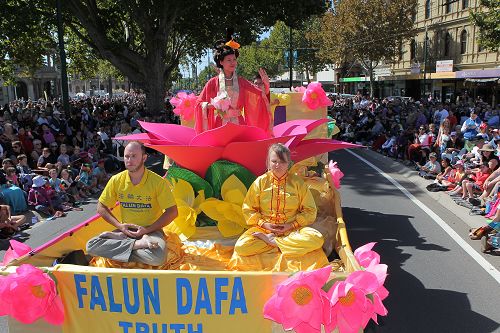 Citizen of the Year: 'Really Remarkable'
Seventy-year-old Mr. Cook praised the performances of the Falun Dafa contingent. "Amazing! Fantastic! The colors are bright! Really remarkable!" he said. He said he had heard about Falun Dafa before, and said that it is wrong for the Chinese regime to persecute practitioners in China for their faith.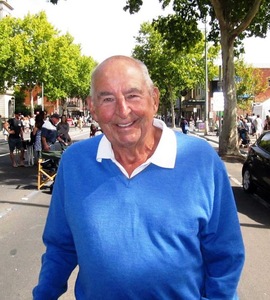 Bendigo Residents Praise Falun Dafa
Ms. Cheryl Hodgers moved to Bendigo three years ago, and it was the first time she had watched the parade. It was also the first time she had heard about Falun Dafa. She was deeply impressed by the brilliant colors of the practitioners' lineup.
Learning of the persecution of Falun Dafa in China, she sighed, "It's unbelievable, and it's a shame."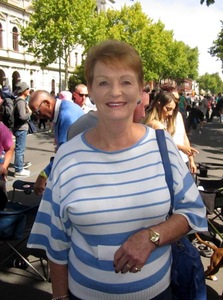 Ms. Boldiston from the neighbouring town of Shepparton, came to watch the parade with eleven of her family members and friends. She said that she enjoyed the majestic music performed by the Divine Land Marching Band, and remarked that they must have put much effort into the rehearsal to perform so well.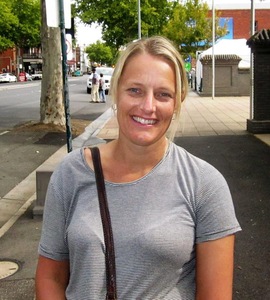 Ms. Elka Budge, a preschool teacher, said that she and her family thought the Falun Dafa parade was wonderful. The Fa show looks very peaceful. I also like those colors very much, and I took a lot of photos, all of which are worth cherishing memories."
She also said that the principles of Falun Dafa "Truthfulness-Compassion-Forbearance" are universal values ​​and good medicine for solving social problems. She said: "The principles of Truthfulness-Compassion-Forbearance should be followed by everyone."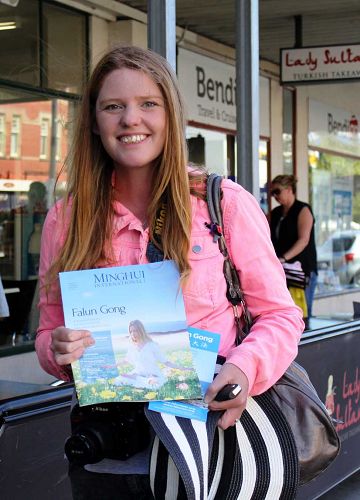 Retired teacher Ms. Trimble (Kaye Trimble), like many local residents, every year watching the parade is an indispensable part of celebrating Easter. She was full of admiration for the grand Falun Gong parade. She said: "This year, more members of the Falun Dafa parade participated in the parade than before. Their costumes are very pretty, which makes them look beautiful and miraculous. It's really wonderful!"
"Especially the members of the Divine Land Marching Band in blue and white costumes, they are so handsome! Their performances are also wonderful and pleasant to hear!"