For the first time, Falun Dafa practitioners in the Bay Area participated in the annual Easter Parade in San Francisco, California. More than 100,000 people were involved in this afternoon event on Union Street on March 27.
As the Divine Land Marching Band played the melody "Falun Dafa Is Good," the spectators responded with waves of applause.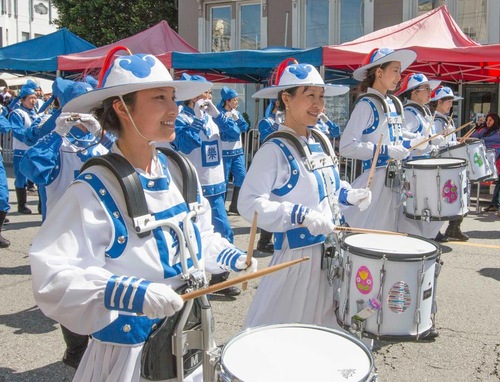 "We are so happy to have the Divine Land Marching Band here. It is an excellent group," said event organizer Dennis Beckman. He commented that the band members seemed full of energy and that the music was astonishing. "It surprises me that all the music is original. And the band members look so happy."
He also liked the musicians' traditional costumes: "They are unique, outstanding. I like Falun Dafa."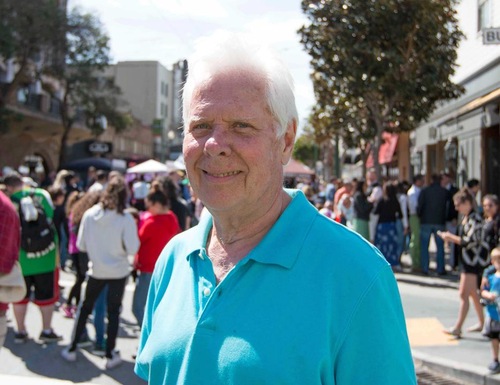 Eleanor Carpenter, president of the Union Street Merchants Association, praised the band's performance because she said it energized the community. "We all like it so much. The music is amazing and it lifts our spirits. Your participation makes San Francisco a better place, and I want to thank you again for the great contribution."
Admiration for the Principles of Truthfulness-Compassion-Forbearance
Lucy Spafford, a tourist from Southern California, said she was drawn to the music. "The melody is astounding and the performance is very professional." She also noticed the band members were of all different ages, not the norm for most bands.
Having heard about cultivation ways in Asia, Lucy agreed with the importance of improving one's character. "If all of us would cherish the principles of Truthfulness-Compassion-Forbearance, there would be no violence and it would be a better world." She said the band's music conveyed peace and hope.
Sandra from the Department of Veterans Affairs said the music was "awesome" and "excellent." Aware that Falun Dafa is being suppressed in China, she said, "I admire the principles of Truthfulness-Compassion-Forbearance, and I am glad we have freedom here."
San Francisco resident Elfreida said the Divine Land Marching Band added flavor to the parade. "It is so nice to have the band here, because it makes our parade special."
Having heard about Falun Dafa in the past, she commented on the importance of the principles of Truthfulness-Compassion-Forbearance, "I truly hope these principles can be appreciated in China and freely practiced there also."
(Clearwisdom)