(Minghui.org) Practitioners in Western Australia participated in the Margaret River Agricultural Show in Gloucester Park on October 21, 2023. Visitors praised Falun Dafa's principles, Truthfulness-Compassion-Forbearance.
Margaret River, a small town south of Perth in Western Australia, is known for its craft breweries, boutiques, and surrounding wineries. The agricultural show, held by the Margaret River Society aims to celebrate the area's rich agricultural and cultural heritage and is the largest and most popular event in the region.
Featuring agricultural displays, arts and crafts, fireworks, animal shows, entertainment, etc, the show attracts thousands of people from the town and surrounding areas.
Many people learned about Falun Dafa and the Chinese Communist Party's (CCP) persecution of the spiritual discipline. Practitioners introduced the mind-body-spirit benefits of practicing Falun Dafa and the principles of Truthfulness-Compassion-Forbearance.
After talking with a practitioner Tina said, "Truthfulness, Compassion, and Tolerance. I think the world needs more of these values. I wasn't aware of Falun Dafa before today. However, I'm aware of the Chinese government's dictatorship. I didn't know about this persecution until I met you.
"I liked finding out about it through the analogy of the lotus flower, of growing through the mud and how to deal with that going through your life, and to maintain the courage, the peace, the thoughtfulness, and patience. That's how you should live your life."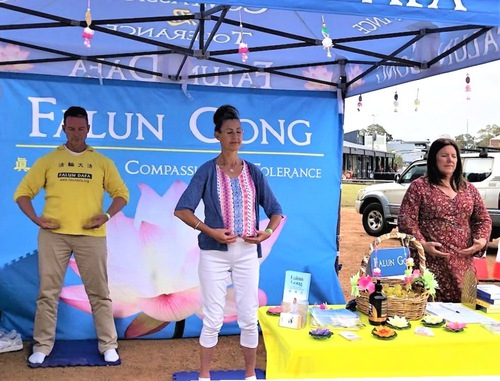 Local residents Lizzy and her son Noah visited the Falun Dafa booth. Noah said, "I think it's really important to have the values of Truthfulness, Compassion, and Forbearance in our world. Without them, the world wouldn't be at peace, and it would just be at war."
After hearing the story of Falun Dafa, a woman named Nic said, "I feel it's very positive here. We've had a lesson in patience and perseverance. I think the values of Truthfulness, Compassion, and Forbearance are very much needed in society."
Local resident Frank said, "The principles of Truthfulness, Compassion, and Tolerance are so essential today, even more than before, because the world seems to be going in the opposite way. It's good to practice and empower these values."
Practitioners gave origami lotus flowers and flyers to Lara Armstrong, the President of Margaret River & Districts Agricultural Society so that she could share them with members of her society. Lara said it was exactly what they needed. She asked practitioners if they would be able to participate next year.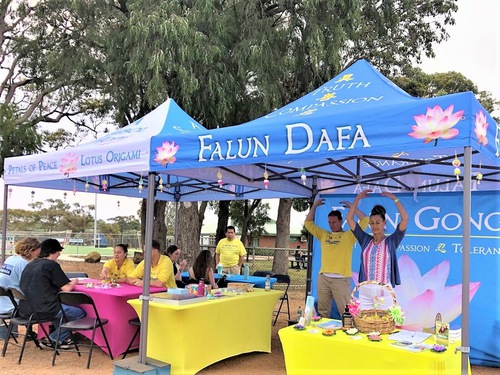 Copyright © 2023 Minghui.org. All rights reserved.