(Minghui.org) Practitioners from Australia, New Zealand, Vietnam and other places held a parade in Melbourne on October 27, 2023, the turn of spring and summer in the southern hemisphere.
A world-famous tourist city, Melbourne is the industrial centre of Australia, a renowned fashion capital, and a cultural mecca. Melbourne was the first city in the southern hemisphere to host the Summer Olympics.
Under the bright sunshine, the colorful parade drew the attention of residents and tourists to watch and take photos. Many people said that the peaceful parade was impressive and conveyed a beautiful message. They said that Falun Dafa's principles of Truthfulness, Compassion, and Forbearance are very important for today's society because if more people followed them, the world would be a better place.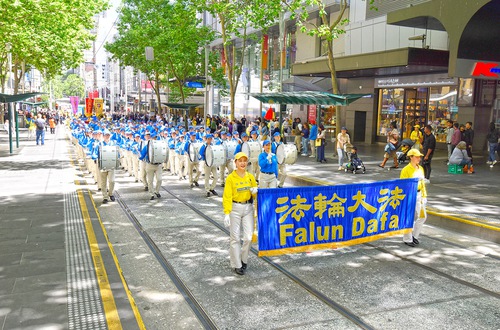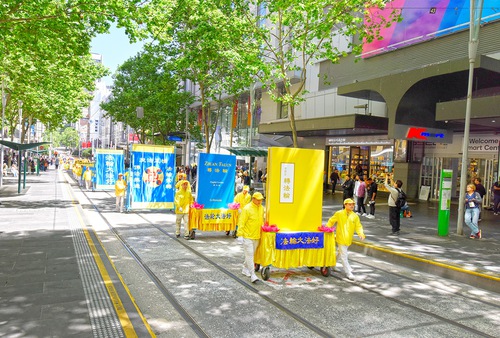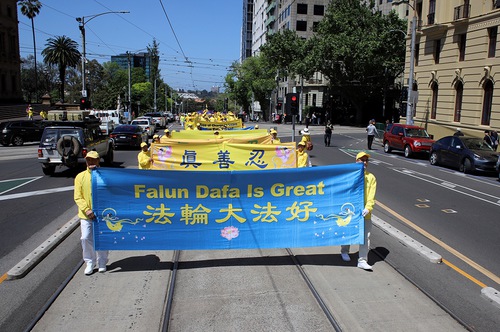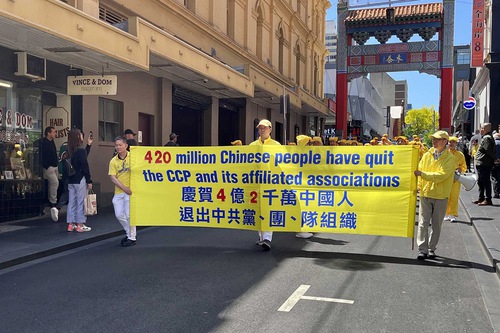 People Commend Truthfulness-Compassion-Forbearance
Three women, Darryl, Jane, and Allison, were drawn by the parade. When they saw the colorfully decorated boat-shaped float, they said it was beautiful.
When the exercise demonstration team passed by, Darryl said, "The movements are really beautiful, they look so relaxed."
Seeing so many people holding a peaceful parade in Melbourne, they were curious about where they were from. They learned that practitioners were holding a series of activities throughout Australia this weekend and that Falun Dafa is a practice that follows the principle of Truthfulness-Compassion-Forbearance. Daryl said, "This is very good. Every one of us needs it."
All three of them agreed that Truthfulness-Compassion-Forbearance can play a positive role in Australian society.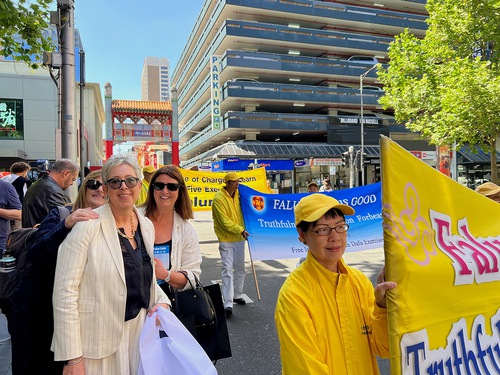 Tim Woodward from New Zealand agreed with the principles of Truthfulness-Compassion-Forbearance. "No matter where you come from, these principles are good and are good wherever you are," he said. "Because people come from different backgrounds and cultures and everyone has their own ideas, tolerance of different cultures is important."
He said that today's world is full of conflicts, and tolerance is a good way to turn conflict into friendship. He hopes that, "Everyone among China's Falun Dafa practitioners can have freedom and be able to practice."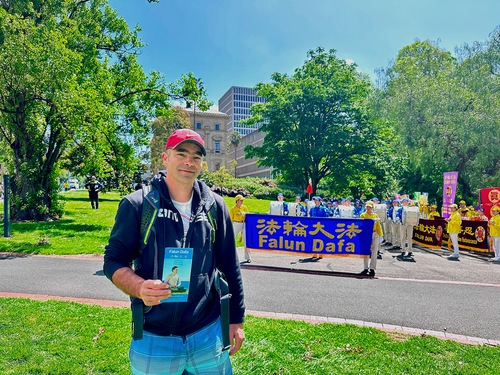 Haiden Banks, a local resident, said, "I have never seen such a parade. It is beautiful."
He liked the Tian Guo Marching Band's music. He said that the principles of Truthfulness, Compassion, and Forbearance are very important to today's society. "It's really great to see so many different cultures (displayed) in one parade. Considering everything that's going on now, I think this is definitely what the world needs right now," he said. "The more people do this, the better the world will be."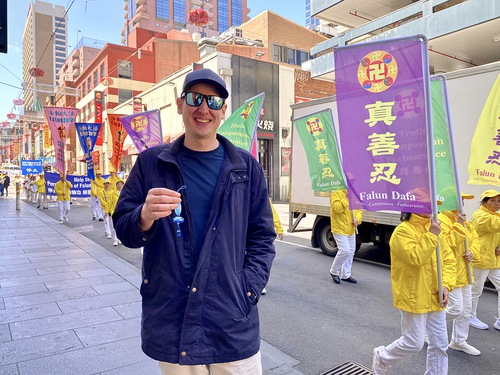 Maria Leal, who works in senior care, said, "Watching the march gives me a sense of calm."
She said the Tian Guo Marching Band was great. "The colors are attractive and the music was soothing. It is incredible!"
She also said, "The words on the banner 'Truthfulness, Compassion and Forbearance' shows kindness and patience. We all need to practice these principles in order to have a better life, and it's very important to have these in our lives."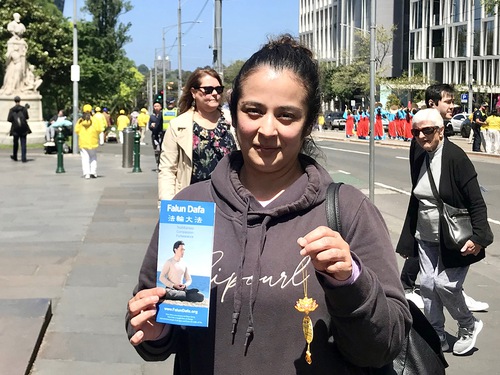 Director of a Multinational Company: The March Was Peaceful and Conveyed the Truth
John is a director of a multinational firm. When he saw the Falun Dafa parade, he expressed his support for freedom of belief and said, "It's great. Australia is a democratic and free country, and you can express your thoughts freely here. You are conveying the truth, which will help more people learn about the nature of the Chinese Communist Party (CCP). In my opinion, Falun Dafa's parade is very peaceful and makes people feel more spiritually fulfilled.
"I love the bright colors and vitality of the Falun Dafa group, and I appreciate their positive power. This is a positive, smiling, and happy group."
When he saw the banner "Stop Organ Harvesting", he said, "It's so terrible. The Chinese Communist Party has been persecuting people in terrible ways."
He thanked practitioners and said, "Very peaceful, thank you (Falun Dafa practitioners). I hope more media will pay attention to practitioners' appeals."
Afshin, a civil engineer, said that although this was his first time seeing a Falun Dafa parade, he was deeply and instantly moved. "The dance performances, the different costumes, the colors, the music, everything impressed me so much."
He said that the information displayed on the banners was great. He said, "I like it very much. The parade helped me know what is happening in China. I believe that after people see this, they will spread the information to more people."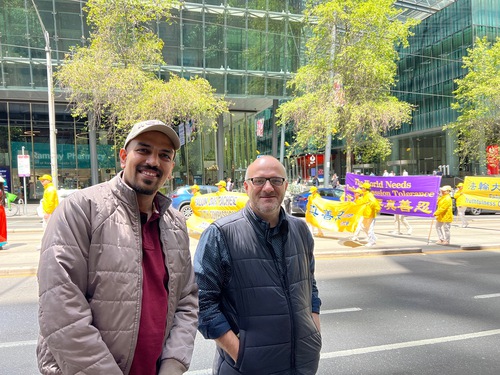 Tourist from Paris: I Feel a New World
Matthieu and Louna from Paris were excited when they saw the Falun Dafa parade in Melbourne. They happily took a group photo in front of the parade. Louna said, "I think this parade is beautiful and makes me feel a whole new world. Truthfulness, Compassion, and Forbearance can help the world develop in a positive direction."
Regarding the CCP's persecution of Falun Dafa, Matthieu said, "It's important that we do not forget the victims. Many people are still persecuted."
Louna said, "The Communist Party treats people cruelly, and the persecution causes people who insist on their beliefs to suffer. It is important for (Falun Dafa practitioners) to make their voices heard. Don't be silent. The whole world should know this so more people will pay attention to the persecution."
Louna said it is great that more than 400 million people quit their memberships in the various CCP organisations.
People Appreciate Practitioners' Efforts
Nestor Correa, who lives in Melbourne, saw the parade for the first time and she stopped and watched. She said, "The music played by the Tian Guo Marching Band is so beautiful. It's peaceful and touching. This is amazing. This is a scene I've never seen before. Thank you for everything. I agree with Truthfulness, Compassion and Forbearance, which are the concepts that everyone should follow. It's very important that we be good people."
She also saw the banners protesting the CCP's persecution. She said, "This matter is important because we need justice."
Freedom Taylor said, "The parade is peaceful, lovely, really great. The traditional costumes are beautiful. The parade was well organised. What a great day!"
The man next to her added, "The parade is great, very peaceful." He said that the "Truthfulness-Compassion-Forbearance" banner "showed him a very clear message." "I think it's great. We need to adopt this (peaceful) approach (exposing the persecution), you know. The world is full of violence."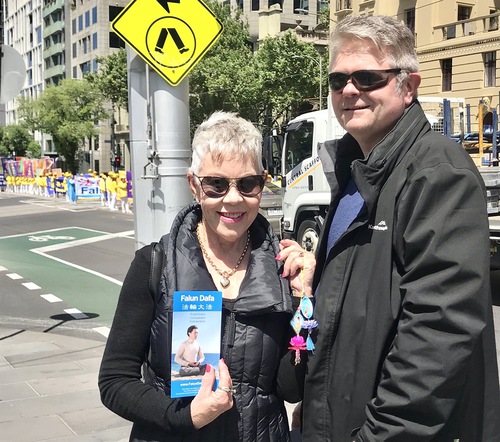 Copyright © 2023 Minghui.org. All rights reserved.