(Minghui.org) Practitioners participated in the 2023 Penrith Annual Show held in West Sydney, on August 25-27, 2023. They demonstrated the Falun Dafa exercises at a booth and distributed information about the practice. Many people praised Falun Dafa for its pure, amazing energy field and health benefits.
This year marks the 178th year of the Penrith show. The event offers a wide variety of entertainment, attractions, and activities, including the school agriculture display, delicious food, performances, rides, an animal nursery, and a reptile display. Thousands of people, young and old, attend the popular event.
While practitioners demonstrated the five sets of Falun Dafa exercises, many people came to the booth and asked about the practice and exercises. Many people said they felt a pure, uplifting energy field. They also said they would tell friends and family about the practice so that they too can benefit. People also asked where they could learn the Falun Dafa exercises.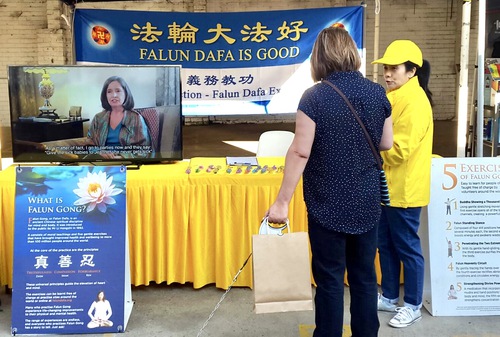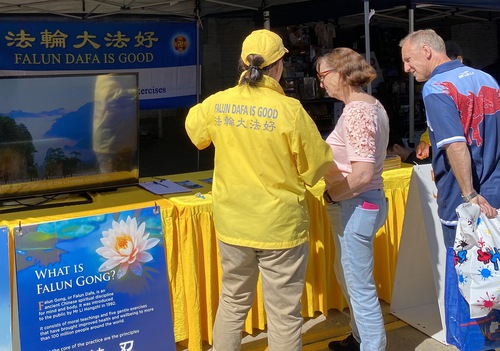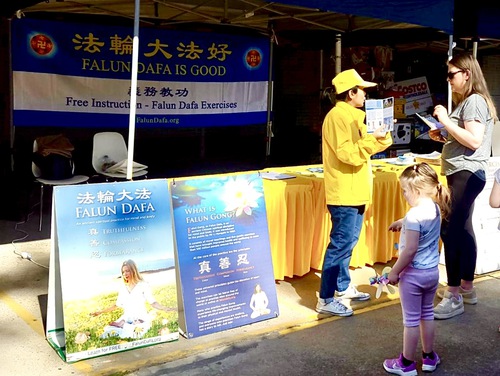 A Pure Energy
Pam Melling was drawn to the calm energy when she walked past the exercise demonstrations at the booth. She said, "I noticed practitioners doing the exercises and they looked so peaceful, and full of energy. I can feel the positive, pure, wonderful energy coming from them.
"I operate a business which offers pregnant women ways to relieve stress and improve their mental health. I felt the pure energy coming from practitioners as they did the exercises. I will tell them about this, and I'd also like to learn how to do them."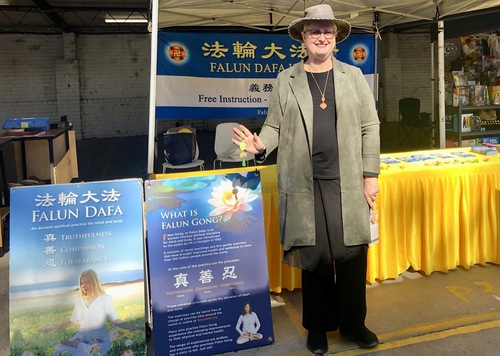 Hoping to Learn Falun Dafa
Krush B., an accountant, was looking for a way to relax her mind and body. She was drawn to the information booth and talked with practitioners. She said, "I saw practitioners doing the exercises in a park before. I felt the calming energy from the soothing exercises. I saw them again today and decided to ask for more information."
She was thrilled to learn that practitioners planned to conduct free classes at a local park on the weekend. She said, "I was hoping to find a form of outdoor exercise and meditation, and I am glad to see you here today! The exercises look so peaceful and relaxed. I want to learn them."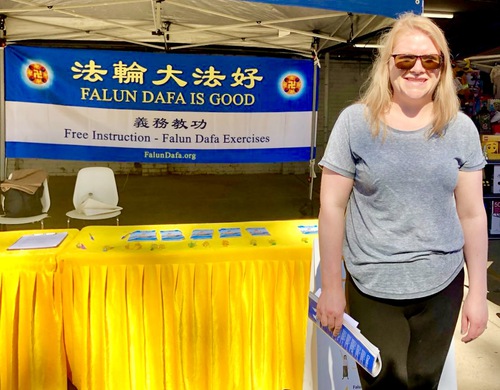 Chinese Man Expresses Support for Falun Dafa
Mr. Gong, a Chinese man who owns a small business, lingered near the information booth, and said he was reluctant to leave. He said he wanted to learn how to practice Falun Dafa but he is very busy with work and has difficulty calming down. He said he needs to practice cultivation with a focused mind and without random thoughts.
He said, "I've spoken to several Falun Dafa practitioners in the past. They are kind and polite. Falun Dafa is brutally suppressed in China, and this is wrong. People in China have no freedom, they are suffering. However, in Australia, everyone has freedom of belief."
He also praised practitioners for being selfless and persevering in upholding justice. He thinks their persistent spirit in exposing the lies spread by the Chinese Communist Party vilifying the practice over the years is admirable. He said, "Although the road is long, practitioners have persisted for a long time, and they have been working hard for a Chinese society with freedom of belief, kindness, and conscience. This is admirable. I feel it has not been easy for them."
He also said, "I have a friend who was a CCP member. In the beginning, he had doubts about Falun Dafa. But after he tried to practice, he benefited a lot physically and mentally. He used to believe everything the CCP said. Through his personal experience, he realized the CCP's propaganda are lies, and he withdrew from the Party and began to go out to help people quit the CCP and its affiliated organisations. He tells people Falun Dafa practitioners are good people."
Mr. Gong also said, "Falun Dafa teaches one to live by the principles of Truthfulness-Compassion-Forbearance. Traditional Chinese culture was destroyed in China. However, it has continued overseas. Falun Dafa is promoting China's traditional culture of cultivation outside China. This is excellent. I support and affirm Falun Dafa one hundred percent. I frequently remind my friends to give Falun Dafa a try. You will surely benefit physically and mentally."
As the Mid Autumn festival is approaching, he wished the founder of Falun Dafa, Master Li, a Happy Mid Autumn festival!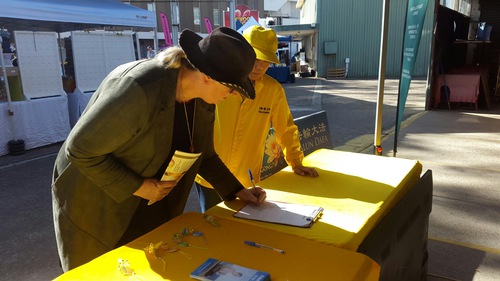 Chinese version available
(Clearwisdom)
Sydney: Introducing Falun Gong at the City2Surf Fun Run Event