(Minghui.org) The month of August 2023 recorded 66 cases of Falun Gong practitioners being sentenced to prison for upholding their faith.
Among the 66 cases, 5 took place between 2018 and 2021, another 5 in 2022 and 47 in 2023, as well as 9 cases with unknown sentencing dates. The delay in reporting was caused by the strict information censorship under the Chinese Communist Party (CCP), which aims to keep the persecution underground to avoid international scrutiny.
The sentenced practitioners were from 19 provinces, centrally controlled municipalities, and autonomous regions in China. Shandong had the most cases, 10, followed by Heilongjiang (9) and Liaoning (7). The remaining 16 regions had between 1 and 5 cases.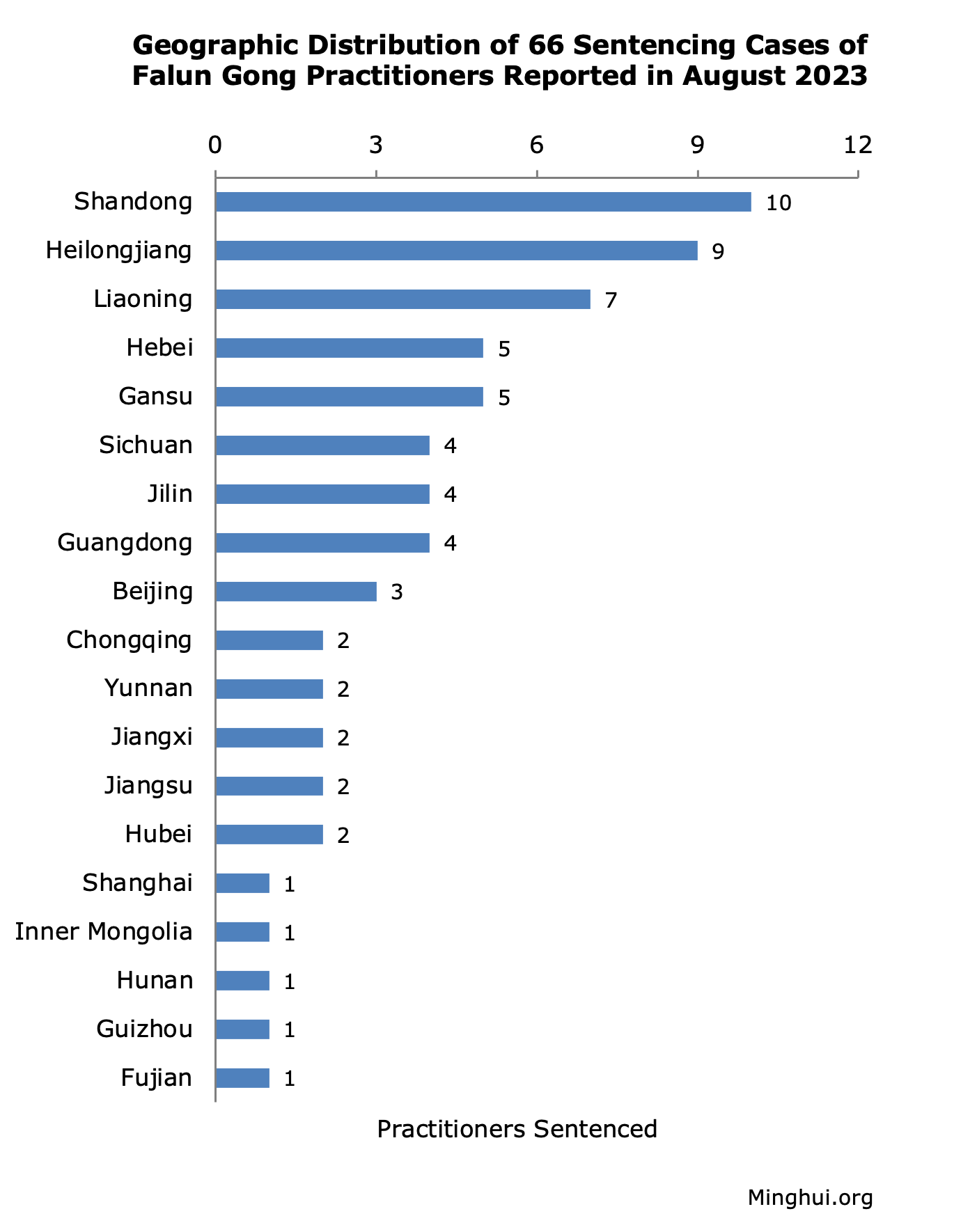 Among the 48 practitioners whose ages at the time of sentencing were known, 2 were in their 30s, 4 were in their their 40s, 11 were in their 50s, 16 were in their 60s, 10 were in their 70s and 5 were in their 80s. The oldest practitioner was an 86-year-old resident of Changsha City, Hunan Province, who was sentenced to 2 years in December 2022.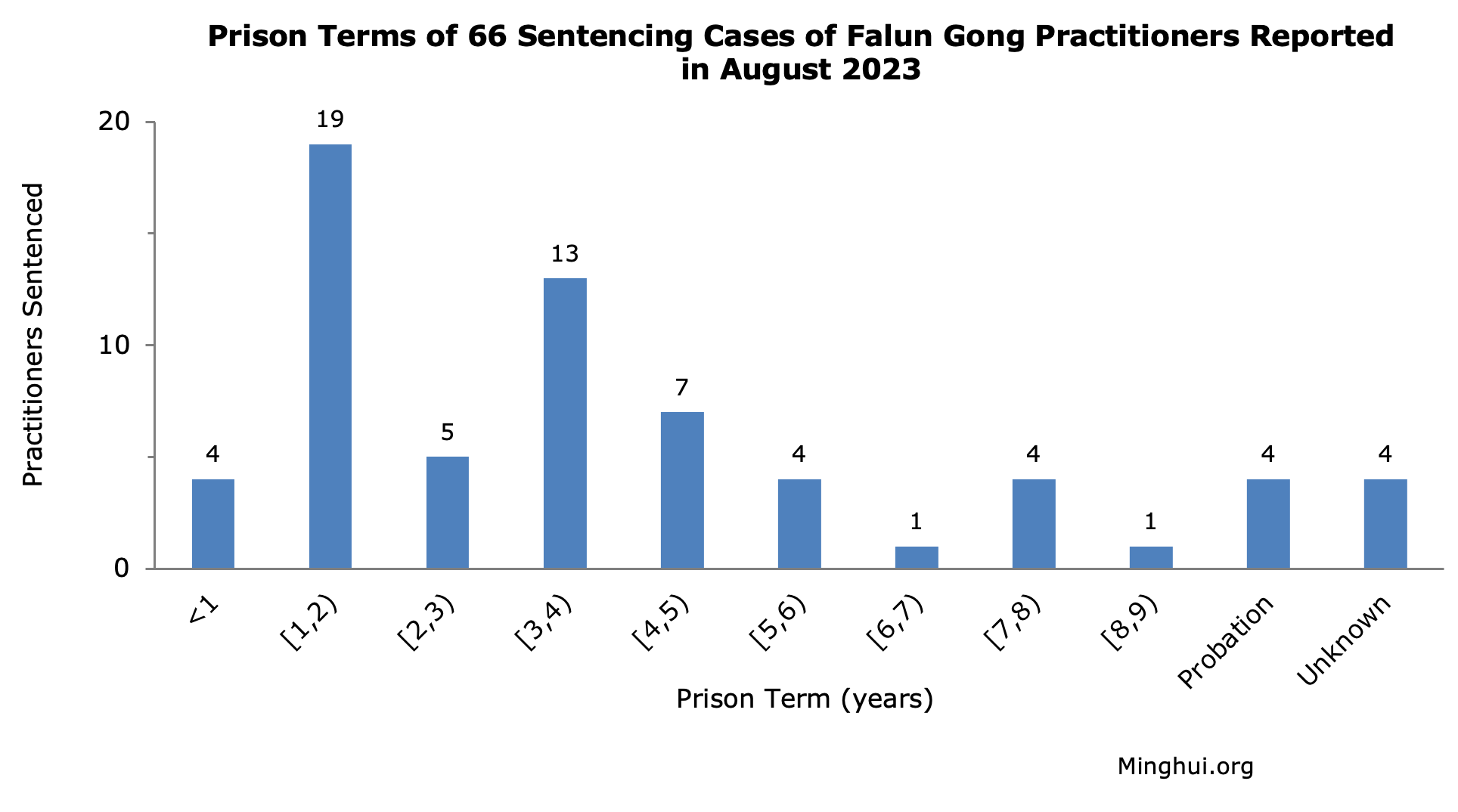 The practitioners' terms ranged from six months to eight years, with an average term of three years and one month. A man who has served 19 years in prison was given another 5 years. A 70-year-old man received 3.5 years after having served 2 years of forced labor and 14 years in prison. A 30-year-old young woman who began to witness the persecution of her mother since the age of 6 was sentenced to 4.5 years herself.
The following are snapshots of select sentencing cases. The full list of sentenced practitioners can be downloaded here (PDF).
Repeated Persecution
Gansu Man Sentenced Another Five Years After Being Jailed for 19 Years
Just one year after a 59-year-old Lanzhou City, Gansu Province resident was released from serving 19 years in prison, he was arrested again and sentenced to another 5-year term.
Mr. Li Wenming, also known as Li Mingyi, was an employee of Lanzhou Locomotive Works. He used to suffer from numerous chronic illnesses and struggled with frequent back pain, limb weakness, and fatigue. Upon learning about Falun Gong in 1996, all his illnesses disappeared and he became a better person.
As the CCP kept spreading defamatory propaganda against Falun Gong to mislead the public since the onset of persecution in 1999, practitioners in Lanzhou intercepted the cable television network on August 17 and 18, 2002, and played videos of the real story about Falun Gong for half an hour. Mr. Li was arrested on August 30 that month. The police not only beat him, but also shocked him with electric batons once every minute, leaving Mr. Li on the verge of death.
Mr. Li was later sentenced to 20 years in prison. He was single and orphaned as a child. The prison administration nonetheless blocked his relatives from visiting him saying only immediate family members were allowed to see him. As a result, no one was able to visit him while he was tortured miserably until his release in August 2021 (one year before the end of his prison term).
Mr. Li was destitute when he returned to his apartment affiliated with Lanzhou Locomotive Works. Influenced by the CCP's slanderous propaganda, his neighbor discriminated against him and humiliated him, forcing Mr. Li to move out and live at a rental place.
Before the CCP's 20th National Congress in October 2022, Lanzhou officials launched a "One-Hundred-Day Strike" and arrested numerous Falun Gong practitioners. Mr. Li was seized at his rental place on August 23, 2022. The Chengguan District Procuratorate indicted him and brought his case to Chengguan District Court in late February 2023. The judge later sentenced him to a 5-year term with a fine of 30,000 yuan.
After 2 Years of Forced Labor and 14 Years in Prison, 70-Year-Old Man Sentenced to 3.5 Years
During the 24-year-long persecution of Falun Gong, Mr. Yang Xiaoguang, a 70-year-old Mishan City, Heilongjiang Province, resident, has spent 16 years behind bars, serving a two-year forced labor term and a 14-year prison term.
While detained, he was brutally tortured by being tied to a death bed, handcuffed and hung up, force-fed, stabbed with toothpicks, and so on. He passed out several times while being tortured and lost the hearing in his right ear.
Mr. Yang was arrested again on the evening of March 3, 2023, after being reported by an elementary school student for talking to him about Falun Gong during the day outside of the school. An officer took out his gun during the arrest and threatened Mr. Yang. They photographed his home and confiscated his Falun Gong books and related materials.
Mr. Yang was given criminal detention and taken to the Mishan City Detention Centre. His arrest came not long after he was discharged from the hospital for a stomach bleeding problem. He was still weak and needed to wear warm clothes. The detention centre refused to accept the clothing his family brought for him.
The guards instead repeatedly demanded money from his family, who ended up paying more than 800 yuan in just a few days. The guards asked the family to deposit the money into their WeChat (a social media platform with payment functions) accounts, but they did not issue a receipt.
The Mishan City Procuratorate approved Mr. Yang's arrest on March 17 and later indicted him. The Mishan City Court next appointed a lawyer to represent him. Because the lawyer was instructed to enter a guilty plea for him, Mr. Yang refused to use him.
Mr. Yang's family visited two law firms to try to hire a lawyer to defend his innocence. Both refused to represent him when they learned it was a Falun Gong case.
Mr. Yang appeared in court on June 19. Prosecutor Zhu Hong recommended a 3.5-year term with a 10,000-yuan fine. Presiding judge Ling Zuobin and his assistant judges Li Jiying and Ge Xiaoqing concurred and verbally announced at the end of the hearing that Mr. Yang was sentenced to 3.5 years. The court issued a formal written verdict on June 26.
Traumatized By Her Mother's Wrongful Arrests Since Age 6, 30-Year-Old Woman Gets 4.5 Years
Ms. Zhang Xiwei, a 30-year-old Xi'an City, Shaanxi Province, resident, was taken to the Shaanxi Province Women's Prison on June 29, 2023, after her appeal against a 4.5-year prison term for practicing Falun Gong was rejected.
Ms. Zhang's family traveled to the prison in Xi'an City on July 25 and August 25 but were denied visits with her both times. They were told they could not see her, "because she had not yet renounced Falun Gong." Her family is now very worried about her, knowing the brutal torture Falun Gong practitioners are facing in Chinese prisons.
Ms. Zhang was arrested at home on July 21, 2021. When the police learned that Ms. Zhang's family hired a lawyer for her, they went to her mother's home in Liquan County on August 18. They questioned the older woman who hired the lawyer and also reported her daughter's case to Minghui.org. They threatened to arrest her if she did not cooperate. She refused to provide any information and condemned the police for violating the law by threatening her.
The Yanta District Court tried Ms. Zhang via a video hearing on May 30, 2022. Citing insufficient evidence, the judge later returned the case to the prosecutor, who then managed to persuade the judge to continue the trial against Ms. Zhang. The judge held a second video hearing on August 16, and the prosecutor presented the same evidence as new evidence.
The judge sentenced Ms. Zhang to 4.5 years with a 10,000 yuan fine on November 22, 2022.
When the persecution of Falun Gong started in 1999, Ms. Zhang was only six years old. She once described her persecution as follows:
"My mother was arrested by Liquan County Police Department officers in 2000. She was later given an 18-month term in the Xi'an City Women's Forced Labor Camp. During that time, my paternal grandparents, who were in their 70s, had to take care of me and my two siblings, while still working the family's farmland. In addition to their physical exhaustion, they also constantly worried about my mother, which caused them tremendous mental distress.
"After my mother was released in 2002, I noticed several large bruises on her legs. I asked her what happened to her. She didn't tell me anything. I later learned that she was tortured in the labor camp. I also read on Minghui.org about the torture Falun Gong practitioners are subjected to while in custody, including beating, electric shocks, force-feeding, and even organ harvesting.
"When I returned home from school one day in 2007, several people were attempting to arrest my mother again. Fearing that the police might hurt us, my aunt told me and my siblings to leave the house. The three of us ran to the fruit farm in front of the house. When we returned, our mother was gone. This was a blow to my paternal grandfather, who was in his 80s. He passed away a few days after my mother was released.
"When my 13-year-old younger brother and I were at home by ourselves one evening in 2008, someone knocked on the door. I opened the door and the person asked me, 'Where is your mother?' I said I didn't know. They told one person to stay at our home to monitor us and the rest of them drove to my uncle's home to look for my mother.
"When they returned at around 10 at night, I ran to the car. The driver laughed at me and casually said, 'Your mother isn't in the car.' He might have thought my anxious look was funny, but he didn't know how much harm they caused our family each time they arrested my mother and what trauma it caused a 15-year-old me."
Shoulder Disabled By Torture in Labor Camp, Former Engineer Sentenced Again
Mr. Huang Zhufeng, a Maoming City, Guangdong Province resident, was sentenced to two years and ten months, and fined 10,000 yuan, on August 16, 2023.
Prior to Mr. Huang's latest sentencing, the 53-year-old former award-winning electronic automation engineer served two labor camp terms, including a one-year term given in February 2000 and another two-year term given on September 4, 2001. While he was held in the Sanshui Forced Labor Camp, a guard ordered two prisoners to pull his arms apart as hard as they could on January 2, 2003. Both of his shoulders were dislocated and his arms were disabled. He was unable to continue working in his profession after being released and had to do odd jobs to make a living.
Mr. Huang was arrested again on December 12, 2020, when he returned home from work. The police spent over two hours ransacking his place and confiscated dozens of Falun Gong books and related materials. His wife, Ms. Xie Yuezhen, and their 15-year-old son were also arrested and taken to the Zhanqian Road Police Station for interrogation.
While Ms. Xie called several law firms to find lawyers to represent her husband on December 18, 2020, the police, who had been monitoring her phone calls found out. Officers from the local police station, 610 Office and the street committee came to her workplace three days later on December 21 and questioned her, asking where she got the money to hire lawyers. They threatened her to stop her from looking for any lawyers. She did not comply.
Mr. Huang was tried by the Maonan District Court on February 23, 2023. His two lawyers entered a not-guilty plea for him. Ms. Xie was the only family member attending the hearing, but she was later removed from the makeshift courtroom, as the judge claimed that she was listed as a witness in Mr. Huang's case, (she did not know she was listed).
The judge held a sentencing hearing at the detention center on August 16, 2023, and gave Mr. Huang two years and ten months. According to Ms. Xie, who was allowed to sit through the sentencing hearing this time, Mr. Huang was handcuffed and shackled. The shackles were so heavy that he had to lift them with his hands as he walked.
Mr. Huang's latest arrest in mid-December 2020 dealt a heavy blow to his father. The elderly man's health declined quickly and he was diagnosed with late-stage liver cancer in September 2021. Mr. Huang's lawyer and family repeatedly applied to the Maonan District Court to have Mr. Huang released to see his father for the last time, but the presiding judge, Ke Xuejun, refused to approve it. Mr. Huang's father passed away in late October 2022.
Arrested After Seven Years of Displacement, Hebei Woman Gets Three Years for Her Faith
Ms. Wen Qingfang, a 58-year-old Qian'an City, Hebei Province resident, was sentenced to three years in prison in July 2023. She has filed an appeal with the Tangshan City Intermediate Court.
Ms. Wen was arrested on August 1, 2022, which came after 7 years of displacement to hide from the police. Following an earlier arrest on December 15, 2015, she was found to have a medical condition and denied admission to the local detention centre. She went into hiding after being released, but the 3 practitioners arrested with her were kept in custody and later sentenced to 3.5 to 4 years in prison.
Ms. Wen was taken to the Tangshan City No.1 Detention Centre following her latest arrest. She lost a significant amount of weight after nine months of detention, but she appeared to be in a good mental state when she appeared in Qi'an City Court on April 27, 2023. She refused to be represented by the court-appointed lawyer, but acted as her own lawyer and entered a not guilty plea.
Prosecutor Wang Xiaojing accused Ms. Wen of violating Article 300 of the Criminal Law, which stipulates that anyone using a cult organisation to undermine law enforcement should be prosecuted to the fullest extent of the law. Ms. Wen refuted that no law in China criminalises Falun Gong or labels it as a cult; hence Article 300 did not apply to her case.
Ms. Wen questioned Wang, "Please tell me which law's enforcement was undermined by me?" Wang remained silent.
Ms. Wen demanded to read in court the book Nine Commentaries on the Communist Party, which sheds light on the deceiving and killing history of the regime. The presiding judge, Wang Ziliang, rejected her request. He, along with his assistant judges Wang Hong and Xu Fu, held a second hearing two months later and sentenced Ms. Wen to three years in July without legal basis.
Sentencing of Elderly Practitioners
Chongqing Court Voids Six-month Prison Term Against 81-Year-Old Woman, Sentence Her to One Year in Retrial
During Ms. Liu Guibi's hearing in the Jiangbei District Court in Chongqing on July 4, 2023, the five people presiding over the session left before she finished her defense statement. The 81-year-old Chongqing resident thought the court was in recess but no one returned. Then the court-appointed a driver who brought her to the court came and said that the hearing ended. He drove her home.
The court later delivered a guilty verdict to Ms. Liu's home. She was sentenced to six months in prison. Not long after, the court notified her that the trial was declared a mistrial and the six-month sentence was thus nullified. The judge held a retrial of Ms. Liu on August 25, and sentenced her to one year with a 3,000 yuan fine.
This latest persecution of Ms. Liu stemmed from her arrest on February 16, 2023, when she was reported for talking to people about Falun Gong. The police raided her home and released her on bail around midnight that day.
The Beipei District Procuratorate indicted Ms. Liu on April 18, and forwarded her case to the Jiangbei District Procuratorate on April 26. The procuratorate then submitted her case to the Jiangbei District Court, which sentenced her four months later.
82-Year-Old Hubei Woman Sentenced to 1.5 Years
An 82-year-old woman in Huangmei County, Hubei Province, was recently sentenced to one and a half years with a 5,000-yuan fine.
Ms. Shen Jinye's sentencing stemmed from her arrest on the morning of October 4, 2019, while she was talking to people about the persecution out in public. The arresting officers from the Konglong Town Police Station released her that afternoon after interrogating her for more than six hours.
Officers from the same police station arrested Ms. Shen again on April 9, 2022, after spotting her talking to people about the persecution. She was interrogated at the police station before being released in the evening.
Because of the two arrests, the police sought to prosecute Ms. Shen. The Wuxue City Procuratorate, which was assigned to handle her case, placed her under house arrest on April 18, 2023. About seven officers delivered her indictment to her at home on May 17.
On July 20, four Konglong Town Police Station officers broke into Ms. Shen's home. They said they were there to get her ready to be tried in her own home, per orders from the Wuxue City Court. They threatened to tape her mouth shut if she dared to say anything.
Ms. Shen refused to submit because she knew she had not broken any laws by practicing Falun Gong. The police then yanked her out of her bed and dragged her on the ground all the way to their cruiser. They drove her to the police station and took her to a third-floor room for a virtual hearing. The police again threatened to tape her mouth shut if she talked.
The Wuxue City Court later sentenced Ms. Shen to 1.5 years and fined her 5,000 yuan.
75-Year-Old Man Deceived into Signing Case Document and Sentenced to One Year
Mr. Liu Mingde, a 75-year-old resident of Guanghan City, Sichuan Province, was sentenced to one year with a 3,000-yuan fine on June 30, 2023.
Mr. Liu was arrested at home on September 29, 2022, after a surveillance camera recorded him distributing Falun Gong informational materials in nearby Shifang City the day before. He was released hours later, only to be arrested and taken to the same police station again on October 30, 2022. He was again released after spending an unknown amount of time in the police station.
Several people from the Shifang City Police Department and the Shifang City Procuratorate came to Mr. Liu's home on March 1, 2023. They said that his case was considered a minor case and thus didn't call for a prison sentence. As long as he signed the paperwork they prepared, they'd only give him a six-month house arrest or other lighter punishments. Mr. Liu fell victim to their deceit and signed the paperwork without being allowed to read what was written there.
The Shifang City Court sentenced Mr. Liu to one year on June 30, 2023. He realised that the paperwork he signed had been used as evidence against him. He was allowed to serve time outside of prison but prohibited from going to Shifang City during his one-year term.
Arrested Prior to the "Two Sessions," 70-Year-Old Woman Sentenced to 3.5 Years
Ms. Sha Shuyan, 70, from Harbin City, Heilongjiang Province, was arrested on February 1, 2023, when she was reported for talking to a security guard about Falun Gong at the Hulan District Chinese Medicine Hospital.
Ms. Sha's family went to the Yuanye Police Station to inquire about her case status. An officer said, "The Two Sessions are about to begin so we can't release her. She's 70 years old. We'll release her after the Two Sessions are done."
"Two Sessions" refer to the annual Plenary Sessions of the National People's Congress (NPC) and of the Chinese People's Political Consultative Conference (CPPCC) held in March every year.
The police, however, did not release Ms. Sha after the Two Sessions concluded. They told her family to wait for three months to get confirmation of her case status. The police never contacted her family.
The Daowai District Court scheduled a hearing for Ms. Sha's case for May 9, 2023. Her lawyer and son went to the courthouse that day, but the security guard blocked her son from entering, saying that judge Zhang Ruixiang who was in charge of the case must personally grant permission for him to enter. The lawyer rushed to find judge Zhang and explained the situation. Zhang was very rude and said, "Sha Shuyan's son can't attend the trial!" He drove the lawyer out of his office.
The lawyer then advised Ms. Sha's son to call all the numbers listed on the bulletin board by the courthouse gate. Her son was unable to talk to anyone, as the calls were either unanswered, went straight to voice messages, or did not connect.
It was learned recently that judge Zhang sentenced Ms. Sha to 3.5 years. The evidence used against her included the following two incidents that happened in 2022, when she was previously targeted for her faith.
Around 7 p.m. on March 4, 2022, the chief of the Guangming Police Station led about five officers and knocked on her door. As soon as her husband opened it, the police barged in and started ransacking the place. They confiscated three Falun Gong books and other valuable items before taking Ms. Sha to the police station.
Captain Zhuang Wenjun of the Hulan District Domestic Security Office came to the police station to interrogate Ms. Sha. She was released several hours later.
Ms. Sha's husband, who suffered from stroke complications and had trouble walking, was so traumatised by her arrest that his condition worsened. He remained bedridden for one month and Ms. Sha had to care for him around the clock.
Three officers from the Guangming Police Station came to Ms. Sha's home on August 14, 2022. They photographed her and her home. They also accused Ms. Sha of putting up posters about Falun Gong in the community.
Violation of Legal Procedure
Prosecutor Lists Long-dead Villager as Witness Against Hebei Man
A Baoding City, Hebei Province resident in his 60s was taken to the Jidong No. 4 Prison in early August 2023 to serve a three-year term for practicing Falun Gong.
Mr. Shi Zongxi's ordeal stemmed from an arrest on February 13, 2020. While he managed to escape from police custody, he was forced to live away from home and went into hiding.
Mr. Shi was arrested while working in a factory on June 4, 2020. He was interrogated in the basement of the police station and released on bail on June 19 that year. He was arrested again in late 2020 while distributing informational materials about Falun Gong. He was released at around midnight.
The police called Mr. Shi's son in May 2021 and promised to clear Mr. Shi of prosecution if he reported to them "to wrap up his case from last year." His son believed the police and strongly demanded that his father do as required. Mr. Shi therefore went to the police station days later on May 27, only to be arrested and admitted to the Mancheng District Detention Centre.
As the authorities barred Mr. Shi's family from visiting him, the family kept writing to the various departments handling his case to seek justice, but to no avail. The police later submitted his case to the Shunping County Procuratorate, which then indicted him.
Mr. Shi stood trial at the Shunping County Court on February 17, 2023. His wife was the only family member allowed into the courtroom. She almost fainted at the sight of him being carried by four bailiffs into the courtroom. He was wearing shackles and head-to-toe white protective gear. She could see only his eyes and couldn't tell whether he had lost any weight after two years of detention.
Mr. Shi's two lawyers entered a not-guilty plea on his behalf. They were shocked to see that the prosecutor listed Shi Lianyou, a villager (with no relation to Mr. Shi) who had died in 2018, as a witness against their client. It's not clear whether Shi's "witness account" was deemed admissible evidence when the judge announced months later that Mr. Shi was sentenced to three years.
Shaanxi Man's Family Devastated to Learn His "4-Year" Prison Sentence is Actually 8 Years
When Mr. Liu Wei's family was finally allowed to see him for the first time in four years, they thought he was about to finish his four-year prison sentence. They were shocked to learn that he will be incarcerated for four more years.
Mr. Liu, 64, from Hanzhong City, Shaanxi Province, was arrested in the province's capital Xi'an on September 28, 2019. The police in the nearby Foping County suspected him of having previously visited there to tell people about the persecution of Falun Gong and were determined to prosecute him.
Mr. Liu's family went to the Foping County Detention Centre in late May 2021 and a guard there lied to them and said that he was sentenced to four years and transferred to the Hantai Detention Centre. The guard also said Mr. Liu was appealing his prison sentence. His loved ones were not allowed to visit him at the Hantai Detention Centre or have any other forms of communication (such as phone calls or virtual meetings) with him.
Mr. Liu reached the retirement age of 60 in 2019 but never received a penny of his pension from either his employer, Hanzhong City Grain and Oil Machinery Factory, or the local social security office.
His loved ones were later told he was serving time at the Weinan Prison. After the COVID-19 pandemic restrictions were lifted in 2023, they immediately applied to visit him in person and were approved.
Mr. Liu's family thought he would finish his four-year sentence by September 2023, but were heartbroken when he said that he still has four more years to go. At the time of this report, his family has never received any official notification of his indictment, trial, or sentencing.
Mr. Liu told his family that he was forced to do hard labor on a regular basis. Because he refused to renounce Falun Gong, for one month he was forced to stand for long hours every day. He is now emaciated and his family is worried. They wonder if he will survive four more years in prison.
Hebei Woman Sentenced to Four Years by an Out-of-Province Court 1,500 Miles Away
Ms. Rong Xiuzhen, around 55 and from Shijiazhuang City, Hebei Province, was arrested at her daughter's home in Kunming City, Yunnan Province, on September 12, 2022. She had planned to return to Shijiazhuang the month prior after visiting the young couple and their kindergarten-age child, but her flight got canceled due to an outbreak of the COVID-19 pandemic.
The Wuhua District Court in Kunming Court initially scheduled a hearing for February 10, 2023, but postponed it one day before the court date. The court then worked hand in glove with the police, attempting to stop Ms. Rong's lawyer from defending her innocence in court.
It is unclear when the rescheduled hearing took place and if the lawyer was allowed to attend. Ms. Rong's family learned that she was sentenced to four years in May 2023.
Ms. Rong took up Falun Gong in 1999. She credits the practice for helping her find peace and joy in life despite its hardships. Her husband suddenly died of a stroke one night in April 2006, five months before their daughter was set to start college. Ms. Rong worked hard and helped her daughter to have a smooth start with her college studies. It was Falun Gong that gave her the strength to carry on.
At the end of her daughter's sophomore year, Ms. Rong was arrested on July 4, 2008. She was held at the Shijiazhuang City First Detention Centre for three years and released on July 3, 2011. According to her daughter, three court hearings were held following Ms. Rong's arrest, but their family was never told whether she was sentenced.
Family Tragedies
Court that Sentenced Wife to 7 Years Sentences Husband to 5.5 Years
A 64-year-old retiree in Taian City, Shandong Province was sentenced to 5.5 years in March 2023 and admitted to prison three months later. The court that convicted him had sentenced his wife to seven years back in 2021.
Both Mr. Li Cunguo and his wife Ms. Xie Qingling, around 67 and a retired chemical fertiliser plant employee, were targeted for their shared faith in Falun Gong.
Ms. Xie was seized on November 24, 2020, while distributing Falun Gong informational materials in nearby Liangzhuang Town. The police raided her home hours later and arrested Mr. Li. The couple's Falun Gong books and materials, a computer, and a printer were confiscated.
Both Ms. Xie and Mr. Li were taken to the Xintai City Detention Centre, but Ms. Xie was later moved to the Taian City Detention Centre, where she appeared in a virtual hearing on July 15, 2021. Judge Shen Yuxian of the Taishan District Court later sentenced her to seven years with a 20,000 yuan fine. She was admitted to the Shandong Province Women's Prison in early December 2021.
Mr. Li developed severe medical conditions after two months of detention and was released on bail around February 2021. He had surgery and moved in with his daughter after he was discharged from the hospital. The police threatened his daughter to not allow him to go out. The young woman locked Mr. Li at home when she went to work. She didn't allow him to study the Falun Gong teachings or contact other local practitioners.
In June 2021, Mr. Li opened a window and climbed down from his daughter's apartment building when she was not home. He then went into hiding. The police put him on the wanted list and captured him on September 13, 2022.
The Taishan District Court held a hearing of Mr. Li's case on March 23, 2023, without the presence of any of his family members. It is unclear whether the court ever notified his loved ones of the trial or didn't allow them to attend the hearing. Mr. Li was sentenced to 5.5 years with a 15,000 yuan fine at the end of the hearing. He was admitted to the Shandong Province Prison in early June 2023.
Having Lost His Wife to the Persecution of Falun Gong, Retired Sailor Gets Four Years
Mr. Lin Wu, a retired sailor, was arrested on August 14, 2020, and made two court appearances at the Maoming City First Detention Centre, on May 17 and July 28, 2023, respectively. The 59-year-old resident of Maoming City, Guangdong Province was sentenced to four years with a 15,000-yuan fine on July 28, 2023.
During both hearings, the presiding judge had an ambulance on standby, as Mr. Lin had been tortured to the point of suffering chest pain, high blood pressure, numbness in his fingers, and dizziness. He was driven away right after his sentencing hearing on July 28, and his lawyer suspected the bailiff took him to a hospital.
Mr. Lin is not the only one in his family targeted for practicing Falun Gong. His wife, Ms. Li Suzhen, died as a result of the persecution years ago. Mr. Lin raised their four children all by himself.
Targeted for Speaking Out
Jilin Woman Given Three Years for Writing to Government Official and Urging Him to Stop Persecuting Falun Gong
Ms. Cui Yanling, a 66-year-old resident of Changchun City, Jilin Province, was sentenced to three years in prison for urging a government official to stop following the Chinese Communist Party to persecute law-abiding Falun Gong practitioners like her.
Ms. Cui was arrested at home on the morning of September 9, 2021, by officers from the Hongqi Street Police Station. They targeted her per the order of an official at the Jilin Province Public Security Bureau. The official had received a letter urging him to stop persecuting Falun Gong practitioners. After pouring over surveillance videos, the police concluded that it was Ms. Cui who had mailed out the letter and then tracked her down to her home.
Ms. Wang Ying, another Falun Gong practitioner who happened to be visiting Ms. Cui when the police came, was also arrested.
The Chaoyang District Court sentenced Ms. Cui to three years and Ms. Wang to two years and eight months on June 13, 2022. Both women were admitted to the Jilin Province Women's Prison on July 14, 2023.
This is not the first time that Ms. Cui, a former accountant at the Helong City Asbestos Cement Products Factory in Jilin Province, has been targeted for upholding her faith. A native of Helong City, Jilin Province, she was arrested multiple times by local police and forced to live away from home around 2006. She eventually settled in Changchun.
Shanghai Woman Given One Year in Prison for Filing Motion to Reconsider Her Second Wrongful Prison Term
A woman in Shanghai filed a motion to reconsider her case after serving a second prison term (3.5 years). She sought to have the wrongful conviction expunged from her record because she should never have been jailed for practicing Falun Gong, which has been persecuted by the Chinese Communist Party for a quarter century.
In retaliation against Ms. Li Hong's efforts, the police arrested her nine months after she mailed her motion, eventually leading to her third prison term, a one-year sentence, in late July 2023.
Ms. Li, a 48-year-old accountant for a software company, took up Falun Gong in 2005. She was arrested on the evening of July 16, 2008, while distributing informational materials about Falun Gong.
The Songjiang District Procuratorate indicted Ms. Li two months later on September 12. She was sentenced to 3.5 years by the Songjiang District Court on January 7, 2009. She appealed with the Shanghai City No. 1 Intermediate Court, which ruled to uphold her original verdict on March 23, 2009.
Ms. Li was transferred from the Songjiang District Detention Centre to the Shanghai Women's Prison on May 5, 2009. She was subjected to relentless torture and brainwashing, aimed at forcing her to renounce her faith. After spending 30 months of hellish days in prison, she was released on November 15, 2011.
Ms. Li was arrested again early on the morning of June 13, 2017, as the police accused her of publishing articles about Falun Gong on social media. The Xuhui District Court sentenced her to 3.5 years with a 10,000 yuan fine on April 11, 2018. Her appeal was again rejected by the Shanghai City No. 1 Intermediate Court. Her family tried to hire a lawyer to file a motion to reconsider her case, but were met with obstructions from the authorities.
Ms. Li was transferred to the Shanghai Women's Prison in August 2018 and released on December 12, 2020.
On December 19, 2021, a year after her prison release, Ms. Li decided to mail the motion to reconsider her case with the Shanghai City No. 1 Intermediate Court. She demanded that the higher court acquit her, and also sought the return of her Falun Gong books confiscated by the police. She was notified on January 4, 2022, by the appeals court that her case had been accepted.
Before the appeals court held a hearing of Ms. Li's case, officers of the Caoyang Police Station in Putuo District arrested her, on September 9, 2022. Her arrest was approved by the Putuo District Procuratorate on October 15. According to information collected by her lawyer, the Putuo District Procuratorate and Putuo District Police Station were trying to sentence Ms. Li, in order to scare other practitioners and prevent them from filing motions to reconsider their wrongful prison terms.
Ms. Li's case was later transferred to the Jing'an District. Judges Gong Wen and Gong Xulong announced her one-year prison sentence and 2,000 yuan fine during her court session on July 28, 2023. She was accused of mailing four documents about Falun Gong to the Putuo District Court, Caoyang New Village Street Committee, Shanghai Railway Transport Court, and Huangpu District Court.
Hospital Worker Sentenced to Seven Years for Sending Information about Falun Gong
Mr. Zhu Rui from Beijing was sentenced to seven years in prison and fined 14,000 yuan for telling people about the persecution of his faith, Falun Gong.
Mr. Zhu, 30, who works at the Chaoyang Hospital, was stopped at a subway station by several officers while on his way to work on April 21, 2021. They targeted him because he was reported for carrying a device that could send information about Falun Gong to people's cellphones.
During the hearing by the Haidian District Court on February 6, 2023, the prosecutors alleged that Mr. Zhu spent more than 500 hours sending Falun Gong information to the public from the special device. They, however, couldn't show how they arrived at the number of 500 hours. Mr. Zhu's lawyer pointed out that the number was fabricated. Wang Chong, the presiding judge, asked if the prosecutors would like to respond to the lawyer. They said no.
Mr. Zhu's lawyer received a notice from the Haidian District Procuratorate on March 29, 2023, saying that they escalated the charges against Mr. Zhu. However the procuratorate did not list the escalated charges. They only said the circumstances surrounding Mr. Zhu's case were particularly serious.
In mid-April 2023, Mr. Zhu's mother learned that he developed tuberculosis and liver problems and was admitted to the Beijing Public Security Hospital.
She called prosecutor Dong Liyan and complained, "My son was healthy during the required physical examination before his detention, but after he was persecuted he is sick." Dong remained silent.
She also called judge Wang and urged him to stop persecuting her son. Wang immediately said, "Are you threatening me?"
Wang scheduled a second hearing for May 11, but later changed it to May 8, before settling on May 12. The hearing was held at the Beijing Public Security Hospital and Mr. Zhu's family was not allowed to attend it. Wang asked if Mr. Zhu intended to keep practicing Falun Gong. He said of course because it helped him quit video games and restored his health. Wang ended the session in just a few minutes and sentenced Mr. Zhu on June 20.
Chinese version available
(Clearwisdom)
Reported in July 2023: 74 Falun Gong Practitioners Sentenced for Their Faith