(Minghui.org) Falun Dafa practitioners held activities in Bucharest to introduce Falun Dafa, from the end of July to early August 2023. On July 29, an information booth was set up at the entrance to the "Children's Town," one of the most popular parks in the city. A similar event was held on August 5 in front of the National Bank of Romania in the central part of old town Bucharest.
Practitioners told passersby that Falun Dafa is based on the principles of Truthfulness, Compassion, Forbearance, that it is now practiced in over 100 countries, and hundreds of millions of people have benefited from it. These principles are opposite the class struggle advocated by communist ideology. As a result, practitioners in China are targeted for brutal persecution by the Chinese Communist Party (CCP).
Romania was once a Communist country so many people understand the oppressive nature of the CCP. They expressed sympathy for the suffering of practitioners in China and encouraged them to persist in their belief.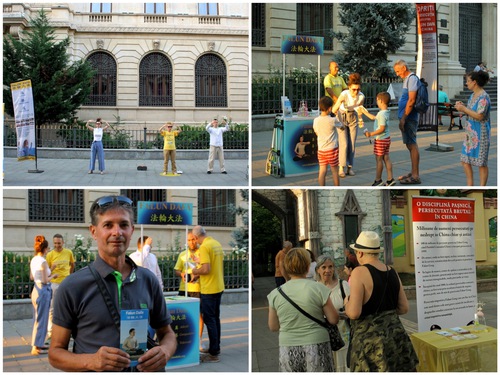 Romanians Encourage Practitioners in China to Not Give Up
Mihaela, 36, was moved by the lotus flowers given out by practitioners. The flowers symbolised a pure way of life filled with Truthfulness, Compassion, Forbearance. She knew about the torture and suppression suffered by practitioners in China and felt sad. She encouraged them to continue to expose the persecution and not give up their belief.
Two women were surprised to learn that Falun Dafa has been practiced in Romania for over two decades. They thought it was wonderful that practitioners in Romania, a former communist country were able to practice Falun Dafa freely. One of them inquired as to where the practice site is in Bucharest.
They both were sympathetic toward the plight of practitioners in China. One said, "This persecution which targets the faith of Falun Dafa practitioners will surely end soon."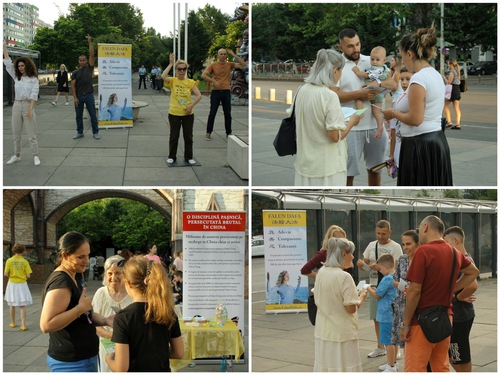 Falun Dafa Is Helpful to China's Revival 
Nicola, 47, lived in Hong Kong for years. He said that Communist ideology ignores the real conditions of mankind and the laws of natural development.
He believes that the ancient Chinese traditions such as the culture of improving one's mind and body like Falun Dafa does, is helpful to China's revival after the CCP collapses. He said, "Chinese people are a remarkable race. They are hardworking, orderly, and have deep roots with ingrained cultural resilience, therefore China will have a great future."
Nicola hopes practitioners in China will regain their freedom and said, "Things will get better soon. This system cannot go on much longer. There will be a breakthrough soon, no political power can stay in rule forever."
Chinese version available
(Clearwisdom)
Brașov, Romania: Locals and Tourists Call for Ending the Persecution in China