(Minghui.org) Practitioners in Seattle, Washington, did the Falun Dafa exercises in Marina Park on June 10, 2023. They distributed fliers and handmade lotus flowers to people.
Marina Park is located in Kirkland centre, close to many restaurants and shops, and features a sandy beach, boat launch, public art, and a beautiful open-air pavilion. People come to the park to enjoy summer concerts and performances of different nationalities and styles, as well as enjoy the magnificent scenery of Lake Washington and Seattle.
Many people paused to talk to practitioners to learn more about the spiritual practice.
Mr. Dominique, who works at Amazon, said that this was the first time he had heard about Falun Dafa. After listening to a practitioner's introduction, he was interested and asked where he could learn the exercises. The practitioner told him the website where the exercises can be learned for free and where he can find out more about Falun Dafa online. He was happy and said he would look and learn.
Ms. Camila works in Seattle and said that she had not heard about Falun Dafa before. Seeing the gentle and peaceful movements of the practitioners, she wished to learn. She asked, "Will you come to the park every week so that I can do the exercises with you?"
Mr. Nathan said that he was visiting the area and didn't have much time to come to the park. After reading the introduction to Falun Dafa, he was interested and asked where he could learn the exercises. The practitioner told him the website where the exercises are taught for free. He immediately took out his notebook and wrote it down. He said, "I only put very important information here."
Mr. Jeremiah who works in Kirkland, read the materials practitioners distributed, and said that his family of five went there for a walk every weekend. They asked if practitioners would be there every week to teach the exercises. A practitioner told him the website and related websites for free instruction. He happily wrote it down and said that he would check it out after returning home and learn the exercises with his family.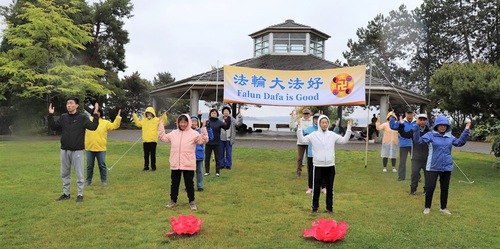 Background: What Is Falun Dafa?
Falun Dafa (also known as Falun Gong) was first introduced to the public by Mr. Li Hongzhi in Changchun, China, in 1992. The spiritual discipline is now practiced in over 100 countries worldwide. Millions of people who have embraced the teachings—which are based on the principles of Truthfulness, Compassion, and Forbearance—and learned the five exercises have experienced improved health and well-being.
Chinese version available
(Clearwisdom)
Washington State: "Fa Boat" Shines in Seattle Seafair Torchlight Parade