(Minghui.org) Practitioners introduced Falun Dafa to people in Apia, the capital city of Samoa, and the island of Savai'i, from June 9 to 16, 2023. Many people learned the exercises after practitioners told them about benefits of the practice.
Practitioners hired 4 cars, split the Samoan nation into 4 regions and covered each area. They visited 58 kindergartens and primary and secondary schools, and 81 churches. They introduced the practice to teachers, students, parents, priests and church-goers. Many schools and churches invited them to demonstrate the exercises.
Such a Wonderful Practice, I Will Continue to Learn It
In one school, after practitioners introduced Dafa and demonstrated the exercises to the principal and two female teachers, practitioners were invited to show the students the exercises.
After learning the exercises, a teacher touched her right shoulder and said in surprise, "My shoulder had been in pain. It was hard to lift my arm. It feels better. I can lift my arm!" She asked when they would come back to teach the exercises again. She said, "Such a great practice, I will continue to learn it online."
Every student received information about Falun Dafa and were told how they could continue to learn it online through the website.
Practitioners also visited a secondary school in east Apia. There were over 600 students in the school aged 16 to 19. The principal took practitioners to the hall to demonstrate the exercises and arranged for practitioners to stand on two tables so that everyone could see the exercise demonstrations.
Later, the principal split the students into 4 groups. Every group followed practitioners in doing the first four sets of exercises. At the end of the session, the principal handed out over 100 fliers to students and encouraged them to go online to continue learning the exercises.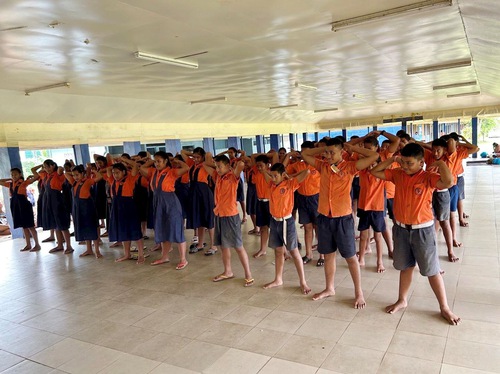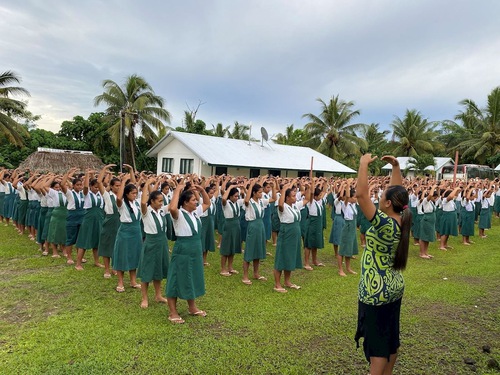 TV Station Interviews Practitioners
Practitioners introduced Falun Dafa at a minister's office in Samoa on June 14. They demonstrated the five sets of exercises. Seven employees learned the movements.
People were moved by the stories practitioners shared on their experiences in practicing Falun Dafa. A secretary to the minister said, "I don't like the current way of treating ailments with many medications. Despite modern medical treatments, people continue to suffer from more severe illnesses. I believe one's unhealthy physical state can be treated through more natural ways such as cultivation." Another staffer said, "I will share this practice with people in my church."
A minister said after he was told of the persecution in China, "I thank you for your efforts and totally support what you do!" His secretary said, "You are my angels! I will go online every day to learn Falun Dafa."
Two crew members from the production team at Samoa's TV3 station came to film and conduct interviews at the minister's office. They also produced a program on the introductory class titled: "What Is the Current Trend?". They were delighted to learn about Falun Dafa.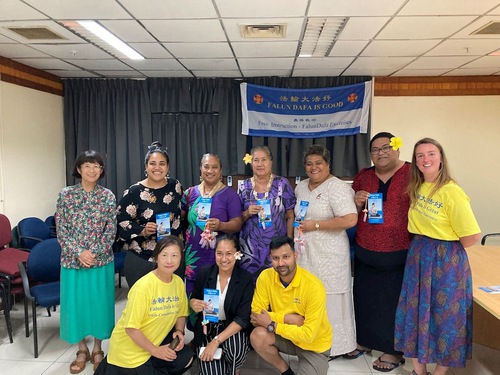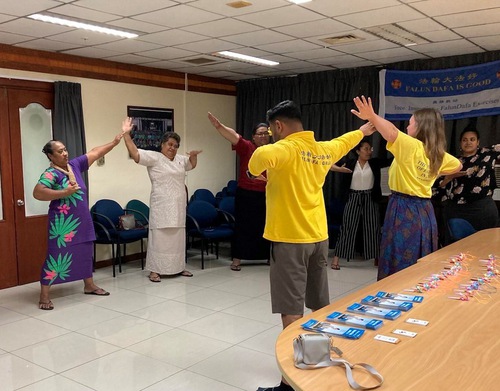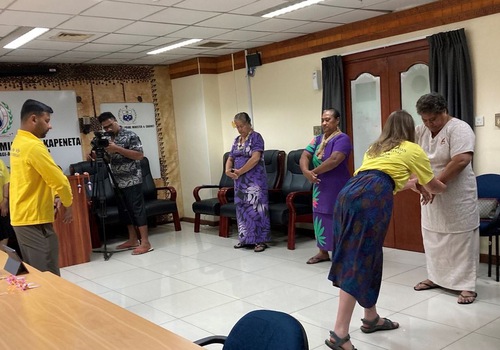 Gift from the Universe
Besides promoting Dafa in Apia and Savai'i, practitioners also went to remote Southeast regions to introduce the practice to local residents. They stopped at every village along the way, giving out materials and lotus flowers to people they met. Many people were interested in learning Falun Dafa.
Samoan residents thanked practitioners for introducing Falun Dafa to them. A villager said, "This is a blessing from God." Another said, "I think this is a gift from the universe." A third villager said, "This is just what I need."
Practitioners also told people about the ongoing persecution taking place in China. Several Samoans wanted to know more about the brutalities. One person asked, "What can I do to help you?" Another resident said, "There should be more people like you in this world."
Chinese version available
(Clearwisdom)