(Minghui.org) Falun Gong practitioners promoted the practice at the Mind Body Spirit Festival at the Melbourne Convention and Exhibition Centre from June 9-12, 2023. The festival had 180 exhibitors and nearly 20,000 visitors. Many people were interested in Falun Gong.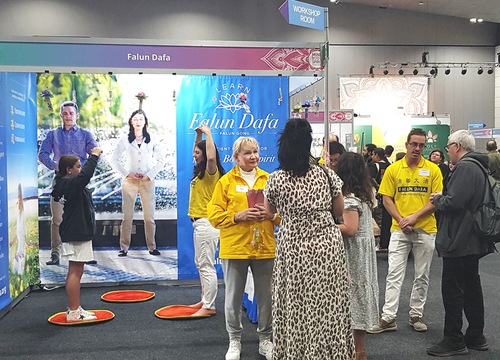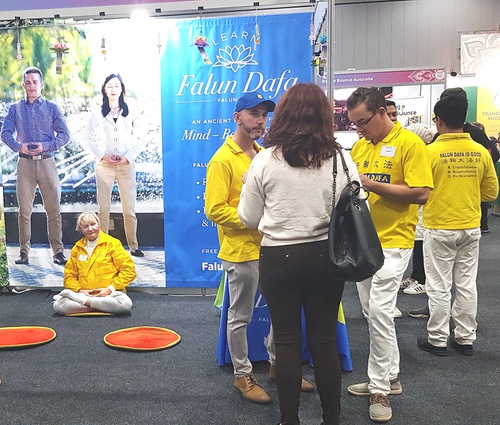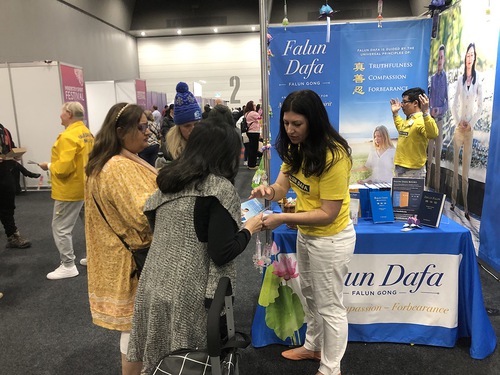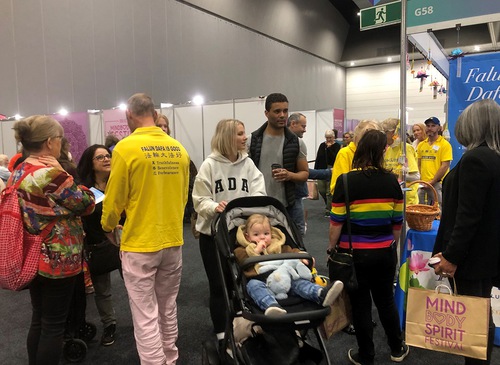 Full of Energy and So Comfortable
Emily Kildea of Frankston in Melbourne and her daughter learned the Falun Gong exercises during the Mind Body Spirit Festival on June 10.
"It was very pleasant and peaceful. The surrounding noise disappeared, making me feel so comfortable," she said, "It's amazing, absolutely amazing. Falun Gong is so peaceful and beautiful."
When Emily learned about the persecution of Falun Gong in China she was shocked, "It's terrible! Falun Gong practitioners didn't hurt anyone and people can benefit a lot from it, and it's a great practice," she said.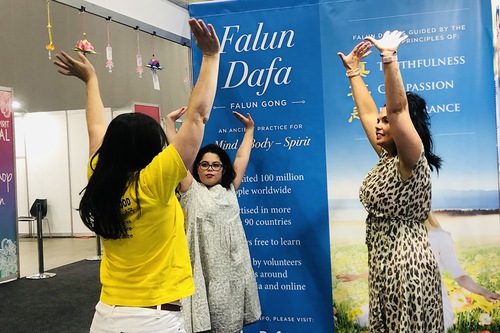 Truthfulness-Compassion-Forbearance Is a Great Principle of Life
Melbourne resident Jess Posua said that Truthfulness-Compassion-Forbearance are great principles for life. "Obviously, the world needs such universal values," she said. "I think if everyone follows these universal values, everyone would be uplifted and would not do negative things." Jess expressed interest in learning more about Falun Gong.
Ashley Gentley is from Hurstbridge, a town north of Melbourne. It was the first time she had heard about Falun Gong, and when she learned that the teaching and materials were free, she said, "It's really great already!"
"The principles of Truthfulness-Compassion-Forbearance are wonderful things that people in the world should live by," Ashley said. "I think the world should definitely follow these principles more in every way."
Wants to Learn Falun Gong 100 Percent
Franca Karlis, who works in administration in Melbourne, said she saw Falun Gong practitioners doing the exercises at a scenic spot in the city centre two years ago. She admired practitioners' persistence in opposing the persecution for over 20 years. "It's very moving," she said.
After encountering Falun Dafa (also known as Falun Gong) at the Mind Body Spirit Festival on June 11, she said she wanted to learn the Falun Gong exercises 100 percent. She took some printed materials about the practice.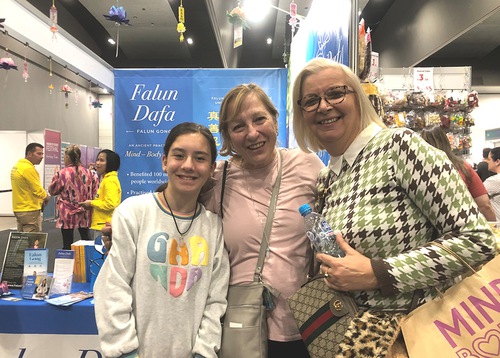 Chinese version available
(Clearwisdom)