(Minghui.org) Practitioners held activities at Via Ugo Bassi in the Emilia-Romagna region on June 4, 2023, to introduce Falun Dafa.
The area recently suffered catastrophic flooding. Bologna, a city in northern Italy, is the capital of Emilia-Romagna. The city has a rich history of art, music, and fine cuisine, and is renowned for its high quality of life. The Emilia-Romagna region was hit by days of heavy rain in mid-May, which resulted in widespread flooding. Over 20 rivers broke their banks and the flooding caused landslides. Thus far, 15 people were reported dead, nine are missing and over 20,000 people were forced to evacuate their homes.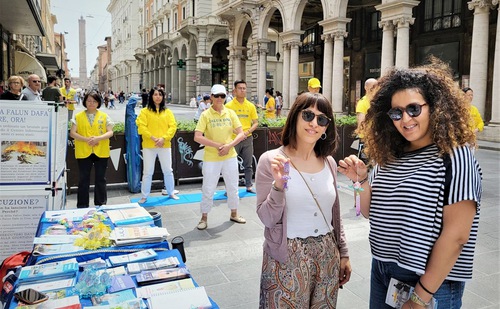 Falun Dafa Reassures People
Many stores in Bologna have recently reopened and business is getting back on its feet as tourists have begun visiting the region.
Practitioners demonstrated the Falun Dafa exercises, told people about the Chinese Communist Party's (CCP) ongoing persecution, and handed out lotus flower bookmarks with the words "Falun Dafa is good, Truthfulness-Compassion-Forbearance is good," written on them. Many people chatted with practitioners and wanted to learn more about Falun Dafa. Some asked about practice sites in Bologna.
Khalifa, who works in customer, service said, "I was attracted by their vibrant yellow T-shirts and then to the melodious music. I can feel their sense of calm. Most importantly, I can feel their peaceful mindsets and that people respect them. This place should be bustling with noisy crowds, but I see that people are respectful as they pass by. If we can introduce this kind of atmosphere into the community, it would benefit and reassure the hearts of many."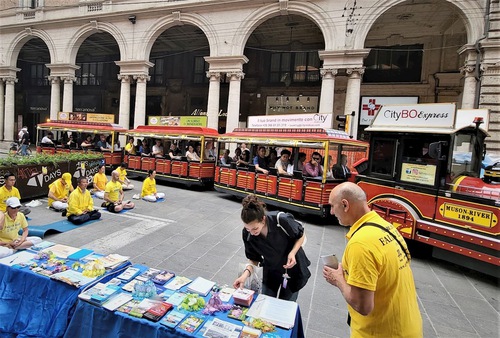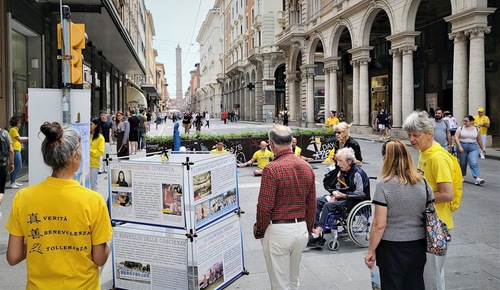 Yoga Instructor: Falun Dafa Is Filled with Positive Energy
A yoga instructor said she was interested in the exercise demonstration and asked about Falun Dafa. She told the practitioners, "You look wonderful. I can feel your positive energy."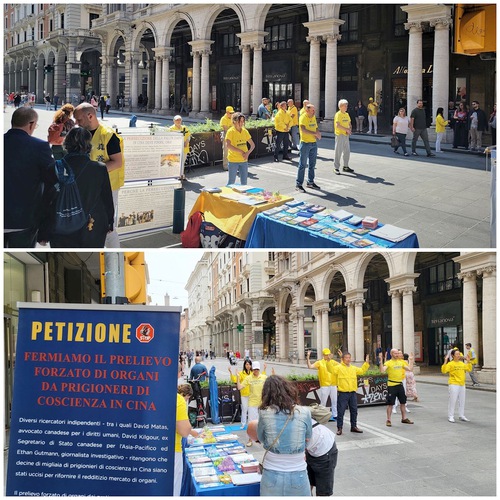 Lawyer: Falun Dafa Practitioners Are My Heroes
Antonio, who is a lawyer, watched the exercise demonstration. When he heard about the CCP's forced live harvesting, he exclaimed, "The Chinese communist regime is insane!" He said he supports practitioners' efforts to expose the persecution and said, "We should resist and fight when people are treated unfairly." When he learned that, in China, practitioners are risking their lives to tell people about Falun Dafa, he said they were his heroes.
After Angela, a teacher, heard how Falun Dafa is being persecuted she said, "This information is very important. I am shocked to learn that this persecution exists."
"This persecution is unbelievable," said Karl, who is an engineer. He condemned the CCP, saying, "This is not right. Anyone can tell that the persecution is wrong. Falun Dafa practitioners in China are very brave."
Chinese version available
(Clearwisdom)
Italy: Practitioners Hold Events in Six Cities to Celebrate World Falun Dafa Day