(Minghui.org) Falun Gong practitioners participated in the Memorial Day Parade in Falls Church, a suburb of Washington, D.C., on May 29, 2023.
When the parade began at two o'clock in the afternoon, it was raining heavily. Practitioners walked the entire journey and were welcomed by spectators along the way.
Practitioners have been invited to participate in the Falls Church Memorial Day parade for years, and their float has won the best float trophy multiple times. In addition to the float, this year the fairy team and the waist drum team also participated in the parade.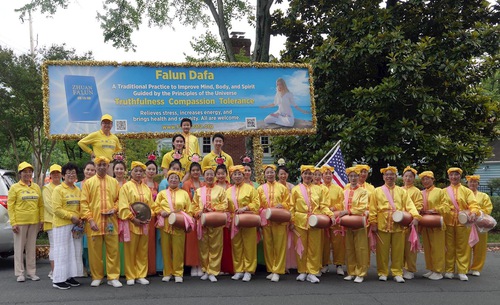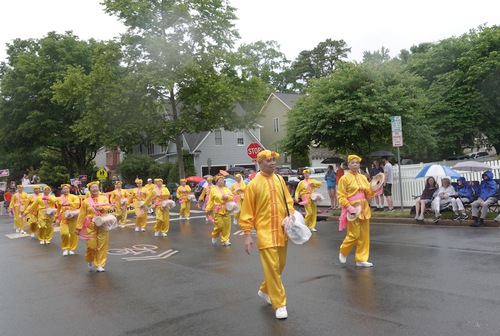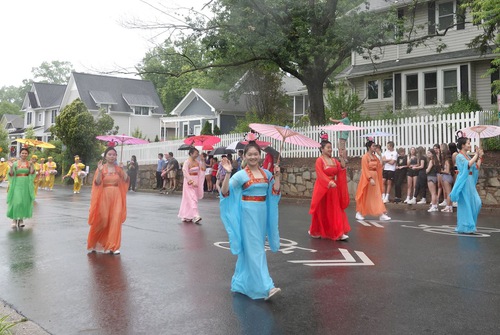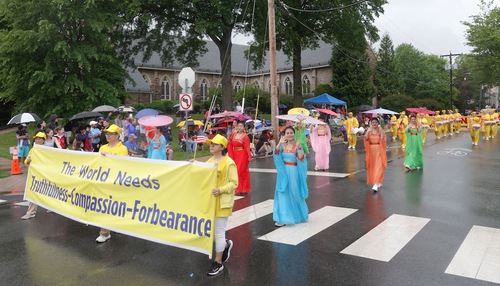 Braving the pouring rain, local residents stood along the road holding umbrellas as practitioners walked past with smiles on their faces, immersed in the peaceful and joyful atmosphere. Accompanied by the music of Falun Dafa Is Good, they applauded the practitioners. The audience consisted of people of various ethnic groups, some of whom were hearing about Falun Dafa for the first time. They happily accepted the leaflets distributed by practitioners. Some said that they wanted to learn about Falun Dafa in detail after returning home.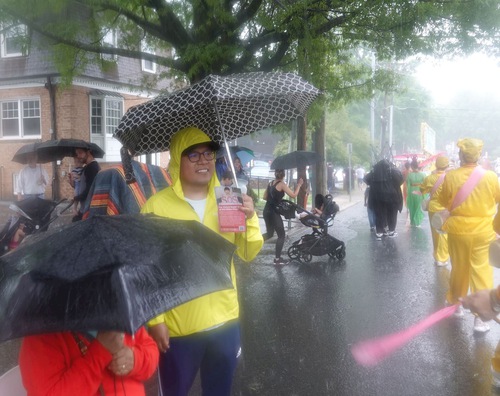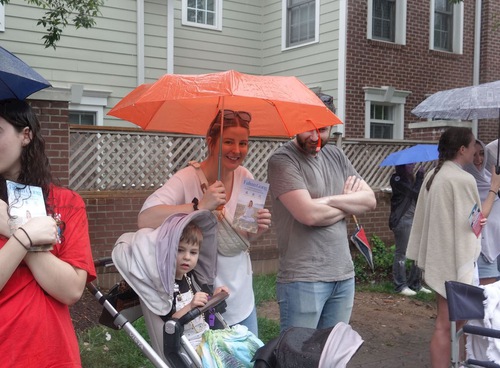 Many residents had already heard of Falun Dafa. Jim, a contractor for the U.S. government, watched the parade with his daughter. Jim said that he had heard of Falun Dafa before but this was the first time he had seen practitioners. He said, "They seem very peaceful." He wanted to know more about Falun Dafa and took a leaflet.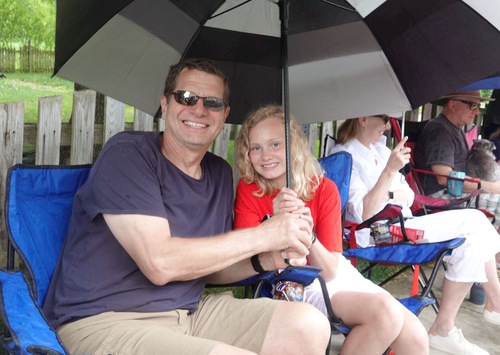 Mike said that he's seen reports about Falun Dafa in the news, and he knew that practitioners were being persecuted by the CCP. Seeing practitioners in the parade, he said, "They are very good, and their clothes are eye-catching. They are completely different from what the CCP claims." He and his family accepted leaflets handed out by practitioners. Seeing a practitioner in her 70s who had been illegally detained by the CCP for three and a half years because of her belief in Falun Dafa, Mike expressed his concern and said, "Welcome to America."
Nga Louis, who works in accounting, said she heard about Falun Dafa ten years ago. She previously met practitioners when they were introducing the practice at a community event in Arlington County. Seeing practitioners again during the parade, she said, "They have left an unforgettable impression on me. They are soaked by rain. I am proud of them and thank them for participating in this parade."
Louis said that life in the United States is stressful, and practicing Falun Dafa can help people relieve stress. She said, "I believe that practicing Falun Dafa can bring people peace of mind, bring people different feelings, and let people relax their minds so they can focus on doing things."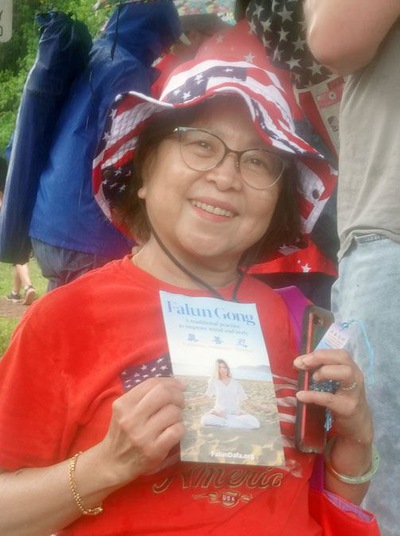 When practitioners passed the rostrum, the moderator thanked them for bringing Truthfulness, Compassion, and Forbearance to local people. He asked the audience to applaud them again, and encouraged them to go to the Falun Dafa website for more information.
Chinese version available
(Clearwisdom)
Winchester, Virginia: People Learn about Falun Dafa at the Shenandoah Apple Blossom Festival Parade