(Minghui.org) On May 19, 2023, the International Society for Human Rights (ISHR) in Frankfurt, Germany, wrote to Qin Gang, China's Foreign Minister, and Wu Ken, the Chinese Ambassador to Germany, condemning the Chinese Communist Party's persecution of Falun Gong and expressed solidarity with illegally detained practitioners.
The ISHR also mailed the same letter in Chinese to Lin Wu, Party Secretary of Shandong Province, and Zhang Hui, Party Secretary of Rizhao City in the province, urging them to immediately stop participating in the persecution and unconditionally release detained Falun Gong practitioners.
The letter was drafted in response to the arrests of Falun Gong practitioners Mr. Ding Yuande and his wife Ms. Ma Ruimei, who are the parents of Mr. Ding Lebin, a Berlin resident.
Mr. Ding and Ms. Ma, of Rizhao City, Shandong Province, were arrested during a police sweep of over 40 practitioners on May 12, 2023, one day before the 24th World Falun Dafa Day. According to an insider, the arrests were ordered by the provincial-level officials of Shandong. Wang Meifeng and Chen Dehua of the 610 Office were involved in the operation.
"We strongly urge you to immediately and unconditionally release Mr. Ding Yuande and his wife, Ms. Ma Ruimei," wrote Hubert Körper, board director of ISHR. "These two Falun Gong practitioners have never used violence, nor have they called for the use of violence against the government. They are simply exercising the basic human right to freedom of belief, which is widely protected in the international community."
Mr. Körper emphasised, "According to Article 36 of the Constitution of the People's Republic of China, citizens of the People's Republic of China enjoy the right to freedom of religious belief and the inviolability of personal freedom (Article 37)."
"The ongoing persecution of Falun Gong in China for nearly twenty-four years violates not only China's constitution but also relevant international laws."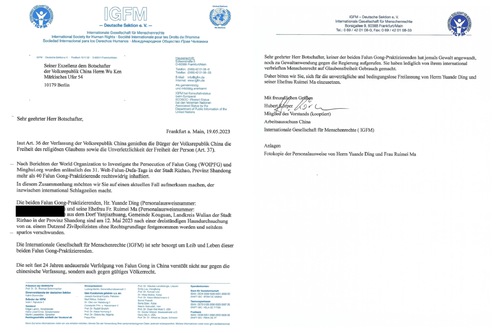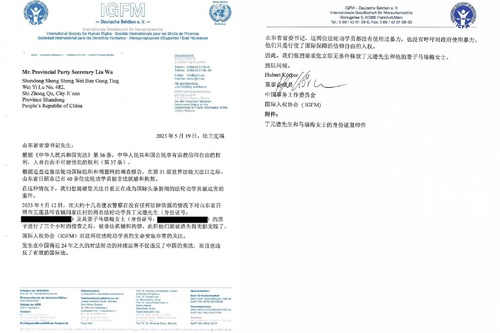 Background
Between 5 and 6 a.m. on May 12, 2023, led by Xia Jingde, the Party secretary of Yanjiazhuang Village, more than ten plainclothes officers stormed Mr. Ding and Ms. Ma's tea plantation. They ordered the couple to stop working and cooperate with them for investigation. The couple's cellphones were confiscated and Mr. Ding's phone was forcibly shut down.
The police then took the couple home. They handcuffed Ms. Ma and kept her in the police car, watched by two officers. It happened that their son called them. Ms. Ma told her son, "Bad guys came. They handcuffed me. My hands are numb now." The call was hung up after 33 seconds.
The police searched the couple's home until 10 a.m. Many of their Falun Gong books and informational materials were confiscated. The couple was then taken to the Donggang District Police Department for interrogation. They are still in custody at the time of writing.
Chinese version available
(Clearwisdom)
Germany: Peaceful Events in Five Cities Expose the Persecution in China