(Minghui.org) To celebrate Falun Dafa Day, practitioners in Argentina distributed informational materials at the Chinese Embassy and Chinatown in Buenos Aires on May 13, 2023. They also introduced Falun Dafa at the Argentina International Book Fair. May 13, 2023, is the 31st anniversary of Falun Dafa's introduction to the world. It is also the 24th World Falun Dafa Day and the birthday of Falun Dafa's founder, Master Li Hongzhi.
During the event in Chinatown, practitioners also demonstrated the exercises, accompanied by soothing exercise music. The calm and peaceful scene of people doing the exercises attracted passersby. Some accepted the truth-clarifying fliers and some talked to practitioners to ask for more information about Falun Dafa.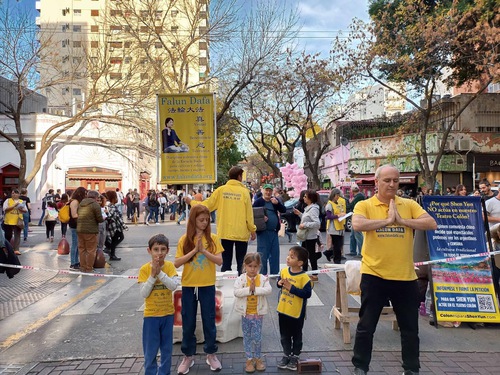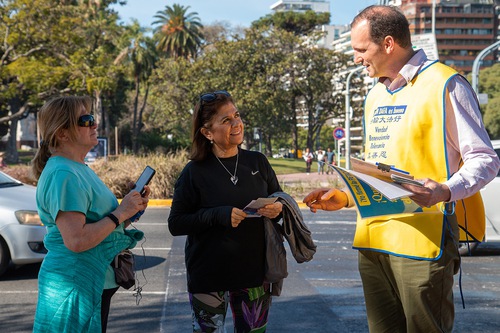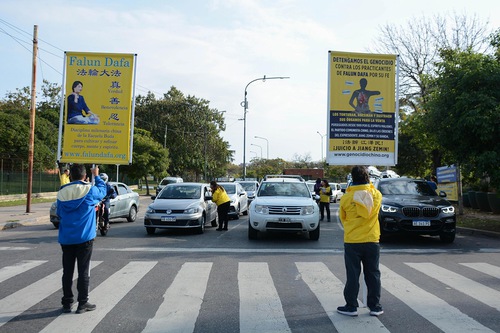 Introducing Falun Dafa at the Argentina International Book Fair
The International Book Fair in Buenos Aires is the largest and most important book fair in Latin America, and the event welcomes millions of visitors every year. This was the fair's 47th year and it was held from April 27 to May 15 at La Rural, the Palermo District Agricultural Exhibition Hall in the capital city, Buenos Aires.
There were four hundred and eighty-six exhibition booths. Practitioners displayed artworks and a large rotating Falun, which was especially eye-catching and attracted the attention of many visitors.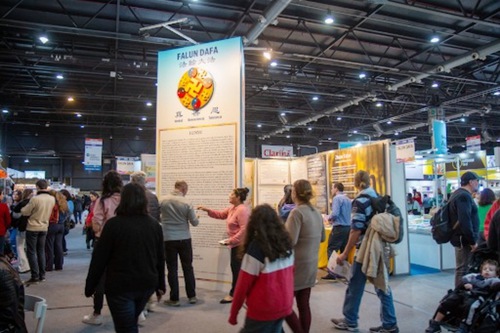 A high school student came to the booth and told a practitioner that he'd researched the Falun symbol. He understood its history and significance and said he was very happy to see it at the fair.
Practitioners also held four introductory sessions during the book fair so visitors could understand what Falun Dafa is and why the Chinese Communist Party (CCP) persecutes the practice.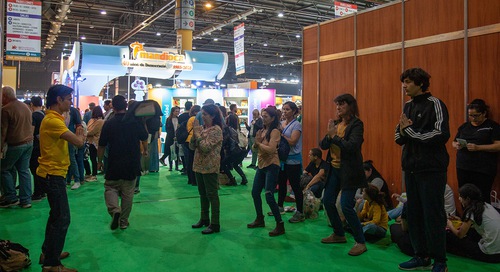 This year, Falun Dafa's founder, Mr. Li Hongzhi published the articles "How Humankind Came To Be" and "Why the Creator Seeks to Save All Life." Practitioners read out loud, "How Humankind Came To Be" during the fair. Each time, people warmly applauded. Many people asked for a copy of the lecture. Some said they wanted to read it and others wanted to share it with their family and friends.
A woman came by with her young son and told a practitioner, "I do not believe in God. However, I would like to listen to your introduction." After she finished listening to the introduction, she also listened as the practitioner read Mr. Li Hongzhi's lecture "How Humankind Came To Be." She asked for a few copies of the lecture and participated in the exercise teaching class outside the meeting room with her son.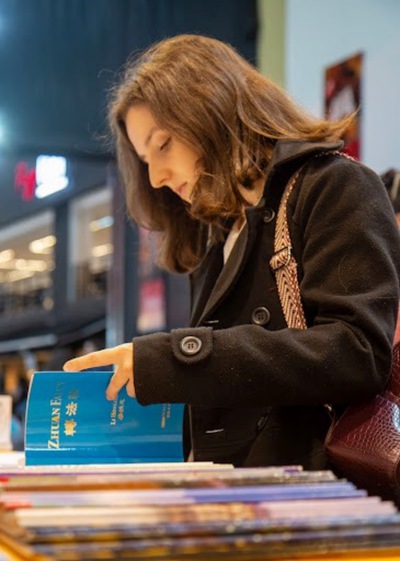 During the last introductory session, a family stopped by and the mother said that she'd heard the introduction at the booth and also took the materials. This time, she brought her three children to listen. She said, "They (referring to her children) also want to know why humankind exists on Earth."
Ms. Carolina Galart came to the booth and bought a copy of Zhuan Falun. Holding the book in her hands, she said happily, "I finally have a Zhuan Falun." She explained that a few months before, she saw practitioners doing the exercises at a park. She decided to learn the exercises and wanted to read Zhuan Falun; However, as she did not have an actual copy of the book. She has been reading Zhuan Falun on her mobile phone for three months.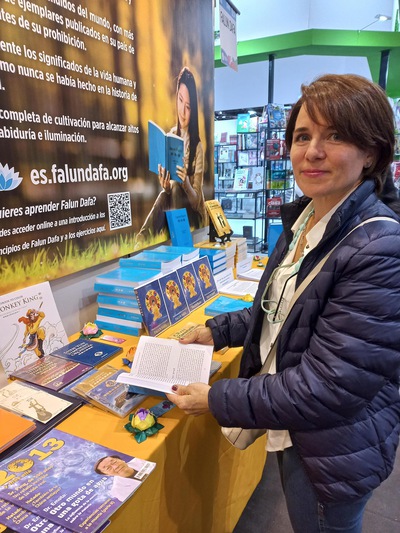 Joshua, a university political science student, said that Falun Dafa is a very high-level profound practice that is beneficial to the human body, mind, and health. "It can be said to be very necessary for our society," he said.
A woman came to the booth and said that she first heard about Falun Dafa in Chinatown. She's also watched Shen Yun. She told a practitioner, "Since I discovered Falun Dafa and Shen Yun, everything that I meet with is so wonderful!"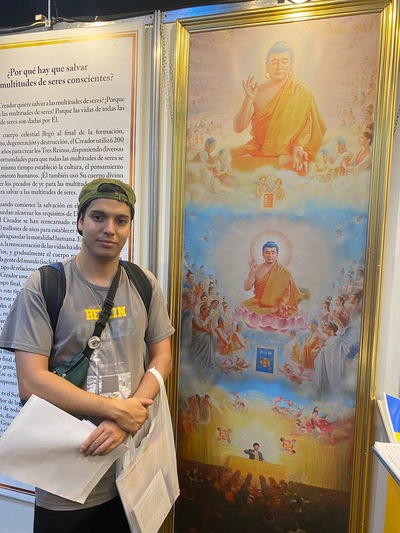 People Condemn the Persecution
People who came to the booth not only learned about Falun Dafa, they also learned the truth about the CCP's persecution of Falun Dafa. The CCP's persecution has reached Argentina, and the Chinese regime tried to stop Shen Yun from being performed there. After they heard this, many people expressed their indignation. A famous Spanish writer, scholars, university students and the public all signed a petition calling to end the persecution.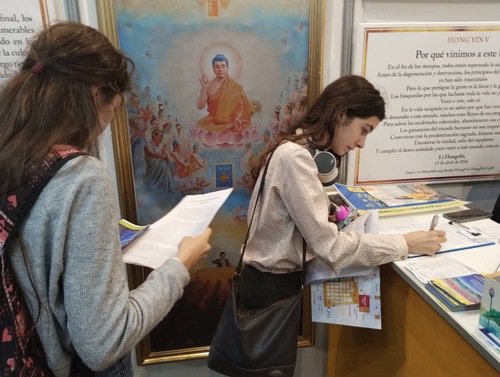 University student Mr. Ivan Benjamin Ordugna was very happy to see the Falun Dafa practitioners at the book fair. He said that he kept seeing Falun Dafa practitioners outside the Chinese Embassy and wanted to help spread the truth about Falun Dafa through his social media account. He said, "I want to help [Falun Dafa practitioners] spread information about the persecution."
After hearing about the persecution, a law student was astounded by the brutality and said, "I knew nothing about this." He said that he would go online and search for more information.
A man from Pakistan who lives in Uruguay passed by the Falun Dafa booth. He said that this was the first time he'd heard about Falun Dafa and he was immediately interested in the practice. He wanted to get more information because he wanted his mother to practice.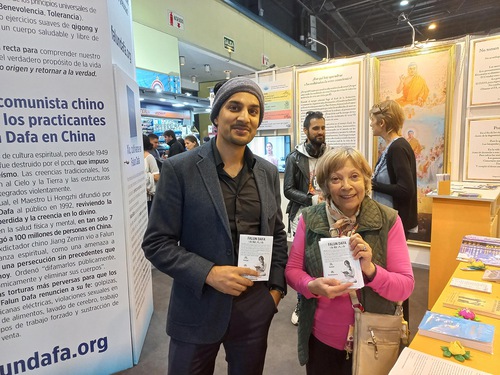 A young Asian man passed by the booth with a group of friends. As he took a flier he said loudly, "Falun Dafa is good!"
Chinese version available
(Clearwisdom)
Argentina: Art of Zhen-Shan-Ren International Exhibition Visits Ushuaia, the Southernmost City in the World