(Minghui.org) May 13, 2023, was the 24th World Falun Dafa Day and the birthday of Master Li Hongzhi, founder of Falun Dafa. Pennsylvania Governor Josh Shapiro authorised the raising of an American flag at the state capitol in Harrisburg, in recognition of Falun Dafa's founder Mr. Li Hongzhi's outstanding contribution in spreading Truthfulness-Compassion-Forbearance to the world and Pennsylvania.
Before the event, Governor Shapiro sent a letter congratulating World Falun Dafa Day and said that as Governor, on behalf of all residents of Pennsylvania, he was pleased to celebrate the 24th World Falun Dafa Day. He said, "As we celebrate World Falun Dafa Day, we should reflect on whether we are in line with the teachings of Truthfulness-Compassion-Forbearance."
In addition, 21 political leaders at all levels in Pennsylvania and Delaware, the House of Representatives of Pennsylvania and the House of Delaware, also sent congratulatory letters and commendations, congratulating Falun Dafa Day, commending Mr. Li Hongzhi for spreading Falun Dafa to the world, and thanking practitioners for all they have done to improve the physical and mental health of people in the community.
Philadelphia and Pittsburgh mayors James Kenney and Ed Gainey also declared May 13 as World Falun Dafa Day in Philadelphia and World Falun Dafa Day in Pittsburgh.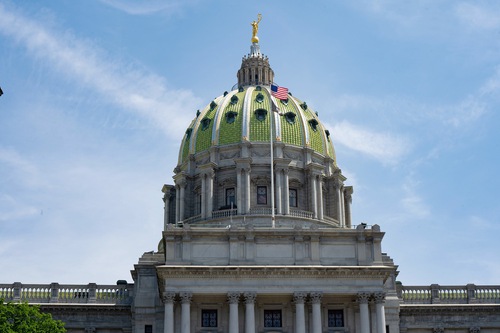 Rally in Front of Liberty Bell Celebrates the 31st anniversary of Falun Dafa's Public Introduction
That day, in front of Philadelphia's famous attractions Liberty Bell and Independence Hall, practitioners from the Greater Philadelphia area held a rally to celebrate the 31st anniversary of Falun Dafa's introduction and congratulate Master Li Hongzhi on his birthday.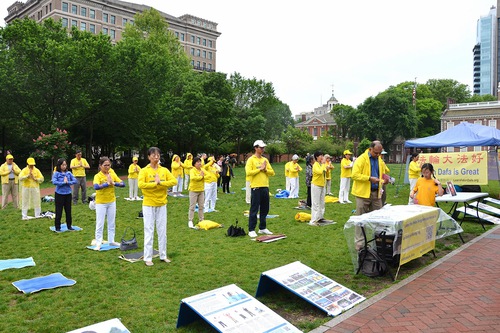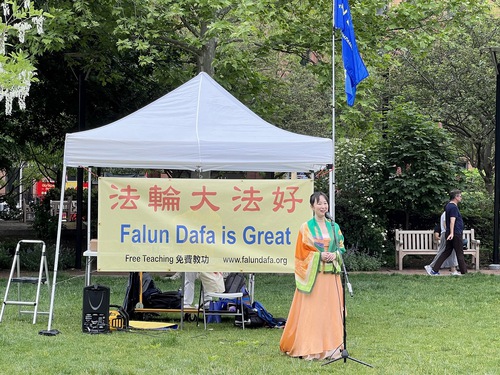 Despite the occasional light rain, visitors from all over the world came to visit the Liberty Bell. Many people were attracted by the beautiful exercise music and took photos, videos, or stopped to read the display panels. They received leaflets and small lotus flowers which had information about Falun Dafa.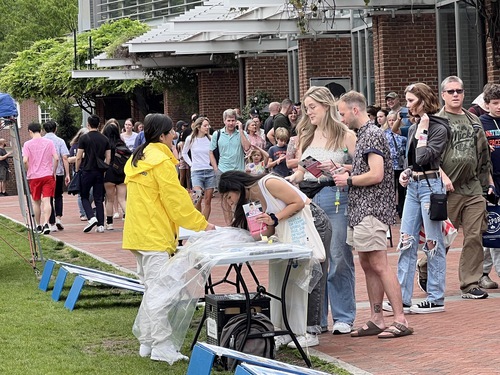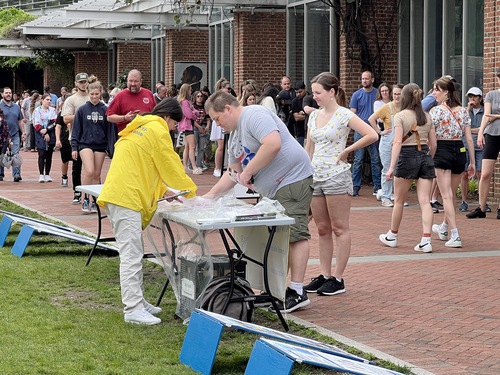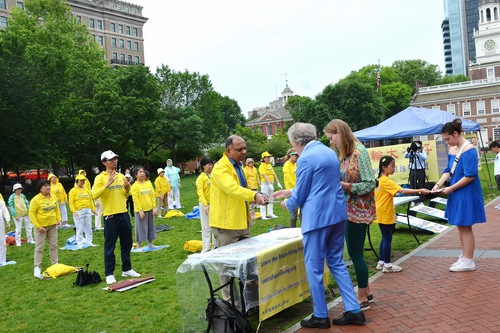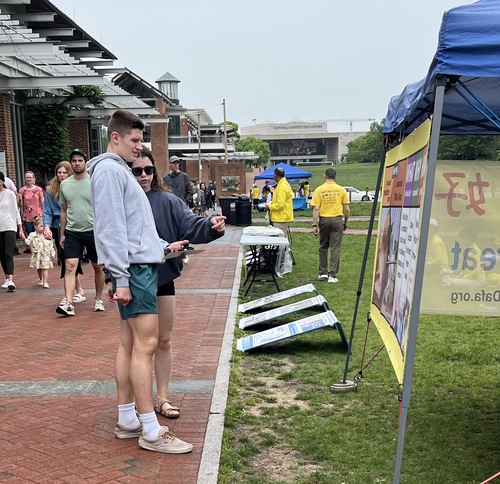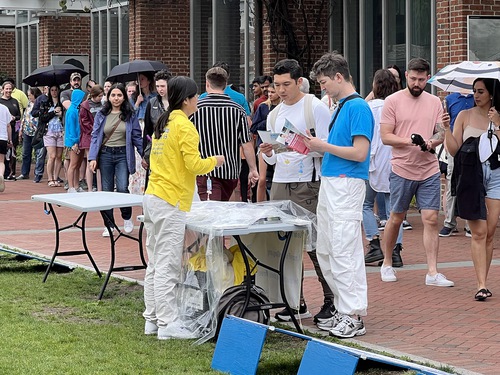 Tourists are Interested in Falun Dafa
Josie Weaver, a Wyoming student who works at Yellowstone National Park, and her friend were so interested in Falun Dafa that they asked practitioners to show them the exercises.
Weaver said she felt great after she did the exercises, "I feel more energetic. I feel very peaceful. I have a good state of mind. I'll look it up online and keep learning."
She said that Falun Dafa is beneficial to society and one's health, and she hopes that more people can integrate the principles of Truthfulness-Compassion-Forbearance taught by Falun Dafa into their daily lives.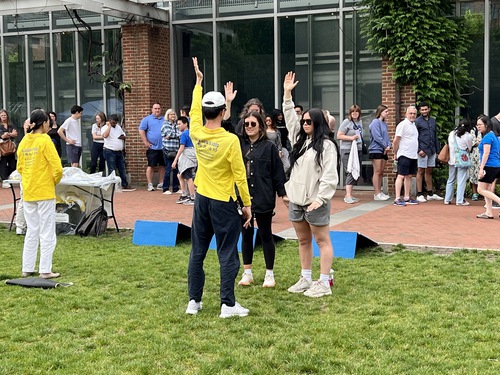 Nelson Echeverry, an insurance broker from California, visited the Liberty Bell with his daughter, who graduated from UPenn, an Ivy League school. He took the leaflet introducing Falun Dafa, and said, "I see these people practicing the exercises. They make people feel calm. I want to know more. I might find a way to learn when I return to California."
He said he couldn't understand why the CCP (Chinese Communist Party) has been persecuting this physically and mentally beneficial exercise. He said, "Whatever they [practitioners] choose to do, especially if it is peaceful, what's so dangerous about that? Nothing."
Raymond Thomas from Germany, who owns a contemporary art gallery, visited the Liberty Bell with his daughter. He was impressed by the scene and said it was meaningful for Falun Gong practitioners to show people from all over the world the exercise and the truth about the CCP's persecution in China at the Liberty Bell, a place that represents freedom of belief.
"Because it's a place where change is happening, and it's still going on all over the world," Thomas said, "especially in China, I think it's a very good way to encourage people to be aware of the current state of the world."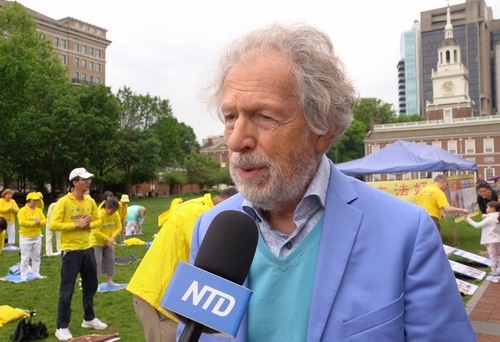 Chinese version available
(Clearwisdom)
Pennsylvania and Delaware, U.S.: Elected Officials Recognise World Falun Dafa Day