(Minghui.org) On May 13, 2023, practitioners gathered at Stevensplatz in Vienna to celebrate the 31st anniversary of Falun Dafa's public introduction. Four Members of Parliament – Mario Lindner, Dr. Ewa Ernst-Dziedzic, Christian Lausch, and Dr. Elisabeth Götze, sent letters of congratulations on Falun Dafa Day.
MP: Peace, Freedom and Human Rights Are the Foundations of Our Coexistence
In his congratulatory letter, MP Mario Lindner wrote, "To meet the ever-increasing challenges around the world, every person every day needs to stand up against persecution and exclusion, and to fight for recognition and a free life! Everyone has the right to live a free, autonomous life – we cannot and will never accept persecution, violence, discrimination, or disregard for political reasons!"
He added, "Peace, freedom and human rights are the basis of our coexistence, and we must act accordingly. On Falun Dafa Day 2023, please allow me to convey my best wishes to all Falun Gong practitioners!"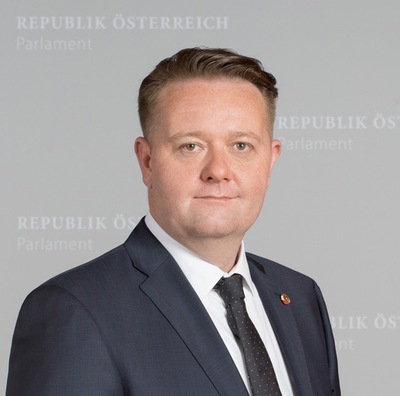 MP: I Will Do Everything I Can to End the Persecution of Falun Dafa
In her congratulatory letter MP Dr. Ewa Ernst-Dziedzic wrote:
"Dear Falun Gong practitioners from all over Austria,
"I wish you a wonderful day today, World Falun Dafa Day, May 13. I am happy for you because, like millions of people in this world, you have found ways to improve your physical and mental health by practicing Falun Dafa. In the process, you are already a role model for others.
"But today we also think of those who are oppressed, who are not given this freedom and cannot live a life of dignity; They are persecuted simply for demanding the right to live autonomously. We must not remain silent when authoritarian regimes ignore this inalienable fundamental right, when members of ethnic minorities are systematically forcibly sterilised and aborted in concentration camps, when prisoners are forced to die for organ trafficking, and when even non-political groups like Falun Dafa who simply want to harmonize the soul, mind and body of human beings are persecuted.
"Therefore, I will not stop reminding China's leaders of their responsibilities under the International Covenant on Civil and Political Rights, which also applies to authoritarian and authoritarian states. Within the confines of the Parliament, I will continue to do everything in my power to end the persecution of Falun Dafa. This is my promise to you on this special day."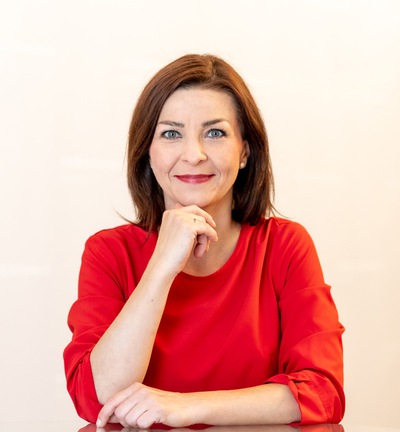 MP: Thank You for Your Valuable Work on Human Rights
In his congratulatory letter, MP Christian Lausch said, "I would like to take this opportunity to thank you and all the staff of the [Falun Dafa] Information Centre for your valuable work in Chinese rights. Unfortunately, there is a crackdown and persecution of political or religious dissidents taking place in China. It is all the more important to be able to uncover the scars and denounce human rights violations."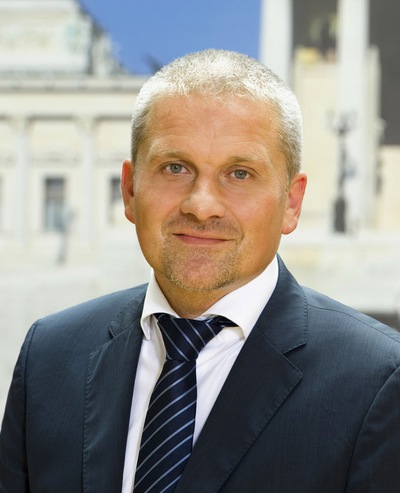 MP: The International Community Has the Responsibility to Put Pressure on the CCP
MP Dr. Elisabeth Götze said in her letter, "The CCP's persecution of Falun Gong practitioners is a typical example of human rights violations. Persecution violates fundamental rights such as freedom of thought and religion, as well as the rights to liberty, security of person and a fair trial. As a Member of Parliament, protecting China's ethnic minorities has also been a major concern for me, and I am ready to participate in it at any time. Finally, the international community also has a responsibility to put pressure on the Chinese government to provide protection."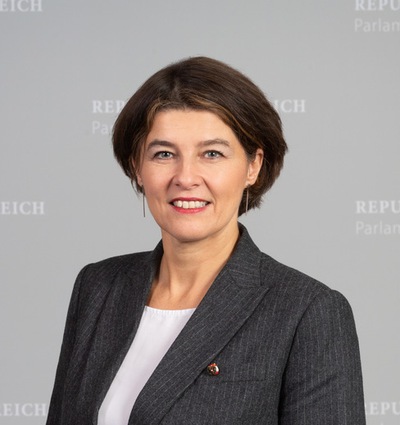 Practitioners Hold Falun Dafa Day Celebrations
As part of the Falun Dafa Day celebration, practitioners demonstrated the Falun Dafa exercises, and gave musical performances. Many tourists and residents stopped and took photos. Many asked where they could learn the exercises, and others signed the petition to end the persecution.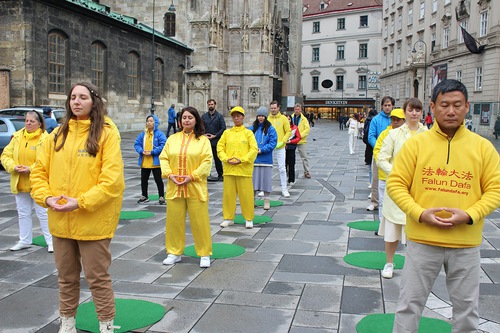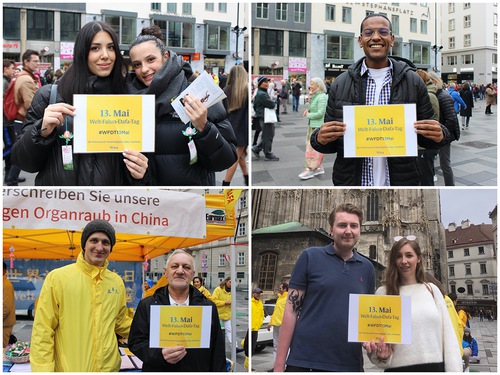 Musicians Praise Falun Dafa with Music
Diknu Schneeberger and Alexander Sieber are professional musicians who also practice Falun Dafa. They performed musical pieces they composed to express the beauty of practicing Falun Dafa.
Sieber's daughter also sang songs to honor Falun Dafa. She said that singing these songs on the 31st anniversary of Dafa's public introduction was a very happy experience for her. She wanted to tell Falun Dafa practitioners in China: "Stay strong! Dafa will protect you and Dafa will rectify everything."
She said it was very important to walk the path of cultivation with her heart. To see the positive side of everything, she hopes that people will gain positive energy and hope by practicing Falun Dafa.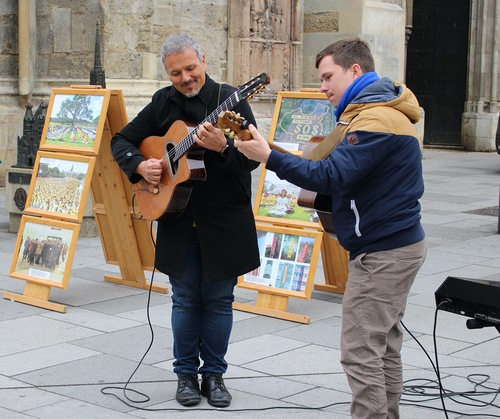 People Sign the Petition to End the Persecution
Many people stopped to chat with practitioners and learned about the ongoing persecution in China. Many signed the petition calling for an end to the atrocities in China.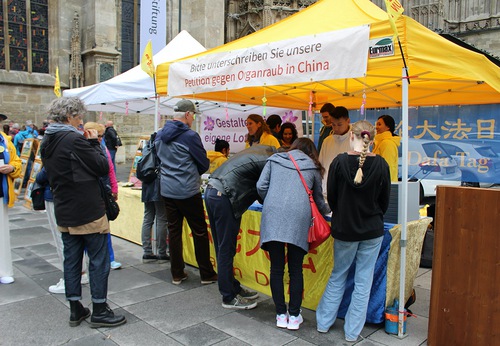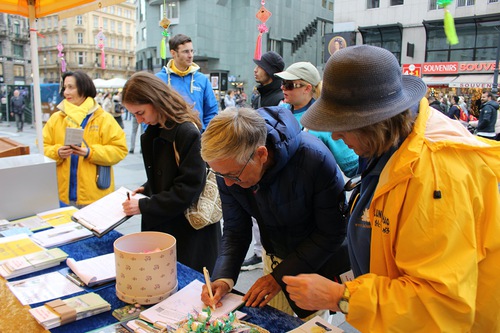 A gentleman from Afghanistan brought his daughter to the information booth. This was the first time they'd heard about Falun Dafa. He said that the principles of Truthfulness-Compassion-Forbearance and the exercises to improve physical health are very good, and he didn't understand why it was persecuted. He wants to encourage Falun Dafa practitioners in China, and said that after all the suffering, there will be a good ending. He is convinced of this.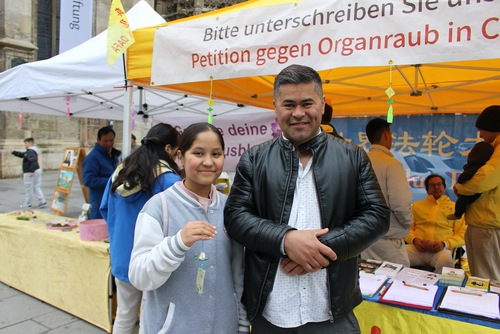 Chinese version available
(Clearwisdom)
Austria: Car Tour Raises Awareness of the Persecution of Falun Dafa in 14 Cities