(Minghui.org) The Shen Yun World Company presented 14 performances at two theatres in Taiwan's capital, Taipei, on March 21–April 2, 2023, concluding the company's five-city, 32-show tour across Taiwan.
Lai Ching-te, vice president of Taiwan, was also in attendance at the Shen Yun performance at the National Dr. Sun Yat-sen Memorial Hall on March 28. He said after the performance, "I hope everyone in the community can see (Shen Yun) if they have time."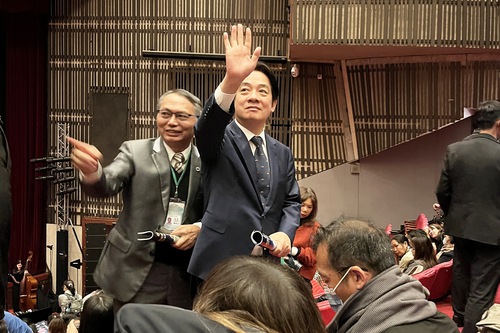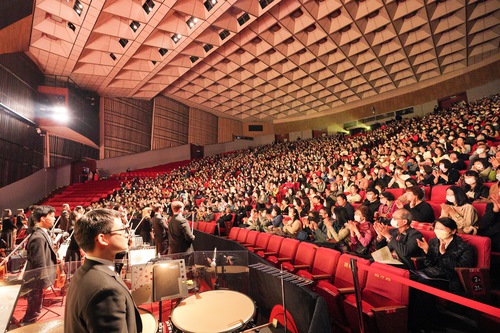 "We Should All Stand Up and Clap"
Chen Chien-lin, director of Lei Yin Theater, saw Shen Yun in Taipei on March 30.
"I'm looking at Shen Yun with an eye of admiration and respect… I really saw it too late," Mr. Chen said.
He described Shen Yun as "the spokesperson for the divine." "(The divine) is letting people understand how the divine exists through Shen Yun… Because it is really the divine that is leading everyone to do this. So I want to say thank you to Shen Yun's artistic director, for bringing 'the gift that the divine has for us.'"
"It was very astonishing the moment the curtain rose. It was that it used visual effects to show the scenes of the divine with clouds all around, of celestial maidens, and of the Savior coming to save sentient beings.
"Other people's thousands of words cannot be compared to my personal experience. I think my heart had the feeling of being satisfied, but that satisfaction had already exceeded that feeling of joy.
"I had seen so many dance or drama works before, but I had never seen such a full and thorough presentation (like Shen Yun). It's very deep, especially this carrying on of five thousand years of history, including the development of drama and dance. These have actually already been refined for a history of more than five thousand years," he said.
Mr. Chen also shared the message he received from the performance, "(People) have to have righteous thought. I can feel that 'the divine will always be on the side of justice," which is that the evil cannot prevail over the just."
"We should all stand up and clap," he said.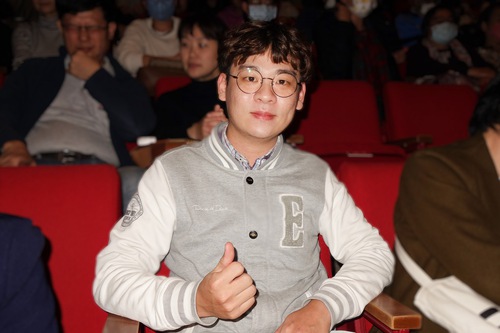 "Emitted the Radiance of the Human Life"
Dustin Lin, arts incubator and art instructor, saw Shen Yun in Taipei on March 26.
"Through rhymes and bearing, (Shen Yun) showed divinity and emitted the radiance of the human life," Mr. Lin said.
"There were many stories and they were all China's traditional classic stories. Through the performance, it woke up our feeling of being touched by traditional cultural roots and we would then connect with it," he said.
Mr. Lin was brought to tears as he was talking about this. "We all have this kind of blood lineage in ourselves, but we've 'lost our roots'… I think Shen Yun is working this hard to allow everyone to reconnect with the original good values, instead of us allowing these ideologies to keep controlling and interfering with us. No wonder many people say that they're very touched after seeing Shen Yun," he said.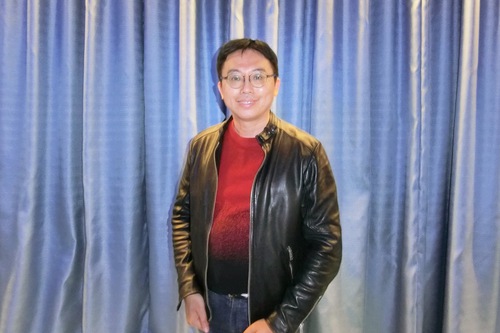 "Reminds Us of Many Things People in the Modern Day Have Forgotten"
Company chairwoman Hsu Hui-chen and her mother saw Shen Yun in Taipei on March 29.
"[Shen Yun] reminds us of many things people in the modern day have forgotten… Nowadays, people are too confident in themselves, and they dismiss certain traditional things as unimportant," said Ms. Hsu.
The traditional Chinese spirit and qualities deeply touched Ms. Hsu, who said, "We should return to having basic relationships with one another and return to having a relationship with the divine. We should do as the divine wishes."
"We need to understand how the world can function better, as that is what the divine wishes," she said.
She said that this has to do with "whether or not people have an amicable relationship with each other" and that in order to attain that relationship, people must follow the principles of truthfulness, compassion, beauty, and tolerance.
Ms. Hsu explained that tolerance is not merely about tolerating. "There are many ways to define tolerance. I think tolerance means being cooperative and unselfish; it's a type of self-control. If everyone has self-constraint, then our relationships will be good," she said.
Ms. Hsu also felt that Shen Yun's message was clear. "I clearly understood what the performance wanted to tell me… which was to live and experience life with my heart," she said.
"We must be conscientious, return to our true selves, and be people with consciences.
"We must interact directly with one another, not through digital devices… Nowadays, people have trouble communicating even through language… When people visit a place, they are so caught up on taking photos and videos that they forget to just feel. Modern technology has smothered people.
"The beauty the divine has arranged for us is to return to the fundamentals of what it means to be human," she said.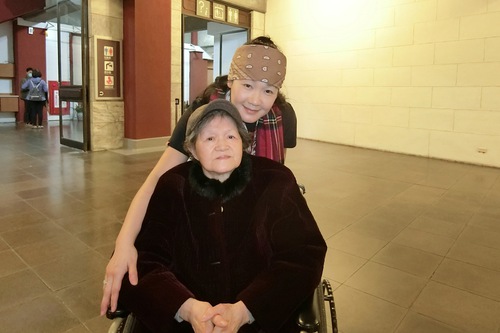 "Allowed Us to Return to Human's Original Nature"
Huang Ling-hsiang, district secretary of Rotary International District 3481, saw Shen Yun in Taipei on March 25.
"Everyone has a divine mission… Shen Yun's performance used actual figures to let us understand this thing about divine missions. We have to believe that we have a mission in this life and then go find our own divine mission," Ms. Huang said.
"Shen Yun displayed cultural depth through aesthetics. Eventually it brought out a moral responsibility that we intellectuals should have and let us reflect that everyone has actually been endowed with a mission.
"Now technology is becoming more and more advanced, but the warmth among humans should more so be displayed. This is something that technology can never replace. Shen Yun has exerted the radiance of human nature to an optimum and allowed us to return to human's original nature. We should return to the original quality of kindness of human nature and make more contributions and effort for a more peaceful society.
"There's definitely a Creator. Without a Creator, we wouldn't have this much… We more and more realis
e that we should be humble and should respect the divine and love people more. I kept thinking about what the Truthfulness-Compassion-Tolerance mentioned in Shen Yun meant. We should be more sincere and always stay kind; as for the tolerance, it's not limited to being more tolerant in everything, but more so a kind of concept of being inclusive," she said.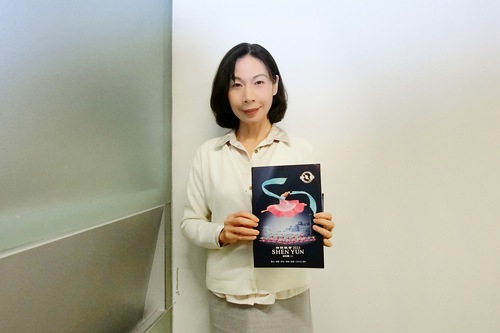 "Their Kindness Came From the Heart"
Philippa Tsai, an attorney, saw Shen Yun in Taipei on March 24.
"The whole thing felt like being in a divine realm in the human world and that the Buddha's light illuminates all… You'll find that there's the power of Buddha law. If you have a faith, you would be able to feel that energy field and it would go deep into the heart. You would genuinely feel joyful and then forget about all the troubles," Ms. Tsai said.
"[Shen Yun] is a kind of very high-level art. It is the display of beauty and kindness. I entirely forgot about everything and as if I was living in this realm.
"Their kindness came from the heart. I could feel that it had a kind of good strength and energy that could purify people's hearts. It would allow your kindness and love to pour out and then feel deeply moved. You would be blended into the whole energy field as if living in a celestial world… You would enlighten that people definitely have to be kind and not be selfish. As long as you're truly thinking of others' benefits and being selfless, you would find that this is actually a kind of power.
"Everyone has to come see Shen Yun if they have the chance. It can truly purify the soul and make you feel the miracles. It allows you to receive very positive, clean, and kind energy, and an energy field that is very beneficial to others and full of love, in addition to enjoying performing arts. This would bring to your future work and life a constantly-upward positive energy," she said.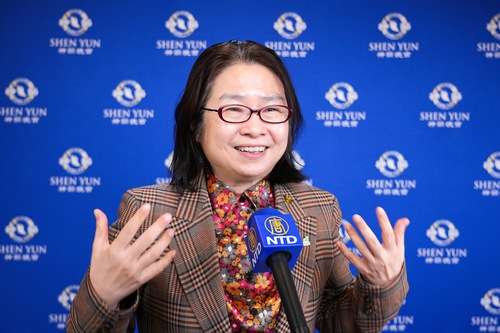 "We Should Cherish Them More"
Chen Chao-hsun, former professor at National Taiwan University, saw Shen Yun in Taipei on March 23.
"They're bestowed with a divine mission. For performances special like Shen Yun, I believe people from the entire world will see it… We should cherish them more. Taiwan needs to provide stronger support to them," Mr. Chen said.
"Very stunning! I myself felt that we're being taken care of by the divine. Especially that scene where divine beings arrived on earth from the heavens: they're saving people because this society has been debased! Especially China's society, after having been destroyed this much, the divine is still taking care of it," he said.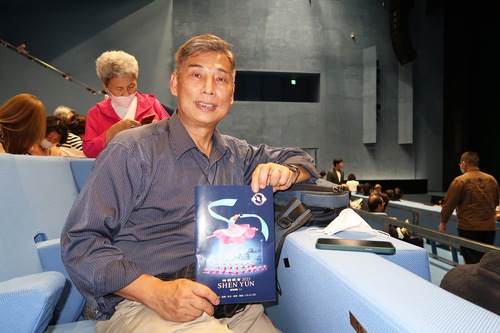 "Happiness Brought by the Divine"
Liu Kuo-lung, chairman of Taiwan's National Architects Association, saw Shen Yun in Taipei on March 23.
"Shen Yun represents the essence of five thousand years of traditional culture," Mr. Liu said.
"Through Shen Yun's traditional dances, we can see the real compassion and truthfulness of humankind… Seeing Shen Yun can remedy a lot of regrets in life and can also lead the world toward real peace.
"Shen Yun is happiness brought by the divine and a good wish for us. So I hope everybody comes to see Shen Yun," he said.
"Absolutely Fantastic" and "Very Sincere"
Professional photographer Chen Yu-su saw Shen Yun in Taipei on April 1.
"Excellent, totally different, absolutely fantastic," Mr. Chen said. He watched the performance with a telescope and was brought to tears by the performers' expressions.
"Besides enduring pain, these performers have very sincere, very sincere looks on their faces. Combining body and soul is a very important part for dancers to interpret works. If a performer is only performing on stage without the ideas that they identity with in life and without the merging of body and soul, they would not be able to present that kind of sincerity on stage.
"Traditional Chinese culture and Truthfulness-Compassion-Tolerance really need to be promoted, especially in mainland China. Because this is the fundamental thing for the Chinese and it can wake up their souls. It absolutely is still within them deep down in their hearts," he said.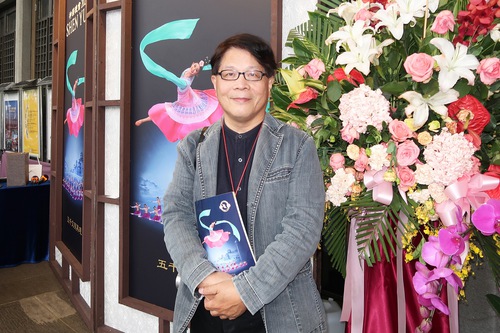 Upcoming Performances
Shen Yun continues its 2023 tour with upcoming performances in:
Seattle, Washington, April 5–9
Jacksonville, Florida, April 5–6
New York City, New York, April 6–16
Chicago, Illinois, April 7–9
Nantes, France, April 5
Bergamo, Italy, April 5–7
Toronto, Canada, April 5–9
Adelaide, Australia, April 6–9
Chinese version available
(Clearwisdom)
Shen Yun Brings Divinely-inspired Culture to Brazil's São Paulo and Curitiba: "What We Need Right Now"