(Minghui.org) Falun Gong practitioners demonstrated the exercises and raised awareness of the Chinese Communist Party's (CCP's) 23-year-long persecution of the practice across from the Forum, a shopping mall in Helsinki, on Saturday, March 25, 2023. After learning the facts, passersby signed a petition calling for an end to the atrocities.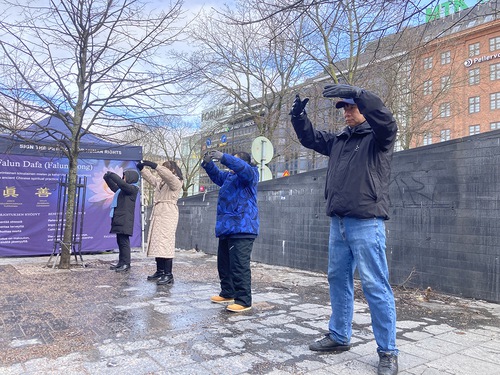 A woman stopped by and followed along to do the exercises for an entire hour. When she finished, she told the practitioners she had already read Zhuan Falun, the main text of the practice, and did the exercises at home from time to time. Today was the first time she'd done them with other practitioners and she said she felt great.
Timo, a man in his 70s, had run into Falun Gong practitioners before and been given information as well as an origami lotus flower. This time, he smiled and said, "I gave my wife the lotus flower you handed me the last time. She loved it and asked me to thank you. I don't know why, but I just felt happy to see you again." When he learned about the persecution in China, he signed the petition to express his support.
A young woman from Saudi Arabia said she has always supported Falun Gong practitioners in resisting the persecution. She asked, "Is there anything else I can do to help besides signing the petition?"
Bo, who is a Finn but lives in Sweden, returned to his home country to visit his family. When he realised there was a petition to support Falun Gong practitioners in ending the persecution, he said at once, "Of course I will sign it. The CCP is bad."
Jouni and his girlfriend live near Sibelius Park, a popular tourist destination in Finland. They often see practitioners handing out information in the park, so they agreed to sign the petition after they heard about Falun Gong and how terrible the persecution in China is.
Chinese version available
(Clearwisdom)