(Minghui.org) A total of 116 cases of Falun Gong practitioners sentenced for their faith were reported in March 2023.
Among the newly documented cases, 2 took place in each of 2016 and 2020, 8 were in 2021, 40 in 2022 and 64 in 2023. The 2023 cases further broke down to 6 in January, 13 in February, 43 in March and another two cases with unknown months of occurrence. The delay in reporting is caused by strict information censorship under the communist regime, which attempts to keep the persecution underground to avoid international scrutiny.
The sentenced practitioners hailed from 16 provinces and 4 centrally controlled municipalities (Beijing, Chongqing, Shanghai and Tianjin). Compared to last month, Shandong remained the province with the most reported cases of 19. Liaoning ranked second with 18 cases. Jilin, Sichuan, Heilongjiang and Hebei each registered two-digit cases. The remaining 14 regions had cases between 1 and 9.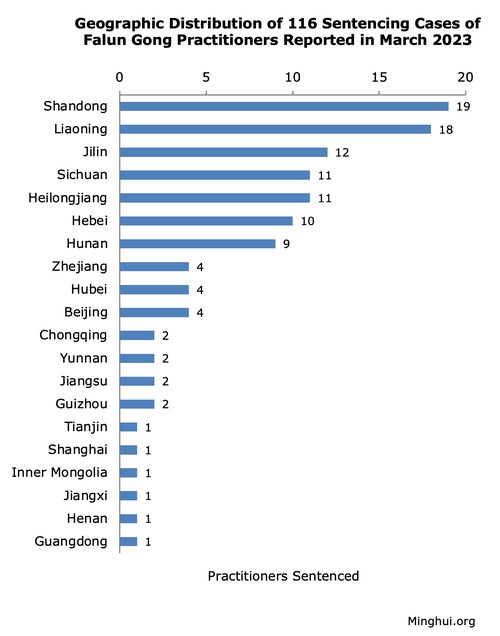 The practitioners' terms ranged from six months to ten years. In particular, the one who was sentenced to ten years was also fined 100,000 yuan.
The sentenced practitioners came from all walks of life, including an artist, engineer, teacher, bank employee, tax bureau director and pharmacist. Among the 34 practitioners whose ages were known, they were between 32 and 83 when they were sentenced, including 9 in their 60s, 14 in their 70s and 4 in their 80s. A 66-year-old woman was sentenced to 7 years in prison, a 76-year-old woman was given 5 years and a 78-year-old woman, the mother of a Canadian resident, received 4 years.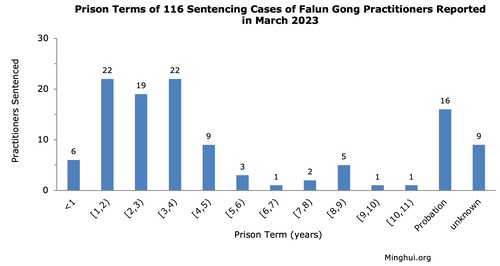 Many of the practitioners were sentenced for raising awareness about the persecution, including mailing letters, talking to people on the street, or making phone calls. A married couple was sentenced to nine years and eight months and ten years, respectively, for phoning the public about Falun Gong's health benefits. A mother was charged with "colluding with overseas anti-China forces," for visiting her children who live outside of China.
One 53-year-old woman who was sentenced to 1.5 years for putting up Falun Gong posters had just taken up the practice in 2020. Before that, she suffered severe insomnia due to the deep grief over her husband's persecuted death for his shared faith. It was Falun Gong that gave her the strength to pull through, but she is now persecuted herself.
The arrest of a woman at her mother's 89th birthday party left the elderly woman in tremendous distress and deprived of care. She died a year later, shortly before her daughter was sentenced to three years.
The four-year sentence against a 61-year-old mother devastated her 39-year-old daughter, who was still mourning the persecuted death of her father for practicing Falun Gong. The mental grief of the daughter was so intense that she passed away shortly after, leaving behind her six-year-old son.
The following are snapshots of select sentencing cases. The full list of sentenced practitioners can be downloaded here (PDF).
Elderly Practitioners Targeted
78-year-old Mother of a Canadian Resident Sentenced to Four Years for Doing Falun Gong Exercise in Public
Ms. Cong Laiying, a 78-year-old Weihai City, Shandong Province, resident and also a mother of a Canadian resident, was arrested on October 15, 2022, for doing Falun Dafa exercises at a local square. The police handcuffed her and dragged her around by the handcuff, which caused her to suffer persistent high blood pressure (200/150 mmHg). She was released on bail on November 18, after paying a 10,000 yuan bail bond.
Ms. Cong was taken back into custody on February 1, 2023. She was tried by the Rongcheng City Court on February 16 and sentenced to 4 years in prison with a 20,000 yuan fine. The prosecutor charged her with "undermining law enforcement with a cult organisation" and listed her past persecution for practicing Falun Dafa as prosecution evidence against her.
Ms. Cong's daughter, Ms. Cong Xinmiao, said during a rally in front of the Chinese consulate in Montreal on March 1, 2023, "The CCP brutally persecutes Falun Dafa practitioners who adhere to the principles of Truthfulness-Compassion-Forbearance. Practicing Falun Dafa is not against the law in China. It is not a crime to believe in the principles of Truthfulness-Compassion-Forbearance to be a better person. I am calling for the immediate release of my mother."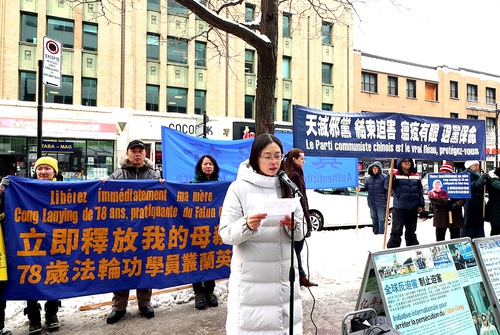 83-year-old Woman Secretly Sentenced to One Year
An 83-year-old woman in Maoming City, Guangdong Province, was sentenced to one year and fined 3,000 yuan on February 28, 2023, for practicing Falun Gong.
Ms. Li Shunhua's sentencing stemmed from her arrest on October 23, 2020. The police interrogated her and ordered her to sign a statement to renounce Falun Gong. She refused to comply and was taken to the Maoming City No.1 Detention Center. During a health exam the following day, she was found to have high blood pressure and a severe heart condition.
Although the police released Ms. Li on the evening of October 26, 2020, they didn't give up trying to get her prosecuted. On October 22, 2021, prosecutor Deng Lijin of the Maonan District Procuratorate indicted her on charges of "undermining enforcement of the law and regulations with a cult organisation," the standard pretext used by the communist authorities to frame Falun Gong practitioners.
Ms. Li appeared in the Maonan District Court on December 27, 2021. The judge put her case on hold on February 15, 2022, and reopened it on May 22 that year.
Ms. Li was tried in the Maonan District Court on the morning of February 28, 2023, and convicted. Because she never returned home after her trial and the police never updated her status, her son was worried about her and reported her disappearance the day after her hearing. The police contacted the family a day later and told them to wait for further information.
With the help of their lawyers, the family finally learned about Ms. Li's sentencing and that she had been taken to the Maoming City No.1 Detention Centre after the trial.
80-year-old Retired Doctor Taken into Custody to Serve a Two-year Term
An 80-year-old woman was sentenced to two years with a 3,000-yuan fine on March 17, 2023. She was taken to the Nanchong City Detention Centre in Sichuan Province right after the sentencing.
The sentencing of Ms. Liu Junhua, a retired doctor from the hospital affiliated with Southwest Petroleum University in Nanchong City, Sichuan Province, came as part of the police retaliation for her refusing to renounce Falun Gong.
Two police officers and the university's security director went to Ms. Liu's home on April 23, 2021, and ordered her to sign a statement to renounce her faith. She refused to comply and they left.
The officers went to harass Ms. Liu again on May 21, 2021. She wasn't home. Shortly after the officers left, they saw her walking down the street. They approached her in a police car and took her photo.
On July 23, 2021, the police installed a surveillance camera facing the front door of Ms. Liu's apartment. Her husband took a photo of the camera and removed it that same day. He filed a complaint with the Shunqing District Court against the police for infringing upon their privacy.
In retaliation, the police submitted Ms. Liu's case to the Shunqing District Procuratorate, which indicted her and moved her case to the Shunqing District Court.
Ms. Liu first appeared in court on April 19, 2022, and was let go after the hearing. Less than two months later, on June 10, the police and the university's security officers harassed her and deceived her husband into opening the door by claiming they were going to give them COVID vaccine shots. They confiscated Ms. Liu's hand-copied Falun Gong book and took her to the police station. She was released hours later.
The court held a second hearing on February 15, 2023, and sentenced her on March 17.
Elderly Woman Hospitalized Six Times due to Police Harassment While Awaiting Trial, Now Sentenced to Prison
A 71-year-old Huaian City, Jiangsu Province resident was sentenced to one year in prison with a 1,000-yuan fine on January 29, 2023. When the bailiff came to Ms. Feng Huizhen 's home on March 23, 2023 to take her to the prison, the bailiffs had to carry her into the car as she was so weak and her legs were so swollen that she couldn't walk on her own.
After having her go through a comprehensive physical examination, the court agreed for her to serve time outside of prison. Her family was forced to pay the 3,000 yuan examination fee. It's not clear whether Ms. Feng has been taken back home at the time of writing.
Ms. Feng was arrested on March 29, 2022, for distributing informational materials about Falun Gong. The police ransacked her home without showing their IDs or a search warrant. No list of confiscated items was provided, nor did the police go through the items in front of Ms. Feng.
Ms. Feng was later released on bail. She stood trial at the Lianshui County Court in September 2022. Her lawyer entered a not-guilty plea during her hearing. The presiding judge, Li Yang, threatened the lawyer and attempted to stop him from talking. The prosecutor, Yang Haijiao, yelled at both Ms. Feng and her lawyer, accusing Ms. Feng of distributing cult promotional materials. Yang also ordered Ms. Feng to confess where she got the materials, threatening to give her a heavy term if she didn't comply.
Ms. Feng testified in her own defense. She said that Falun Gong isn't on the cult list published by the Ministry of Public Security. Both the judge and the prosecutor ignored her argument.
The police alleged that Ms. Feng distributed 101 copies of Falun Gong materials when she never did. The judge, however, cited the police-fabricated evidence in the verdict handed down on January 29, 2023.
While on bail, Ms. Feng endured constant police harassment. The mental distress took a toll on her health, causing her to be hospitalised six times. She was yet to be discharged when she received the verdict. Although her family reported her health condition to the court, Tan Wendong, chief of the Yuanjixiang Police Station, still harassed her.
Once Jailed for Five Years With Pension Suspended, 76-year-old Woman Again Sentenced to Five Years
A 76-year-old Jinzhou City, Liaoning Province resident was sentenced to five years in prison on February 24, 2023, for her faith in Falun Gong. She has appealed the verdict.
Ms. Wei Xiuying was arrested on May 25, 2021, after being followed by the police. She was released on bail as she failed the physical examination. Two officers harassed her in May 2022 before submitting her case to the Linghai City Procuratorate.
Judge Xu Bing of the Linghai City Court came to Ms. Wei's home with four residential committee staff members on July 19, 2022, to deliver her indictment. The indictment contained fabricated information that Ms. Wei was arrested on April 27, 2022, for distributing Falun Gong promotional materials and was given ten days of administrative detention.
Prosecutor Li Feng of the Linghai City Procuratorate called Ms. Wei's son-in-law on December 13 and said they would come to their shared home three days later to hold her hearing. The session was later canceled after two court officials tested positive for COVID.
The presiding judge, Huang Yanchun, prosecutors Li Dongyu and Li Feng, as well as ten other people came to Ms. Wei's home on the morning of February 10, 2023. They claimed to be there to "verify certain information regarding her case and go through the formalities." They, however, only read some prepared documents and left without having Ms. Wei read the documents herself or asking her to sign anything.
The judge announced on February 24 that Ms. Wei had been sentenced to five years with a 10,000-yuan fine.
Because she held firm to her faith after the persecution of Falun Gong started in 1999, Ms. Wei was arrested several times and sentenced to seven years in prison, before her latest ordeal. Traumatised by the police humiliation in custody in 2009, Ms. Wei's then 20-year-old younger daughter suffered a mental breakdown and still needs constant care as of today.
Two years after Ms. Wei was released from prison in 2014 on the verge of death, she faced an uphill battle when the authorities arbitrarily suspended her pension.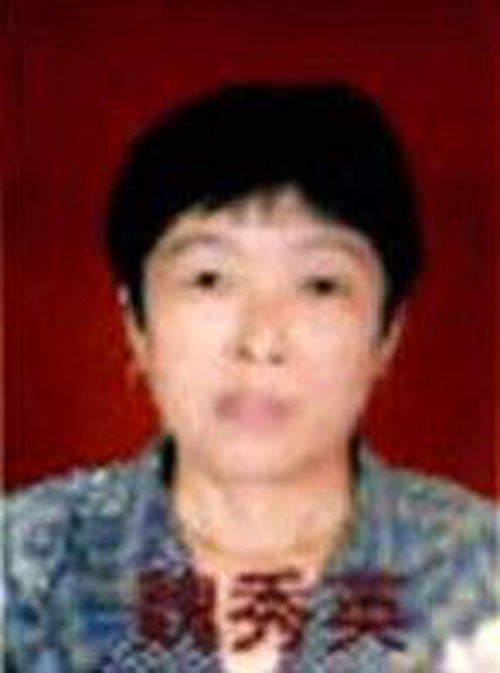 Family Tragedies
Two Liaoning Residents Given 1.5 Years Each for Putting Up Posters Reading "Truthfulness-Compassion-Forbearance Is Good"
Two Fushun City, Liaoning Province residents were each sentenced to 1.5 years and fined 5,000 yuan on March 21, 2023, for putting up posters that said "Falun Dafa is good, Truthfulness-Compassion-Forbearance is good."
Mr. Wang Xiuguo, a 56-year-old artist, and Ms. Sun Jing, 53, who just took up Falun Gong in 2020, were arrested on May 29, 2022, while putting up Falun Gong posters and distributing materials about Falun Gong's health benefits.
The two practitioners' families frequented the local police station to seek their release, only to be given the run-around. On July 4, 2022, police officer Wang Jing contacted the two families and ordered them to pick up the notices about the approval of their arrests. Mr. Wang's 79-year-old father and Ms. Sun's son went to the police station, but both refused to sign the notices.
Mr. Wang's father and Ms. Sun's son went to the Shuncheng District Procuratorate, demanding the dismissal of their cases, but to no avail. They hired lawyers to represent their loved ones around mid-July. When the lawyers visited the practitioners to learn about the status of their cases, the authorities told the lawyers that this would be the only time they were allowed to visit their clients.
The Shuncheng District Court held a hearing of the practitioners' cases on November 25, 2022. They connected through a video call at the detention centre, while their lawyers entered a not-guilty plea for them in the courthouse. Ms. Sun's son also read a defense statement arguing her innocence. The judge announced the practitioners' verdicts on March 21, 2023.
Mr. Wang's Past Persecution, Mother Dies in Distress
Mr. Wang was previously arrested on April 25, 2009, and was sentenced to 7.5 years. He was taken to the New Admission Prison on November 18, 2009, and transferred to the Kangjiashan Prison after 20 days.
When he was released, he no longer had his own home. It is unclear though how he lost his home. He moved in with his parents and found a job at a nearby gallery.
Mr. Wang's latest arrest in May 2022 dealt his 78-year-old mother a hard blow. She fell sick and was hospitalised. She passed away two months later on July 25, 2022, without seeing him for the last time.
Husband Tortured to Death, Ms. Sun Pulls Through Thanks to Falun Gong
Ms. Sun's husband, Mr. Hu Guojian, developed a stomach tumor when he was only around 28 and their son was around two years old. As Mr. Hu struggled with the condition, Ms. Sun was under tremendous pressure to take care of the family.
In 1998, Mr. Hu was introduced to Falun Gong. Only a week later, the tumor disappeared. As he kept practicing, his overall health also improved. He ran a pastry processing factory with Ms. Sun and enjoyed a good business.
For attending a Falun Gong practitioners' gathering, Mr. Hu was arrested in December 2000 and sentenced to ten years on September 6, 2001. By the time he was released on December 16, 2010, he had been experiencing difficulty caring for himself and keeping his balance while walking, and his speech had become slurred.
After he recovered by practicing Falun Gong, he continued the effort to raise awareness about the persecution, only to be arrested again on July 7, 2015, while putting up Falun Gong posters. The Dongzhou District Court sentenced him to another four years on November 12, 2015. He was taken to the Benxi Prison on May 4, 2016. He later experienced slurred speech and impaired mobility, especially on the right side of his body. The prison, however, still forced him to work long hours every day without pay.
When Ms. Sun went to visit him on May 23, 2016, she was shocked to see that Mr. Hu had lost almost half of his weight, from over 90 kg (198 lbs) to less than 50 kg (110 lbs). He told her that the inmates at the Nangou Detention Centre tortured him and didn't allow him to eat and sleep. He also placed his hand around his neck, adding that the inmates put him in a chokehold. The torture continued after he was taken to prison.
Three days after his wife's visit, several inmates stripped Mr. Hu naked and doused him with cold water. That night he wasn't allowed to sleep and was forced to sit on a small bench. He lost consciousness and fell off the bench. An inmate kicked him on the head and berated him, "Don't you pretend to be fainting!" Mr. Hu didn't move, and the inmates called in the guards on duty, who rushed him to the hospital. The doctor found he had a severe hemorrhage inside his brain.
The prison informed Ms. Sun of Mr. Hu's condition early the next morning. She rushed to the hospital and agreed for the doctor to perform a craniotomy on him. He never regained consciousness. Even when he was in a coma, the guards still kept him shackled in the hospital bed.
On May 15, 2018, after remaining in a vegetable state for two years, Mr. Hu passed away.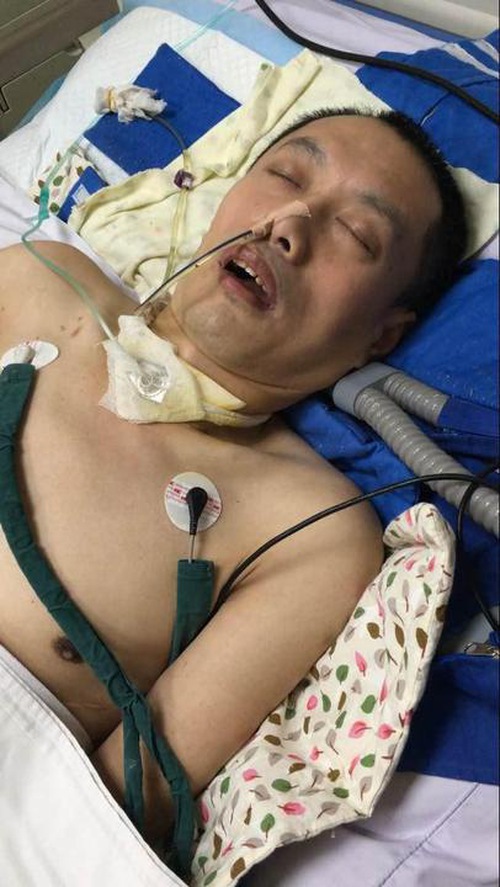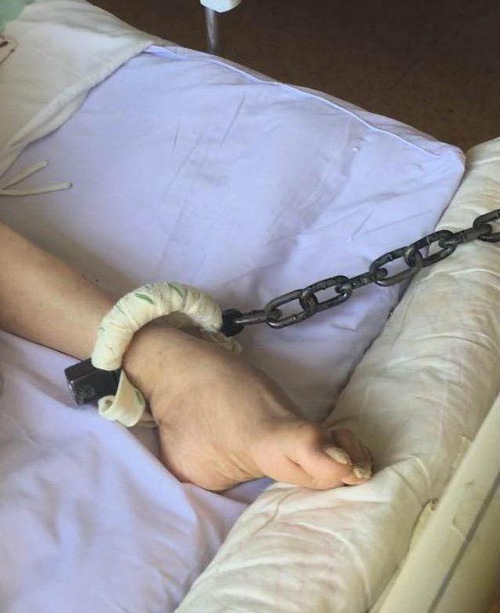 At the time of Mr. Hu's passing, his and Ms. Sun's son was already in college. While mourning Mr. Hu's death, Ms. Sun still had to work to support their son's college education. When her son finally graduated and found a job to support himself, Ms. Sun began to suffer severe physical and mental problems.
For three months in 2020, Ms. Sun couldn't fall asleep and her mental state was extremely unstable. Her son had to quit his job and took her to various hospitals to seek treatment. One doctor told him that her sleep problem could be permanent.
Ms. Sun's son recalled, "My mother was telling me every day she didn't want to live anymore. She asked me to knock her out, so she could sleep for a while. I am her only child. But I couldn't manage to care for her while still doing a full-time job. It was a really difficult time for both of us."
With no hope left, Ms. Sun decided to practice Falun Gong in 2020. Not long after, she was able to enjoy normal sleep and her son also began to work again. Prior to her latest arrest and sentencing, she was arrested another time on February 27, 2022, and detained for ten days.
Liaoning Woman Given Three Years in Prison for Her Faith, 90-year-old Mother Dies in Distress
A Dandong City, Liaoning Province, resident was taken to the Liaoning Province Women's Prison on February 21, 2023, to serve a three-year term for her faith in Falun Gong.
Ms. Pan Jing was arrested on September 3, 2021, while hosting a birthday party for her then-89-year-old mother. Although the prosecutor dismissed her case on September 17 that year, claiming that "there was not enough evidence to show how Ms. Pan was a danger to society," the police resubmitted her case to the procuratorate a year later.
Ms. Pan was taken back into custody on September 19, 2022, and stood trial at the Zhen'an District Court on October 19. The judge attempted to force her to renounce Falun Gong by promising to give her a lighter sentence, but she refused to comply. The authorities kept her at the Dandong City Detention Centre and refused to release her to take care of her mother.
As Ms. Pan's brother and his wife didn't have the capacity to care for her mother, they had to take her to a senior living centre. Due to lack of care, the elderly woman developed bedsores and also contracted COVID-19. She was rushed to the hospital for resuscitation on December 24, 2022, and passed away on December 31.
The judge sentenced Ms. Pan to three years in prison with a 5,000 yuan fine. She appealed the verdict, but the higher court ruled to uphold her original verdict.
Before Ms. Pan was taken to prison on February 21, 2023, her family was allowed to visit her at the detention centre. They said she was very thin, after being on a hunger strike since last December to protest the persecution. She was carried out by two inmates and had a feeding tube in her nose.
Ms. Pan is currently held at the 12th ward in the prison, which has been designated as a correction ward, where Falun Gong practitioners are subjected to brutal torture aimed to force them to renounce their faith.
After Losing Her Husband and Serving a Three-year Sentence, Former Pharmacist Sentenced Again
Five years after Ms. Huang Xiaofen's husband died in the persecution of Falun Gong, she was arrested and sentenced to three years in 2017. Two years after she was released, the former pharmacist in Chenzhou City, Hunan Province was arrested again and sentenced to another prison term of two and a half years.
Ms. Huang, 71, was arrested on July 20, 2022. She was held in the Chenzhou City Detention Centre for a month and then released on bail. One of her relatives revealed on March 12, 2023, that she had been sentenced to two and a half years about ten days before. It's not clear if she has yet been transferred to prison.
Ms. Huang's husband, Mr. Chen Yiyuan, was sentenced to eight years after being arrested on April 20, 2003. He was forced to work at least 14 hours a day without pay and given unknown drugs in prison. He passed away in March 2012, only a year after he was released.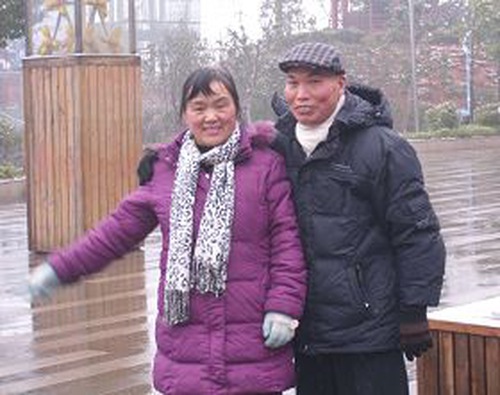 Targeted for Speaking Out
Woman Gets Three Years for Mailing a Letter to New Police Chief Urging Him Not to Persecute Falun Gong
A woman in Qingdao City, Shandong Province, was sentenced to three years with a 20,000-yuan fine on March 17, 2023, for mailing a letter to the new police chief, urging him not to persecute Falun Gong.
Ms. Duan Guixiu was arrested on November 29, 2021, when she went out. The police claimed that they arrested her because she wrote a letter to Guo Xiaohui, the newly-appointed chief of Huangdao Police Department, urging him not to participate in the persecution and advising him to protect practitioners if possible. The letter and the surveillance video of her mailing the letter were later collected by the police as evidence against Ms. Duan.
As Ms. Duan's husband, Mr. Ma Lizhi, passed away in 2001, she raised her daughter by herself. Her daughter, now a college graduate, had started to work. Just as Ms. Duan was about to enjoy an easier life, she was arrested and sentenced.
College Teacher Gets Two Years for Talking to Teenagers about Falun Gong
A college teacher was recently sentenced to two years after being reported by two middle school students for talking to them about Falun Gong. The authorities barred Ms. Chen Ping's family from visiting her and threatened to arrest her lawyer if they hired a lawyer for her.
Ms. Chen, a teacher at West China Normal University in Nanchong City, Sichuan Province, was arrested on July 26, 2020, after being reported by the two students. More than ten officers interrogated her during the 38-hour-long detention. She was starved and also forced to wear a straitjacket. She was released the next evening and put on house arrest.
Six months later, the police submitted Ms. Chen's case to the Shunqing District Procuratorate. She wrote letters to officials handling her case, urging them not to participate in the persecution. But the officials kept trying to pressure her into pleading guilty. The prosecutor indicted Ms. Chen around late 2021 and moved her case to the Shunqing District Court.
Ms. Chen appeared in Shunqing District Court on April 21, 2022. Most of the evidence submitted by the police was fabricated, including forged witness signatures.
Although the court claimed that it was having an "open trial," Ms. Chen's sister, brother, and sister-in-law were all prohibited from attending it. Only her husband and parents were allowed into the courtroom. The gallery was filled with police officers, residential committee staff members, and security officers from Ms. Chen's college. The heavy police force was stationed outside of the courthouse, claiming to prevent local practitioners from rallying there.
A residential committee staff member called Ms. Chen on March 17, 2023, and asked her to go to their office. She went there, only to see court officials who announced her sentence. She has been taken into custody since.
Absurd Charge
Woman Sentenced to One Year for Visiting Her Children, Charged with "Colluding with Overseas Anti-China Forces"
When the police failed to collect evidence against a Falun Gong practitioner for her faith, they accused her of "colluding with overseas anti-China forces," upon finding out she visited her children who live outside of China.
Ms. Chen Hua, a 64-year-old resident of Chaoyang City, Liaoning Province, was recently sentenced to one year by the Kazuo County Court.
When Ms. Chen, accompanied by her husband, Mr. Hao Zhiqiang, 65 and former president of the Lingyuan City Steel Company, went out to get her hair done on June 1, 2022, the police broke into their home and confiscated Ms. Chen's Falun Gong books, a photo of Falun Gong's founder, and a computer and cellphone.
Although Mr. Hao doesn't practice Falun Gong, he was arrested with Ms. Chen on their way back. The police first held them in a hotel for residential surveillance and then transferred them to the Kazuo County Detention Centre on criminal detention. Ms. Chen was later taken to the Chaoyang City Women's Detention Centre.
When the couple asked the police the reason for their arrests, the police said to them, "You don't know what you did?" Another officer said, "We've monitored you for over ten days. Don't you know that?"
The Kazuo County Procuratorate approved the couple's arrests in early July 2022. Unable to find anything to charge the couple with, Zhang Feng, the political instructor of Kazuo County Police Department, ordered his subordinates to go to the couple's previous residence in Lingyuan City to look for information that might incriminate them. Upon finding out that they sometimes traveled abroad to visit their children, Zhang charged them with "colluding with overseas anti-China forces."
With the couple's family's persistent efforts to rescue them, Mr. Hao was later released, but Ms. Chen remains in custody and has been sentenced to one year.
Heavy Terms
Married Couple Given Heavy Terms for Making Phone Calls about the Health Benefits of Their Faith
A married couple in Harbin City, Heilongjiang Province were given heavy prison terms and fines around December 2022 for their faith in Falun Gong.
Mr. Zhu Mingdi, a former deputy director of Songbei District Tax Bureau, and his wife, Ms. Cai Xiuying, a former official of the Heihe Municipal Party Committee Propaganda Department, were arrested on April 7 and 8, 2020, respectively, while making phone calls to the public about Falun Gong's health benefits and how the Chinese communist regime has been covering up the coronavirus pandemic.
After being held in a hotel for a month-long brainwashing session, Mr. Zhu and Ms. Cai were released on bail in mid-May 2020. Gu Songhai, the director of Heilongjiang Province Domestic Security Office, continued to harass and intimidate them.
In early July 2022, Mr. Zhu called police chief Luan and sought the return of his confiscated items again. Days later on July 5, officer Huang called him and ordered him and his wife to pick up the confiscated items at the police station. The couple went there on the next day, only to be arrested and held in custody. Their arrests were approved soon after.
The Daqing City Court held a trial of the couple's case in late December 2022. Mr. Zhu was sentenced to nine years and eight months, with a 60,000-yuan fine. Ms. Zhu was given ten years and fined 70,000 yuan. Both of them have appealed the verdicts.
Heilongjiang Woman Sentenced to Eight Years
Four members of an extended family in Qitaihe City, Heilongjiang Province stood trial on February 17, 2023, after seven months of detention for their faith in Falun Gong.
Ms. Guo, 46, her husband Mr. Zhang Guangcai, their daughter Ms. Zhang Jinfeng, and Mr. Zhang's mother Ms. Yuan Meie, were arrested at their shared residence on July 11, 2022. The police searched their home from 8 a.m. to 6 p.m. Their Falun Gong books and printer were confiscated, and Ms. Zhang's van was also impounded.
The four family members were tried by the Qiezi District Court on February 17, 2023. It was recently confirmed by Minghui.org that Ms. Guo was sentenced to eight years. She has appealed with the Qitaihe City Intermediate Court. It's not clear whether her husband, daughter and mother-in-law were sentenced.
Chinese version available
(Clearwisdom)