(Minghui.org) During Easter weekend 2023, the eight touring companies of the New York-based Shen Yun Performing Arts simultaneously performed in Israel, Australia, Italy, Canada, and the United States.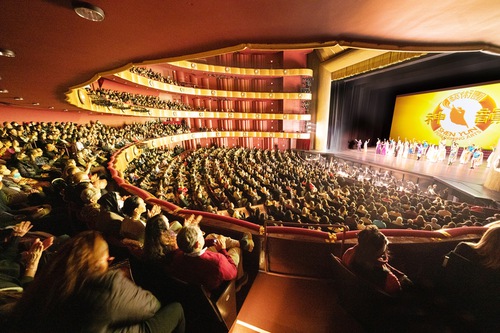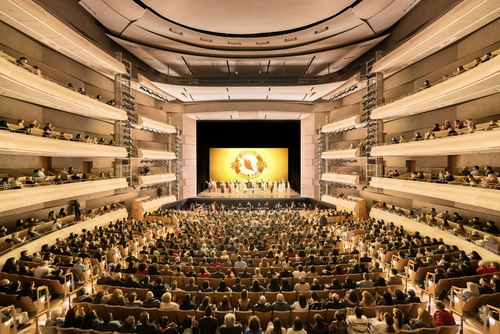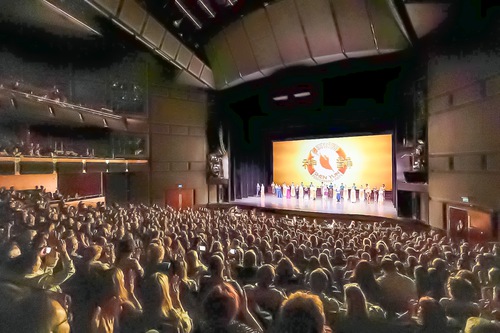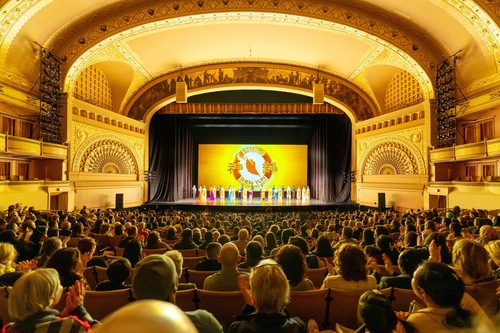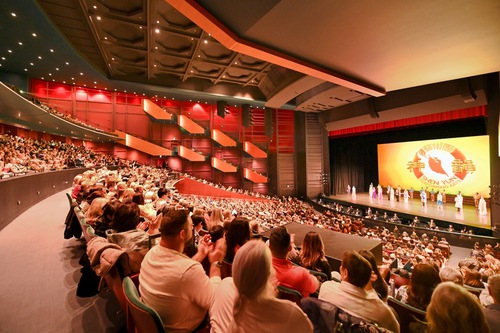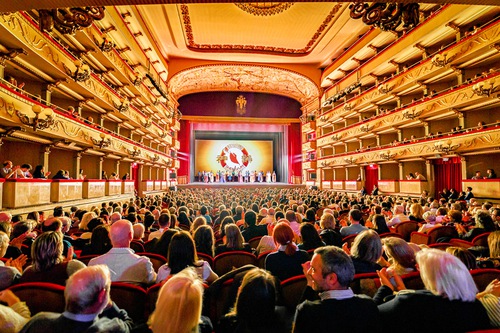 "You Really Feel a Genuine Commitment to the Work"
Film producer Tony Mark saw Shen Yun in New York City on April 6.
"I've wanted to see Shen Yun for the last—I don't know how many years, probably eight, ten years I've wanted to see Shen Yun," said Mr. Mark, who has worked on many films, including the Oscar-winning "The Hurt Locker" and other Oscar-nominated films like "The Fisher King" and "The Mirror Has Two Faces."
"It's so beautifully choreographed, and the dancers perform with so much spirit. You really feel a genuine commitment to the work. It seems very clear to me that there's a great deal of love and thought that has gone into this material and into this production," he said.
He felt Shen Yun was "very cinematic," especially with the use of its patented backdrop set technology.
"I think that the use of the screens is brilliant. Really brilliant. I think the way they've used these screens in this thing are very unusual. And they've timed it so beautifully where the actors sort of move in and out of the screens perfectly. It's really, really terrific… It's like a magic trick, but it's done quite brilliantly," Mr. Mark said.
"This is a live performance, so I have a preference for live performances because there's something inherently beautiful about the danger of failure and the exhilaration of success," he said.
New York-based Shen Yun was formed in 2006, the same year Mr. Mark was in China visiting major sites.
"It's very interesting to see this sort of philosophical position put into a creative and artistic expression. It's too bad that that culture, which has existed for 5,000 years, of the Middle Kingdom, is something that is not valued in contemporary China… Because I think that the culture of China, going back 5,000 years, is the most remarkable culture in the world," he said.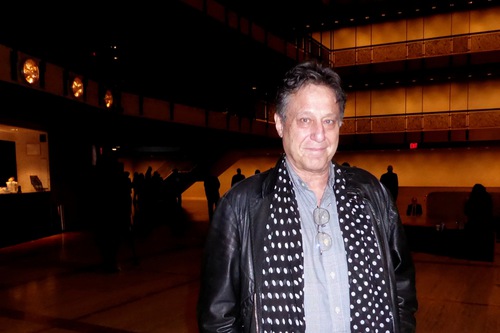 "They Are in Incredible Level"
Arik Braude, a violinist who teaches at the City University of New York (CUNY) and the Mannes School of Music, saw Shen Yun in New York City on April 9.
"The orchestra is incredible. They are all giving their absolute best, and it's wonderful to see them. It's really wonderful," Mr. Braude said.
"For them, maybe playing music is kind of a way of their spirituality as opposed to just playing so you play good. So it's to express their spirituality. I think it certainly helps them to achieve a very high level.
"I think it's all very spiritual. It's based on spiritual things," he said of the traditional Chinese culture. "That's why it's so good."
"They are in incredible level. They are incredible," he said.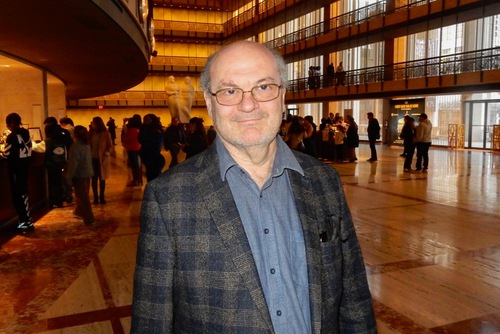 "Everything I Saw Was Beautiful"
David Paterson, former governor of New York, and his wife Mary saw Shen Yun in New York City on April 8. Mr. Paterson is legally blind, but he fully enjoyed Shen Yun regardless.
"I can't see it as well as everyone else. But everything I saw was beautiful, and the movements were incredible," Mr. Paterson said.
"I would never have thought that the type of tumbling they do actually came from dance—it didn't come from exercise. I thought it was spectacular," he said, referring to the fact that audience members learn during the performance that classical Chinese dance is a comprehensive dance system with tumbling techniques, where the techniques of sports like acrobatics and gymnastics originated.
Mr. Paterson was even more impressed with the spirit of the performance. He noted the contemporary story about Falun Gong practitioners who hold onto traditions and faith even under the current communist regime, even under the threat of their lives. He felt the story exposed the human rights abuses of the regime and was a fight for human rights.
"That shows true devotion and true belief in the Creator and in the spirit," he said.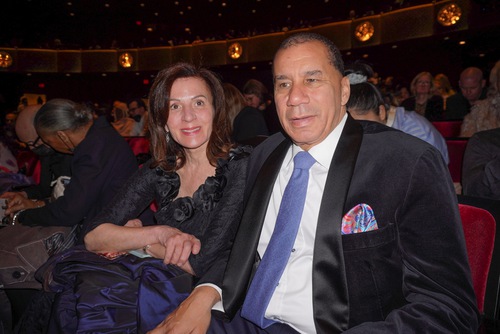 The CCP's Failed Attempt to Interfere with Shen Yun's Performances in Italy
Prior to Shen Yun's performances in Bergamo, Italy, Italian media reported that the CCP had attempted to interfere with Shen Yun's performances. The Chinese Consul-General for Milan traveled to Bergamo to meet with the local Culture Councilor after protesting the performances. The Chinese Consul unsuccessfully requested the councilor to cancel the performances. The CCP's attempt thus ended in vain. Shen Yun's performances in Bergamo from April 5–7 were all presented to packed houses. After completing the performances in Bergamo, the company traveled to Florence to continue its Italy tour.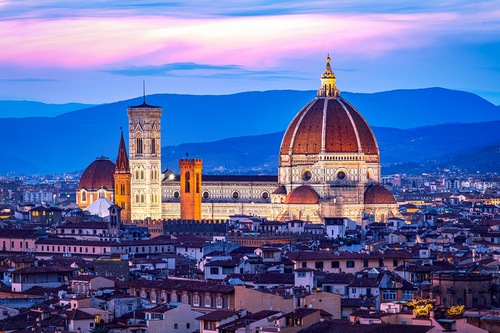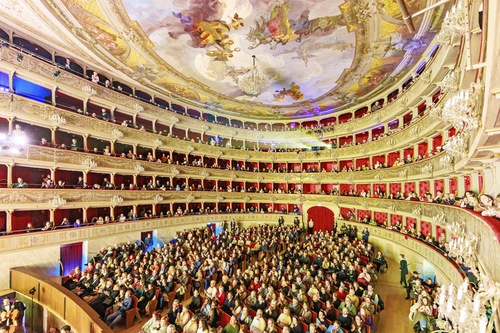 "A Spectacular Delight"
Actor and award-winning playwright Stephen House and his friend Lisa saw Shen Yun in Adelaide, Australia, on April 8.
"Entertainment is incredible… But I think entertainment with a purpose or a message actually turns it from silver to gold," Mr. House said.
"It allowed you to see the beauty of China, from centuries before. And this show was carrying—that history and that beauty—right to the forefront… It was really wonderful to watch," he said.
Mr. House said he really appreciated how Shen Yun's array of vignettes showcased Chinese traditions, amid some comedy as well.
"But there was something that I said from the beginning to my friend: I really liked the political edge," he said.
"I thought the politics of the show and the story throughout—that kept referring to human rights—gave an extra edge to the show… That was very special for me, actually.
"I thought the tradition and the history was very important. So it was wonderful to be watching something that was so steeped in [history]," he said.
Lisa said she found Shen Yun "captivating from start to finish."
"Actually meaningful, isn't it… The stories that were touching… I like the touching on the compassion and the belief in their God," she said.
She also praised the live orchestra and erhu soloist, "I thought it was astounding, absolutely astounding."
In closing, Mr. House said Shen Yun is "a spectacular delight."
Lisa added, "Pretty pleased we got tickets, and we'd recommend it for sure."
"Shen Yun Speaks to My Heart"
Mayor Michael Coxon of West Torrens, a city in the western suburbs of Adelaide, and his wife Fiona saw Shen Yun in Adelaide, Australia, on April 8.
"We've been taken on this miraculous journey from the heavens over the last 5,000 years," Mr. Coxon said.
"I must commend the production… To get a glimpse of what life was like before communism in China… To see that artistic culture, has been so impressive and such a stirring journey for me, personally," he said.
As a "powerful tool" for artistic expression, the international language of dance and music was "so very thrilling to see," he said.
"Shen Yun speaks to my heart," Mr. Coxon said.
He also spoke about the story-based dances portraying the persecution of Falun Dafa. "I think it's absolutely courageous of the team to put this production together and to be able to inform everyone in the Western world about some of the atrocities that are occurring for the local people in China," he said.
"These kinds of messages are so important because they raise awareness… of the importance of things that all people should be entitled to,… and that is democracy and freedom.
"We're trying to increase democracy all around the world, and this goes a long way," he said.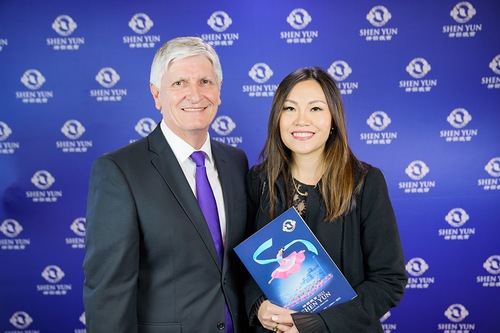 "We Leave the Show With the Desire that It Never Ends"
Eric Danon, the French Ambassador to Israel for several years, saw Shen Yun with his wife in Tel Aviv, Israel, on April 8.
"We leave the show with the desire that it never ends, that we are on a journey and we want to stay in it," said Mr. Danon.
Mr. Danon likened the experience to a kind of "world of fairies," where people come down from the heavens and others ascend to the heavens.
"It tells a story, and this story is connected to ancient myths and traditional stories of ancient China. It's a magical way to tell history, as it seamlessly combines the earthly and the heavenly. It's very surprising to be able to travel [between worlds] like that," Mr. Danon said.
Mr. Danon felt the audience was drawn in through perfect technique, intricate stage design, costumes that are "a kind of magic," and the harmony of colors that synchronise with every movement in the dance.
"It's perfect from beginning to end. It's a very powerful aesthetic. The moment the curtain rises, everyone is amazed by the beauty of what they see. First, the fog rises above the stage, and then the dancers emerge from it. It's absolutely wonderful," he said.
Mr. Danon described the orchestra as "flawless," which contributed to the fact that "everything flows very smoothly, with an aesthetic that delights everyone."
Mr. Danon said the references to our contemporary era in some of the stories intensify the deep and positive meanings conveyed by the show.
"There are many scenes in the show that refer to modern life, to modernity and to what is happening in the world today, like the COVID-19 pandemic. This actually makes the show even more relevant and meaningful," he said.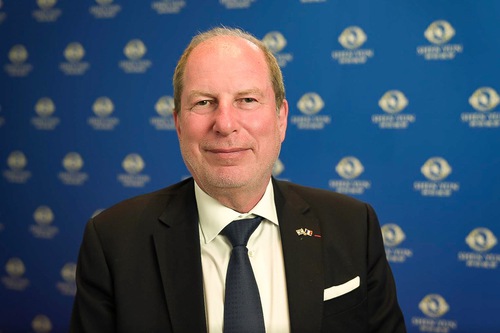 "Truly a Wonderful Cultural Experience"
Mayor Victoria Woodards of Tacoma saw Shen Yun with her mother in Seattle, Washington, on April 8.
"The show was incredibly beautiful, breathtaking," Ms. Woodards said. The ticket was a Christmas gift for her mother.
"Although this was my first time seeing Shen Yun, this was her (my mother's) fourth time seeing Shen Yun," she said.
Regarding Shen Yun's mission of reviving traditional Chinese culture, Ms. Woodards said, "That's a beautiful mission."
"I very much believe that if we don't know about our past history, we don't know where we're going. I think the rich culture shared tonight gave us an opportunity. It allowed us to learn more about the culture presented by Shen Yun… Truly a wonderful cultural experience," Ms. Woodards said.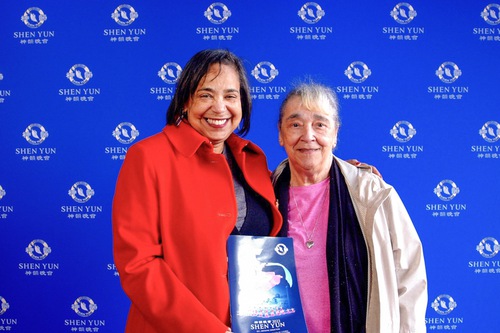 "An Extensive Cultural Experience"
John Evans, president of a surgeon organisation, and Shelli Askin, manager of an art studio, saw Shen Yun in St. Petersburg, Florida.
"The performance was excellent and charming. It was not like anything I'd seen before. It was just interesting, very interesting," Ms. Askin said.
"The performance brought me peace and some relaxation but also the ability to embrace the thought behind it. So it was an emotion in multiple dimensions," Mr. Evans said.
"This was a broad-based cultural experience and immersed us in the experiences of Chinese history and the people that have always embraced the arts and culture, and the messages beyond just the physical activity also communicated many things to my heart.
"The messages of tolerance and involvement in our world and the desire to overcome obstacles and difficulties at all levels, whether they be personal or political environment.
"(These messages) will challenge us every day to think about what I'm going to embrace tomorrow because of what I saw today," he said.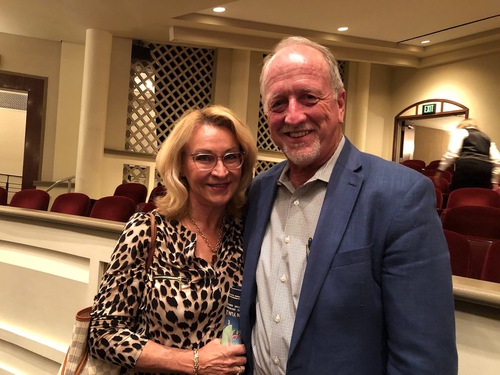 "Very Grateful for This"
Political analyst Maria Marchyshyn saw Shen Yun in Toronto, Canada, on April 9.
For her, getting to see the performance was nothing short of a miracle because by the time she decided she wanted to see the performance, all the tickets had been sold out.
Ms. Marchyshyn, who was eventually given a seat, said that being able to see Shen Yun was "truly a miracle because I was coming here without a ticket… I just took a leap of faith."
"I am so blessed today and I think it's truly a spiritual experience for me in that sense too that the Divine, God—my God [and] your God—actually wanted me to see this and experience this for a number of reasons. So [I'm] very grateful for this," she said.
"On the aesthetic level, it was such a feast for the eyes how you had not only the dance, but you also had the music. You had the singing, and I have to say, as a part-time dancer, the movements were so fluid.
"It was just done so, so professionally that I was simply immersed… I was completely immersed in this wonderful experience. It was a very educational experience. It was a very cultural experience, but it [also] really touched me on different levels mind, body, and soul," she said.
As a political analyst and a Ukrainian, Ms. Marchyshyn appreciated Shen Yun's presentation of China before communism.
"I'm glad that [Shen Yun is] actually showing Chinese culture as it was before communism… I think that is very important because a lot of people are not familiar with that; they only see on media the political tensions that are arising… It was very interesting for me to see because I didn't know how China was before communism," she said.
Getting to see Shen Yun against all odds, and on Easter no less, made Ms. Marchyshyn extra appreciative of the spiritual elements of Shen Yun's performance.
"It was such a spiritual experience just to see how it was all incorporated and how it was shown because we live in such a secular world… Just to see… the Divine being incorporated in the show, I think it's so important," she said.
Ms. Marchyshyn also said that the performance rid her of her anxiety and that the energy from the stage calmed her, especially during the erhu solo. Ms. Marchyshyn described the energy as being yellow and pink and said that it felt uplifting and hopeful.
"Especially when the woman was playing the erhu, I felt so at peace," she said.
"I felt that as the show went on, I felt the anxiety go down, and I just felt like I forgot about my body.
"The energy from the stage was very obvious. I'm a very energetic person—I'm very, very at tune to the energy—so I found the whole show to be very calming. The energy was very positive," Ms. Marchyshyn said.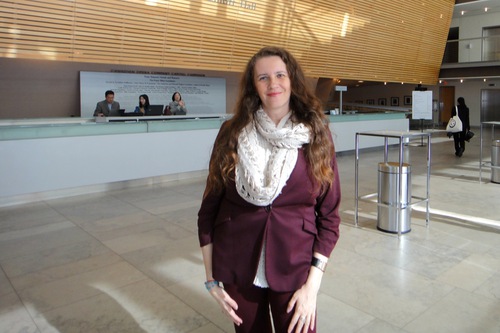 "It Will Definitely Bring Peace and Happiness to the World"
Mr. Qi, a recent immigrant from China, saw Shen Yun for the first time in Toronto, Canada, on April 9.
"To be able to see a program like this overseas, I'm very emotional. You can see so much of China's history and ethnic culture on Shen Yun's stage. I'm truly emotional… Very proud," Mr. Qi said.
"[Shen Yun] allowed people to learn about China's culture in the past and delivered the ideas of Truthfulness-Compassion-Tolerance. It will definitely bring peace and happiness to the world," he said.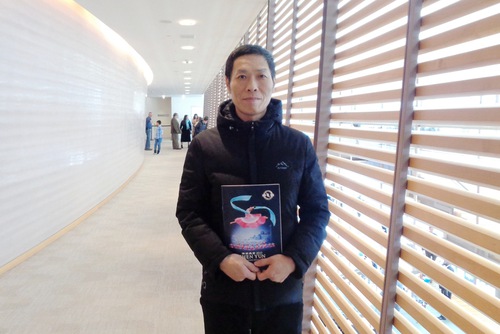 Upcoming Performances
Shen Yun continues its 2023 tour with upcoming performances in:
New York City, New York, April 13–16
Philadelphia, Pennsylvania, April 13–16
McAllen, Texas, April 15
Rapid City, South Dakota, April 15
Udine, Italy, April 13–15
London, United Kingdom, April 14–22
Wellington, New Zealand, April 13–16
Tel Aviv, Israel, April 13