(Minghui.org) The "2022 Country Reports on Human Rights Practices" published by the U.S. Department of State on March 20, 2023, highlights the human rights abuses in China including the suppression of Falun Gong and the forced organ harvesting of Falun Gong practitioners.
At the March 20 press conference, U.S. Secretary of State Antony Blinken said the report aims to provide a resource to protect and uphold human dignity around the world. "Human rights are universal. They aren't defined by any one country, philosophy, or region. They apply to everyone, everywhere," he explained.
"The PRC continues its abuses, including genocide and crimes against humanity against Uyghurs, repression of Tibetans, crackdown on basic rights in Hong Kong, and targeting of individuals on the mainland for exercising fundamental freedoms," he added.
In particular, the 87-page report on China listed 25 types of human rights violations the Chinese Communist Party (CCP) is guilty of, such as politically motivated killings, disappearance, torture, arbitrary arrest or detention, and denial of a fair public trial. They also included interference with the freedoms of expression, peaceful assembly, and religion.
In describing the persecution of Falun Gong, the report says, "Authorities used administrative detention to intimidate political and religious advocates and to prevent public demonstrations." One form of administrative detention is to hold "political activists and religious and spiritual adherents, particularly Falun Gong practitioners" in "legal education" centers.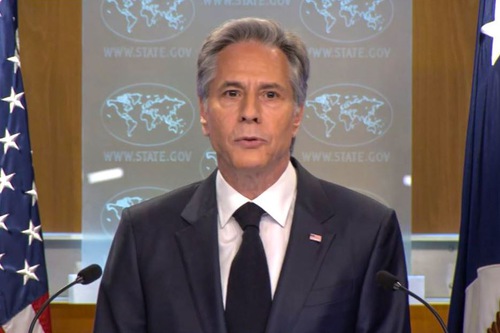 Many political prisoners remain either in prison or in other forms of detention, according to the report. They include: writer Yang Maodong (pen name Guo Feixiong); Uyghur scholar Ilham Tohti; activists Wang Bingzhang, Chen Jianfang, and Huang Qi; pastors Zhang Shaojie and Wang Yi; Falun Gong practitioner Bian Lichao; and human rights lawyers Xia Lin, Gao Zhisheng, Xu Zhiyong, Tang Jitian, Chang Weiping, and others.
"Some activists and organisations accused the government of forcibly harvesting organs from prisoners of conscience, including religious and spiritual adherents such as Falun Gong practitioners and Muslim detainees in Xinjiang," according to the report.
For example, on April 4, 2022, the American Journal of Transplantation published a peer-reviewed research paper indicating that China was violating the "dead donor rule" that an organ donor must be formally declared dead before any organs are removed.
"The authors analyzed 2,838 papers from Chinese-language transplant publications and found in 71 cases that the cause of death was the organ transplant itself, carried out before doctors had made a legitimate determination of brain death," according to the report.
Chinese version available
(Clearwisdom)