(Minghui.org) An Australia Day Celebration organised by the Perth Indonesian Community was held at Civic Centre Park in Cannington on January 26, 2023. The Mayor of Canning and some councilors attended the event.
Falun Dafa practitioners performed traditional Chinese waist drums on stage. Spectators enjoyed the performance, calling it "beautiful" and "inspiring."
Practitioners also had a booth where they demonstrated the five sets of Falun Dafa exercises. Many people asked how they could learn and about local practice sites.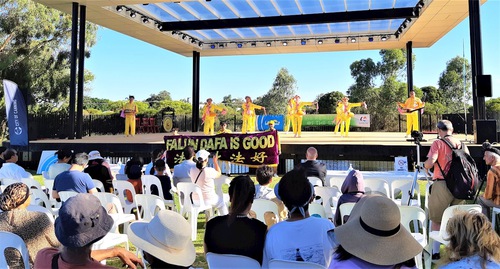 President of Perth Indonesian Community: "Waist Drum Performance Is Great"
Astit Oszlowy, president of the Perth Indonesian Community, said, "Our event is very popular, and we invited the Falun Dafa group. Their waist drum performance was great. It was very lively and filled with love. In Australia, we have the freedom to meditate and practice the principles of Truthfulness, Compassion, and Forbearance, which are very good."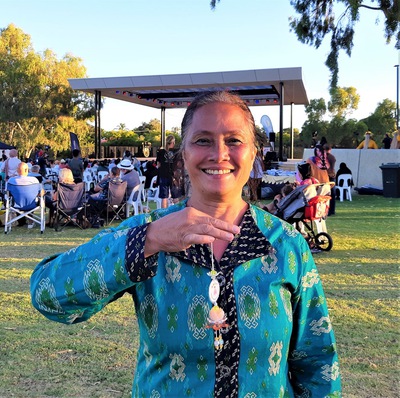 Marcello Sirignano, a life Coach and Italian Ambassador at VISIT ITALY, said, "I have heard of Falun Dafa. I know that people in China have been persecuted for practicing Falun Dafa. They are entitled to express their innocence."
Sirignano said that he lived in China for about three months, where he had learned Tai Chi and studied Chinese culture, "So when I saw practitioners' waist drum performance, I really had a good feeling." He praised the waist drum performance as inspiring, and said, "The sound of the drum is delicate, and it gives people a feeling of comfort, and it calms you down."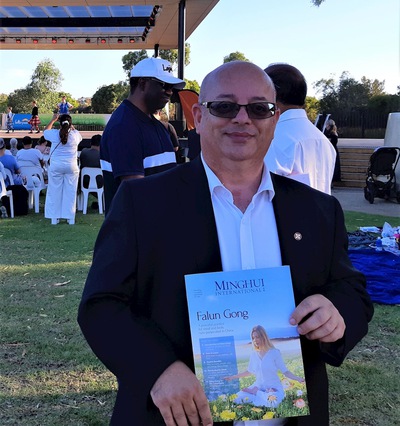 Western Australia Representative of the Australian Multicultural Council: "I Like the Meditation Practice of Falun Dafa, and Practitioners' Dedication"
Luul Ibrahim, the Western Australia representative of the Australian Multicultural Council and winner of the 2022 African Women Leaders Award, appreciated practitioners' waist drum performance.
"The performance is beautiful," she said. "It gives me a sense of belonging. I really want to be a part of this culture! It's really amazing that we all have different ways of passing on our culture."
"Being an African, I have the opportunity to see other cultures and the way they dance here. This is what Australia is and why we are here today. I like the meditation practice of Falun Dafa, and practitioners' spirit of dedication. I thank them for the time and effort they put into today's event," she said.
Ibrahim said that this was the first time that she had heard about Falun Dafa. She was very interested and would learn more about it.
Jose Ciciliamma was very interested in the Falun Dafa exercises and asked about local practice sites. "I really appreciate that Falun Dafa practitioners support others with their compassionate hearts," he said. He said that he saw practitioners' waist drum performance in the Christmas parade in Ellenbrook, and he liked it very much.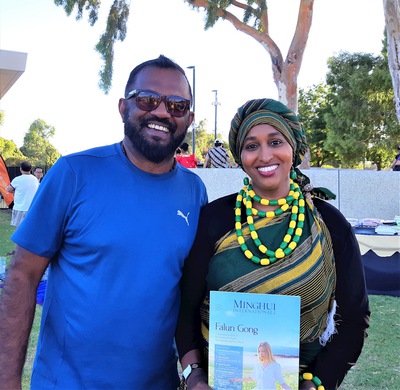 Brad is the co-founder and CEO of Ultra Power Systems, a large energy storage company. "Practitioners' waist drum performance is very good. I am very happy to see that people bring different cultures here. This is very good," he said.
After talking about how Falun Dafa practitioners cultivate by following Truthfulness-Compassion-Forbearance, Brad said, "There's way too much greed in this world. We definitely need more of these types of values."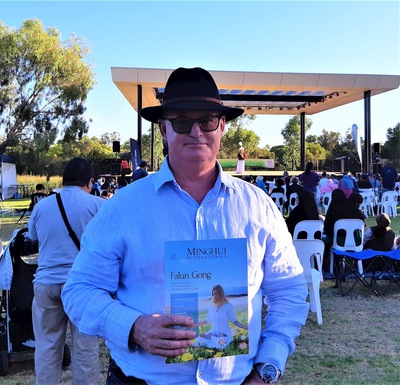 149 total views