(Minghui.org) Falun Gong practitioners took part in a Christmas parade and festival in Ellenbrook, Perth, on December 10, 2022.
The grand parade kicked off in the evening, and spectators clapped, cheered, took photos, and made video recordings all along the parade route.
Falun Gong practitioners set up a booth during the festival and demonstrated the five exercises to introduce the mind-body practice. They also took part in the live performances and did a joyous waist drum dance on stage.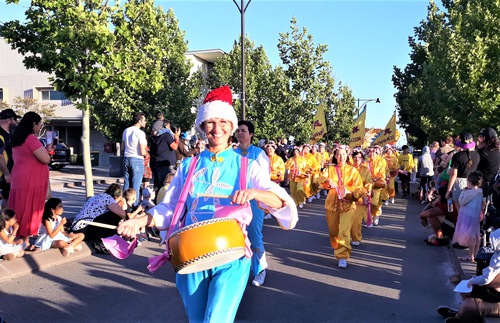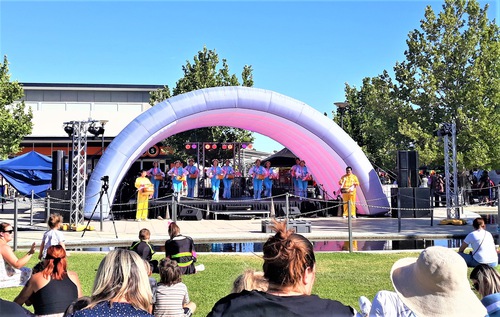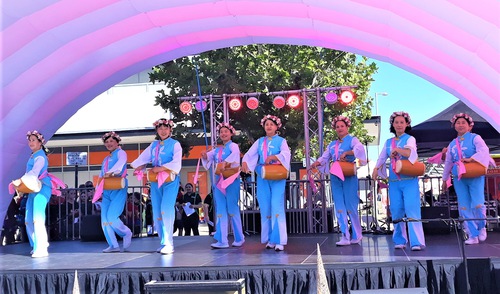 The Falun Gong Exercises Lift People's Hearts
Desirae and Josie watched practitioners demonstrate the exercises. Desirae said, "The booth looks great. The exercises lift people's hearts and the sitting meditation looks natural. We can feel the energy coming from the meditation—that's what drew us here and made us stop in our tracks."
It was the first time they had heard of Falun Gong. They were astounded to learn about the Chinese Communist Party's persecution of its practitioners in China and signed the petition to call for an end to the human rights atrocities.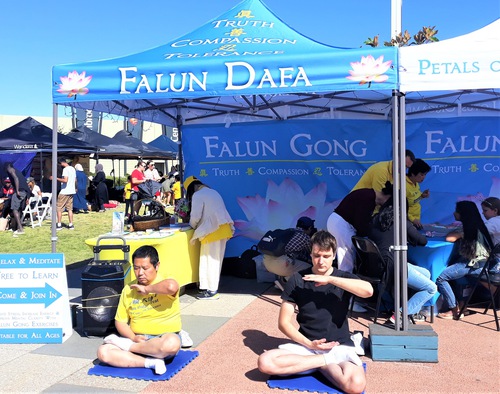 Falun Gong Had a Massive, Positive Energy in the Parade
Alok Handa and his son Arav loved the principles promoted by Falun Gong—Truthfulness, Compassion, and Forbearance.
Alok said, "The Falun Gong group in the parade was bright and colorful. They had a massive, positive energy as they marched past."
He appreciated the Falun Gong principles of Truthfulness, Compassion, and Forbearance. "This is beneficial to the younger generation. If we teach our kids these principles from a young age, it will benefit society."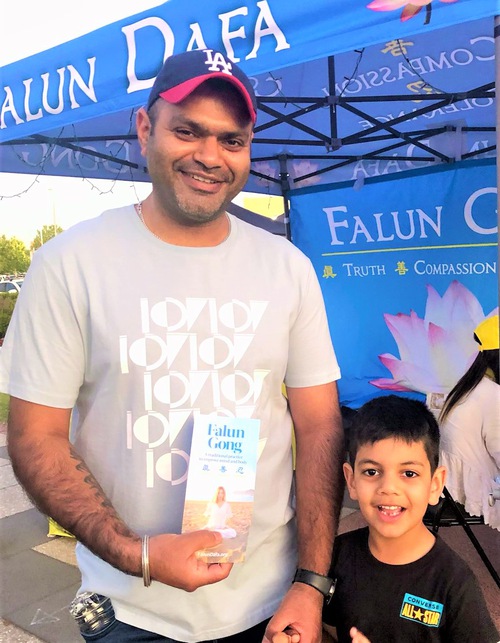 Truthfulness, Compassion, and Forbearance Are Such Important Values
Ronda Bowman was delighted to see Falun Gong practitioners in the parade. "Their yellow costumes are so bright. I took many photos they were so spectacular," she said.
Her daughter Hanna said, 'The dragon was cool."
Ronda loved the dragon, too, but she loved the celestial maidens holding lotus flowers the most. "The principles of Truthfulness, Compassion, and Forbearance that Falun Gong teaches are so important because this is what today's society lacks," Ronda said.
"I still remember watching Falun Gong practitioners perform at the Perth Royal show, so when I saw their information booth, I thought I had to come over and find out more about this. I hope to see them again next year," she said.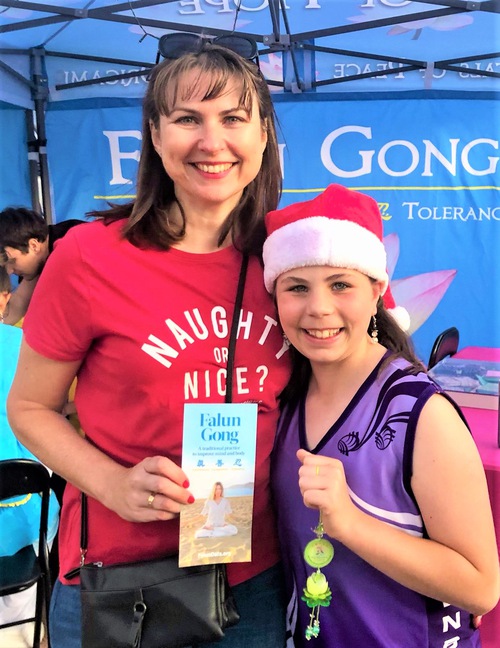 Waist Drum Performance Was So Free-Spirited and Joyful
Tara Edgelow said, "I come here to see the Christmas parade nearly every year. I am delighted to see Falun Gong. I love their waist drum performance. They are so free-spirited and joyful. The contingent has massive energy and joy. This is good for people's mental health."
Tara hopes to see Falun Gong practitioners again in next year's Christmas parade.