(Minghui.org) Falun Dafa practitioners were invited to take part in the Chinese New Year celebrations at Mount Gravatt Street Foods in Brisbane on February 4, 2023.
They demonstrated the five sets of Falun Dafa exercises and entertained people with rich traditional Chinese cultural performances including a dragon dance, waist drum dance, Chinese dance and musical performances. Young practitioners sang the song "Falun Dafa is Good" wearing a variety of Chinese ethnic costumes. Their performances were well received by spectators.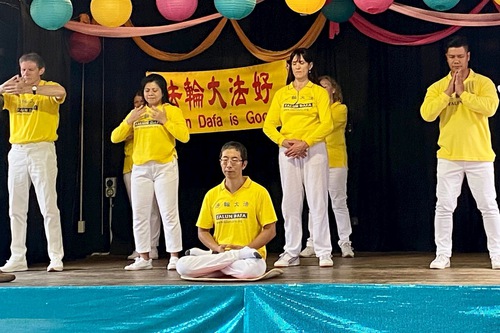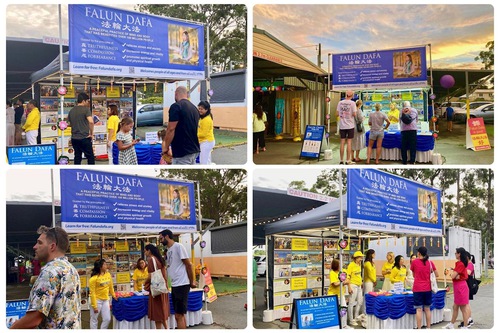 The MC introduced Falun Dafa, then said, "If you hold a banner with the words 'Falun Dafa is good' in China, you will be arrested. Practitioners strive to be good people by following the principles of Truthfulness, Compassion, Forbearance. However, since July 20, 1999, they have been brutally suppressed by the Chinese Communist Party (CCP).
"John, who is here meditating now, was brutally tortured by the CCP for practicing Falun Dafa. John graduated from Qinghua University, a well known Chinese university. He was sentenced to 10 years in prison for refusing to give up his belief. He was beaten, tortured and forced to do labor. He worked in the fields and made Christmas decorations that were exported overseas. When you see him sitting here so quietly meditating, you cannot imagine the pain he suffered during the persecution."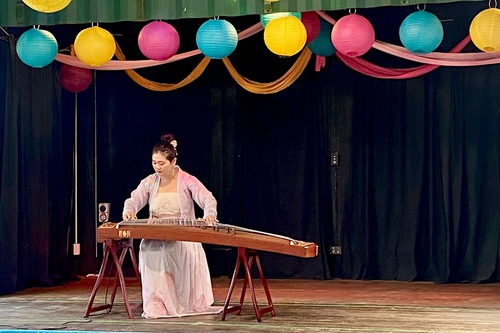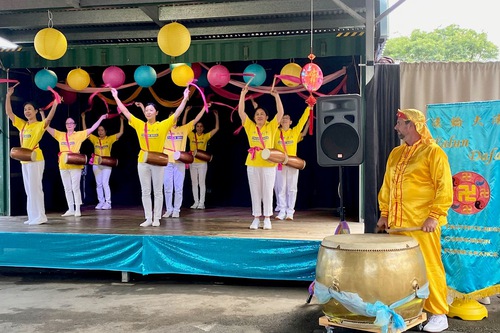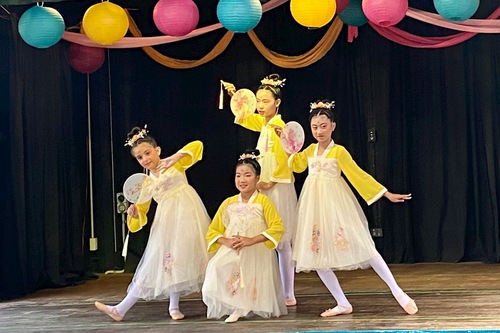 Organisers Thank Practitioners for Thought-provoking Performances
Mark Hawkins is one of the organisers of the Mount Gravatt Chinese New Year celebration. Throughout the year he helps organise various cultural events such as Chinese New Year, the Japan Festival, and Irish and Brazil Festivals.
Mark said, "Falun Dafa is a great way of life. If people had a belief like this and lived according to these principles, they would understand others with different cultural backgrounds. I think there would be less trouble in the world. Everyone would benefit."
Mark is aware of the suffering of practitioners in China and supports practitioners in raising awareness of the persecution. He gave practitioners an information booth during the festival. He condemned the persecution, "It sounds terrible, I disagree with the suppression of anyone, any culture, any ethnic group. When people follow the values of Truthfulness, Compassion, Forbearance, the world will be a better place. People should be able to have their own faith. I may not agree with your views but I can respect your faith."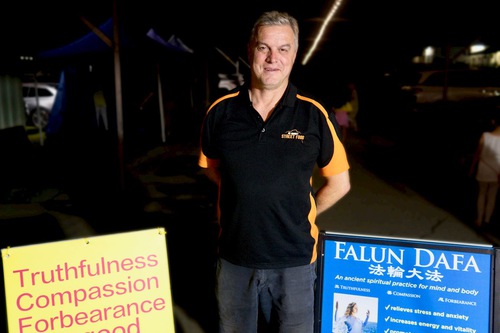 Udi moved to Australia from Nepal 15 years ago. He is now a banker. He brought his wife and children to see the New Year performances. Udi remarked, "The performance was great, and the children had a great time. They loved the dragon. Thank you, Falun Dafa practitioners for bringing the community such a wonderful performance! You have made a huge contribution to the diversity of this community!"
Udi also stopped by the practitioners' booth to learn more about Falun Dafa. He said, "I heard a little about the persecution of Falun Dafa in China. I learned more today. This is a human rights disaster! Practitioners brought us a great performance today, but the CCP oppresses such a group of good people. It's a shame!"
He encouraged practitioners to continue spreading the truth. "You must let more people know about the persecution; tell people how evil the CCP is."
Before leaving, he signed the petition to call for an end to the atrocities taking place in China. He said he will also share the information on his social media platform and tell his friends about it.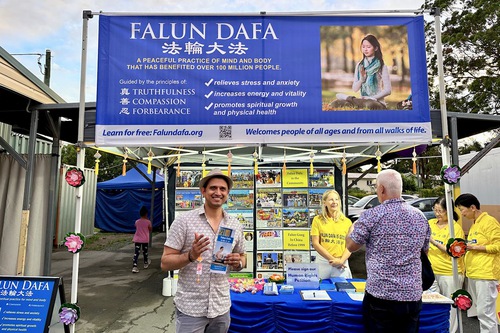 The World Needs Truthfulness, Compassion, Forbearance
Karl, another eventgoer, said that the practitioners' performance helped him experience traditional Chinese culture. He admired Falun Dafa's principles – Truthfulness, Compassion, Forbearance, and said, "The world needs Truthfulness, Compassion, Forbearance. If more people could follow these values, the world would be a more beautiful place."
After practitioners told him about the persecution in China, Karl said, "Communist ideology and the CCP is threatening the world. Western, democratic countries are gradually recognising this threat and taking action. This is important. It may be difficult to resolve this threat, but we should see hope in this." He then wished practitioners all the best in their endeavors.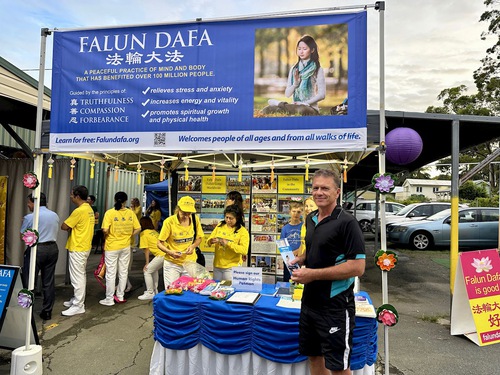 Chinese version available
(Clearwisdom)
Brisbane: Rally Held to Celebrate 400 Million Withdrawals from the CCP