(Minghui.org) "You have been working hard! I do the same thing in China," a young Falun Dafa practitioner from China told a Swedish practitioner in front of the Nobel Prize Museum in Stockholm.
Practitioners in Sweden introduced Falun Dafa to the public on January 21, 2023, and told them how the Chinese Communist Party (CCP) persecutes practitioners. People were shocked to learn of the atrocity of harvesting organs from living practitioners.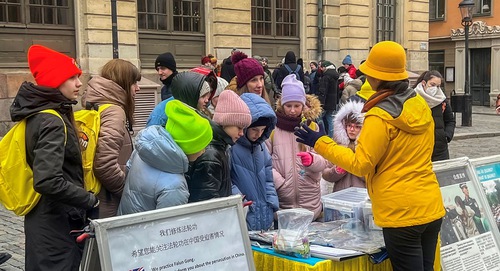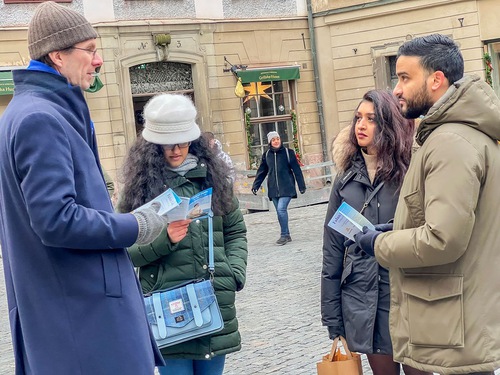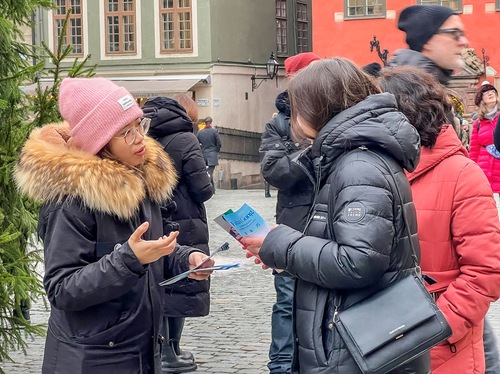 The young practitioner from China explained that he was in Sweden on a business trip and was happily surprised to encounter the Swedish practitioners' activity in Stockholm. "Many of my family members practice Falun Dafa," he said. "Three of them have been imprisoned and persecuted."
Three young women from Kalmar were appalled by the CCP's crime of organ harvesting from practitioners while they are still alive. One said, "I believe this is true! I know how the CCP persecutes the Muslims, which is severe!" All three signed the petition to end the persecution. They praised practitioners for their efforts to expose the atrocities.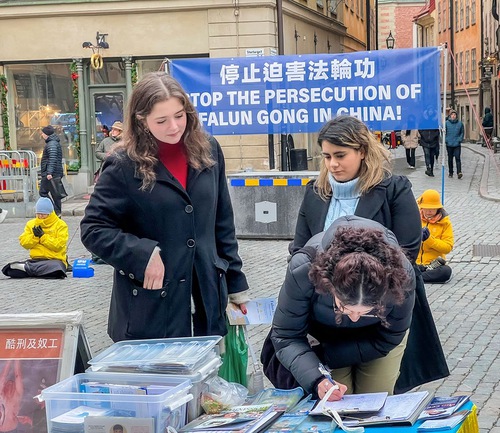 A group of people from Lithuania read the display boards. One of them spoke English. She found out more from a practitioner and interpreted for her group. Everyone in her group signed the petition.
Many people showed great interest in Falun Dafa. Some learned the exercises on the spot.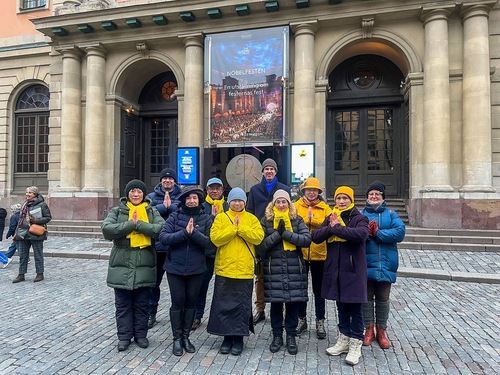 Background: What Is Falun Dafa and Why Is the CCP Persecuting It?
Falun Dafa (also known as Falun Gong) was first introduced to the public by Mr. Li Hongzhi in Changchun, China, in 1992. The spiritual discipline is now practiced in over 100 countries and regions worldwide.
Millions of people who have embraced the teachings, which are based on the principles of Truthfulness, Compassion, and Forbearance, and have learned the five exercises, have experienced improved health and well-being.
Jiang Zemin, former head of the Chinese Communist Party (CCP), perceived the spiritual discipline's growing popularity as a threat to the CCP's atheistic ideology, and on July 20, 1999, he issued an order to eradicate the practice.
Under Jiang's personal direction, the CCP established the 610 Office, an extralegal security organisation with the power to override the police and judicial systems and whose sole function is to carry out the persecution of Falun Dafa.
Minghui.org has confirmed the deaths of thousands of practitioners as a result of the persecution over the past 23 years. The actual number is believed to be much higher. Countless practitioners have been imprisoned and tortured for their faith.
There is concrete evidence that the CCP sanctions the harvesting of organs from detained practitioners, who are murdered to supply China's organ transplant industry.
Chinese version available
(Clearwisdom)
Sweden: Students from China Quit the CCP During Activities in Stockholm
106 total views