(Minghui.org) On the eve of the lunar New Year, January 21, 2022, a grand parade was held in Flushing, New York's largest Chinese community to celebrate and usher in the year of the rabbit.
Falun Gong practitioners participated in the parade, bringing color and a joyous mood to the event. Their contingent presented the beauty of Falun Dafa winning wide praise from spectators. A new migrant from China said, "Falun Gong is saving humanity."
Over 100,000 people pass through downtown Flushing daily making it the busiest area in New York City after Times Square. Many tourists come here every day to shop. Flushing was packed with spectators on the day of the parade. It was estimated tens of thousands of people saw Falun Gong practitioners' message in the event.
Falun Dafa's entry in the parade included themes introducing the mind and body practice, volunteers from the Quit the CCP Centre (Chinese Communist Party), the Tian Guo Marching Band, beautifully decorated car floats, dragon and lion dance performances, eye-catching flags and banners, a lotus flower dance group, and a Chinese waist drum team.
According to Yi Rong, chairperson of the Global Quit the CCP centre, "Falun Gong practitioners participated in the parade hoping to bring New Year greetings and blessings to everyone. We hope to let people know Falun Dafa is great, Truthfulness, Compassion, Forbearance is good. May Chinese nationals who have not renounced their membership in the Chinese Communist Party and its affiliated organisations withdraw soon and embrace a bright future."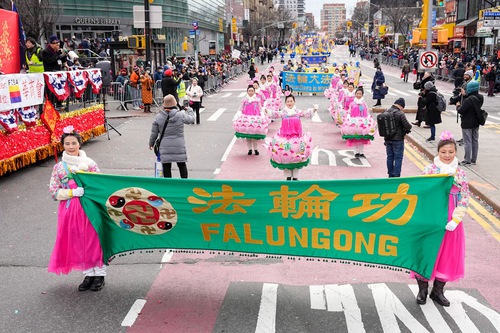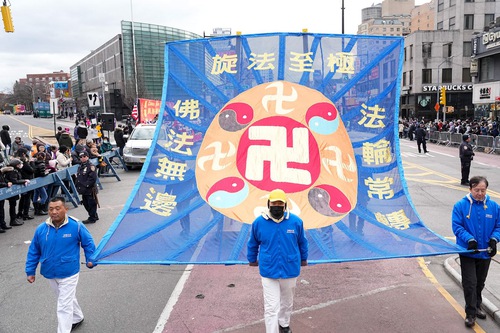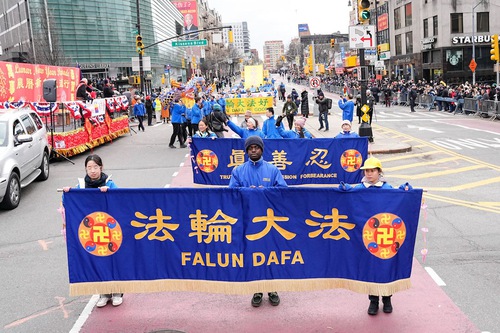 Chinese Migrant: Falun Gong Is Saving Humanity
Chen Quanhong who moved to the U.S. from China eight months ago said, "I knew several Falun Gong practitioners when I was in China. All of them are kind people. I came to America in June of last year and consider myself very fortunate to be able to come to this country. The COVID outbreak in China is terrible at the moment. Countless people have died, it is like hell in the human world. As long as the CCP is in power, the pandemic will not go away and human disasters will not end. I think Falun Gong practitioners are helping people to stay away from this virus and are saving humanity."
She continued, "I am astounded to see so many Falun Gong practitioners in the parade. It goes to show people aspire towards "Truthfulness, Compassion, Forbearance." No one can stop this! Humans should follow these principles."
Only Falun Gong Can Change the World for the Better
Roger Guan who is from Taiwan said, "The Falun Gong group is grand and most beautiful. Practitioners are kind. I took their brochures when I pass by their information site in Flushing. They tell people how to avoid the COVID virus.
"Indeed, Falun Gong practitioners are saving people. Only Falun Gong can make this world more peaceful and enable people to live happily. We support them."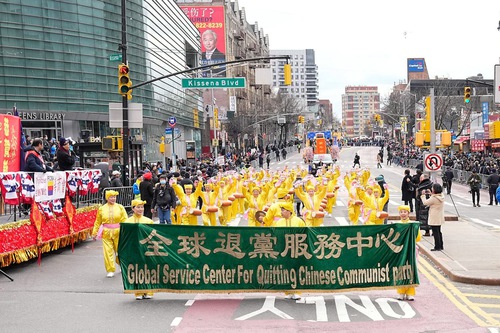 Practitioners' Spirit Is Commendable
Wang Yonghong from China said, "The spirit of Falun Gong practitioners is commendable. The CCP is trying to hang on with its last breath, yet many people are still under its evil control. I find them really pitiful.
"Few people in China have access to information from overseas. I just sent video recordings of the parade to China."
More and More People Agree with Falun Gong
Mr. Li who moved from China said, "In fact, I feel that some people don't deserve to be saved yet I see Falun Gong practitioners trying their best to change their thinking although some of these people are extremely bad."
"The situation overseas has changed tremendously. During the 2008 Olympic games, the pro-CCP groups in New York were emboldened but subsequently, Falun Gong is moving up while they (who support the CCP) are going down. This is more and more obvious. Now, more Chinese nationals can distinguish good from evil; their conscience is awakened.
"Not only those living overseas, in particular, but Chinese citizens in China need to know more about Falun Gong."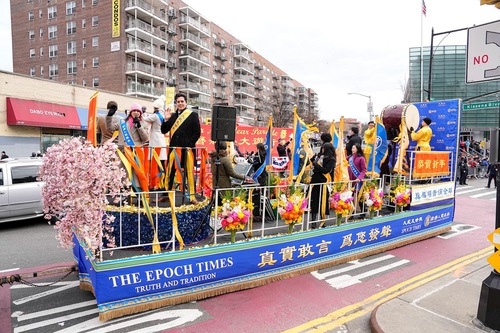 I Love to Watch Falun Gong in the Parade
Zhao Aiming who moved to the U.S. from China 10 years ago said, "I come to see Falun Gong in the parade every year. They are amazing. We are touched. Their energy is great and they have done well."
Thanks to Falun Gong, Chinese People are Waking Up
Peter Zhang from Pennsylvania was visiting friends in Flushing and said, "Thanks to Falun Gong, Chinese nationals are progressing and waking up. Only Falun Gong can unite all righteous forces and Chinese from all parts of the world. It is not an easy feat, to be able to awaken people's conscience and bring out people's sense of justice."
I Support Falun Gong
Susan Liu said she practices Buddhism, "However, I support Falun Gong practitioners' freedom of belief. We form a force to face the CCP's evil elements and will never give in or retreat.
"In the battle between good and evil, who stands in the front line is the most courageous person and deserves everyone's respect. The hope of victory is getting closer, the persistence of Falun Gong will end in victory because the CCP will collapse soon."
Background: What Is Falun Gong?
Falun Gong (also known as Falun Dafa) was first introduced to the public by Mr. Li Hongzhi in Changchun, China, in 1992. The spiritual discipline is now practiced in over 100 countries and regions worldwide. Millions of people who have embraced the teachings, which are based on the principles of Truthfulness, Compassion, and Forbearance, and have learned the five exercises, have experienced improved health and well-being.
Chinese version available
(Clearwisdom)
New York: Grand Parade in Manhattan Celebrates World Falun Dafa Day
225 total views