(Minghui.org) Since Shen Yun Performing Arts launched its world tour on Christmas Eve, the performing arts company's eight touring companies have performed nearly 160 shows in Europe, Japan, and the United States.
While Shen Yun is celebrated worldwide due to its artistic presentation of pre-communist Chinese culture, the company still cannot perform in China due to the ruling communist regime. The performances this season have attracted a number of Chinese nationals, who were moved to witness a revival of the almost-lost culture outside of China.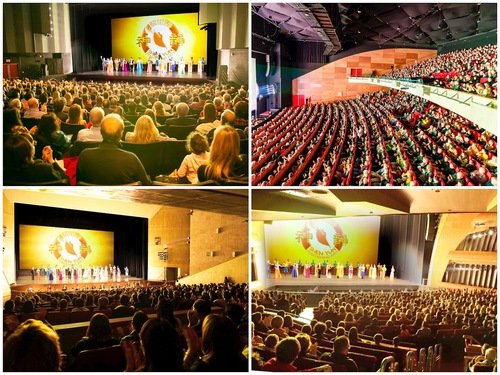 "The Show Is Much Higher Than My Expectations"
Liu Yanzhe, a Chinese Ph.D. student, saw Shen Yun in Groningen, Netherlands, on Lunar New Year's Eve on January 21. She said she couldn't control her tears while watching the performance.
"I was shocked deeply. No words can describe how shocked I felt. It's incredibly exciting and inspiring… I was born and grew up in China, an environment without freedom and beliefs. I felt I'm the luckiest one [who can attend Shen Yun]," said Ms. Liu, who has studied in the Netherlands for over two years.
"When the show started, the scene on stage was like a big universe where many people came down from heaven… I started to cry at that moment. I don't know the reason. I just felt that heaven is my home, and I want to go back," she said.
She said she was touched more and more deeply by each program as the performance went on.
"Actually, I had very high expectations. However, the show is much higher than my expectations. Every program is beyond my imagination. They are super wonderful," she said.
After attending the show, Ms. Liu concluded: "There are divine beings in the universe. I believe in this."
She was also amazed that Shen Yun delivered rich information via its dances, music, and songs.
"Shen Yun showed me that we can communicate and express emotions via dances. During those moments, there was no room for words… We need to know the language if we communicate with words. But everybody can feel, see, and listen to us if we use music or dance to deliver messages," she said.
Ms. Liu then explained what she understood from the dances, and listed the values she learned, such as people should do good deeds without asking for any return; people should be loyal and follow moral codes; and people should be brave and take responsibility.
"I felt Shen Yun is very meaningful. It's important to everyone… I felt that everybody came to the world with a mission. No matter whether we realise this or not, we should be kind. This is very important," she said.
Ms. Liu said she felt proud to be Chinese when she saw the rich traditional Chinese values that Shen Yun presented. At the same time, she felt that these values could help people examine their own values, leading to people of greater character, which can only result in a more beautiful world.
"I hope Shen Yun can present all around the world, that everybody can attend Shen Yun… I feel sad that only a few Chinese people know traditional Chinese culture. A lot of Chinese don't want to know it because of the education [by the Communist Party]," she said.
Ms. Liu said that she doesn't practice any religion, but she knows that what Shen Yun presented is good.
"We need to listen, watch, and feel the things before we judge them. Now I've experienced this, I will tell my relatives what I experienced… I want to wake them up, to cherish the tradition and culture," she said.
"It's Amazingly Impressive"
Mr. Mao, a Chinese IT engineer who has worked in Japan for two years, saw Shen Yun in Kawaguchi, Japan, on January 19. He said he saw the real China in Shen Yun.
"This is my first time attending Shen Yun. It showed me the real Chinese traditional culture. I was in awe… This is a really splendid performance!" Mr. Mao said.
Mr. Mao enjoyed the show from the very beginning.
"At the moment the curtain was opened, I saw a paradise on stage. It's amazingly impressive. The heavenly beings were dancing with clouds around them. It's gorgeous!… The show is not only presenting the Chinese tradition, but also the divine nature, in my eyes," he said.
Mr. Mao said he was very happy that Shen Yun is reviving the moral code and encourages people to be good.
"There's no moral bottom line in China now. The officials are corrupt and bureaucratic. Regular people don't care about any moral code… Tradition and culture are very important. They are the roots of our Chinese people. It's very powerful and beautiful. We obtained it through 5,000 years of experience. We must not lose it," he said.
Mr. Mao mentioned that there was one Shen Yun program that explained the traditional Chinese belief in which bad deeds lead to consequences and good deeds bring blessings.
"Anybody who loses their basic conscience won't be blessed and will lose the trust of divine beings," he said. He mentioned that he would do better in the new year.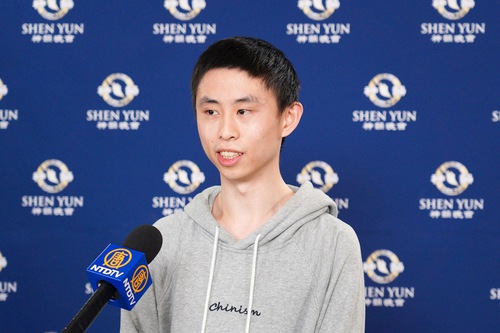 "My Soul Was Purified"
Wen Qiang, a Chinese student who began his study abroad in Japan three months ago, saw Shen Yun in Kawaguchi on January 17.
"I was shocked by Shen Yun. I felt the performance was very good… Every scene was like a picture on a postcard. It's great and I enjoyed it very much," Mr. Wen said.
Mr. Wen praised the solo vocalists, whose voices resonated with his heart.
"Their voices are very strong, and reached very far. They have excellent voices and I feel I can listen to them continually… Especially the soprano, I loved her voice. I felt her voice is very powerful and went straight to my heart," he said.
Mr. Wen said that there is no performance in China as wonderful as Shen Yun, both artistically and in value.
"In China, songs or shows are all just to entertain the public… Shen Yun is very different. No matter the dances or songs, they all make audiences become very positive and inspired. My soul was purified, watching Shen Yun. I felt wonderful," he said.
Mr. Wen said he would like to attend again and again, because he thought "Shen Yun is really worth attending."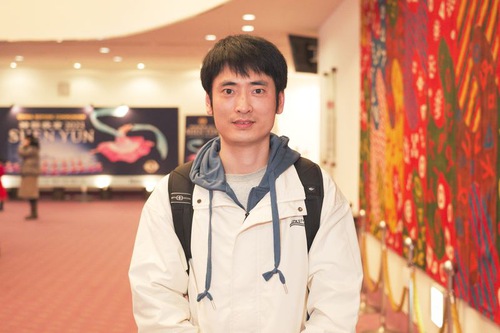 "Enchantingly Beautiful"
Medical worker Ms. Fang saw Shen Yun with her husband, son, and daughter in Berkeley, California, on January 15.
Both Ms. Fang and her daughter like dance and Ms. Fang has learned ethnic dancing. "Very excellent. The performers' fundamental skills were solid. The costumes were enchantingly beautiful," Ms. Fang said.
Regarding Shen Yun's exposure to the crime of forced organ harvesting committed by the Chinese communist regime, she said with tears, "I know this crime truly exists in China. Because I work in the medical system and my family has gone through organ transplantation… This crime has reached my bottom line, and is not acceptable no matter what… So I understood it once I saw this piece. I think this piece could be even longer, so more people can clearly learn about the CCP's crime of forced organ harvesting."
She said she used to be a "little pink", a term used nowadays to describe young jingoistic Chinese nationalists on the internet who actively speak for the CCP and attack dissidents. "But after experiencing the pandemic and learning about the CCP's crime of forced organ harvesting, I woke up," Ms. Fang said.
"I've Never Seen Such a Magnificent Scene in China."
Chen Zhengmin, a Chinese student who came to the U.S. two years ago, saw Shen Yun in Berkeley on January 15.
"I've never seen such a magnificent scene in China. This was not only my first time seeing Shen Yun, but also my first time seeing such a grand scene," Mr. Chen said.
Seeing that Shen Yun presented traditional Chinese culture before communism, he shared his own experience. "I was born in Nanjing, which is also a historic city. There were a lot of ancient cultures, historic sites, famous places, etc. But these were all destroyed and smashed by the Communist Party," he said.
"[Shen Yun] told the world that the CCP does not equal Chinese people or Chinese culture. There's no reason for the CCP to represent them. The CCP is the true destroyer of Chinese culture… If you can feel the beauty of traditional Chinese culture, you will really like to come to see (Shen Yun)," he said.
Mr. Chen said he will recommend Shen Yun to young people his age, including the "little pinks" who do not know about traditional Chinese culture.
He also added, "The piece about Falun Gong practitioners resisting the persecution touched me the most… Not only Falun Gong practitioners, there are still many people in China who are persecuted by the CCP but still persist and say no to the CCP. They have not yielded to the CCP. The CCP, this devil, it's a cult. We have to let everyone understand this point. People should understand the concept of justice, which is that between good and evil, they should know what is good and what is evil."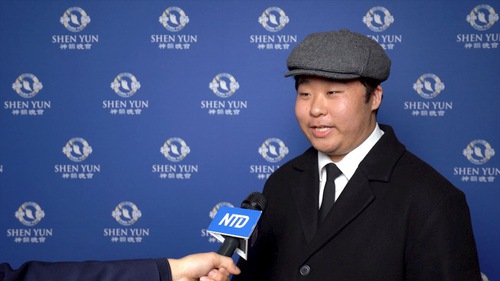 "This is Very Good for the Entire Humankind"
Huang Haoxuan, a Chinese student who has studied in the U.S. for a year and a half, saw Shen Yun in Pittsburgh, Pennsylvania, on January 15.
"Very astonished to see the performance today. Because I've lived in China for over twenty years… Only this time did I feel that this was true traditional culture. The dancing was very wonderful!" Mr. Huang said.
"Shen Yun's animated backdrop, music, and dance were all very well done. They blended together very well," he said.
Regarding the piece about the CCP's persecution of Falun Gong practitioners, Mr. Huang said, "Falun Gong practitioners are being persecuted – this is a fact. But the CCP is still trying hard to cover it up. Shen Yun's audience members are mostly Westerners. This is a very good way to deliver this message to them and tell them about the CCP's persecution campaign against Falun Gong practitioners, so more Americans can also realise the evilness of the CCP."
"I'm very proud. I can feel that we have a group of Chinese people in America who value our traditional culture and can guide people to return to traditional notions and ideas. This is very good for the entire humankind," he said.
Mr. Huang said that he had already recommended Shen Yun to his friends. "I have already sent it to my friends, telling everyone that this was my first time in over twenty years seeing such a beautiful performance about traditional Chinese culture," he said.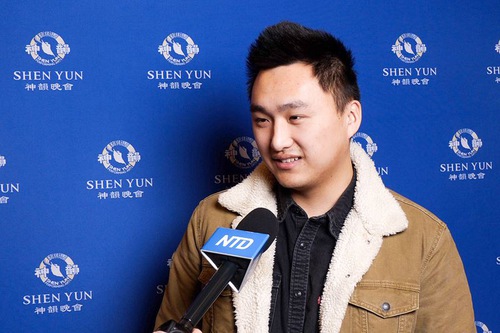 "Such an Artistic Feast"
Li Jianchao, a Chinese immigrant who came to the U.S. less than half a year ago, saw Shen Yun in San Jose, California, on December 31.
"I appreciate Shen Yun Performing Arts very much for bringing us such an artistic feast," Mr. Li said.
"I think this is the beautiful aspect of China's classical, traditional culture, the good aspect. It's a return. I can only call it a return. I think in Chinese history, there had been these kinds of traditional virtues, theism, and respect for the divine. I think these are very good. I think the kind of atheism in modern days is a kind of oppression of this kind of traditional culture. I think this is not good.
"I'm actually very proud. It's also good that it allowed foreigners to see this kind of vigorous and upward spirit, the strength of China. From martial arts and dance, these can all let them feel that traditional Chinese culture is actually very beautiful. I don't think this kind of culture should disappear.
"I appreciate Shen Yun very much for this kind of stage, and how they're able to maintain this clean stream in this modern world, to continue to persist in their dreams and faith and spread them. I think it's very uplifting. I hope they keep going!" Mr. Li said.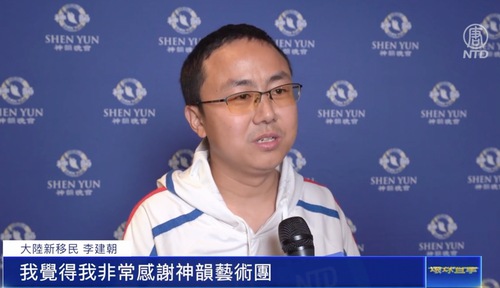 Upcoming Performances
Shen Yun continues its 2023 tour with upcoming performances in:

Washington, D.C., January 26–29
Kansas City, Missouri, January 27–29
Providence, Rhode Island, January 28–29
Fresno, California, January 28–29
Memphis, Tennessee, January 28–29
Cincinnati, Ohio, January 28–29
Rotterdam, Netherlands, January 26
Bilbao, Spain, January 29
Nagoya, Japan, January 27–30
Chinese version available
(Clearwisdom)
Shen Yun Performs in the U.K., Germany, Japan, and the U.S.: "They're Serving the World"