(Minghui.org) Around this year's Human Rights Day on December 10, Falun Gong practitioners in 38 countries submitted an updated list of perpetrators to their governments, urging them to sanction these individuals for persecuting Falun Gong, including barring them from entry and freezing their assets outside China.
The countries include the United States, Canada, United Kingdom, Australia, New Zealand, 22 European Union nations, and 11 additional countries from Asia, Europe, and the Americas. Among the perpetrators listed was Zhu Shouke, director of Prison Administration at the Public Security Department.
* * *
Perpetrator Information
Full Name of Perpetrator: Zhu (last name) ShouKe (first name) (朱守科)
Gender: Male
Country: China
Date/year of Birth: July 1969
Place of Birth: Baiyin City, Gansu Province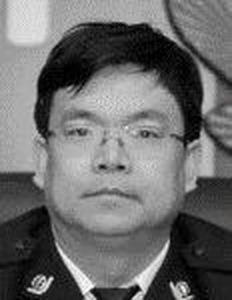 Title or Position: 
2016 – Present: director of prison administration at the Public Security Department
2015: deputy secretary of the Party Committee of Gansu Province Public Security Bureau
2013: party committee secretary of Gansu Province Public Security Bureau
2014 – 2016: deputy director of Gansu Province Public Security Bureau
2013 – 2016: director of Lanzhou City Public Security Bureau
Main Crimes
Since the Chinese Communist Party (CCP) started persecuting Falun Gong in July 1999, the Public Security Bureau has been an instrumental arm of the state apparatus responsible for the suppression. Countless Falun Gong practitioners have been arrested and held in detention centres at all levels of China's public security system, simply for upholding their faith.
Under former CCP leader Jiang Zemin's secret directives to "kill [Falun Gong practitioners] without mercy" and under his declaration that "beating [practitioners] to death will be counted as suicide," detention centres have been given free rein to use a variety of brutal torture methods on practitioners who refuse to renounce their faith. These cruel methods often result in long-lasting or even permanent wounds which lead to disability or death.
During Zhu Shouke's tenure as the director of prison administration at the Public Security Bureau, he personally designed and directed the persecution of Falun Gong practitioners in detention centres throughout China.
As an example of the abuse ordered by Zhu, Wang Fengming, the director of the Baisheng Detention Centre in Jilin Province, and Wei Ping, the deputy director, had Falun Gong practitioners in the detention centre beaten, drugged, drenched in cold water, and forced to do unpaid labor. While carrying out these orders, one of the guards claimed, "Falun Gong practitioners' deaths are no big deal."
According to available statistics, at least 37 Falun Gong practitioners were tortured to death in detention centres since January 2017. Many suffered severe injuries or disability and some were victims of organ harvesting.
As the top executive of the prison management system at the Public Security Bureau, Zhu Shouke bears direct responsibility for these egregious violations of human rights.
Cases of Persecution to Death
Case I: "If I Die, It Will Be the Result of Torture"
Ms. Ji Yunzhi, a 66-year-old Falun Gong practitioner, was arrested at home on February 1, 2022. The officers took Ms. Ji to the Balin Zuoqi No. 2 Hospital and forced her to undergo a medical examination.
During the examination, Ms. Ji began to have convulsions. She was no longer able to stand or speak, and she kept vomiting. Despite these conditions, she was taken to the detention centre and arbitrarily held there.
Ms. Ji went on a hunger strike to protest her arrest. In retaliation, she was beaten and tortured by Gao Yonggang, the director of the detention centre and Tian Zhijun, a forensic doctor, along with various police officers and inmates. The physical abuse left Ms. Ji in critical condition.
On March 21, Ms. Ji's family was notified that she had passed away. Her family asked to go into her hospital room to see Ms. Ji one last time, but the Public Security Bureau would not let them. From outside the room, her family could see that Ms. Ji's trachea had been cut open, and there was blood on her face and shoulders.
Many police officers were stationed in the hallway of the hospital when the family came to visit. They proceeded to kick the family out of that floor of the hospital and closed the hospital elevator so that nobody could access the floor that Ms. Ji was on.
Without prior consent from her family, the authorities cremated Ms. Ji's body on the morning of April 8.
Before Ms. Ji died, she told the people in her cell, "If I die, it will be the result of torture."
Case II: Ms. Kang Aifen Persecuted to Death Five Months After Her Latest Arrest
Ms. Kang Aifen, of Jiamusi City, Heilongjiang Province, was arrested at home on June 17, 2021, and taken to the Jiamusi City Detention Centre. While in custody, she developed a severe heart condition and systemic edema. She was unable to stand or walk, had difficulty breathing, and her vision deteriorated to the point where she was almost completely blind.
On the verge of death, Ms. Kang was released home and placed under house arrest on August 17. She passed away three months later on November 18, 2021. She was 64.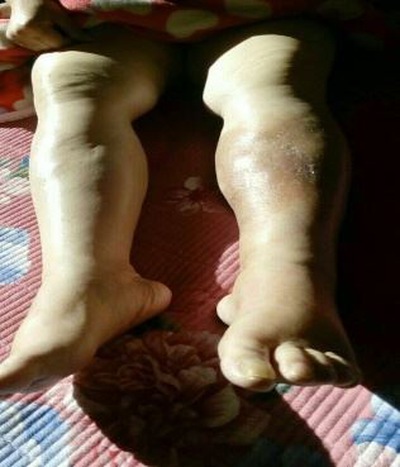 Case III: Ms. Shi Mengqiao Dies in Custody After Involuntary Surgery for Alleged Brain Tumor
Ms. Shi Mengqiao, of Jinhua City, Zhejiang Province, was arrested in February 2020 and sentenced to 18 months in prison with a 20,000-yuan fine.
At the end of March 2021, the Yongkang City Detention Centre told Ms. Shi's family that she had now had a brain tumor and would not be sent to prison. The detention centre had Ms. Shi operated on without the consent of her family and placed her in an intensive care unit.
Ms. Shi never regained consciousness after the surgery and died on June 6, 2021. The detention centre sent her body to a funeral home the same night.
Case IV: Mr. Guo Baojun Dies in Custody After Nearly 1.5-year in Detention
Mr. Guo Baojun was arrested on November 10, 2019, and detained in the Zhengzhou City No. 3 Detention Centre. For more than a year, his family was not permitted to visit him.
On December 3, 2020, the detention centre called Mr. Guo's son to inform him that his father had been taken to the Zhengzhou City No. 2 Hospital and was in critical condition. When his family came to visit him, they saw that Mr. Guo was abnormally thin, and his eyelids were swollen. A tube had been inserted through his nose, into his stomach, while an IV needle was inserted into his arm – an arm covered in large purple patches and riddled with visible needle holes. He had a urinary catheter, and his feet were cuffed with heavy shackles.
On March 14, 2021, the detention centre informed Mr. Guo's family via text message that he had died. The family demanded to see his body, but the detention centre refused.
Case V: Mr. Yu Yongman Dies in the Detention Centre
Mr. Yu Yongman was arrested on November 15, 2019 and detained in Liaoyang City Detention Centre. He died in custody on February 23, 2020. He was 65.
The detention centre claimed his death was due to "sudden illness." However, the coroner found that Mr. Yu had a fractured rib and a laceration scar in his lungs. His family members suspect that he was beaten to death in the detention centre.
Case VI: Mr. He Lifang Dies in Custody at Age 45, Family Suspects Psychiatric Abuse and Organ Harvesting
Mr. He Lifang was arrested in May 2019 and died on July 2 while incarcerated at the Pudong Detention Centre in Shandong Province. He was 45.
Mr. He's family saw that his body had stitches on his chest and incision marks on his back. His facial expression showed pain, his mouth was open, and there were bloodstains in his nose and mouth. Blood seeped out from his gums and his body was covered in wounds; he had dark bruises on his legs and arms, as well as needle holes and a burn blister on his neck.
The police initially said that Mr. He's wounds were caused by an autopsy, but the family suspected that Mr. He likely had his organs harvested while he was still alive or shortly after his death.
Case VII: Mr. Yang Yuyong Tortured to Death in Detention Centre
Mr. Yang Yuyong and his wife, both from Tianjin, were arrested on December 7, 2016 and detained in the Wuqing District Detention Centre. Mr. Yang was tortured to death on July 11, 2017.
According to an insider, Mr. Yang was brutally abused in the detention centre. Guard Liu Jiangang slapped Mr. Yang's face and then got 13 inmates to beat him all at once until he passed out. They also sexually abused him, pinching his genitals and biting his nipples.
Mr. Yang's family received notice that he was in critical condition at about 6:00 p.m. on July 11. When they arrived at Wuqing Chinese Medicine Hospital, they saw police officers all over the place. Mr. Yang was no longer breathing by the time his family got to him, and his body was black and blue.
According to the doctor, Mr. Yang's organs had failed by the time he was taken to the hospital at 3:40 p.m. Nurses also said he was dying upon arrival.
Cases of Torture
Case I: Ms. Li Dongmei Tortured in Custody, Deprived of Sleep for Six Nights
On the afternoon of July 18, 2019, Ms. Li Dongmei and Ms. Geng Shulan, of Shijiazhuang City, Hebei Province, were arrested while talking to people about Falun Gong.
On July 20, Ms. Li and Ms. Geng were taken to the Shijiazhuang No. 2 Detention Centre. Ms. Li shouted "Falun Dafa is good!" in protest, so the guards instructed six inmates to beat her. Ms. Li's body was covered in bruises and her face and nose were bleeding.
That night, the guards deprived Ms. Li of sleep. They made eight inmates take turns to watch her overnight. Unable to close her eyes, Ms. Li was in extreme pain and was on the verge of collapse and insanity. The torture lasted for six days. During the period, Ms. Li only ate three steamed buns.
On the second and third day of her detention, the guards instructed six inmates to handcuff Ms. Li for a long time.
While detained, Ms. Li refused to wear the inmate uniform to protest her arbitrary detention. She insisted on wearing her own clothes instead. The guards humiliated her by not letting her have her pants, forcing her to wear only her underpants.
When the guards let the prisoners out for short exercises, Ms. Li refused to follow. The guards dragged her outside along the ground while she was in her underpants, inflicting injuries all over her body.
Around July 27, the guards falsely accused Ms. Li of having lice in her hair. They used this as an excuse to cut her hair very short and spray medicine on her head. One inmate used a hose directed at Ms. Li's head to drench her in cold water, almost suffocating her. The inmates also soaked her pants in the filthy water from the restroom floor and stuffed the wets pants into her mouth.
Case II: Ms. Luo Mingchun Sentenced to Four Years in Prison, Suffers Hanging Torture in Detention Centre
In August 2019, Ms. Luo Mingchun, of Xichang City, Sichuan Province, was arrested and had her home raided without a warrant. She was detained at the Xichang City Detention Centre, where she was handcuffed to the gate and hung up by the wrists, with her toes barely touching the ground. Almost all of her body weight was on her wrists, which became black after a while, and her whole body was in agony. She had difficulty breathing.
The guards kept her hung up for an entire morning. She suffered bruises and injuries in the flesh that was in contact with the cuffs. The detention center also uses this "hanging" torture on other inmates as well.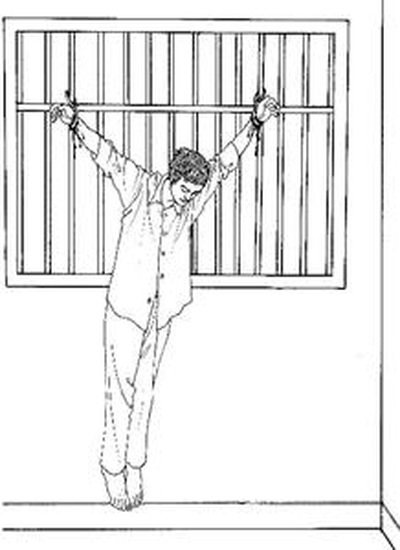 Case III: Ms. Huang Zuoping Suffers Mental Breakdown
Ms. Huang Zuoping, a 68-year-old Nanchang City, Jiangxi Province, resident, was arrested in November 2021. She suffered a mental breakdown after ten months at the Nanchang City No.1 Detention Centre and was then released.
Chinese version available
(Clearwisdom)