(Minghui.org) China ended 2022 with the death of Jiang Zemin, former leader of the Chinese Communist Party (CCP) who started the persecution of Falun Gong in July 1999. The persecution is still going on as we enter 2023.
As a meditation system based on the principles of Truthfulness-Compassion-Forbearance, Falun Gong has benefited people around the globe with improved physical health and mind nature. But in its birthplace of China, the practice has been ruthlessly suppressed over the past 23 years.
As of January 9, 2023, 4,904 Falun Gong practitioners have been confirmed to have lost their lives to the persecution. The death toll includes 172 cases reported in 2022.
Ms. Ji Yunzhi, of Bairin Left Banner, Chifeng City, Inner Mongolia, died at Bairin Hospital on March 21, 2022, seven weeks after she was arrested on Chinese New Year's Day (February 1). She was 66. While in detention, she was brutally beaten until she was on the verge of death. She once said to her cellmates, "If I die, it will be the result of torture." Ms. Cui Jinshi, an 88-year-old woman in Harbin City, Heilongjiang Province, lost her life two hours following her arrest on April 13, 2022. Mr. Li Guoxun, a retired human resources director in Zhoukou City, Henan Province, died on July 19, 2022, one day after being arrested. He was 70.
In addition to the death cases, Minghui.org reported 3,488 arrest cases and 3,843 harassment cases in 2022. Among them was Ms. Jiang Yongqin, a university lecturer in Jilin Province, who was sexually abused by a group of officers while in detention. Besides adults including the elderly, young children were also mistreated in various ways. A two-year-old boy was interrogated, while a 9-year-old girl witnessed the police ransacking her home and was also then interrogated after her grandmother's arrest.
While Falun Gong practitioners have suffered tremendously during the past 23 years, they are not the only victims. Many perpetrators have harmed themselves by persecuting innocent practitioners. There is a Chinese saying that "good is rewarded with good, and evil meets evil." Minghui has confirmed 555 cases of perpetrators involved in the persecution of Falun Gong having met with consequences for their bad deeds in 2022.
Retribution Cases Across Government Agencies and Regions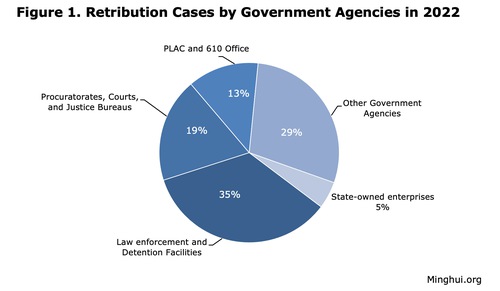 As shown in Figure 1, 193 (35%) of the 555 cases concerned people working in law enforcement and detention facilities, 104 (19%) involved people working in procuratorates, courts or justice bureaus. Thirteen percent of the cases (71) were agents working in the Political and Legal Affairs Committee (PLAC) and 610 Office, both extrajudicial agencies tasked with carrying out the persecution policy. The rest of the cases included 160 (29%) people working in other government agencies and 27 (5%) in state-owned enterprises.
The 2022 data brought the total retribution cases since the persecution began in 1999 to 22,813 [= 2,0784 (1999-2018) + 529 (in 2019) + 392 (in 2020) + 553 (in 2021) + 555 (in 2022)]. People working in law enforcement and detention facilities accounted for the highest percentage of the cases in most years. A total of 5,229 police officers and detention centre guards (23% of 22,813) received retributions between 1999 and 2022.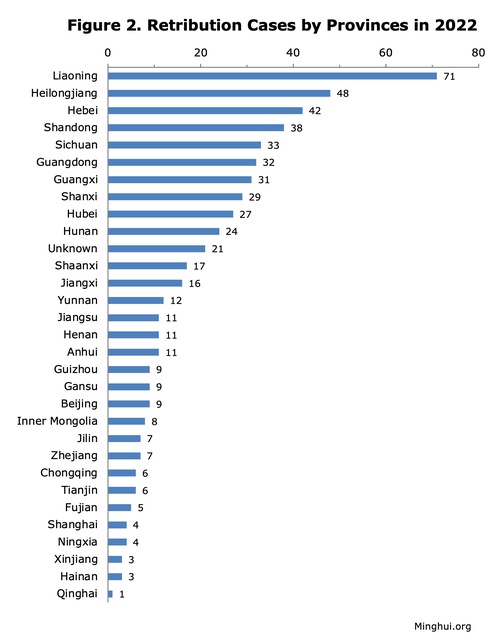 The 2022 cases took place in all provinces and centrally controlled municipalities except for Tibet. Liaoning reported the most cases (71), followed by Heilongjiang (48) and Hebei (42). Fourteen other provinces also registered double-digit cases, while the remaining regions had single-digit cases.
Among the 555 perpetrators who received retribution, 99 (18%) died, and 409 (74%) were investigated for taking bribes.
Case Studies
The complete list of the 555 perpetrators is available from the Chinese version of this article. Below are select cases.
Xu Ke'ai, a member of Jimo 610 Office in Qingdao City of Shandong Province, had followed the persecution policy since 1999. Under his directive, many local practitioners were arrested and sent to brainwashing centres, labor camps, or prisons. Furthermore, he organized local businesses and government agencies to host various activities to slander Falun Gong and extort money and confiscate personal belongings from detained practitioners' family members. In March 2022, Xu was diagnosed with colon cancer and was on the verge of death.
Zhang Zhongsheng was a police officer at Leifeng Police Station in Fushun City, Liaoning Province. During his 26 years as a police officer, Zhang was involved in many arrests of local practitioners. He also harassed, threatened, and seized a large amount of cash and personal belongings from practitioners. On March 13, 2022, he suddenly fell down near a staircase at his workplace and died at 54.
Niu Siqun, captain of the Security Management Corps in Liaoning Police Department, was in key positions of the Yingkou Police Department for many years. He was responsible for many cases of harassment and arrest of Falun Gong practitioners in Yingkou between July 1999 and 2019. The Liaoning Provincial Commission for Discipline Inspection announced in May 2022 to remove Niu from office and investigate him for crimes.
Xiao Zhenmeng is former Deputy Chief of the Guizhou Provincial Procuratorate. According to Minghui, 96 Falun Gong practitioners in Guizhou were sentenced to up to 12 years between 2013 and 2019. Several practitioners also lost their lives after being sentenced to prison. As Deputy Chief, Xiao was responsible for these tragedies. On July 8, 2022, Qiandongnan Intermediate Court sentenced Xiao to 10 years and fined him 1 million yuan for taking bribes.
Zhou Rong, Vice President of Anhui Province High Court, had framed many practitioners and sent them to prison. In November 2022, he was sentenced to 8 years in prison on charges of bribery and bending the law for personal gain. He was also fined 300,000 yuan.
Shi Ying was Deputy Party Secretary of the Henan Province Prison Administration Bureau between December 2014 and October 2016. After that, he became Deputy Director of the Henan Department of Justice. In March 2020, he was appointed Party Secretary of Henan Prison Administration Bureau. During his tenure, 344 practitioners were sentenced to prison between 2015 and 2012 alone. In June 2022, news came that Shi was being investigated.
Anhui Women's Prison is a notorious facility where female Falun Gong practitioners were subjected to various forms of abuse, including long-term sleep deprivation, no food or water, force-feeding, being tied up, beating, electric shocks, drugging, solitary confinement, and others. As a result, many practitioners were injured and disabled, and some died. Zhang Hui, political instructor at the fourth ward, had received many rewards for persecuting Falun Gong. In 2019, she was recognized by the Justice Ministry as a "National Advanced Individual in Prison Work." On January 9, 2022, Zhang died of cancer at 49.
Shi Wenqing was Ganzhou Party Secretary in Jiangxi Province between October 2010 and February 2015. Later on he was promoted to be Deputy Director of Standing Committee of Jiangxi People's Congress. As a senior official in Ganzhou City, Jiangxi Province, he was responsible for the persecution in the area. On August 16, 2022, Ningbo Intermediate Court sentenced Shi to death penalty with a two-year reprieve on charges of bribery and illegal possession of firearms. All of his assets were confiscated.
Chen Yiguo, Party Secretary and Chairman of Changjiang Publishing Media Group, has published defamatory books against Falun Gong. On September 20, 2022, news came that he was investigated and charges have yet to be announced.
Wang Liancheng, a resident of Xinbin County in Liaoning Province, was hired by Political and Legal Affairs Committee (PLAC) to follow Falun Gong practitioners and remove posters put up by practitioners. Practitioners had urged him numerous times not to do so, but he insisted on continuing his bad deeds. In the end, he died of uremia at home.
Concluding Remarks
Although many of above officials were investigated or sentenced for bribery or other crimes, Falun Gong practitioners and their supporters believe that it was consequences of their involvement in the persecution of Falun Gong. After the persecution against Falun Gong began in 1999, Jiang Zemin also ordered organ harvesting from living practitioners.
The lucrative organ supply chain was booming in China with innocent Falun Gong practitioners killed on demand. Minghui is also collecting retribution cases in which criminals of organ harvesting died of organ failure, immune system failure, or other problems.
Here we sincerely hope that more people, Chinese officials and ordinary citizens alike, could learn from these lessons. By stopping doing bad deeds and separating oneself form the CCP, one will lead a safer and healthier life.
Chinese version available
(Clearwisdom)