(Minghui.org) The Australian and New Zealand Alliance of Victims of the Chinese Communist Regime held a rally at the Sydney Town Hall Square to commemorate the 74th anniversary of International Human Rights Day on December 10, 2022. The rally condemned the Chinese Communist Party's (CCP) human rights abuses and urged the international community to help stop the CCP's persecution of innocent people. Falun Dafa practitioners were invited to attend.
Australia Falun Dafa Association Spokesperson: The Persecution of Falun Gong is the Persecution of All Humanity
Australia Falun Dafa Association Spokesperson John Deller spoke at the rally. He said that International Human Rights Day commemorates the Universal Declaration of Human Rights, which states that human rights are inalienable and cannot be taken away.
Deller introduced Falun Dafa as a traditional cultivation practice introduced to the public in 1992 by Master Li Hongzhi. "His principles of Truthfulness, Compassion and Forbearance are praised by the Chinese as restoring the ancient and beautiful things in Chinese traditional culture." Deller said, "But the Chinese Communist Party (CCP) started a campaign to persecute Falun Dafa in July 1999."
"Over the past 23 years, millions of Falun Gong practitioners in China have been detained, jailed in forced labor camps, and tortured in order to make them renounce their beliefs. Then doctors became killers, and the moral level in China dropped to a new low. The organs of living Falun Gong practitioners were harvested and sold for profit, and tens of thousands of Falun Gong practitioners disappeared." Deller called on people from all walks of life to oppose the CCP's persecution of Falun Gong.
Professor Feng Chongyi: Truthfulness, Compassion, Tolerance Can Awaken Consciences
Dr. Feng Chongyi, chairman of the Australian and New Zealand Alliance of Victims of the Chinese Communist Regime, spoke at the rally. He is a scholar on China issues and a professor at the University of Technology Sydney. He said that Falun Dafa practitioners have successfully established many videos, newspapers and TV broadcasts for the public.
"What we need are truth, kindness, and moral resources. So when we use various media methods together to spread Truthfulness-Compassion-Forbearance, you can awaken more and more people to join the battle against the CCP," Feng said.
He said the CCP openly rejects human morality and universal values, and this was why the power of Truthfulness-Compassion-Forbearance is so great, because it can awaken the conscience of all beings.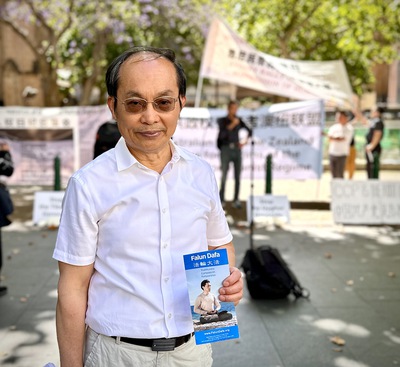 Attorney: Thank Falun Gong Practitioners for Awakening People's Conscience
Sophie York, a successful lawyer and lecturer of law at the University of Sydney, is a long-term supporter of Falun Gong, who believes that everyone should stand up for human rights.
York thanked Falun Gong practitioners for awakening people's conscience over the years. "These people [Falun Gong practitioners] have chosen their conscience, and they don't want to maintain and support a government that persecutes all different groups so much," she said.
She realised that the doctrine of Chinese Communism did not stop in China. "It's almost like a poison that has infected the whole world, and we've seen the CCP's approach being adopted uniformly in Australia." She said, "It's darkest before the dawn" and she sees the world is moving toward the light.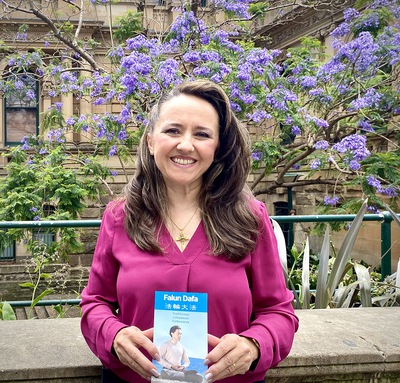 Former Diplomat Chen Yonglin: When the CCP Steps Down China Can Have Freedom of Speech and Belief
Chen Yonglin, former diplomat who worked at the Chinese Consulate in Sydney, spoke at the rally. "Jiang Zemin, the chief culprit of the persecution of Falun Gong, has died. This is a major event worthy of our celebration. However, the Communist Party has not stopped persecuting Falun Gong. In fact, this persecution is still going on. Therefore, freedom of speech and freedom of belief in China can only be achieved when the CCP is removed from power," he said.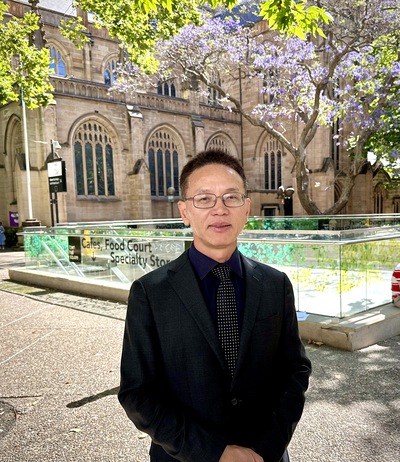 The CCP Doesn't Treat People with Truth, Compassion, and Tolerance
Arielle Perkett stopped for a while to listen to the speakers at the rally. She felt sad for the Chinese people because the CCP uses fear and violence to control people on a large scale, and this is not how human beings should live.
"The whole world should speak out against the CCP, especially in Australia," she said. She said that she is against the Communist Party because it does not treat people with Truthfulness, Compassion, and Tolerance. She hopes that all the persecution everywhere will end one day.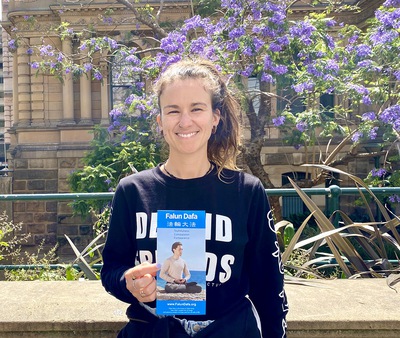 14 total views