(Minghui.org) Belgian Falun Gong practitioners staged a peaceful protest outside the Chinese Consulate in Brussels on November 16, 2022. They exposed the 23-year-long persecution of Falun Gong (also called Falun Dafa) perpetrated by the Chinese regime.
More importantly, they showed their support for the 400 million Chinese people who had quit the Chinese Communist Party (CCP) and its youth organisations. Many vehicles that passed by honked their horns to show their support.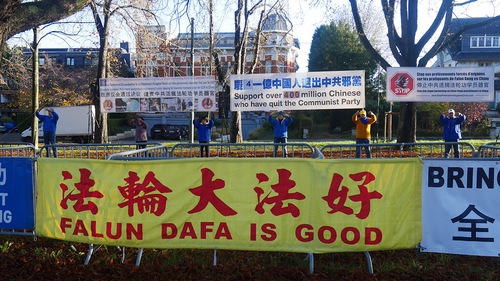 Nico Bijnens, coordinator of the Belgian Falun Dafa Association, said that Falun Dafa practitioners have clarified the truth and exposed the atrocities committed and perpetrated by the Chinese regime over the past 23 years. Given the practitioners' all out efforts, 400 million Chinese people have quit the CCP organisations. This clearly shows that China is changing, and Chinese people are increasingly losing confidence in the CCP.
Bijnens hopes that more Chinese people will listen to the truth about Dafa, no longer be deceived by the CCP's lies, and choose to be a person of conscience.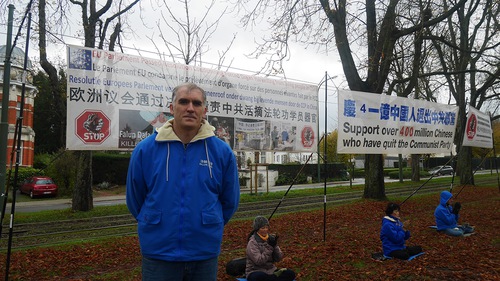 A resolution against forced organ harvesting from living Falun Gong practitioners was passed by the European Parliament last May. It specifically mentioned Falun Gong as a group of victims. Bijnens added that everyone who has heard and gotten to know the truth has been shocked. He said that Falun Dafa practitioners are urgently needed to awaken people's conscience, so that all can understand the evil deeds perpetrated by the CCP, advocate for justice, and end the evil.
Other practitioners said they would continue their efforts to stop the persecution until it has ended.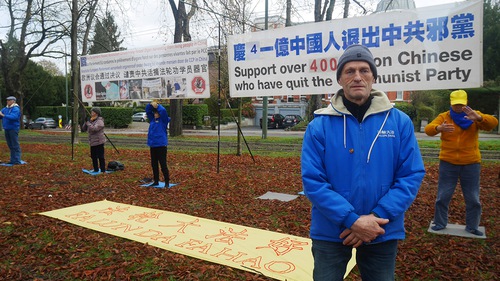 Chinese version available
(Clearwisdom)
Antwerp, Belgium: Residents Learn About Falun Dafa During Information Day