(Minghui.org) On Place François Rude in the centre of the historic city of Dijon, practitioners told people about Falun Dafa and collected signatures on a petition to end the CCP's (Chinese Communist Party) 23-year-long persecution of the spiritual practice on August 6, 2022.
Located in eastern France, Dijon is 310 km (193 miles) southwest of Paris. Once the capital of the Duchy of Burgundy, the city has a rich culture and is filled with historic architecture, including 100 churches.
The Place François Rude is a popular place on the weekends, with lights and music and a carousel. At their booth, practitioners distributed information and told people about Falun Dafa.
People were shocked to learn how the CCP persecutes practitioners in China, including removing organs from them while they are alive. Many people signed the petition calling for an end to the persecution and expressed their desire to help. Some even wanted to make a donation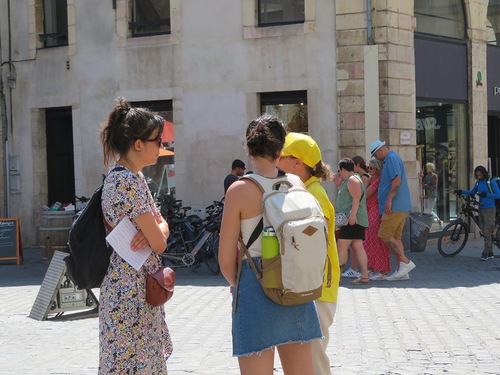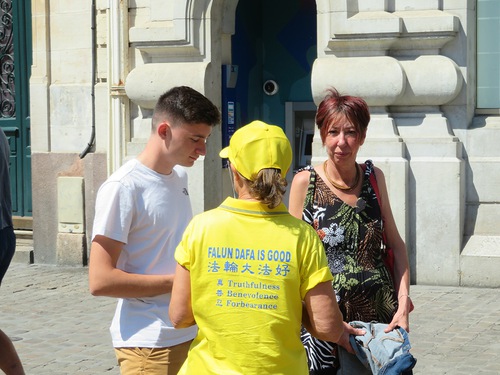 Jean-Pierre Bailly used to work at a hotel. After hearing about the CCP's live organ harvesting, he said, "This is killing through torture. It is not something that a human being would do. This is 2022. In this modern day, this is not tolerable. No one has the right to do such a thing." He encouraged practitioners to remain courageous and never give up.
Ms. Monique Muller signed the petition and said, "The CCP is cruel and is doing all sorts of bad things. This is not something that a human being would do. China does not have freedom so people cannot express their thoughts. If they speak their own thoughts, they will be massacred. Things are like that in China."
Ms. Deutch works at a child care centre. She said that the CCP's persecution of Falun Dafa, "is inhumane, barbaric, and needs to be stopped. Live organ harvesting should be condemned. We cannot let it (the CCP) do anything it pleases!"
Ms. Murielle Mignet commented, "All this happened because of money. I can imagine that live organ harvesting has been going on all the while in China. Exposing it is very good. Expose those people behind it who are making use of organ transactions to make a profit. This must be stopped!"
Computer engineer Mr. Hichem works in Canada but was in France on holiday. He heard about Falun Dafa in Canada and said, "Live organ harvesting is a shameful scandal. It is shocking!"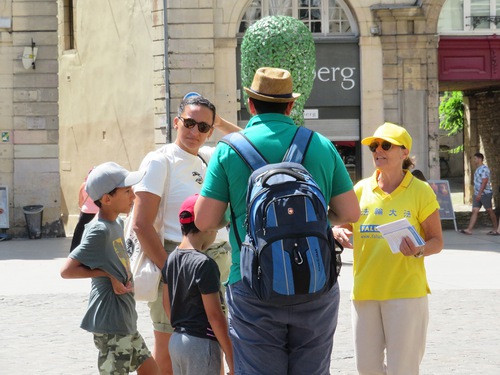 Background: What Is Falun Dafa and Why Is the CCP Persecuting It?
Falun Dafa (also known as Falun Gong) was first introduced to the public by Mr. Li Hongzhi in Changchun, China, in 1992. The spiritual discipline is now practiced in over 100 countries and regions worldwide.
Millions of people who have embraced the teachings, which are based on the principles of Truthfulness, Compassion, and Forbearance, and have learned the five exercises have experienced improved health and well-being.
Jiang Zemin, former head of the Chinese Communist Party (CCP), perceived the spiritual discipline's growing popularity as a threat to the CCP's atheistic ideology, and on July 20, 1999, he issued an order to eradicate the practice.
Under Jiang's personal direction, the CCP established the 610 Office, an extralegal security organisation with the power to override the police and judicial systems and whose sole function is to carry out the persecution of Falun Dafa.
Minghui.org has confirmed the deaths of thousands of practitioners as a result of the persecution over the past 23 years. The actual number is believed to be much higher. Countless practitioners have been imprisoned and tortured for their faith.
There is concrete evidence that the CCP sanctions the harvesting of organs from detained practitioners, who are murdered to supply China's organ transplant industry.
Chinese version available
(Clearwisdom)
France: Promoting Falun Dafa in the Cities of Toulouse & Carcassonne
29 total views