(Minghui.org) Practitioners in northern California introduced Falun Dafa to local residents at the annual Fremont Festival of the Arts from August 6-7, 2022. Many people learned the five sets of exercises during the event and some said they felt relaxed and their stress was relieved.
Residents of the San Francisco bay area live a fast-paced life. They experience a lot of stress at work and often seek something to help alleviate it. Many were attracted to the peaceful and serene atmosphere when practitioners demonstrated the exercises, and some wanted to learn the exercises on the spot.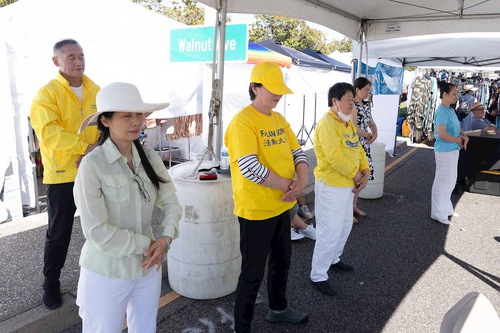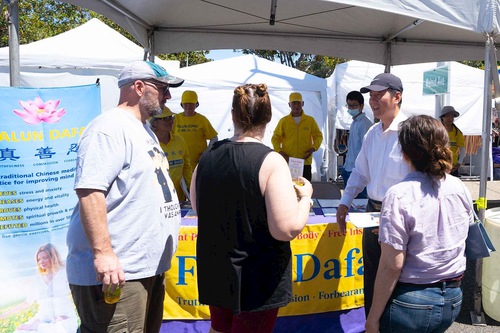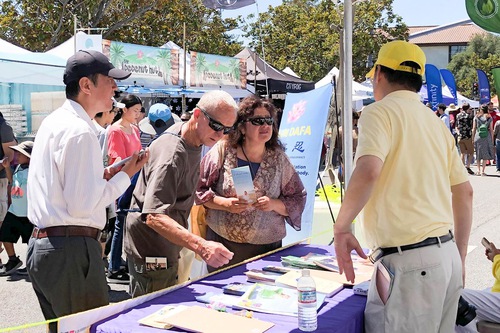 "I feel very relaxed and my mind is also very clear."
"I feel very relaxed and calm now. My mind is clearer and I feel an energy field. It is very good. I am determined to continue practicing Falun Dafa when I get home. I haven't been this relaxed for a long time. Falun Dafa is truly wonderful," said Ms. Monse.
Ms. Monse said that Falun Dafa can benefit a lot of people. "Especially people in China, they need Falun Dafa more than ever. The government should not ban people's right to cultivate."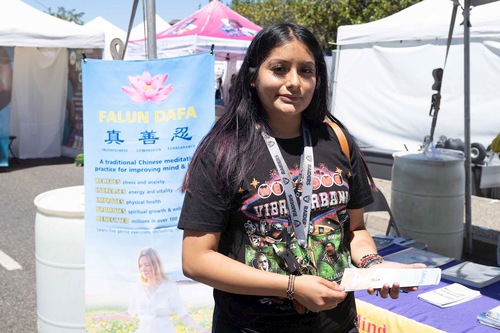 "My mind and body feel relaxed and calm. I feel absolutely wonderful. This is great. Falun Dafa is all brand new to me, but I am very interested in this practice. I want to research more about it online," said Donna.
She said that Falun Dafa's principles of Truthfulness-Compassion-Forbearance are very good and important, "These principles are very important in human life."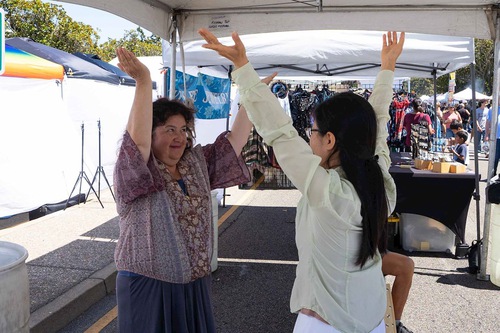 "I never felt so relaxed."
"I was under a lot of stress today. After practicing the exercises, I feel alleviated of all my stress. I never felt so relaxed," said Mary. She felt very comfortable and said, "I am very confident now and have a better perspective on life."
Mary said she was moved to tears after practicing the exercises, "Doing the exercises seems to have awakened my long-lost memories. I seem to remember that I once practiced Falun Dafa."
She said, "Falun Dafa is meaningful and valuable. I like the principles of Truthfulness-Compassion-Forbearance. The Chinese Communist Party's (CCP) crimes of forced live organ harvesting are not right. They cannot take away people's lives in exchange for money."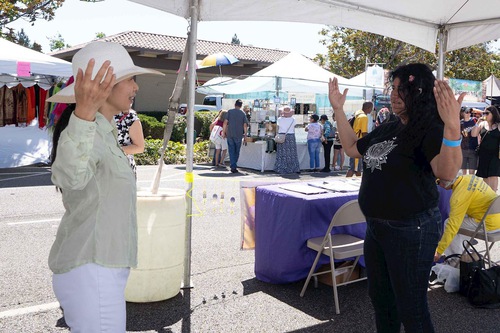 After doing the fourth exercise, Mostafa said, "This practice is amazing! I feel so relaxed and energetic. I have a clear mind and feel as if I was given a second chance in life. This is great!"
He said, "I like the principles of Truthfulness-Compassion-Forbearance." When he learned about how the CCP persecutes Falun Dafa in China, he said, "This is not right. This is a tragedy and is horrible. This should not happen. Every life is worth treasuring. The persecution is not right and must be stopped."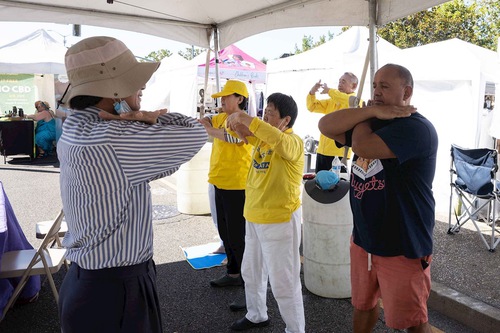 When Paul was asked why he wanted to learn the Falun Dafa exercises he said that they can alleviate his stress. "I worry too much and give myself too much stress."
He said that he always sees practitioners doing the exercises by Lake Elizabeth at Fremont's central park. "I think Falun Dafa can bring positive changes to my body and mind. I like the principles of Truthfulness-Compassion-Forbearance." He condemned the CCP's crimes of forced live organ harvesting and said, "This is a crime against humanity."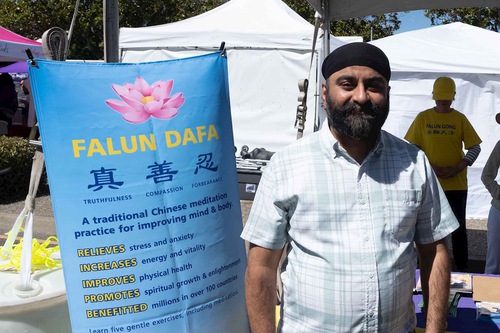 Mav said she felt great after learning the exercises. She felt very comfortable and relaxed. Madhu explained that he practiced other meditation exercises in the past and said, "Falun Dafa is very meaningful. This practice feels different."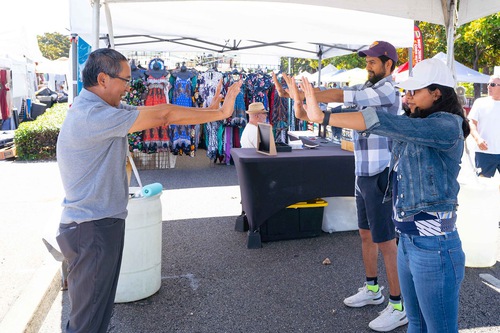 Sameer said he often sees practitioners at Fremont's central park. After learning the exercises he said, "This feels wonderful. My shoulders feel very relaxed. I like this practice." Sameer's daughter, Tanbi said, "I feel very good. This is wonderful."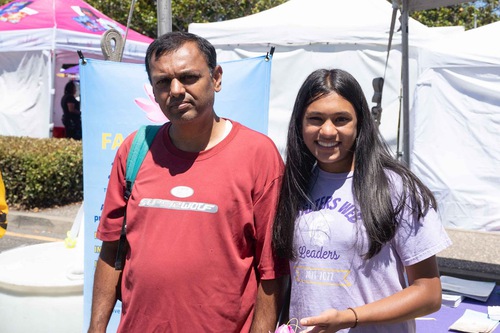 Ashu, another resident of Fremont, said he liked Falun Dafa's principles of Truthfulness-Compassion-Forbearance. He was happy to have had an opportunity to learn the exercises. He asked many questions about cultivation.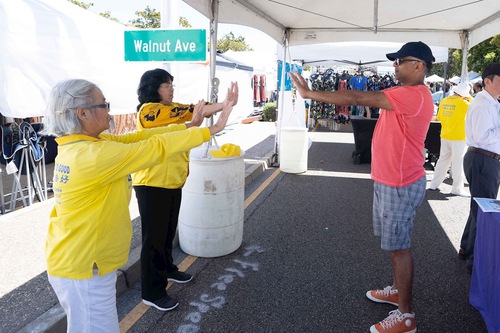 Buddhist Practitioner: "I support you!"
Ms. Xie from Taiwan practices Buddhism and said, "I have read in many Buddhist scriptures about saints coming to save people. I began paying attention to Falun Dafa and even told my family members to say, 'Falun Dafa is good. Truthfulness-Compassion-Forbearance is good."
She said she read How the Specter of Communism Is Ruling Our World on The Epoch Times website which she said was eye-opening. She exclaimed, "I support you!"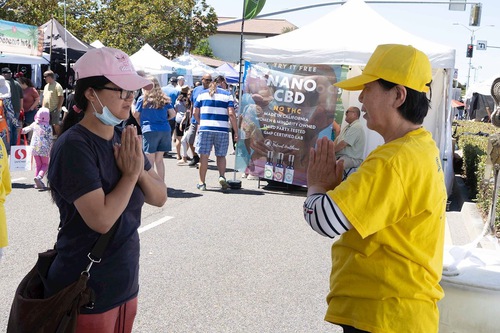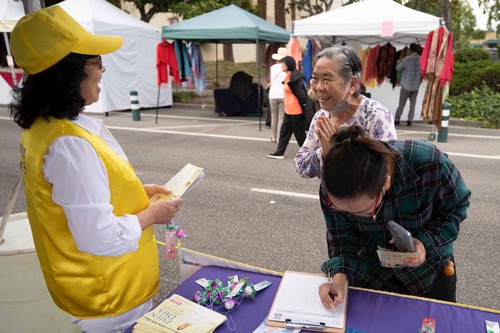 Entrepreneur: "We love Falun Dafa"
The practitioners' booth was across from a clothing entrepreneur's booth. Constance explained that she attended a Shen Yun Performing Arts performance and she supported Falun Dafa. She said, "We love Falun Dafa. We support all the truth-clarification activities held by practitioners."
She said, "Practitioners are using their hearts to spread a message. This is a great blessing to the world. Practitioners represent wonderful things. No one teaches people to be compassionate and sincere anymore. Falun Dafa is like fresh air ."
She said she admired how practitioners in China persist in clarifying the truth despite the dangerous situations. "I hope their voices will be heard and more people will come and practice Falun Dafa. The evil regime needs to be disintegrated. I am deeply saddened seeing how practitioners are being persecuted in China.
"Practitioners have become healthier after practicing the exercises and the CCP uses this to their advantage by doing forced live organ harvesting. This is very shameful. No words can describe the CCP's evil actions."
Constance's son, Eli, said, "This is very evil. The persecution is not right. I am very interested in learning more about Falun Dafa. I saw Falun Dafa practitioners at the Redwood City parade on July 4th Independence Day. Practitioners are great."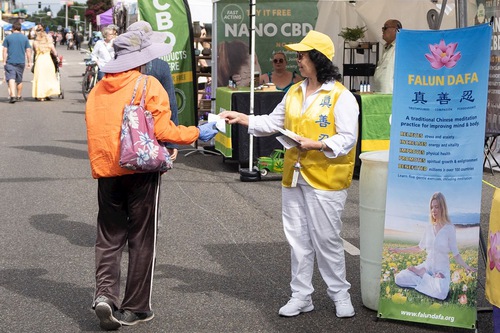 Background: What Is Falun Dafa and Why Is the CCP Persecuting It?
Falun Dafa (also known as Falun Gong) was first introduced to the public by Mr. Li Hongzhi in Changchun, China, in 1992. The spiritual discipline is now practiced in over 100 countries and regions worldwide.
Millions of people who have embraced the teachings, which are based on the principles of Truthfulness, Compassion, and Forbearance, and have learned the five exercises, have experienced improved health and well-being.
Jiang Zemin, former head of the Chinese Communist Party (CCP), perceived the spiritual discipline's growing popularity as a threat to the CCP's atheistic ideology, and on July 20, 1999, he issued an order to eradicate the practice.
Under Jiang's personal direction, the CCP established the 610 Office, an extralegal security organisation with the power to override the police and judicial systems and whose sole function is to carry out the persecution of Falun Dafa.
Minghui.org has confirmed the deaths of thousands of practitioners as a result of the persecution over the past 23 years. The actual number is believed to be much higher. Countless practitioners have been imprisoned and tortured for their faith.
There is concrete evidence that the CCP sanctions the harvesting of organs from detained practitioners, who are murdered to supply China's organ transplant industry.
Chinese version available
(Clearwisdom)