(Minghui.org) Falun Dafa practitioners gathered at Römerberg in Frankfurt, Germany's financial centre on August 13, 2022, to celebrate the 400 million people who have withdrawn from the Chinese Communist Party (CCP). The day's events included a rally, speeches, dragon dances, waist drum dance performances, and exercise demonstrations. Practitioners handed out fliers, explained the significance of the day's activities, and collected signatures on a petition to end the persecution in China.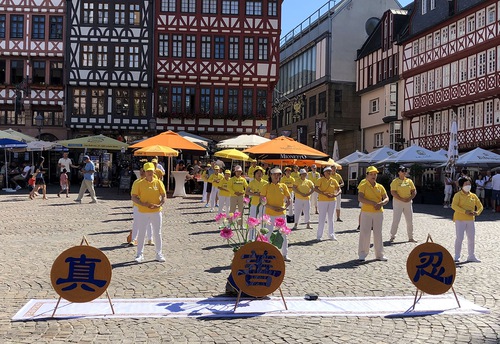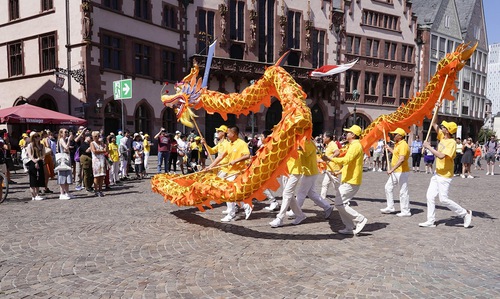 Quitting the CCP Is an Awakening of One's Conscience
Angelica from Hong Kong attended the rally. She said, "Many people joined the CCP for personal gain. Now 400 million Chinese citizens have quit because they see the evil nature of the regime. This is encouraging—it is an awakening of one's conscience."
Angelica condemned the persecution of Falun Dafa practitioners in China, "I think it is brutal. The perpetrators are controlled by the CCP. It happened in Hong Kong as well. No one expected this. I feel that everyone's belief should be respected and everyone should be free to choose their faith."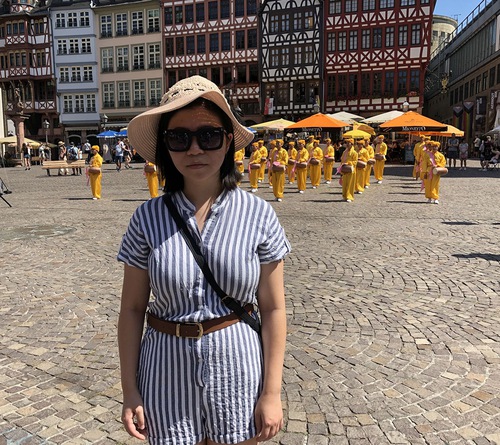 What You Do Has a Lot of Merit
Mr. Liu is a student from China who recently arrived in Germany. He agreed to quit the CCP using an alias after practitioners explained the importance of withdrawing from the regime.
He chatted with practitioners for a long time. He said, "I think withdrawing from the CCP is a sensible choice. The CCP is a demon. More and more people are able to see that and no longer believe in the regime's propaganda. They are able to see this world more objectively. I hope more people will renounce their party membership."
Mr. Liu told practitioners he had read Falun Dafa's main book, Zhuan Falun, many times in the past. He said, "Truthfulness, Compassion, and Forbearance mentioned in Falun Dafa's teachings are the highest principles in the universe. Everything in the universe operates around these principles. Although these three words are simple, their meaning is profound. One needs to understand these three words bit by bit through cultivating one's moral character, doing the exercises, and reading the teachings. We are then able to put these values into practice in our everyday life, steer our lives in the right direction, and walk on the path of cultivation.
"I am delighted to see you today. Thank you for your efforts. What you do has a lot of merit."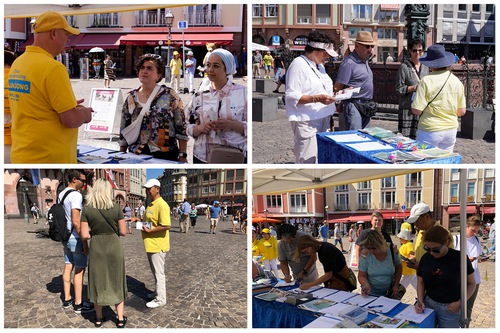 Truthfulness, Compassion, and Forbearance Are an Excellent Guide
Verhelst Kayleigh from Belgium said she felt a powerful energy from the rally.
She said communist ideology was "terrible," that it forces people to believe in things they should not. "I think it is encouraging that people are given the chance to fight for their freedom and rights. I support them," she said.
Kayleigh added, "One should follow Truthfulness, Compassion, and Forbearance. These are excellent guides. I would love to do something to help them (victimised Falun Dafa practitioners). It is terrible that such things are taking place. We must stop them. They (Falun Gong practitioners) are good people. I cannot understand why the CCP treats them like that."
Verloo Sylke, Kayleigh's friend, agreed with her, "We just passed by and felt something great was happening. We stopped and started talking about it.
"I think these people are very brave to oppose those who coerced them. They are not afraid to express their views. This is important."
Sylke hopes more people will pay attention to the movement to quit the CCP.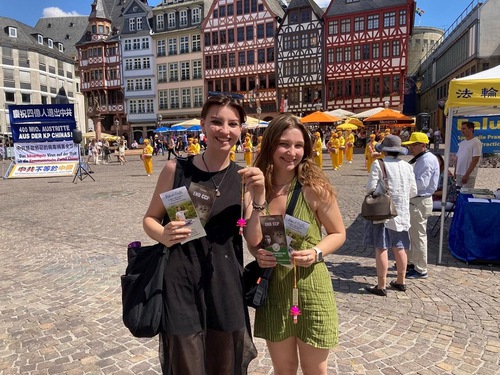 Help More Westerners Pay Attention to You
Jona Berkers is a university student from the Netherlands. This was the first time he had ever heard about Falun Dafa. He thought the values of Truthfulness, Compassion, and Forbearance that the practice promotes are great. "Those who want to be kind people and pursue freedom are prohibited in China. I think this is frightening. Yet I am not surprised, because it is very obvious that China is, after all, ruled by a communist government.
"You should hold more activities like this today and help more people in the West know about this. Many people don't realize what is happening in this world we live in," he said.
Falun Dafa Is Beautiful
"The exercise movements are beautiful. There are the golden costumes as well–they are very eye-catching. It makes me want to join these waist drum performers." said Katharina, a German tourist. She was all in favor of Truthfulness, Compassion, and Forbearance and said they were of great value and should be respected. She thought it unbelievable and shocking that such a group of cultivators is banned in China.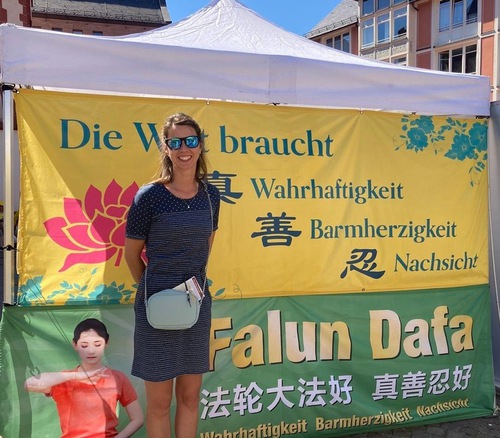 Kerstin and his companion Gudrun thought the values of Truthfulness, Compassion, and Forbearance were extremely important.
Kerstin said: "I normally pay attention to media reports on the human rights situation in China. Yet this is the first time I have heard of organ harvesting. We are not in the middle ages. It is hard to believe something like this could take place today. It is disgusting."
Chinese People Are Brave to Quit the CCP
Mr. Kinezabach from Switzerland lives in Germany. He said, "The atmosphere here today is great. It makes me feel at peace. There is no shouting. I agree with the Falun Dafa principles."
When he learned about the persecution in China, he said, "I am shocked to learn that organ harvesting is happening.
"With 400 million people renouncing the Party, I think these people are very brave. I don't know how dangerous this is. So many are not afraid to step out and say no to something that is wrong and fight for their freedom. I am overjoyed to see so many people uniting to oppose a wrong decision," Mr. Kinezabach said.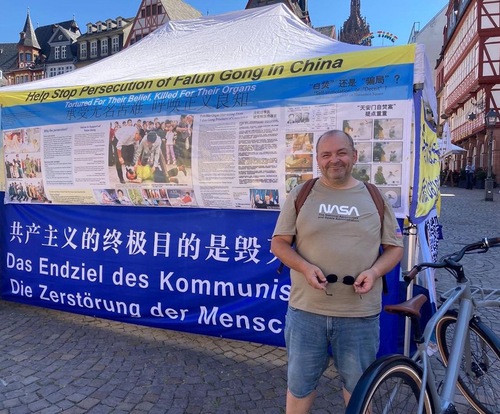 Background: What Is Falun Dafa and Why Is the CCP Persecuting It?
Falun Dafa (also known as Falun Gong) was first introduced to the public by Mr. Li Hongzhi in Changchun, China, in 1992. The spiritual discipline is now practiced in over 100 countries and regions worldwide.
Millions of people who have embraced the teachings—which are based on the principles of Truthfulness, Compassion, and Forbearance—and have learned the five exercises have experienced improved health and well-being.
Jiang Zemin, former head of the CCP, perceived the spiritual discipline's growing popularity as a threat to the Party's atheistic ideology, and on July 20, 1999, he issued an order to eradicate the practice.
Under Jiang's personal direction, the CCP established the 610 Office, an extralegal security organisation with the power to override the police and judicial systems and whose sole function is to carry out the persecution of Falun Dafa.
Minghui.org has confirmed the deaths of thousands of practitioners as a result of the persecution over the past 23 years. The actual number is believed to be much higher. Countless practitioners have been imprisoned and tortured for their faith.
There is concrete evidence that the CCP sanctions the harvesting of organs from detained practitioners, who are murdered to supply China's organ transplant industry.
(Clearwisdom)