(Minghui.org) More than one thousand Falun Dafa practitioners gathered at the Washington Monument in the U.S. capital on the evening of July 21, 2022 for a solemn candlelight vigil to mourn fellow practitioners who lost their lives in China for refusing to renounce their faith.
As night fell, over 1,000 practitioners raised candles and sat quietly, reflecting on those who were killed by the CCP (Chinese Communist Party) for practicing Falun Dafa. A tourist who stopped to watch said she felt a "strong yet peaceful" energy field. Many people stopped to take photos, and some said it was the first time they'd heard of the persecution in China. They expressed affinity with the values of Truthfulness, Compassion, Forbearance taught by Falun Gong and agreed that these are universal values.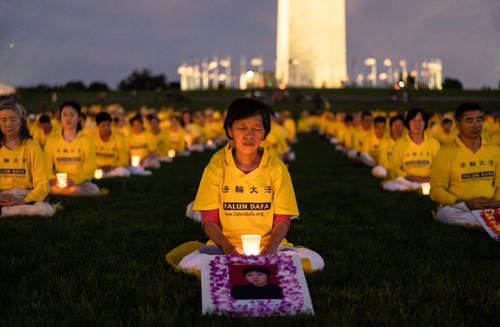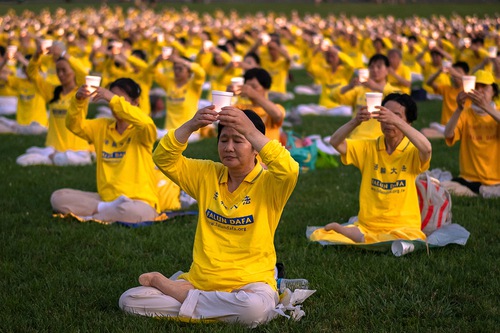 Pharmacist from Shenzhen Recounts Harrowing Persecution
Feng Liping, a pharmacist from Shenzhen, and her family started to practice Falun Dafa in 1998. Her husband's father was head of a hospital and his mother was the head physician. Even though they were medical experts, they suffered from ailments and could not treat themselves. However, they miraculously recovered after practicing Falun Dafa. Witnessing their amazing experiences, many family members were inspired to also practice.
After the persecution began, Ms. Feng was detained many times and had a miscarriage during her imprisonment. Many of her friends and relatives died from the brutal persecution.
Ms. Feng said the CCP's suppression of Falun Dafa is in fact a threat to all Chinese and to the world. She said that despite the dangerous situation in China, "Practitioners brave the cold winter and hot summer and risk brutal persecution to tell people the facts, hoping they can see the true nature of the regime."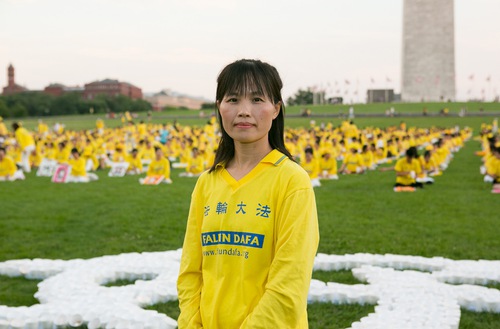 Western Practitioner Tells People About the Persecution
University student Makai Albert obtained a copy of Zhuan Falun, the main book of Falun Dafa's teachings, from a friend in 2017. He said the first time he read it, felt a "powerful aura" from the book. A week after he began practicing Falun Dafa, he experienced a complete transformation. He said that he experienced many positive changes and became "someone he never thought possible." His relationship with his family improved and so did his health.
Six months after Makai and his twin brother Rumi Albert began practicing Falun Dafa, they thought of searching the Internet to find other practitioners. Through watching online videos, they learned for the first time that in China, people who practice Falun Dafa like them were put through such brutal torture.
"After watching the video my face was covered in tears," Makai recalled. "I felt great sympathy and sadness. People like me were murdered simply because they were practicing cultivation and wanted to become better people."
Makai is currently majoring in biology in college, and he previously volunteered for Doctors Against Forced Organ Harvesting. He wants to help more people know about the persecution. "People must take action," he said.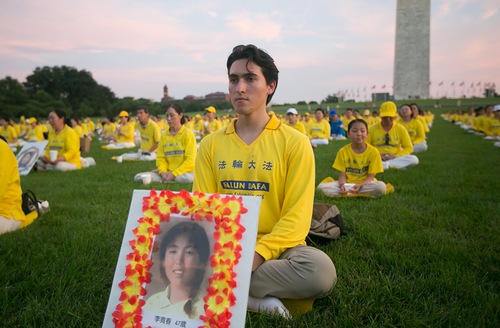 Tourist Feels Strong Yet Peaceful Energy
Ms. López said she felt a "strong yet peaceful" energy when she drove past the Washington Monument. She noticed the glowing candles and how quiet and solemn the atmosphere was. She felt that these people were appealing for peace and she wanted to find out more. She stopped her car and approached practitioners to ask why they were holding a candlelight vigil.
When Ms. López learned that practitioners were commemorating those who lost their lives in China, she said, "They left their comfortable homes for a common goal. Gathering here from various parts of the world, this is indeed touching."
She told practitioners she was from Miami and works as a voice interpreter for large meetings and government organisations. She often travels for work.
"When I began to travel around the world, I wanted to search for something. I wanted to find a balance, just like the principles of Truthfulness, Compassion, Forbearance—the principles Falun Dafa practitioners live by. This is wonderful." Ms. López continued, "Indeed, these three words should be in everyone's hearts. If people could often remind themselves [of these principles], the world would be a better place."
When she learned about the CCP's brutal methods to force practitioners to give up their belief, Ms. López said, "When the government pays more attention to power than to its people, they are missing the point. Those in power don't seem to care about their people. They want to control their thoughts, feelings and belief. This is wrong. We are individual beings; we have the right to believe in what we what to."
Ms. López wants to tell Falun Dafa practitioners in China who continue to face suppression: "You are not alone. Countless people are thinking of and praying for you. Look at how many people are here today: this is hope. It is the power of people and the will that pushes things forward in this world."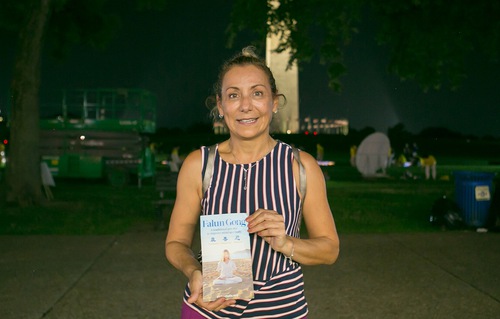 Tourists from Denmark Encourage Practitioners to Spread the Truth
Claus Hamsen and his daughter Amanda Malinovski, from Denmark, heard of Falun Gong for the first time. They listened intently as practitioners explained what was happening in China.
Mr. Hamsen said it is important that practitioners raise awareness about the persecution in China. People need to know about such things. He said that Truthfulness, Compassion, Forbearance are values everyone would praise, noting that there are similar values in Danish culture. These are universal principles, he said.
Ms. Malinovski said she was sad to hear about what practitioners have experienced in China and that it was unjust. But she is glad that practitioners can practice cultivation freely outside China, and she encouraged them to persist in telling people about the persecution.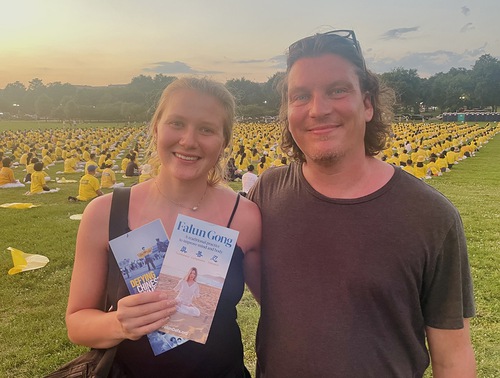 Mr. Jose, who works at Boeing, was in Washington D.C. to attend a training session. He happened to see the candlelight vigil on the last day of his trip. He had never heard of the persecution before and said repeatedly: "This is terrible and sorrowful! It is hard to believe something like this is still happening today."
He said he did not have a deep understanding of Communism and was unaware that it was so terrible, forbidding one from having freedom of belief.
Mr. Jose hopes that news of the day's event can be conveyed to China so that more Chinese citizens can learn the truth.