(Minghui.org) With the lockdown rules being relaxed, Falun Dafa practitioners in India held activities outdoors and candlelight vigils to commemorate July 20, 1999, raising awareness of 23 years of the persecution in China.
As in recent years, practitioners again used social media to publish articles related to July 20, 1999 and call for an end to the 23-year persecution. Around 38 online portals, print media, and TV channels published articles in English and various Indian languages. Blogs on certain reputed English-language websites got sizable views.
A video of the 23-year persecution and how Falun Dafa Practitioners in India observe this day as "Protest Day" was uploaded to YouTube and other social media platforms. The video includes a compilation of photographs and video clips of practitioners engaged in candlelight vigils.
A YouTube video with a song about July 20 in multiple Indian languages, by Falun Dafa India, was put on various social media platforms. In the viewers' comments, many condemned the persecution and many wanted to know how they could help. Many viewers wanted to know more about the persecution and also learn the exercises.
Participants in the most recent 9-day Lecture sessions held in English and Hindi, which concluded before July 20, were invited to share their experiences online and participate in a candlelight vigil online.
Bangalore
Practitioners got permission from the manager of Nexus Mall in Bangalore to do the exercises and to hold a candlelight vigil inside the mall. Shoppers, shopkeepers, and people visiting the ice cream shop were curious, and some stood transfixed, watching practitioners do the exercises and meditation.
Many took the informational flyers and watched the practitioners who were engaged in the candlelight vigil. They were touched and could not believe that a peaceful meditation practice was facing severe persecution in China. Many expressed the desire to learn the exercises and meditation. The manager of the mall requested an exercise and meditation session to be organized for the mall staff.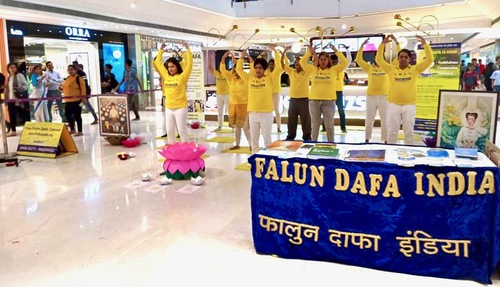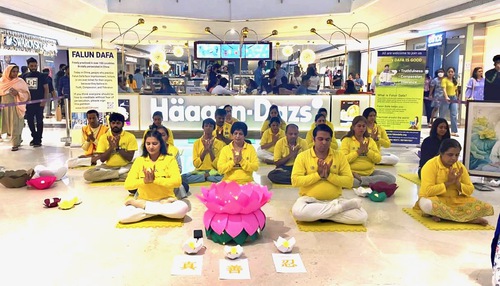 Nagpur
It rained heavily on the morning of July 20, but miraculously the skies cleared up and the sun came out over Nagpur. Undeterred, practitioners from Nagpur traveled more than 9 kms (5.6 miles) and assembled at Ramaigarden. They started their event by reading a lecture from Zhuan Falun, did all the exercises and meditation, and concluded with a candlelight vigil.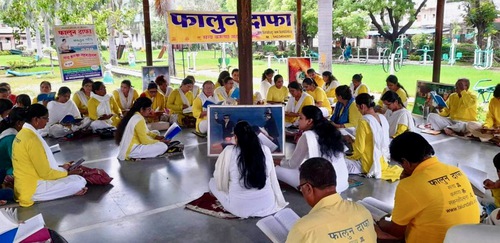 Mumbai
The sky was overcast but practitioners got together at the Carter Road promenade and demonstrated the exercises, sent forth righteous thoughts, and concluded with a candlelight vigil.
A practitioner commented, "I hope to see the persecution of Falun Gong practitioners come to an end before the next July 20."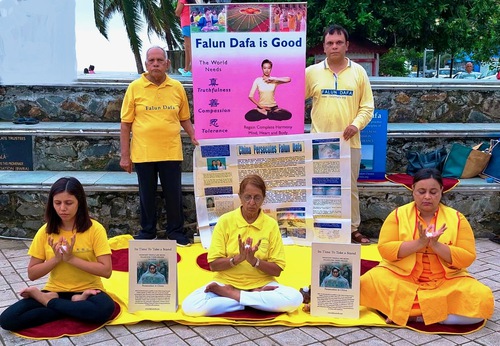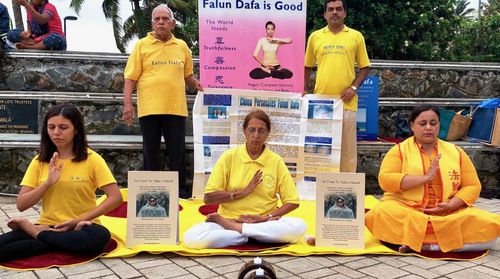 (Clearwisdom)