______________________________
(Minghui.org) The Art of Zhen-Shan-Ren (Truth- Compassion-Forbearance) International Exhibition was held at Sweden's Salsta Castle in Wattholma April 8-10 and 15-18), 2022. Salsta Castle is located north of Uppsala and Stockholm on the East coast of Sweden. The exhibition organiser was the Association of Art and Culture along with the Swedish Falun Dafa Association.
The exhibition has been shown around the world since 2004, except in China where it is banned. Chinese professor Zhang Kunlun, who today lives in exile in Canada, along with a group of recognised, talented artists, created The Art of Zhen-Shan-Ren Exhibition, in which the artists' works portray existential issues of inspiring beauty and power.
The exhibition conveys a truth that is difficult to turn a blind eye to—people who have the courage to resist evil and oppression. It conveys the truth about the persecution of Falun Gong practitioners in China.
Former MP and administrator of Salsta Castle Niclas Malmberg made the exhibition's inaugural speech.
On what was previously a headland in Salsta Lake, there has been a castle or manor since at least the 13th century. Salsta Castle has always had a strong connection to the monarchy in Sweden. No kings have lived at Salsta Castle, but close relatives and other acquaintances have.
Salsta Castle is a beautiful French Baroque castle that has become popular destination for people interested in culture and the beautiful landscape.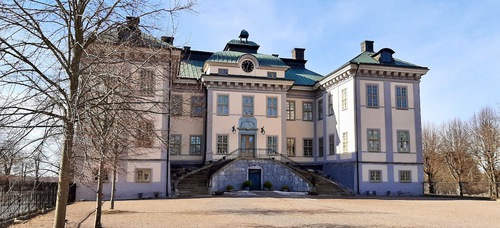 The exhibition was held in the castle's old library. Many visitors were surprised to see a contemporary art exhibition in the old castle. Many of them were visibly touched by the exhibition. Most had no knowledge of the extent of the persecution and appreciated the factual information they were given.
A couple who had been to China said they felt that the places they were allowed to visit were very organised. Their son had seen this exhibition the weekend before and told his parents to go to Salsta Castle to see the "fantastic exhibition."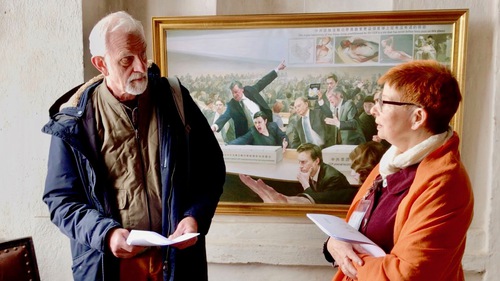 Another visitor was very touched when she saw the film "Meet the Artists." She returned the next day to absorb all the impressions. She asked where the nearest Falun Gong exercise site was in her area. She mentioned that she was facing changes in her life.
A visitor from Spain also wanted to start practicing Falun Gong. She said she had gone to the nearest practice site in Uppsala to learn the exercises.
Many visitors expressed their gratitude in the guestbook:
"Thank you for a rewarding display, an important message to the world."

"Very thought-provoking. Let us stand up for human rights."

"Thank you for the nice guidance and exhibition. Light will prevail."

"Thank you so much for taking the time to speak so touchingly about the paintings and the stories behind them. I was inspired to try Falun Gong and to spread the word."