___________________________________________
(Minghui.org) The Art of Zhen-Shan-Ren (Truthfulness-Compassion-Forbearance) Exhibition was held in Moscow's All-Russian Exhibition Centre on December 18 and 19, 2021. Many people viewed the artworks and said they were grateful to the organisers.
Senior sales expert Irina said, "This art exhibition conveys a message to us, the persecution is happening in China and Falun Gong practitioners are experiencing immense difficulties. Even so, people remain pure and kind, they will prevail over evil. These paintings have left a deep impression on me!"
Marina, an accountant, said, "These paintings reflect the persecution of Falun Dafa practitioners and their daily lives. It also shows that they are upgrading their moral standards after overcoming something. All paintings are positive and let people know that overcoming all difficulties is a matter of time."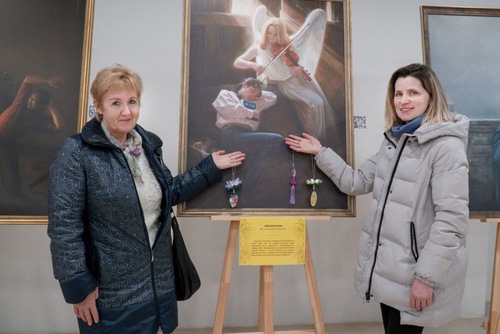 Svetlana, who works in the medical field, said, "I am appalled at the essence and spirituality of these artworks, as well as the tragedy that the practitioners in China experienced. They live in fear every day. I hope they can stay safe, remain compassionate, and have faith."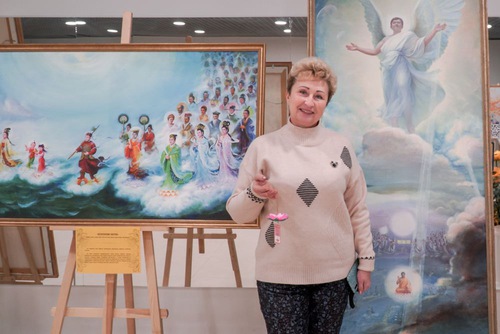 Veronica, who works in a university, said, "I am very interested in art pieces that depict high moral values. They spread the message that humankind advances further in spirituality and enlightenment from deep within."
She said that these artworks portrayed a world of the divine and how humankind grows and perfects itself. She learned about the Chinese Communist Party's (CCP) persecution for the first time. She felt the pain of the practitioners. People are forbidden to talk about this bright and spiritual belief in China. She hopes that more people learn about Falun Dafa and help stop this persecution.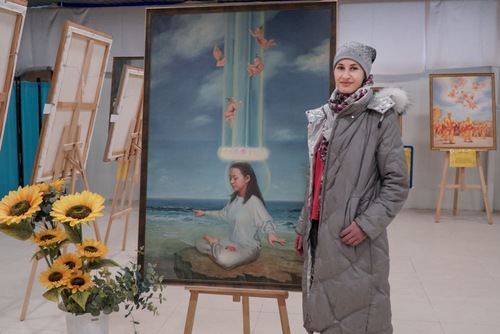 Architect Maksim said, "Before I came to this art exhibition, I had no knowledge of Falun Dafa or cultivation, let alone knowing about this persecution. These artworks helped me learn about the persecution.
"There is a problem in this world. Some religions and faiths are persecuted. I want to know more about the persecution. People did not believe what the Gestapo did to the Jews in concentration camps. It was not until things were exposed did people believe the Holocaust happened."
Maria and Paul attended the art exhibition together. Maria said, "I like the artworks very much. I did not know that such a persecution existed in China and that the CCP persecuted and tortured people with beliefs.
"There are many such cases like this in Russian history, so I am empathetic towards Falun Dafa practitioners in China. This persecution is inhumane and I hope it ends soon. I hope everyone can be healthy, happy, and loving."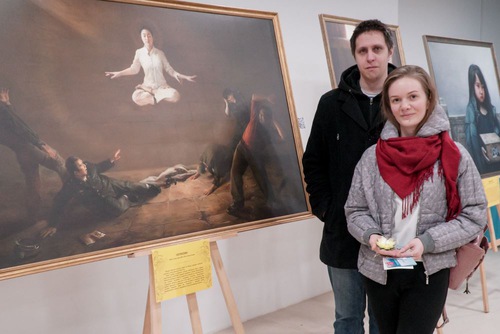 All articles, graphics, and content published on Minghui.org are copyrighted. Non-commercial reproduction is allowed but requires attribution with the article title and a link to the original article.