___________________________________
(Minghui.org) From May 10 to 15, 2022, the New York-based Shen Yun Performing Arts presented 27 performances in ten cities in the Czech Republic, France, Germany, Mexico, Australia, and the United States.
California City Councilmember: "Perfect" and "Spectacular"
George Chen, Council member of the Torrance City Council, saw Shen Yun with his wife in Costa Mesa, California, on May 14.
"I would say, it's spectacular. You have to come to see it for yourself to believe it. Because you can't believe how perfect a show could be while giving a very good message, and the message is very clear. The show is great. And it's modern day, 21st century at its best," Mr. Chen said.
"The costume, and the background, and the lighting, and the whole choreography was just perfect I thought. Because it just blended in really well. And the synchronisation. I could just tell, there is a lot of work put in this. It was excellent. Flawless. I love it.
"And then what I noticed the most was, I did not expect the high-tech media. The dancers fly in and fly out into the heavens and back. I think that's very high-technology media.
"My wife is with me, and she loves it too. We think this is just a spectacular show. But it's not just a show I believe. It's actually history. You're learning history while watching the show. And then you could see the amount of training and discipline. I think it's part of our culture. Training and discipline, and then perform and execute perfectly.
"There's a lot of message about the desire to live peacefully, to practice your own faith or your religion without being persecuted in mainland China. I think that message was clear. And it was that it's still happening today. This is a message that probably the world needs to hear. And then looking forward to the leadership in mainland China to really ease up and allow folks to be able to practice their faith freely without persecution or physical harm," he said.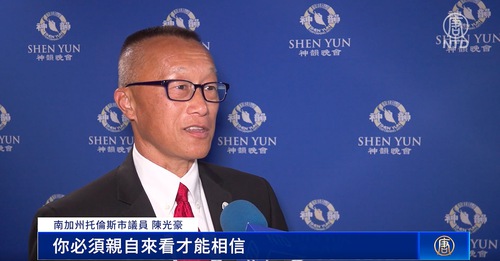 Australian Conductor: "Just Perfection"
Jamie Webster, a conductor and ethnomusicologist, came back to watch Shen Yun for the second time with her daughter Zora. They attended the performance in Adelaide, Australia, on May 13.
"Just perfection! Just so well brought together in unified execution of all the movements… But also, combinations of all the arts, technology, and color, costume and artistry, dance and music [were] beautifully brought together," Ms. Webster said.
As a musician who is classically-trained and conducts choral ensembles in Portland, Oregon, and South Australia, she was impressed by the soprano. "What a crystalline voice she has, that was just lovely… I don't know everything about Chinese classical singing. So I don't know where the line is between Western classical and Chinese classical, but that was just breathtaking," Ms. Webster said.
"Every piece had such courage, artistic courage and visionary courage, and also a courageous message about it as well," she said.
French Oboist and Composer: "The Show Touched Me Very Much"
Oboist and composer Jonathan Erwin Malnoury saw Shen Yun in Paris on May 11.
"The performance tonight was extremely high-skilled. It was carefully designed. It was a grand project. The most wonderful part was that we completely forgot about the techniques. Everything seemed so light and smooth. We felt that we were flying along with the performers. Such ease is astonishing! Not sure if the audience can understand how difficult it is for the performers to be able to do this on stage! Completely unbelievable. Everything was so easy, light, smooth, and wonderful. The show touched me very much," Mr. Malnoury said.
"Walking out of the theater, I feel very light. I want to be a good person. I want to be the best self. After seeing this kind of performance, we want to show our best selves too. Going further, when human natures resonate, the show made us believe that a kind and beautiful world is possible. This is too important.
"My feelings were very strong. I felt like I was performing with the musicians, together on stage. Of course I can't do what they did, but I felt connected to them. I felt this fluidity and lightness. Yes, there was something divine present. It was too wonderful. Bringing people happiness and kindness, this show is the perfect model. It makes people want to imitate them and feel that they should be like that. This too is important," he said.
Mexican Journalist: "Beyond Dance Techniques"
Journalist Adriana Pérez Cañedo saw Shen Yun in Mexico City, Mexico, on May 15.
"[Shen Yun] moved me beyond what it is as an artistic performance… I was moved by what they transmit about spirituality, internal emotions… beyond dance techniques," Ms. Pérez Cañedo said.
"I liked knowing about Falun Dafa. I liked knowing what they work in the world, and I am very sorry that it is prohibited in China, and that it costs the lives of those who want to be free… In addition to enjoying the ancient history of China, this left me a life lesson.
"Thinking in this 21st century about truth, benevolence, and tolerance—I think it is something that humanity lacks and that we must take into account more than we imagine.
"It really was more than an artistic show. It was a show that brought us closer to looking inside ourselves to be better human beings," she said.
The reporter thanked Shen Yun for performing in Mexico, describing her experience as one of "peace and magic."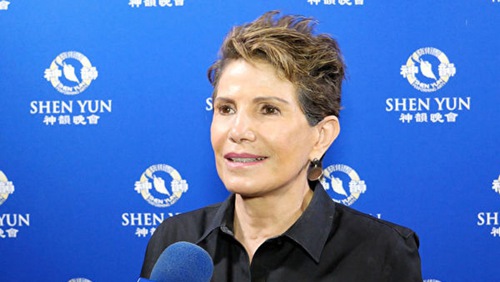 Australian Producer: "Completely Mind-blowing"
Andrew Dudek, a producer who has worked in film and theatre, saw Shen Yun in Adelaide, Australia, on May 14.
"It's a magical journey, an inspirational story… A fusion of culture, dance, singing, music, all woven into an emotional rollercoaster, which might make one's heart sing with joy," Mr. Dudek said.
"I'm feeling overwhelmed and gratified by the range of experiences and emotions, and the discipline, and the story, and the narrative… I'm literally, at the moment, very emotional.
"From an emotional connection, I'm finding [the performance] so personally powerful and it will obviously linger with me for all time, I believe.
"The joy and the truth and the honesty—it came across as being real, that it wasn't contrived. And the joy is something that affected me literally from a heart space… The movement, the color, the facial expressions, the synchronicity, the discipline, the narrative—completely mind-blowing.
"I'm so very, very deeply humbled and grateful to have been able to experience this amazing production.
"Flawless… The standards are impeccable—second to none… The cinematography and the synchronicity with the performers and the screen is brilliant. World-class. It's beyond perfection for me.
"The orchestra and the way they synchronized with everything, the timing, the interaction of the performers—everything is just woven together into a tapestry of perfection and harmony and beauty.
"My heart aches that this is inaccessible to the people of China. I grieve for the lost opportunity for people in China to experience this.
"I'm hoping and praying that this move towards reviving this will have repercussions and it will drag down and affect and break down the political enemies and the forces that are not aligned with truth and beauty," Mr. Dudek said.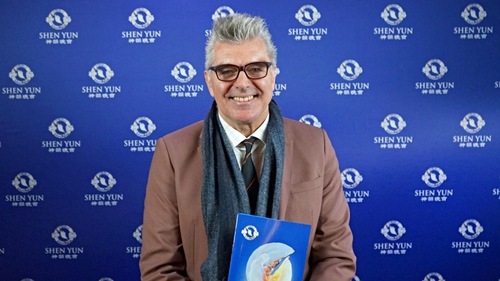 German Opera Singer: "Everything at an Incredibly High Level"
Opera singer Tiffany Gauger saw Shen Yun in Mannheim, Germany, on May 12.
Ms. Gauger said she felt transported into a completely different world. She described the sound experience of the soprano and the tenor as very interesting, exciting, and very beautiful.
"It was very interesting to hear how people sing in Chinese, because the language has a completely different sound than, for example, German or French, which we often hear in the opera. I found it very, very exciting."
She described the imagery, the costumes and the dancing as "incredibly great." "I thought it was great. I found it very, very interesting," she said. She also particularly liked how stories were told "with such great depth" without words and only through dance. "It was folk dances, ethnic dances and everything at an incredibly high level."
She found it "interesting and very exciting to see how everything comes together in art – that is, Western and Far Eastern culture." For her, the pieces had "a great depth that conveys the wisdom of traditional Chinese culture."
"What a beautiful imagery, beautiful expression that was. I'm full of impressions," Ms. Gauger concluded.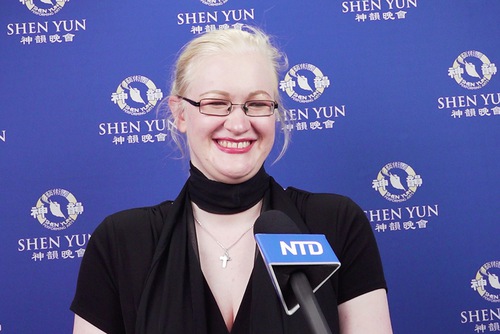 Czech Tax and Accounting Consultant: "Beautiful" and "Unbelievable"
Ivona Huňková, a tax and accounting consultant, and Marek Indra, a company director, saw Shen Yun in Brno, Czech Republic, on May 14.
"It's unbelievable what moves these young people can do. Because I tried to dance on my own, I know how difficult it is," Ms. Huňková said.
"I really like the stories that the show presents. These are really very strong. I think how the artists and creators managed to put the show together is unbelievable just in the combination of those stories and the talent of young people. That's beautiful," she said.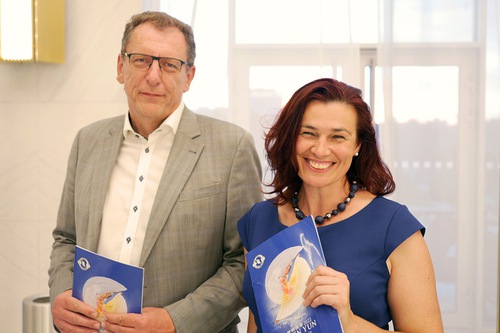 Mexican Venue Director: "Such World-class Caliber"
Alfredo Espinoza Leal, the director of the Querétaro Congress Centre (QCC), the venue that hosted Shen Yun in Querétaro, Mexico, saw the performance on May 11.
"We are delighted to present this performance of such world-class caliber," Mr. Espinoza Leal said.
"We have had the opportunity in this theater to receive many shows, but none like this one. So well produced, so complete, showing us a culture that we do not know much about in Mexico.
"Having the performance here I think it is a way of opening up to the world. It is a way for Querétaro to receive other ways of thinking, another culture.
"It is showing us a spectacular China. It is an incredible performance that pleases the cultured Querétaro people. All the [Shen Yun] performances we have had in this theater have been sold out.
"It gives us great pleasure because the theater is nourished with positivity," he said.
This season marks the third time that Shen Yun has performed in Querétaro. Following such a great turnout at the venue, Mr. Espinoza Leal expressed his wish for the company to return again next year.
"I hope we start to form a schedule as soon as possible. I hope that the production, its artists, feel welcomed in Querétaro. We are a city and a people that like to welcome our visitors with warmth. I hope that the artists really want to return because, here, we are delighted to receive them," he said.
As the director of the venue, Mr. Espinoza Leal had the chance to see the artists behind the scenes.
"Yesterday I was watching the girls stretch here in the lobby. You see the professionalism, you see their commitment, you see the quality and the warmth that they have. As director of the QCC, the truth is that I have very few opportunities to see the professionalism of an entire company. I am very grateful to them for considering us in their coming to Mexico," he said.
He applauded Shen Yun for its wonderful combination of classical Chinese dance and the use of patented projection technology that allows the artists to travel to any place imaginable.
"Combining the dance, this culture, along with the latest technology—it is an extraordinary combination. It is something worth experiencing," Mr. Espinoza Leal said.
"I always invite everyone to attend wherever Shen Yun is because each performance is different," he said.
Many of the venues that plan to welcome Shen Yun receive letters of intimidation from the Chinese Communist Party. The letters contain threats of severing business ties or other interests to the venue but fortunately, fewer and fewer venues bend to such tactics.
"Fortunately I did not receive the letter personally. We did not receive it at this venue. But I believe that everyone has the right to express themselves. We in Mexico are very open to receiving any situation but we are also free to make our decisions," Mr. Espinoza Leal said.
"I believe that at no time are we doing anything against anyone. On the contrary, we are showing a great performance with this production, nothing to do with politics. It is to show another culture and to know China, and I really invite you to see it so that you realise how spectacular it is," he said.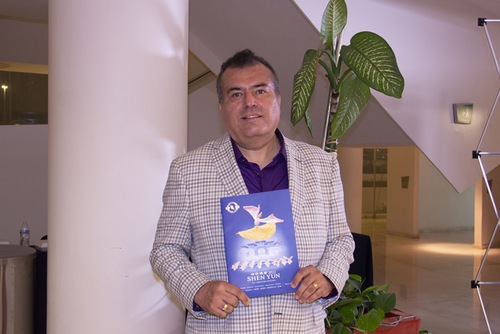 **********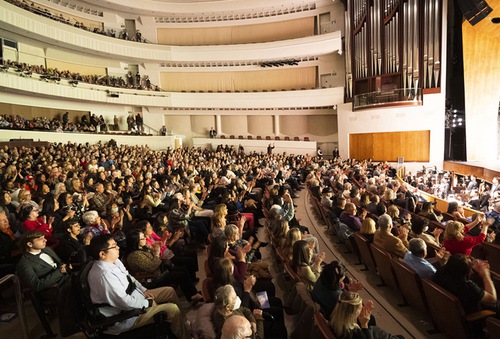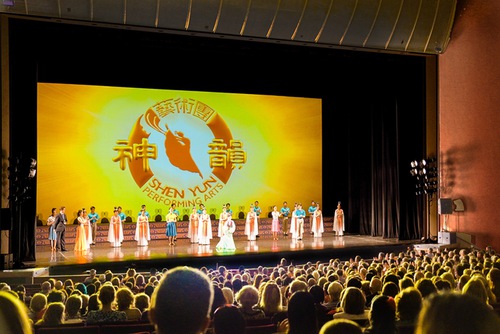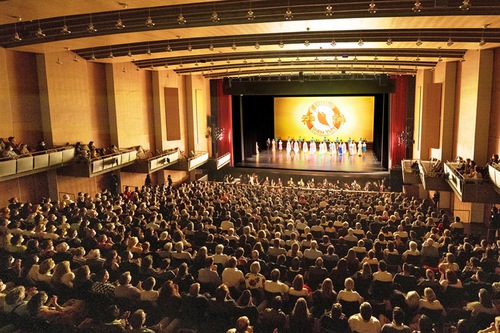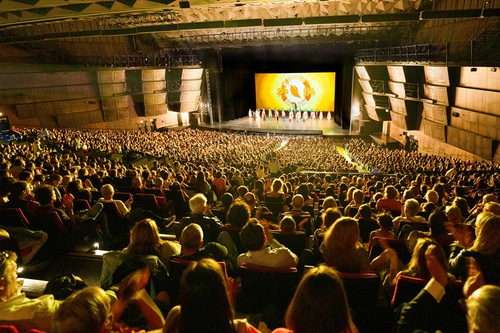 Upcoming Performances
Shen Yun continues its 2022 tour with upcoming performances in:
Basel, Switzerland, May 20–22
Bregenz, Austria, May 22–24
Monterrey, Mexico, May 20–22
Costa Mesa, California, May 20–22
Orlando, Florida, May 20–22
Burlington, Vermont, May 21
For more information on tickets and dates, please visit https://shenyun.com.
All content published on this website are copyrighted by Minghui.org. Minghui will produce compilations of its online content regularly and on special occasions.
31 total views