__________________________________________
(Minghui.org) Practitioners gathered at the Liberty Bell historic site in Philadelphia on May 15, 2022, to celebrate the 30th anniversary of Falun Dafa's introduction to the public. May 13, 2022, is the actual anniversary of the introduction and also marked the 23rd World Falun Dafa Day and the 71st birthday of Mr. Li Hongzhi, the founder of Falun Dafa.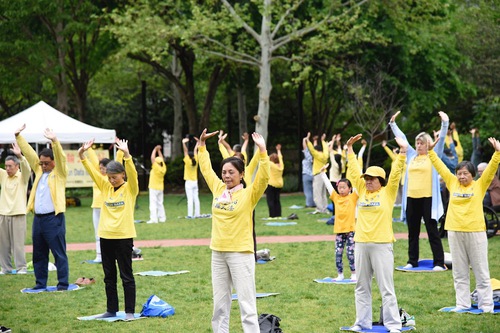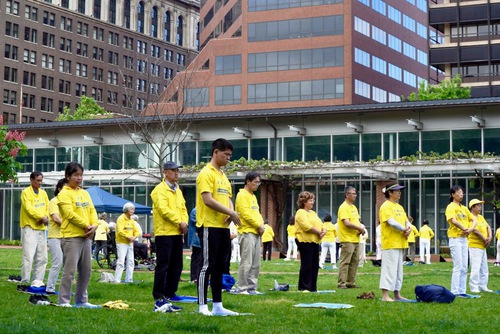 During the event, practitioners held an exercise demonstration and offered free exercise instruction. They also distributed materials to passersby. In addition, practitioners gave singing performances, taught members of the public how to fold paper lotus flowers, and demonstrated some Chinese calligraphy.
Elected officials from Pennsylvania and Delaware issued 23 proclamations and greeting letters, among them Governor Tom Wolf, U.S. Senator Patrick Toomey, and U.S. Representatives Mike Doyle and Lisa Blunt Rochester. Pennsylvania state representatives, Delaware state representatives, Philadelphia Mayor James Kenney, and Pittsburgh Mayor Ed Gainey also sent letters.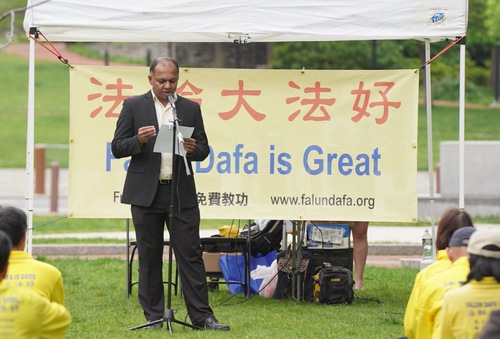 Benefiting the Community
Carmen Sousa, office manager for State Senator Christine Tartaglione, attended the event and presented a proclamation from his office. Senator Tartaglione praised Falun Dafa for the principles of Truthfulness-Compassion-Forbearance and wished practitioners well.
During the event, Sousa also learned the exercises and said she liked them very much. The exercises made her feel relaxed, and she believed the practice could improve a person's mind and spirit.
She said the words Truthfulness, Compassion, and Forbearance are very important and are critical for our work and life. She said practitioners are an outstanding and wonderful group.
Speaking of the ongoing suppression in China, Sousa said it is horrible that the Chinese Communist Party (CCP) is persecuting such a peaceful group. Based on her observations, Falun Dafa will make people better citizens and help society to become a better place.
Because of that, she thanked Mr. Li Hongzhi, founder of Falun Dafa, for his great contributions. It is extraordinary for Falun Dafa to be introduced to the United States, benefiting not only Chinese Americans, but also people from all ethnic groups.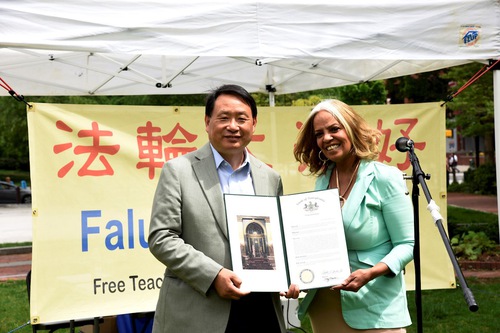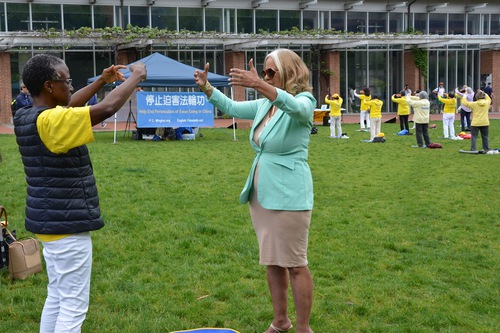 Freedom of Speech and Belief
Each of the three words – Truthfulness, Compassion, Forbearance – have profound meanings, explained Gendndra Bujara, a medical doctor who visited the Liberty Bell Historic Site. After all, we need honesty, kindness, and forgiveness in our society.
He said it is wrong for the CCP to suppress Falun Dafa. In fact, communism should not have existed in the first place since every one should have freedom of speech and belief. The human rights violations by the CCP are not only impeding societal progress, but also bringing all sorts of viciousness to the world.
That is why the message sent by practitioners to the tourists and the community is necessary. Raising awareness of this issue and sharing information with others will help them learn what is going on.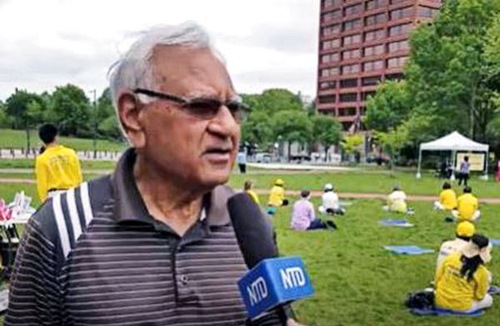 Good Health with a Positive Attitude
Several practitioners talked about their experiences with Falun Dafa. Xu Meihua, for example, attended three nine-day lecture series of Master Li's in 1994, in Lingyuan, Tianjin, and Yanji. "Those were the happiest days in my life," she recalled.
In the past, Xu used to be sick very often. Because of insomnia, heart disease, eye problems, low platelet level, and digestive issues, she felt dizzy all the time. Moreover, she had a thyroid tumor, which was very painful.
From Falun Dafa's teachings, Xu began to understand the purpose of life and why one might suffer from illnesses. "From then on, I decided not to complain anymore and remain determined in cultivation," she said.
To her surprise, her illnesses disappeared shortly after she began to practice. "My entire body was relaxed and I had lots of energy," she said, "My thyroid tumor disappeared."
Already at 74, Xu is very healthy and helps her family a lot. "On the 30th anniversary of Falun Dafa's introduction to the public, I just want to say that, thank you Master for giving us Falun Dafa."
Technical Executive: Happiness and Productivity
Cindy Liu had digestive issues since she was in fifth grade at elementary school. After entering high school, she experienced more health-related issues, including insomnia, chronic stomachaches and fatigue. She developed a gastric ulcer in college which required her to take a pill for the pain every day. She tried Chinese medicine, Western medicine, and other methods, without success.
She was studying in the U.S. to obtain her graduate degree in 1998, and she attended a Falun Dafa free teaching session on campus. "Without any treatment, my health problems all disappeared," she recalled, "Not only that, I became a fully healthy and happy person – better than ever."
She currently works as a technical executive at a major high tech firm. Cindy said that she applies the principles of Truthfulness-Compassion-Forbearance in her daily life. That includes constantly looking within and letting go of attachments, such as jealousy and competitiveness. "That allowed me to be open-minded, and handle all kinds of stress with patience. As a result, I was able to successfully coordinate a key strategic project in the company and finish it on time," she explained.
"Having been through these years, I cannot imagine what life would be without the principles of Truthfulness-Compassion-Forbearance," she added, "It is Falun Dafa that makes my life productive and meaningful."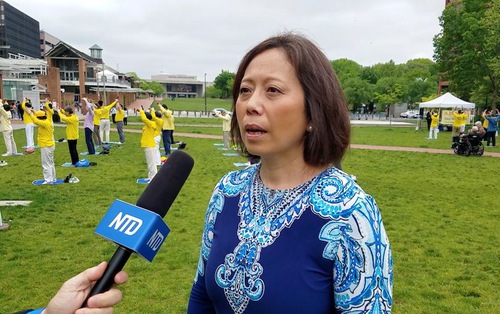 Miracle of a Young Practitioner
Kam-Au, 12, had a major health issue one year ago. His knee could not bend and it was painful. The situation worsened over time and he was unable to walk normally. In the end, he had to carry crutches wherever he went, which was inconvenient and embarrassing.
"Luckily my mother encouraged me to read Falun Dafa books and do the exercises. Within a short time, my knee improved," he explained, "Now I am able to walk and run normally."
Kam-Au said his family was also impressed by other changes in him. "They said that I am happier and more open-minded," he said, "I think the credit should go to Falun Dafa. That is why I want to thank Master Li for helping so many people with Falun Dafa."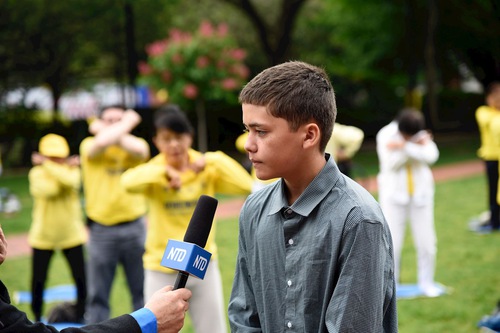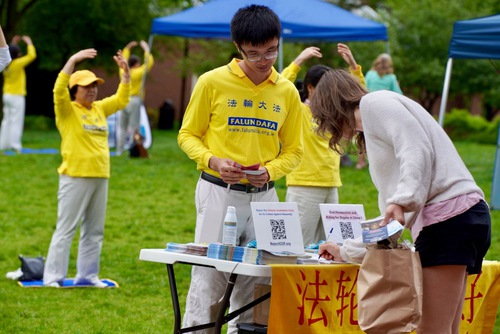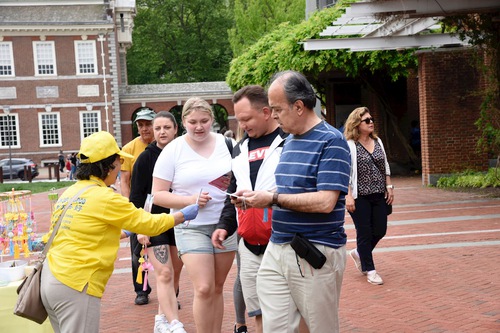 All content published on this website are copyrighted by Minghui.org. Minghui will produce compilations of its online content regularly and on special occasions.