________________________________________
(Minghui.org) Practitioners held a conference to exchange cultivation experiences in Malang City, East Java on May 15, 2022. Seventeen practitioners gave speeches, in which they talked about the importance of reading the teachings, how to keep a practice site going and conduct activities to introduce the practice during the pandemic, as well as incorporating the principles of Truthfulness, Compassion, and Forbearance at work and into their daily lives.
Memorising the Teachings
Naini, a young practitioner used to memoriSe Falun Dafa's main book Zhuan Falun but she eventually slacked off. When she read an article she wrote two years ago about her cultivation experiences she felt it was a reminder for her to start memorising the Fa again. When she submitted her thesis paper it was not approved. She repeatedly went to the school to ask her mentor about it but was told to come back later as he was too busy to go over it. She was disheartened.
She had free time one morning and decided to memorise the Fa. When she later went to the school, her mentor's attitude was completely different. He took a look at her thesis and said. "Wow! Why did I take so long to go through it, this must be done at once." He quickly signed her paper and passed it on to her lecturer.
Through this incident, Naini realised the source of the problem was that she had stopped memorising the Fa for a long time and did not the study the Fa with a focused mind.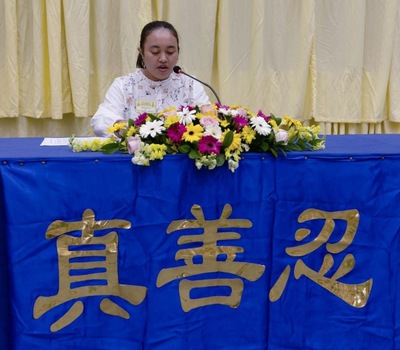 Doing the Exercises Outdoors During the Pandemic
Anita who began to practice Falun Dafa in 2010 spoke of what she went through while having to change the location of a Falun Dafa practice site 6 times due to COVID restrictions in the past two years.
The park she did the exercises in was closed due to the pandemic. She looked for another place as she wanted practitioners to do the exercises together. Doing the exercises outdoors is also an opportunity to let people know about Falun Dafa. She ran into difficulties in the process but she understood these were opportunities for her to eliminate her tendency to get easily upset, increase her forbearance and treat others with compassion.
Participating in teaching the exercises online offered her even more cultivation opportunities. Since she retired she seldom used a computer. She overcame the technical difficulties that came up one by one. She was surprised to be turned down by three practitioners when she invited them to talk about their cultivation experiences via a zoom meeting.
One practitioner even blocked her phone number. This made her realise she wasn't very compassionate. She needed to let go of her selfish thoughts and think about other peoples' situations. Through hosting online sessions to introduce Falun Dafa, many people living in remote regions got to know about the mind body practice. Some even started to read Zhuan Falun. Anita noticed that she became more tolerant. She would have been upset when she ran into these problems in the past but now she is able to face issues more calmly.
Putting Truthfulness, Compassion, Forbearance into Practice At Work
Suartati always had a harmonious relationship with coworkers through following the principles of Truthfulness, Compassion, Forbearance at work. However due to the ongoing pandemic, every employee was demoted and some even had their positions downgraded two levels. She used to be a manager but was demoted to supervisor. One day, she heard someone say a coworker disliked her. She was surprised and began to reflect on her shortcomings. She discovered she was attached to her position. She asked her superior to give her position to the coworker who loathed her. After the incident, her superior thought she was a good employee who should be promoted.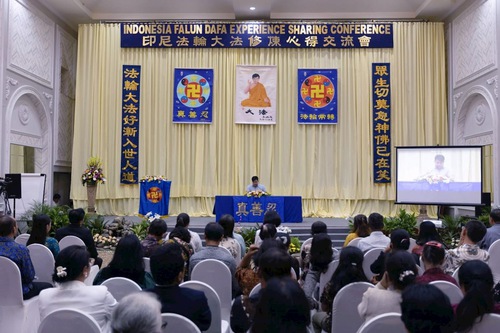 Family Members Blessed by Falun Dafa
Ariani decided to take care of her elderly parents when her brothers and sisters refused to look after them, saying they were too busy. As a Falun Dafa practitioner, she knew that she should be considerate of others and not take it to heart when her siblings treated her unjustly. She knew this was a test of her forbearance.
One time, her brother-in-law fell and injured his head while repairing the roof. Ariani's sister was worried that her husband's neck and limbs would be paralaysed. Ariani asked her sister to quickly recite "Falun Dafa is good, Truthfulness-Compassion-Forbearance is good". She also suggested her sister read Zhuan Falun to her brother-in-law. Her brother-in-law's surgery was successful and he soon recovered. The doctor asked in astonishment if he had taken some magic pill.
Ariani also said that her son had a car accident earlier this year. After an X-ray was taken, the doctor said her son's head was injured and said other things that scared her. She later realised, science is at the level of ordinary people. As a practitioner she should follow Master's arrangement. While taking care of her son in the hospital, she read Zhuan Falun to him and played Dafa music. Within a few days, the doctor said her son could go home. Her son's hearing was impaired for a period of time but as time went by, everything returned to normal.
Ariani knew all these came from Master's protection and compassion.
She also mentioned that she often read articles published on Minghui website. Other practitioners' experiences firmed up her conviction in Dafa and Master. The truth clarification materials on the website were a great help to her as well.
Improving in Cultivation Through Comparing With Other Practitioners
Attendees said they were inspired by the other practitioners' experiences. Gelgel from Bali said he discovered he had similar attachments although the things practitioners went through seemed mundane on the surface. He made up his mind to get rid of his attachments.
Raymond, a practitioner from Batam island said the articles read by practitioners will help him do better while working on truth clarification projects.
Vica from Medan City in Sumatra said the experiences of practitioners who clarify the truth on the front line were touching and it encouraged her to be more diligent in cultivation.
Views expressed in this article represent the author's own opinions or understandings. All content published on this website are copyrighted by Minghui.org. Minghui will produce compilations of its online content regularly and on special occasions.