____________________________________
(Minghui.org) The seven touring companies of Shen Yun Performing Arts presented nearly 40 performances in ten cities in Australia, Canada, France, Germany, and the United States, from April 12 to 17, 2022.
Elected Officials Extend Welcome Ahead of Performances in Alberta, Canada
Jason Kenney, the Premier of Alberta, wrote in a "Message from the Premier of Alberta," "Thank you to the talented performers who have brought Shen Yun back to the stage in Alberta. I appreciate your dedication and artistry in creating this colourful celebration of heritage through music and dance. Thank you as well to the Falun Dafa Association of Calgary, and all those who have worked hard to raise the curtain on Alberta's performing arts and help us move forward with recovery."
Stephanie Kusie, the Member of Parliament for Calgary Midnapore, Alberta, wrote, "It is my pleasure to extend greetings to the performers and all those attending the Shen Yun performances in Alberta. I hope all those that witness the event leave with an awareness of the persecution occurring in China, and a renewed sense of hope and inspiration."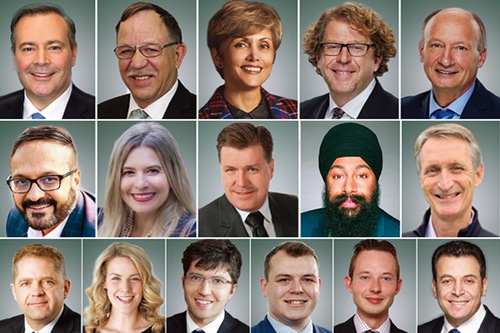 Dance School Principal: "Perfection, Precision, and Lightness"
Edward Lipski, the principal of dance school Retro Dance, and dance instructor Patrycja Pietrasik saw Shen Yun in Sydney, Australia, on April 15.
"What I love about this is lightness, perfection, and precision. They're just incredible. Plus color, and the story behind each of the performances. It's one of the best shows I have ever seen in my life. So it was a really great night," Mr. Lipski said.
"The lightness, I just admire it. It's like they're defying the gravity. So they're flying in the air rather than just dancing on the floor.
"The synchronisation of each of the groups, that was really great too. So I can imagine how much effort and work they had to put into it to achieve such a great, high level of dancing.
"It allowed us to take part in what was happening on stage. So it's like being with them rather than just watching it only… I feel very uplifted after this performance.
"I think it has more spiritual impact than physical. Although I admire, as I said, the perfection, precision, and lightness. But the stories behind and the music, I think it lifts your soul or heart," Mr. Lipski said.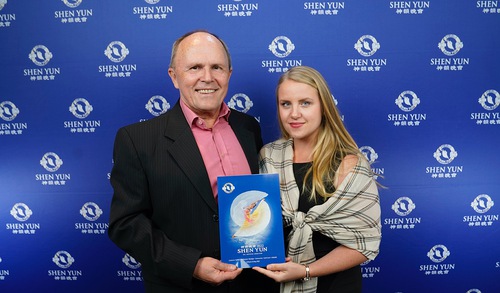 Trumpet Player: "I'm Completely Taken"
René Dessart, a trumpet soloist for a French orchestra, saw Shen Yun in Roubaix, France, on April 17.
"The index for being touched is 10. Perfect score! Top skills! Never felt this way before, this was the first time. I have never seen or heard such beauty. I cannot find words to describe it. It really is so touching," Mr. Dessart said.
"We can feel the full dedication of each performer. There is also a kind of emotional flow among all the performers, which is very touching. Everyone put in all their effort to validate what they wanted to express. I'm completely taken, by all the performers, whether the dancers, choreographers, or musicians. They were all outstanding!
"I think this performance has healing powers, so you have to come see it. People who are emotionally down have to come see Shen Yun. We've been uplifted by the performance and experienced changes internally. We were drawn to a kind of power, and that power was leading us. No mater what level we are, we have the same admiration and feel touched the same way. We were completely enchanted by the performance, the music, everything. That backdrop was so beautiful, seamless. It's impossible to describe it, just outstanding!" concluded Mr. Dessart.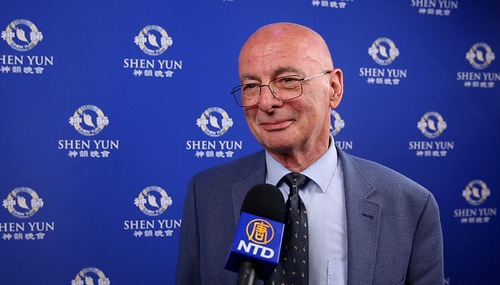 President of Insurance Agency: "It's Heroic"
John Guerin, the president of insurance agency Guerin & Guerin Inc., saw Shen Yun in Albany/Schenectady, New York, on April 15.
"I think it's heroic. It's beautiful, very inspiring, but it's heroic, it's necessary," Mr. Guerin said.
"It's heroic because of what's going on in China, and how they're trying to shut the show down, and trying to intimidate people. And I just think it's tremendous that these young people and the producers, and even the people that come to the shows, they are, I just think it was terrific. Better than I thought it was going to be.
"You're tremendous, you're inspiring. And I wanna repeat: heroic, I really think it's heroic what they're doing. They're under a lot of pressure to perform, they're under a lot of pressure to do it perfectly to represent their culture properly, and at a time when that's a rarity. It's really a rarity. Just because they made it look easy, doesn't mean it was easy," he said.
Mr. Guerin was also impressed by Shen Yun's patented technology of integrating digital background and stage performance. "That patent that you folks have is not to be missed. The technology, that's a big surprise," he said.
"I thought it was very nice that when the tenor was singing, that they put the subtitles up, so that we knew what he was saying, which is an important message… That there's a divine providence. Every country needs it. Without it, people are lost. Things will not end well if there isn't a turn to divine power.
"It's absolutely beautiful. And I like the way they point the message out that this goes back thousands of years before communism. It's amazing how you're keeping it alive.
"I think that we focus way too much on material things. It's easy to get distracted in this day and age. And it's easy to get misled. We've been fooled a lot. We haven't been listening to the culture that spans all sorts of people. And China is an important culture, it's a proud culture. And the people who want to teach the world about it were performing today," he said.
Regarding Shen Yun's mission, Mr. Guerin said, "I think it's tremendous. It's blessed because you can't be this big this fast with everything that's working against you, unless the message is a blessed message. And I just think that's the reason you've now got seven or eight shows traveling around the world, with people of all likes going to the show and really enjoying it. I thought it was tremendous."
"My wife and I will make sure we come back and do this next year when they do it again," Mr. Guerin said.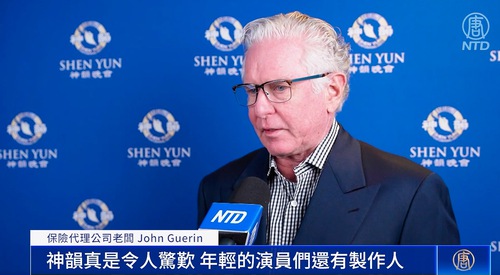 Mayor of Montréal's Saint-Laurent Borough: "Very Enriching Work of Art"
Alan DeSousa, mayor of Montréal's Saint-Laurent borough, saw Shen Yun in Montréal on April 13. He described the performance as a "very enlightening, very enriching work of art."
"We are excited. My wife and I are blown away by the music, the costumes, the dance, the stage scenery," Mr. DeSousa said.
"There's enormous vistas of light, enormous colors, enormous themes to capture and enhance our visual talents, our sensual talents to appreciate it. I think it's not just a small bit of light, it's a rainbow of light and colors and that's why I think hope springs eternal," he said.
Mr. DeSousa, who has also served as a member of the City of Montréal's Executive Committee and the Montréal Metropolitan Community, said Shen Yun's portrayal of traditional Chinese culture allows for a change in perspective for the audience.
"It gives you a chance to see Chinese culture, and how it is in the traditional sense of the word. And it's something that we have not had a chance to experience or to be exposed to," he said.
He said that Shen Yun's efforts to showcase classical Chinese dance and the spirituality in the Chinese culture are important so that this rich heritage isn't lost.
"It should be preserved for many more future generations to appreciate," Mr. DeSousa said.
He added that Shen Yun is a "great occasion" for people to come out after two years of pandemic and to see the hope and the "smiles on people's faces."
"I am always careful, and I'm glad to see people here are being cautious. People are taking all the precautions that you need to, but at the same time, I think we need to, as human beings, get out, mix and mingle and socialize," he said.
"It's a Blessing"
Entrepreneur Ulrich Holst saw Shen Yun in Bremen, Germany, on April 17.
"It's touching to the heart and a blessing… It breathes this harmony, this diversity," Mr. Holst said.
You can see, feel and hear the divine, he said. "I feel closely connected to it. It's something that exists beyond culture, tradition or language." He called it something that would "shine through" and touch the heart.
"It's a blessing, especially at this time. It's a healing contrast to what we otherwise experience around us," he continued.
Coming from a healthcare background, Mr. Holst noted that the show is soothing: "You come down and centre yourself."
Additionally, the stories that were told showed "an effort to improve, expand heart quality," he said.
"I think that's exactly what the heart needs. So less in the head, less in the ego, less power and enforcement, but dealing with each other from the heart. I think that's what the time needs now," Mr. Holst said.
In today's world, "everything is trimmed for efficiency," he said, which is why the "kindness of heart is neglected," and Shen Yun is a "nice impulse."
Shen Yun's last piece gave Mr. Holst food for thought, presenting a solution for today through compassion and the restoration of morality. The message he received was: "Rediscover the meaning of life and also simply understand yourself as a being that goes through many lives, undertakes a journey."
Mercy or warm-heartedness and kindness is a high quality, "which also helps us in our spiritual development," Mr. Holst added.
Mr. Holst also enjoyed the orchestra. "I found the combination – Western classics with Chinese instruments – very successful." He thought the compositions were also impressive – a "high compliment to the artists and performers," he said.
"It's great what the artists bring to the stage in terms of synchronicity and athleticism and elegance… I am very grateful for this performance and for everyone who made it possible and contributed. Thank you very much!" he said.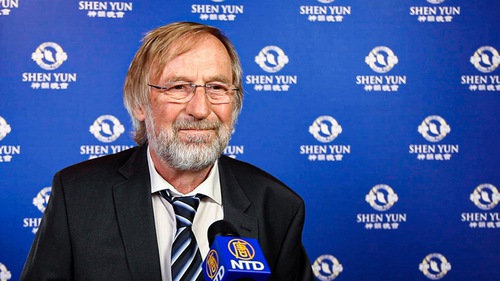 "Power of Compassion"
Denis Lamy, the president of an association for the promotion of arts and culture in northern France, saw Shen Yun in Roubaix, France, on April 14. This was Mr. Lamy's third time seeing a Shen Yun performance.
"Shen Yun's performances are perfect. The program is brand new each time, but has the same meaning, which is the battle between good and evil, which shows the power of good and that the good side will always prevail. Each time it is shown through the laudation of faith. It is very, very important," Mr. Lamy said.
"I think Shen Yun is calling people to be kind. What's especially important is that there is a kind of universal value in Chinese history, which is to always use history as reference to pave for the future. To only take the good things from the past and pass them down. The performance brought us the concept of this kind of inheritance, this power of compassion, and moral values," he said.
Mr. Lamy also mentioned that seeing Shen Yun made him feel that he had regained energy. He said that he was not feeling well the day prior, but after the performance, he felt a lot better.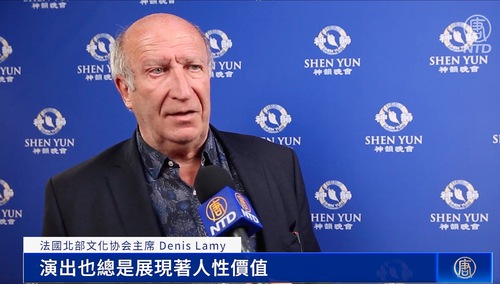 "The Actual China"
Paul Heere, a program manager at Wells Fargo, saw Shen Yun in Dallas, Texas, over the Easter weekend.
"It's really good to see the creativity inherent to a people. I don't think that's something that we always see because a lot of times our eyes are focused on what the People's Republic of China does instead of what China is actually like. And I think Shen Yun really exemplifies what China is like, the actual China. Not what people see all the time in the communist-occupied portion of it, but what people are actually like in the free portion of it… It demonstrates what China could've been in a different time had the communists not occupied a portion of it," Mr. Heere said.
"I like the reference to stand up against atheism. I think that's a very powerful message. It's a message that you don't always hear in today's world, but I think it really demonstrates that the Chinese people and the Chinese philosophy is not all that different from some of the things that you also see reflected in western societies and western philosophy," he added.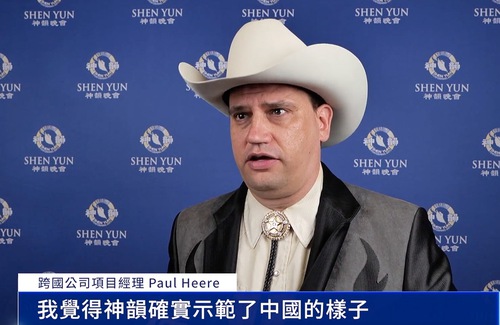 "A Journey of Human Nature"
Isabell Stief and her family saw Shen Yun in Bremen, Germany, on April 17.
The message Ms. Stief received was: "What is our human nature, it contains divinity. We have now lost ourselves and our faith. Without faith, we're not humans anymore, because that's our root, the reason for our existence. Atheism and the modern world are destroying everything."
"The fact that Shen Yun is able to deliver such deep messages touched me very, very much. This is a journey of human nature. It allowed us to see that we've been divine beings before and we will become divine beings again. And that divine beings could dance like this. To me, this dance and music were an expression of divinity.
"We have a mission, which is longing to return to where we came from. I saw this again in the performance. We have to reawaken (divinity), and spread it through traditions.
"All ethnicities in the world should protect their own traditions, because that's what the divine gave us. This is very important. But they're already being destroyed. I think it's so great to have the (Shen Yun) performing arts company," she said.
* * * * * * * * * *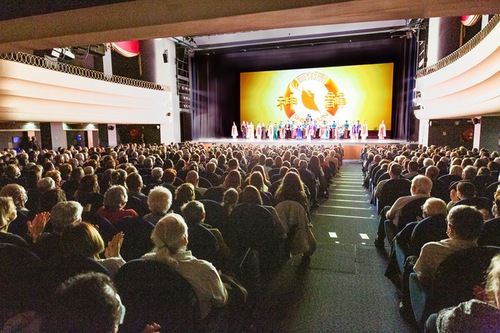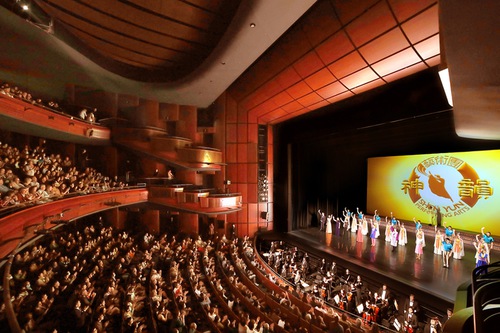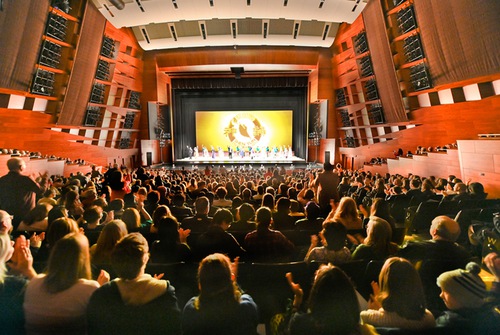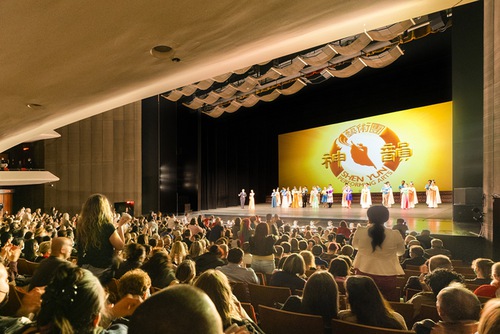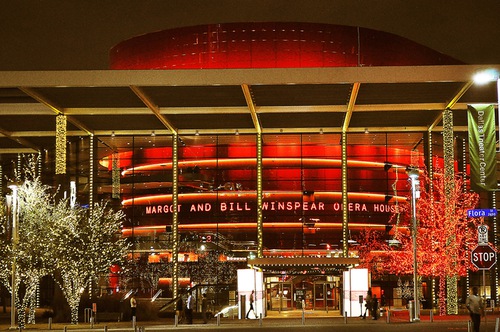 Upcoming Performances

Shen Yun continues its 2022 tour with upcoming performances in:

Newark, New Jersey, April 22–24
Detroit, Michigan, April 22–24
McAllen, Texas, April 23
Edmonton, Canada, April 23–24
Melbourne, Australia, April 22–26
Tours, France, April 22–24
Berlin, Germany, April 22–May 1
For more information on tickets and dates, please visit https://shenyun.com.
Views expressed in this article represent the author's own opinions or understandings. All content published on this website are copyrighted by Minghui.org. Minghui will produce compilations of its online content regularly and on special occasions.