___________________________________________
(Minghui.org) Young practitioners in Bali, Indonesia held activities to introduce Falun Dafa to the public at Ubud, Kabupaten Gianyar on Sunday March 27, 2022. Afterwards, they read Falun Dafa's main book Zhuan Falun and discussed their experiences in following the principles of Truthfulness-Compassion-Forbearance in their daily lives.
Puri Agung Ubud and its surrounding areas are popular tourist destinations to view Bali's traditional buildings.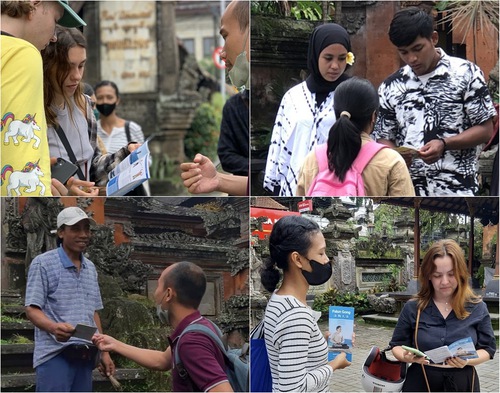 Eliminating Addictions Through Reading the Teachings
Young practitioners talked about how they incorporated the principles of Dafa – Truthfulness-Compassion-Forbearance in their everyday lives.
In today's society where moral values are changing at an alarming rate, young people are easily tempted by bad things. Fortunately, guided by the cultivation principles of Falun Dafa – Truthfulness-Compassion-Forbearance, these young practitioners gradually became aware of their bad habits and addictions. They strive to become better people by following the principles of Truthfulness, Compassion, and Forbearance.
Ketut Martana is a young practitioner from Tianyar. He talked about the positive changes he experienced after he began practicing Falun Dafa. Ketut actually knew about Dafa years ago, and he even participated in many activities organised by young practitioners. But as time passed and due to various reasons, he strayed further from cultivation. He left his hometown a few years ago and got into bad company.
He began to drink and smoke. He thought winning in competitions was more important. He did not go back to his hometown for four years. When he finally returned, his mother suggested that he read Zhuan Falun. He took his mother's advice.
He soon realised how badly he behaved and how far he had strayed. He completely eliminated his addictions to smoking and drinking alcohol. His view of life changed as well, and he let go of his pursuit of fighting with others for personal gain.
Youli is from Denpasar. She said that she was hooked on social media and watching videos. When she started to read Dafa books again, she felt awakened and worked hard to spend less time on her mobile phone.
Other young practitioners with similar experiences also spoke about their addiction to mobile phones and other bad habits, which caused them to neglect doing the exercises and reading the Fa. They reminded one another to brace up and not let laziness get the better of them.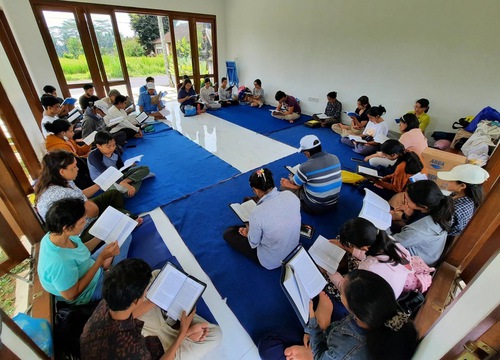 Extraordinary Experiences after Reading Zhuan Falun
Some young practitioners spoke about their extraordinary recoveries from physical discomfort after reading Zhuan Falun and doing the exercises. Young Nita had a headache, felt dizzy, and wanted to lie down. But she remembered she hadn't done the exercises or read Zhuan Falun yet. She picked up the book and read, and did the exercises afterwards. After doing these two things, Nita discovered that her headache was gone and she felt much better.
Monica, a young practitioner from Tegallalang, talked about a similar experience. She told her relative that she would give him Zhuan Falun. Just as she was getting ready to leave she felt dizzy and wanted to lay down. She immediately remembered Falun Dafa's teachings and read Zhuan Falun. Her dizziness soon disappeared, and she felt refreshed. When she brought the book Zhuan Falun to her relative, she told him about her experience – how her dizziness went away. Her relative did not believe her initially, but the discomfort he was experiencing in his stomach, which had plagued him for a long time, went away after he read Zhuan Falun!
Before the activities concluded for the day, the young practitioners said that getting together was a wonderful experience, and they hoped to meet again in the future. They reminded and encouraged one another to progress in cultivation through following the principles of Truthfulness-Compassion-Forbearance. Attendees concluded the day's activities by doing the exercises.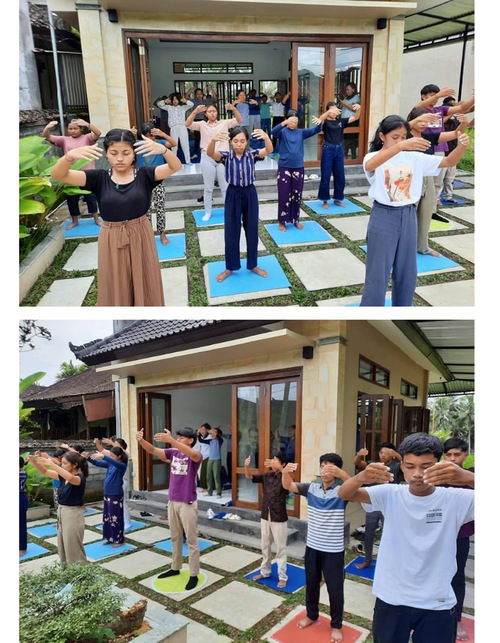 Views expressed in this article represent the author's own opinions or understandings. All content published on this website are copyrighted by Minghui.org. Minghui will produce compilations of its online content regularly and on special occasions.