_______________________________________
(Minghui.org) Falun Dafa practitioners held a rally outside the Chinese Consulate in Chicago on April 16, 2022, to commemorate the 23rd anniversary of the April 25 peaceful appeal which took place in Beijing on April 25, 1999.
As they did the exercises, many passersby stopped to watch or videotape, and learn the movements. Many people also learned about the Chinese Communist Party's (CCP) brutal persecution through reading the banners and information boards, prompting them to sign the petition to call for an end to the atrocities.
On April 25, 1999, 10,000 Falun Dafa practitioners went to the State Petitions Office in Beijing to ask for the release of 45 practitioners in Tianjin who were arrested, and requested that the government allow practitioners to practice Falun Dafa legally in China. Practitioners remained calm throughout the entire appeal.
The Premier at that time met with representatives and released the detained practitioners. The appellants departed quietly that night and the appeal ended satisfactorily. Many Western media reported on the incident and called it the largest scale appeal in China after the Tiananmen Square student protest on June 4, 1989.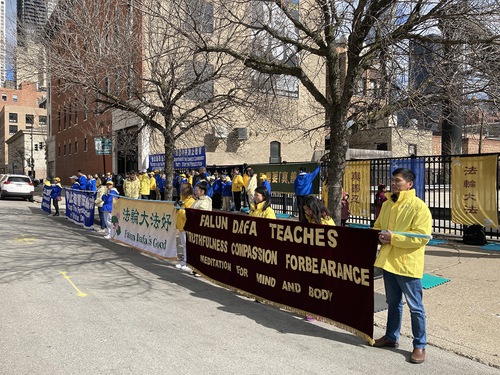 The Police Looked at Us Approvingly
Cheng Wanying participated in the appeal on April 25, 1999. She said, "I still remember the scene clearly as if it happened yesterday."
"We just finished doing the exercises at the practice site on the evening of April 24, when a practitioner said police in Tianjin arrested 45 practitioners. One practitioner suggested we go to the State Petitions Office to appeal and many people thought it was a great idea. Three other practitioners and I decided to ride to the State Petitions Office the next morning on our bicycles. I was anxious to tell China's leaders how practicing Falun Dafa benefited me and I hoped the authorities would release the practitioners who were arrested. There were many people standing on the streets already by the time we reached the petitions office. Everyone was quiet and orderly."
"I saw military officers, policemen and even a movie actor among practitioners. A mother carrying her child stood in the last row. There were already three rows of people. As we stood in our spots, two sisters arrived. They told us they traveled a day and a night from a village in the Chaoyang district. Just then, police officers came running. When they saw how orderly we were, they gradually relaxed. They even began to smoke and chat among themselves.
"By afternoon, Fuyou street was lined with practitioners. Those in the front row stood, while those in the back sat reading Zhuan Falun or did the Falun Dafa meditation exercises. No one shouted slogans."
"In the afternoon, a practitioner walked from north to south holding a large plastic bag to collect rubbish. There was not a single piece of paper on the ground. The children remained quiet and obedient. Everyone waited quietly for news from the representatives."
"The representatives came out at around 9 p.m. and said everything was resolved. The practitioners in Tianjin were released and the premier said he would make it legal to publish Dafa books and do the exercises. Everyone took the news calmly and departed quietly. When I picked up a piece of paper on the ground, the police looked at me approvingly. The demeanor of Dafa practitioners was memorable."
Tu Jingan spoke at the rally and recalled the appeal. She said, "Although the appeal was praised as 'the largest scale, most peaceful appeal in China's history' internationally, the then President, Jiang Zemin, was determined to wipe out Falun Dafa in three months. That same year, he established the illegal 610 organisation (610 Office) and used his power to launch a genocidal persecution against practitioners."
Tu Jingan said, "For 23 years, practitioners carried forward the kind, peaceful and moral courage from the April 25 appeal, winning support from more and more people. They continue to expose the truth of the persecution without fear. Jiang Zemin and other perpetrators are charged with crimes against humanity, genocide in lawsuits in many countries."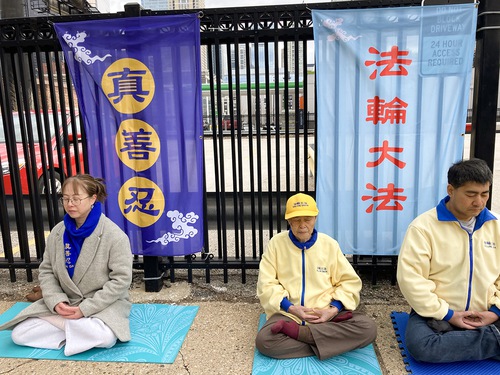 For 23 Years I Have Been Going to the Chinese Consulate Every Year
Ms. Xu began to practice Falun Dafa in 1997. "My mother began practicing in 1996 for health reasons. She recovered from stomach cancer after practicing for two months. I began to practice at the end of 1997 after my mother strongly urged me to. I felt my body become light and full of energy after I started to practice."
Why do practitioners continue to resist the persecution after so many years of brutal torture? Ms. Xu said, "It is difficult for Chinese to truly believe in anything as they have been through the CCP's various political campaigns such as the Cultural Revolution and the student massacre on June 4, 1989. Many people experienced a great improvement in their physical and mental well-being through following the Falun Dafa principles of Truthfulness, Compassion, Forbearance and became steadfast in practicing Dafa."
"As practitioners who have gained from practicing Falun Dafa, no matter how busy we are, we feel a responsibility to participate in various truth clarification activities until the CCP ends this persecution."
Ms. Liu, who was persecuted in China and was forced to move to the U.S., said, "I feel fortunate to come to this free country. Every year I participate in activities to commemorate the April 25 appeal. Practitioners are still being tortured in China for their belief, and their organs are being removed while they are still alive."
She hopes more people will learn the truth, "Choose to stand on the side of kindness and justice, stay away from the CCP and you will be blessed in return."
I Feel a Powerful Energy Field
The peaceful group exercises drew the attention of many people who passed by the Chinese Consulate that day. Some stopped and learned to do them.
Ian Salem, who lives in Evanston, said, "I felt a powerful energy field from your group exercises. It made me feel at peace. This is what I need."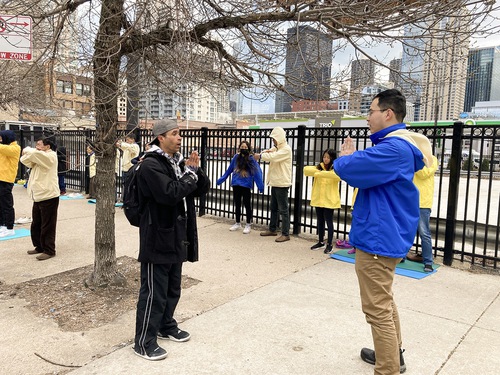 Joseph is a lawyer who lives in Chicago. He said the "peaceful energy field" and "orderly exercises" made him stop and mimic the exercise movements.
He said, "I am delighted to see so many people coming together to do the exercises. It is a basic human right to practice such a peaceful exercise, one should not be stopped or persecuted by any form of government."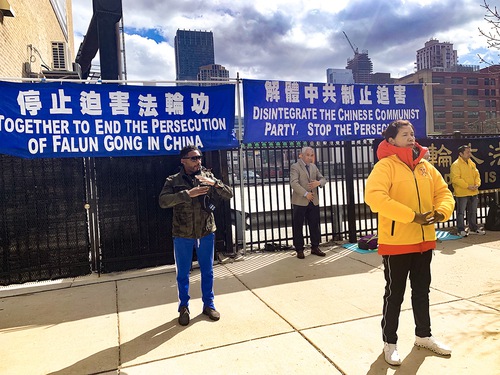 "You Are Doing a Great Job"
Many tourists were drawn by the variety of content displayed on the boards. They approached practitioners to find out more about the practice and signed a petition to end the atrocities.
Carlos Jorge and his family, tourists from Brazil, thanked the practitioners for introducing them to Falun Gong and telling them about the persecution in China. Carlos said, "I knew in the past about how evil Communist ideology was. Thank you for giving us more information on this." His wife Julia Jorge said, "I will share our group photo on the Internet and let more people know about this persecution. You are doing a great job!"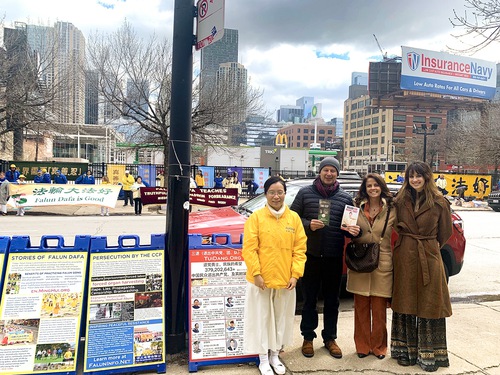 Jeremy and Jen Speer brought their child to Chicago on a holiday. They thought that opposing universal values of Truthfulness, Compassion, Forbearance shows how evil the CCP is. They said they will find out more about Falun Dafa when they get home and hope practitioners will continue with their efforts to oppose the persecution.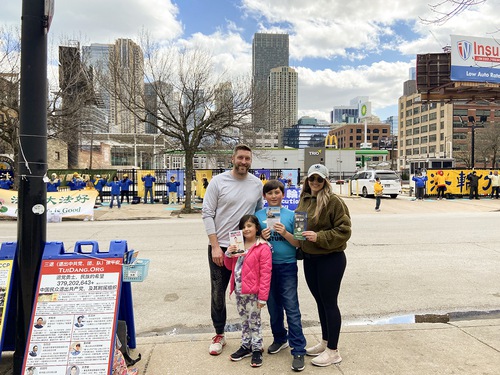 Carlos and his wife Evelyn from Puerto Rico were attracted to Falun Dafa's principles – Truthfulness, Compassion, Forbearance. They wanted to know more about the practice. They said, "Perhaps we were meant to meet Falun Dafa practitioners on our trip to the U.S."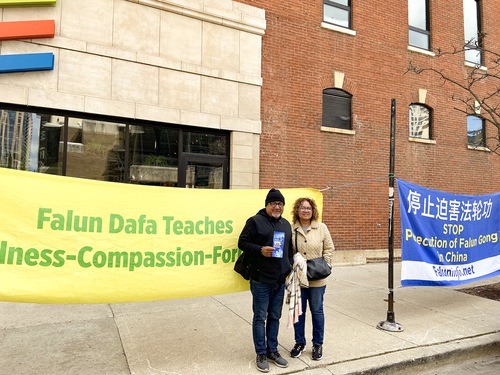 Background: What is Falun Dafa and Why is the CCP Persecuting It?
Falun Dafa (also known as Falun Gong) was first introduced to the public by Mr. Li Hongzhi in Changchun, China in 1992. The spiritual discipline is now practiced in over 100 countries and regions worldwide.
Millions of people who have embraced the teachings, which are based on the principles of Truthfulness, Compassion, and Forbearance, and learned the five gentle exercises, have experienced uplifting health and well-being.
Jiang Zemin, former head of the Chinese Communist Party (CCP), perceived the spiritual discipline's growing popularity as a threat to the CCP's atheistic ideology and on July 20, 1999, issued an order to ban the practice.
Minghui.org has confirmed the deaths of thousands of practitioners as a result of the persecution over the past 22 years. The actual number is believed to be much higher. More have been imprisoned and tortured for their faith.
There is concrete evidence that the CCP sanctions the harvesting of organs from detained practitioners, who are murdered to supply the organ transplant industry.
Views expressed in this article represent the author's own opinions or understandings. All content published on this website are copyrighted by Minghui.org. Minghui will produce compilations of its online content regularly and on special occasions.