______________________________________
(Minghui.org) Many events are held across the U.S. to usher in the holiday season. Falun Dafa practitioners from Dallas participated in the City of Grapevine's 42nd annual Parade of Lights on December 2, 2021.
People said that their colorful float, banners and music added a bright, refreshing note to the parade. Many spectators shouted, "Spectacular!" and "Falun Dafa!" as practitioners walked past.
The City of Grapevine's Parade of Lights was first held in 1979 and takes place on the first Thursday in December. Every group that participates in the event is asked to use Christmas lights to decorate their entry. Over the years, this has become the largest nighttime Christmas parade in northern Texas, and it draws spectators from nearby cities. As the city hosts many other events during the Christmas season, it is now known as the "Christmas Capital of Texas."
Groups taking part in the parade arrived at 4 p.m. to decorate their floats. At 7 p.m, the long line of floats slowly moved to the city centre on Main Street. The parade route passed through the entire downtown area and reached the 114 highway on the north side of the city.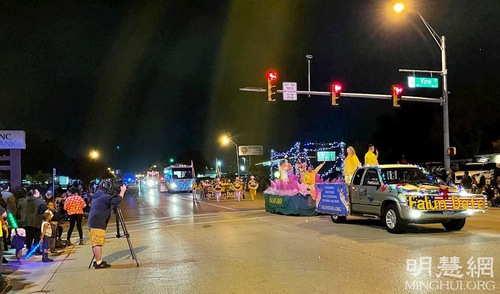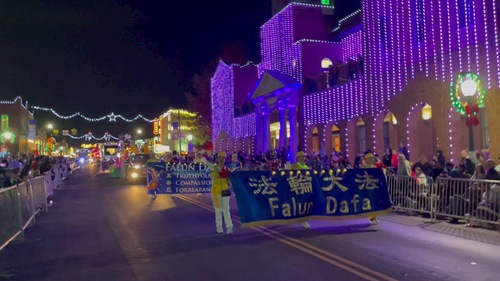 Over 100 groups participated in this year's event. Buildings and trees on both sides of the parade route were decorated with lights, which illuminated the night sky. All of downtown Grapevine was crowded with people and enveloped by countless lights and a cheerful, festive atmosphere.
Practitioners' parade entry consisted of a banner team and float. They were the only Asian group among the 100 organisations. They held bright, colorful banners with the words "Falun Dafa," "Truthfulness, Compassion, Forbearance," and "Falun Dafa is Good."
Practitioners on the float demonstrated the Falun Dafa exercise movements. Some people commented that their group exuded peaceful energy. Many people waved at practitioners and shouted, "Falun Dafa," "Amazing!" and "Merry Christmas!"
Ms. Lynn, who lives in Hurst, came to watch the parade with friends. When she saw the practitioners' entry, she said, "I am delighted! There is a special feeling—a kind of energy." She wanted to know more about Falun Dafa. Practitioners told her it is a from of cultivation practice and is taught free of charge, and that the books can be downloaded for free from Falundafa.org.
This was the first time a Western practitioner participated in a parade. She demonstrated the exercises and talked with spectators. She said she felt as if she knew everyone and that they were like her family members. She said some people started to imitate the exercise movements as the float went by. She was grateful to be able to participate in the event and have an opportunity to let so many people know about Falun Dafa.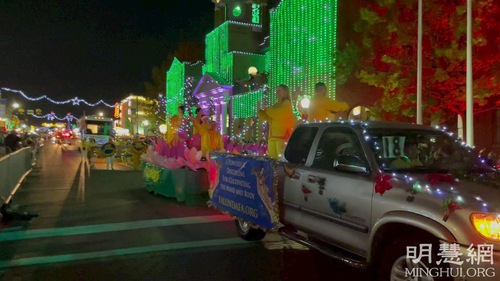 Background: What is Falun Dafa?
Falun Dafa (also known as Falun Gong) was first introduced to the public by Mr. Li Hongzhi in Changchun, China in 1992. The spiritual discipline is now practiced in over 100 countries and regions worldwide. Millions of people have embraced the teachings—which are based on the principles of Truthfulness, Compassion, Forbearance as well as five gentle exercises—and experienced uplifted health and well-being.
All articles, graphics, and content published on Minghui.org are copyrighted. Non-commercial reproduction is allowed but requires attribution with the article title and a link to the original article.